The Xerox Mobile Scanner is a portable, reasonably lightweight scanner -- although at 1.5 lb. (24 oz.), it's not quite as lightweight as some of its competitors; for example, the NeatReceipts portable scanner weighs in at 10.6 oz. One of the reasons it weighs a bit more may be because, unlike its competitors, the Xerox scanner doesn't have to be connected to a computer to operate -- it has an SD card reader that lets you save your scans to an included 4GB Eye-Fi card. (The Eye-Fi is an SD card that allows you to wirelessly send your data to a computer or mobile device.)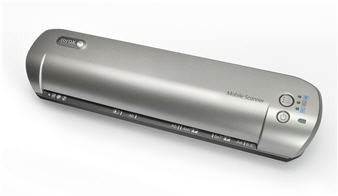 The scanner has two buttons: a power on/off button, and one that cycles through three different modes: color JPG, monochrome PDF and color PDF. It charges either through USB or AC.
Like most portable scanners, the Xerox is simplicity itself: You place your document face-up into the front slot; the scanner grabs it and pulls it through and out the back slot. According to the website, the scanner's rechargeable battery lasts for 300-plus scans -- I did about 100 scans during testing, and the battery was still going strong.
There are several ways you can save and move your scans to your computer. You can save them to the memory card, remove it and plug it into your computer. You can move the files from the memory card to your computer via the included USB cable. You can even save them to a flash drive via a separate USB port. But the easiest way is to use the wireless capabilities of the Eye-Fi card.
Before you can do that, however, a bit of preparation is necessary. First, you have to install the Eye-Fi Center software on your Windows or Mac computer (the application is available on the SD card itself). Then you use Eye-Fi Center to configure the card to recognize your local Wi-Fi network, a fairly easy process. Once that's done, as long as the card is in the scanner, it will quite efficiently send any documents you've scanned to your computer once it is in range of the network. There are also iOS and Android apps available that will let you send the documents to your smartphone or tablet .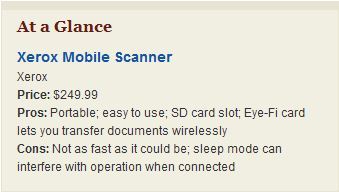 The Xerox Mobile Scanner also comes bundled with four software packages. One, XMS PC Connect, allows you to install firmware updates to the scanner and make changes to the settings, such as whether you will scan to the SD card or to the computer. The other three are third-party applications: Nuance Paperport (for organizing your scanned documents), NewSoft Presto! BizCard (a business card OCR/organization application) and Nuance OmniPage Pro (an OCR application). These are all good, well-known applications; none (except XMS PC Connect) are necessary for the operation of the scanner.
I found the Xerox scanner to be efficient and reasonably fast, although certainly not a speed demon. It took 9.1 seconds to scan one side of my test document as a JPG file and 9.2 seconds to scan it as a PDF, nearly the same amount of time that the NeatDesk scanner took to scan both sides.
There was one aspect of the Xerox that I found frustrating. After two minutes, it goes into sleep mode. This is a good idea for a portable device; however, when the scanner goes to sleep while connected to your computer, the green power button remains on, giving you the impression that the scanner is still active. I found this very confusing at first; I also wish there was some way to prevent it from going to sleep while it is connected to a power source.
Bottom Line
The Xerox Mobile Scanner is an efficient and well-built device; the way in which the Eye-Fi card adds to the ease of moving your scans to your computer, smartphone or tablet gives it extra points.
Barbara Krasnoff is reviews editor at Computerworld. When she isn't either editing or reviewing, she blogs at The Interesting Bits ... and Bytes ; you can also follow her on Twitter ( @BarbaraKrasnoff ).
Read more about hardware in Computerworld's Hardware Topic Center.
This story, "Two Personal Scanners: NeatDesk vs. Xerox Mobile Scanner" was originally published by Computerworld.