The good
Where are the successes in public-sector cloud computing? Primarily in three areas: hosted e-mail, private cloud-based data centers and ERP. In fact, if you look at the case studies from the TechAmerica conference, almost half involve e-mail.
However, there are also some cutting-edge government agencies that are looking at becoming service providers themselves, and that's where the outlook for public-sector cloud computing is most encouraging, analysts and practitioners say. IDC's Rubel calls cloud sharing "the coolest thing" in public-sector cloud computing and cites Michigan and Utah as trendsetters in such endeavors.
Ohio is another pioneer in public-sector cloud computing. CIO Stu Davis is offering both cloud-based and on-premises e-mail to give agencies as much flexibility as possible. The new system takes the place of what had been 19 different applications on four different e-mail platforms. If an agency wants on-premises e-mail, and about 60% do, the state's IT department charges the agency $4.50 per user per month for 1GB of storage. If an agency opts for hosted e-mail, as the remaining 40% have, the price drops to $2.50 per user per month for 500MB of storage.
In Utah, CIO Fletcher launched a cloud computing project in 2010. He started with a server consolidation project that reduced the number of machines from 1,900 to 500 through virtualization. That initiative cut operating costs by about 25%. Then IT began providing hosted e-mail and storage services for all state agencies. "A gigabyte of our storage was a nickel cheaper than Amazon's before they instituted their government rate," says Fletcher proudly.
Now Fletcher's Utah IT department has started offering the same hosting and storage services to the state's cities and counties, which previously had to fend for themselves when it came to procuring tech services. "This is really beneficial for smaller cities that don't have IT folks or the capital to put projects in place," says Fletcher. "We can set it up rapidly and provide the service cost-effectively." Over a five-year budget cycle, Fletcher's department has saved Utah $72 million; all of the money saved goes into the state's general fund.
Beyond cloud sharing, Ohio's Davis is looking at optimizing the state's computer infrastructure, partly to reduce the complexity of server, storage and network needs, but also to proactively keep agencies from migrating to public clouds on their own.
"Our intent is to continue building a private cloud and get the agencies to move their infrastructure to a consolidated center," Davis says. "If we let them go to commercial cloud providers, it'll be harder to put the cat back in the bag."
And in Maine, deputy state controller Cotnoir is using global consulting firm CGI to host and manage the state's ERP system, which currently handles financial and procurement applications, with HR management tools due to come online next year.
"We had seven full-time equivalents supporting the application, not including [database administrators] and hardware costs," says Cotnoir. "We wanted to be able to predict our costs better." Now, he says, the state can look forward to predictable costs for the next 10 years, with two hardware refreshes and two software refreshes as part of the contract with CGI. The Maine government will save $5 million over the life of the contract, and it now has just one person interacting with CGI, with the others redeployed to handle applications that were underserved.
"We're able to devote our time internally to help our agencies strengthen their own internal controls, as well as improve policy management and fiscal control statewide," says Cotnoir. "And because we're not babysitting the system ourselves, I don't get phone calls at 2 a.m. asking what to do."
Making the cloud work for the public sector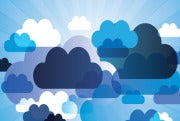 IDC's Rubel says that the most forward-thinking agencies are now taking the cloud beyond its most basic capabilities. "They can make reporting easier when cities and counties are getting funds from the state. They can simplify business processes. That's a game-changer because they can make a difference [in efficiency] over the long run," he says.
The cloud can also bring government agencies hiring and staffing flexibility. Massachusetts CIO Letchford worries about two competing trends: More new IT jobs are being created, but 40% of the current IT workforce will be retiring within 20 years. "I'm going to be desperate to find people to hire. I'm going to have people leaving, and it'll be hard to encourage people to work here at state salaries," he says. The answer: offload day-to-day activities to cloud service providers and attract talented IT professionals by offering them the opportunity to work on strategic, innovative initiatives.
That's what Ohio's Stu Davis wants for his IT staff. "If we could concentrate them at the top and leverage their expertise for the enterprise, that's better than having them in different agencies," he says. "It focuses IT skills on the enablement of the business of the state of Ohio." No agency needs its own infrastructure, and besides, the state doesn't have the human or financial resources to support that type of setup anymore. "There has to be a different way," Davis says. "The status quo of the siloed approach can't continue."
Silicon Valley-based freelancer Howard Baldwin writes about networking and mobile technology, among other enterprise-related issues.
This story, "Public-Sector Cloud Computing: The Good, the Bad, and the Ugly" was originally published by Computerworld.