capsule review
Logitech Ultrathin Keyboard Cover for iPad Review: Slim, Stylish, and Functional, but a Fingerprint Magnet
Today's Best Tech Deals
Picked by PCWorld's Editors
Top Deals On Great Products
Picked by Techconnect's Editors
At a Glance
Logitech Ultrathin Keyboard Cover
The Logitech Ultrathin Keyboard Cover is the thinnest iPad keyboard cover I've encountered. Even at its thickest point, the keyboard cover is just shy of the thickness of the third-generation iPad, and it's more tapered, too. More important, the Ultrathin Keyboard Cover ($99 as of May 11, 2012) provided one of the best typing experiences in my recent tests of six models.
The keyboard is cleverly designed, staying on by using the same magnetic hinge and edge magnets that the Apple Smart Cover uses. That also means it provides the same back coverage as the Apple Smart Cover does--none.
To use the keyboard, you have to detach the iPad from the hinge and place it into the slot behind the keyboard. This slot also has magnets in it to hold the iPad in place; the magnets are strong enough that if you pick up the iPad, the keyboard remains attached. To disengage the magnets, you simply tilt the iPad forward, which makes it easy to lift out.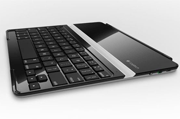 The bottom of the cover is aluminum, which matches the back of the iPad; together, the cover and iPad look like a single integrated unit. The top is a glossy black plastic, which matches the bezel of the black iPad but collects fingerprints like crazy. The matte-black plastic keys stay clean-looking, at least.
On the back of the right side you'll find a connect button, an on/off switch, and a Micro-USB port for charging. The rest of the cover is very clean and minimalist. The lack of rubber feet on the bottom leaves the case feeling a little slippery in the lap; the smoothness seems likely to lead to a scratched-up bottom surface over time.

For such a slim keyboard, the key travel is reasonable: It definitely feels flat compared with thicker keyboards, but it offers a sufficient amount of solid feedback. The keys are spaced as much as they can be within the confines of the iPad's width, and it's enough to not feel cramped. The keyboard deck has zero flex during typing, and the cover has minimal flex in general, noteworthy considering how thin the keyboard is.
You'll find no separate row of function keys. Instead, the number keys double as iPad shortcuts in combination with a function key in the lower-left corner of the keyboard. The keyboard does have home, search, Web, on-screen keyboard toggle, word selection, and cut/copy/paste shortcuts, as well as media playback controls, volume controls, and a lock button.
Logitech has created something unique with this cover. Its use of magnets sets it apart in a world of folio-style keyboard cases, and makes it the thinnest keyboard cover available with such comfortable typing. If you don't mind leaving the iPad's back exposed, or adding a slip cover for transport, this is the iPad keyboard to get.
At a Glance
Logitech Ultrathin Keyboard Cover

Logitech's innovative Ultrathin Keyboard Cover manages to pack great typing into a keyboard that's thinner than the iPad itself.

Pros

Solid and comfortable typing
Takes advantage of Smart Cover magnets
Very slim and lightweight

Cons

No back protection
Glossy black plastic attracts fingerprints
Shop Tech Products at Amazon