The Best Phones From Every Carrier
T-Mobile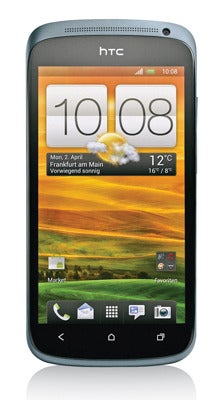 The top PHONE on T-Mobile is the HTC One S ($200 with a new two-year contract). It packs a high-end camera, the latest version of Android, and a powerful dual-core processor in a swank, superslim design. HTC phones are generally both easy on the eyes and well constructed, but the One S exceeds those expectations with a classic aluminum unibody design that incorporates contrasting slate and blue-gray panels. However, you can't remove the battery, and the phone has no MicroSD slot.
The 8-megapixel camera supports an F2.0 aperture and several shooting modes, including high dynamic range (HDR), macro, and panorama. My photos taken in automatic mode looked excellent, with good colors and crisp details. Most of the shooting modes worked quite well, too, especially the macro mode.
The HTC One S is also a superb gaming phone. This handset performed extremely well in PCWorld Labs benchmarks, including GLBenchmark, which measures a device's graphics performance.
If you're looking for an alternative to Android, give Windows Phone 7 a try. This OS is on the HTC Radar 4G ($100 with a new two-year contract), which has a stylish and compact unibody aluminum case and a crisp display. The body is almost all white—quite striking against the bold color-block look of Windows Phone.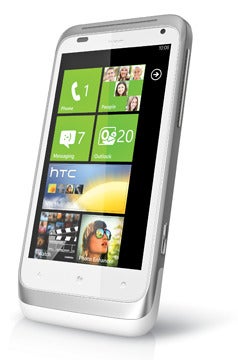 The Radar 4G has the Mango update of Windows Phone 7. An overall success, Mango finally delivers true multitasking with third-party apps, and it has a new browser, Internet Explorer 9. Microsoft completely made over its Bing search engine, too; the new Local Scout feature uses GPS to recognize where you are and provide hyperlocal search results based on your preferences. Mango also includes Xbox Live, the Zune media player, and a full mobile version of Office to create, edit, and view Excel spreadsheets, Word docs, and PowerPoint presentations.
The Radar 4G's 5-megapixel camera snapped pretty good pictures. The camera has an F2.2 lens and a backside-
illuminated sensor, which helps produce good shots in low-light conditions.
Finally, in a world of dual-core phones, the Radar 4G's single-core, 1GHz processor may seem a bit dated. But don't let those specs cloud your judgment: The Qualcomm Snapdragon processor was zippy enough in our testing for browsing the Web, handling multiple open apps, and gaming via Xbox Live.
Verizon
If you're looking for the pure Android Ice Cream Sandwich experience, you'll love the Samsung Galaxy Nexus ($300 with a two-year contract), which runs the OS with no interfering overlay. The Galaxy Nexus also features a slick design and a powerful processor.
Its glossy display, piano-black bezel, and textured back are all standard Samsung design elements. But unlike other Samsung Galaxy phones I've reviewed, the Nexus feels durable and so­­phisticated. It has no hardware keys on its face. Instead, the touch-sensitive Back, Home, and Search keys are built into the display as soft keys.
Most of the core Android apps have been updated in Ice Cream Sandwich with some sweet new features. For example, Gmail gets a face-lift, with a new context-sensitive Action Bar at the bottom of the screen. The bar changes de­­pending on where in the app you are. When you're looking at an email message, say, you'll see options to ar­­chive it, trash it, label it, or mark it as unread. And the browser in Ice Cream Sandwich is just about as close as you can get to a desktop one: You can set it to request full desktop versions of sites instead of the lesser mobile versions. In addition, you can sync your bookmarks from the desktop Chrome browser to the Browser app in Ice Cream Sandwich.
Unfortunately, the Nexus's camera just isn't as capable as the rest of the phone. The photos I shot with the Galaxy Nexus's 5-megapixel camera looked a bit flat. Colors seemed a touch washed out, and details were a little fuzzy. But even if your photos don't come out perfect, you may be able to salvage them with the OS's suite of photo-editing tools. You can apply an array of filters (similar to those in Instagram), adjust the image angle, remove red-eye, crop, and more. Any edits you make to a photo will create a copy, in case you want to revert to the original.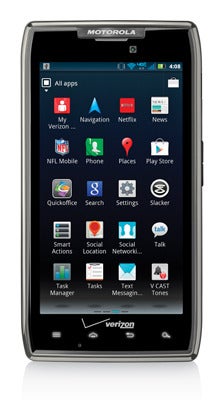 If you're tired of carrying a phone charger everywhere, check out the Motorola Droid Razr Maxx ($300 with a two-year contract). Practically identical to the Droid Razr, also on Verizon, the Razr Maxx offers one huge improvement: longer battery life. The original Razr's battery seemed to drain before your eyes, a common problem among the carrier's 4G phones. In PCWorld Labs battery-life tests, the Droid Razr ran for 6 hours, 49 minutes when connected to the Web via Wi-Fi. The Droid Razr Maxx, on the other hand, lasted 12 hours, 29 minutes—almost double the life!
Besides its insane battery life, the Droid Razr Maxx has a lot going for it. At 0.35 inches thick, the Razr Maxx is incredibly thin—on a par with the Samsung Galaxy Nexus. It has a soft-touch back made out of Kevlar, a ma­­terial found in high-end speedboats, bulletproof jackets, and bicycle tires; Motorola says that Kevlar is five times stronger than steel. The phone also has a stainless-steel core, giving it a feeling of sturdiness and solidity. On top of that, a splash-guard feature protects the phone if you get caught in a downpour or spill something on it.
The Droid Razr Maxx comes with a service called MotoCast, which lets you access files on your PC remotely without having to upload or sync them. You can access everything from PowerPoint files to your iTunes playlists on your Razr Maxx. In addition, Smart Actions, a new app, lets you set reminders to indicate when you should recharge your phone (for example, when you go to bed). If you forget to plug your phone in, you can set a Smart Action called "Nighttime Battery Saver," which adjusts your phone's network and screen settings to make the battery last longer the next day.
The Prepaid Alternative
Don't want to commit to a two-year contract? Go prepaid. Contract-free carriers now have better phones and faster networks than ever before. Some of these carriers, such as MetroPCS, even have 4G LTE networks. We gave both of MetroPCS's new phones, the Samsung Galaxy Attain and the LG Connect 4G, positive reviews.
One drawback of going contract-free: You may not get the latest smartphones. For instance, Straight Talk, a prepaid service sold at Walmart, sells the LG Optimus Black and the LG Optimus 2X. They debuted at CES (the Consumer Electronics Show)—in January 2011.


Summary: The Best Smartphones Chart
Click on the chart below to enlarge it.
Shop Tech Products at Amazon