13. Android Watch Set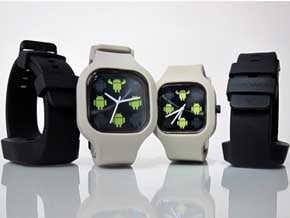 Those Android-powered watches aren't quite ready for prime time yet, but that doesn't mean you can't wear Google on your wrist today. The Android Watch Set puts the sight of Android onto a fancy Modify-brand watch that'll let you tell time in style. The watch is available with a small or large face and comes with an interchangeable band (one in black, one in white).
Available from GoogleStore.com for $59.95.
14. Android Tie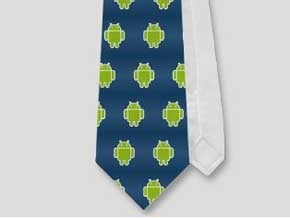 I don't have to wear a tie to my job -- thank God -- but if I did, you can bet I'd be rockin' an Android-themed attachment around my neck. This tie shows the Android logo with a traditional blue background, making for a geek-friendly fashion statement that's sure to get noticed.
Available from Zazzle.com for $29.95.
15. Android Tie Bar Clip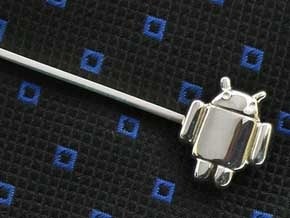 If you really want to give your dress clothes a classy yet Googley kick, check out the Android Tie Bar Clip. Handcrafted from sterling silver, the clip is the creation of a jewelry-loving artist named Dedalo. This one won't be for everyone, but it's a standout piece of swag that's certainly worth seeing.
Available from Etsy.com for $65.
16. Android Belt Buckle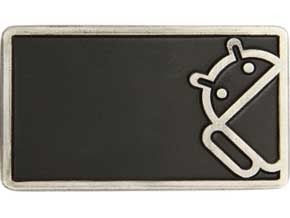 My, your midregion looks striking today. Bring bling to your belt with Google's Android Belt Buckle, a hand-painted pewter accessory for the top of your pants. Because hey, who doesn't want extra attention in that area?
Available from GoogleStore.com for $17.08.
17. Crocheted Android Robot
There's something special about a one-of-a-kind handmade craft, and the Crocheted Android Robot is bursting from the seams with that supercool quality. California-based artist Christina Dugan makes each robot to order -- you can even request different body colors or eye colors if you want -- and infuses each one with a burst of craftsman's love.
Available from Etsy.com for $16.
18. Android Hoodie
Take that, Zuck!
Available from GoogleStore.com for $51.75 (ladies version also available).
JR Raphael is the author of the Android Power blog and the owner of far too many Android trinkets. You can find him on Google+, Twitter, or Facebook.
This article, "The coolest Android swag around," was originally published atITworld. For the latestIT news, analysis and how-tos, follow ITworld onTwitterandFacebook.
This story, "The 18 Coolest Android Accessories Around" was originally published by ITworld.