The U.K. Information Commissioner's Office (ICO) has written to Google about its Street View project, following the publication of a damning Federal Communications Commission (FCC) report.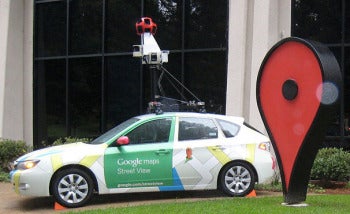 According to the FFC report, Google recently admitted for the first time that a single U.S.-based British employee named "Engineer Doe" designed the Street View software from day one (in 2006) to "wardrive" access point data such as SSIDs and MAC addresses but also harvest personal e-mails and user passwords from Wi-Fi access points not using encryption.
In the U.K., the ICO announced in July 2010 that it did not believe that Street View collected personal data that could be linked to an individual based on the samples it was given access to by Google.
However, after reading the FCC report, the ICO has written to Google's senior vice-president, Alan Eustace to notify the company of its plans to reopen the investigation.
"During the course of our [initial] investigation, we were specifically told by Google that it was a simple mistake and if the data was collected deliberately then it is clear that this is a different situation than was reported to us in April 2010.
"Given the findings of the FCC, we have reopened our investigation," Steve Eckersley, head of enforcement at the ICO, wrote.
Harvested Data Sought
The ICO is now requesting that Google provides a range of information, including an exact list of what type of personal data was collected in the U.K., and details about what technological or organizational measures were introduced to limit further data collection before the company admitted it was happening in May 2010.
It has also asked Google for copies of the original and subsequent versions of the software design document, as well as copies of the certificate of destruction related to the captured personal data.
Google has also faced calls in the U.S. for the Department of Justice (DoJ) to reopen its own investigation into the affair at a time it Street View remains under investigation in several other countries."We have always been clear that the leaders of this project did not want or intend to use this payload data," a Google spokesperson was quoted as saying in response. "Indeed, Google never used it in any of our products or services."
Meanwhile a YouGov poll conducted for Big Brother Watch found that only one in ten people have even read Google's new privacy policy let alone considered how it might affect them.
"If people don't understand what is happening to their personal information, how can they make an informed choice about using a service? Google is putting advertiser's interests before user privacy and should not be rushing ahead before the public understand what the changes will mean," the organization said.
Street View remains one of the most contentious projects Google has ever undertaken, hugely popular with users but also hugely resented by privacy campaigners the world over. At times, the system has courted abusurdity even in its basic function, inadvertently photographing ordinary people in embarrassing street situations.
This story, "FCC Report Prompts Google Street View Probe in UK" was originally published by Computerworld UK.