CIO for the London Organizing Committee for the Olympic Games (Locog), Gerry Pennell's Commonwealth Games experience allowed him to get up to speed quickly, although the scale of the Olympics is much larger.
At the end of each Olympic Games cycle there is a formal handover organized by the International Olympic Committee, and Pennell's last Olympic task in November will be to head to Rio as their organizing team prepares for 2016.
The technology developments created for London 2012 will also be used by the Glasgow Commonwealth Games in 2014. The legacy of the Games for London is often cited as being key to its winning bid.
Post-Olympics Perspective
Arrival at the park via the new Javelin rail service from central London, and crossing through the heaving Westfield shopping center four years after interviewing the then-CIO of host borough Newham, I was left with the feeling that the park, venues and related infrastructure will create a longer term benefit to this formerly deprived part of London.
But as the world struggles to reinvigorate its economy, employment is the word on everyone's lips.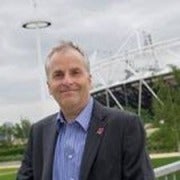 Pennell can only speak for IT, but he is confident that the 2012 project has and will create a tranche of IT professionals akin to what performance director Dave Brailsford has done for the new wave of British racing cyclists that circulate the velodrome we meet in. (See also "Five Cyber Risks to Avoid to Enjoy London Olympics Safely.") .
Pennell has 350 IT professionals on his books, which rises to 600 with the professional partner and providers that are involved at games time and rises to a total workforce of over 5000 including a couple of thousand volunteers for the duration of the Games.
The one-off nature of an Olympics and its scale are what provide the learning curves that leave that legacy, says Pennell. "Early on it feels like an enterprise project. You have to create a team, a process and a technology strategy from zero."
Pennell's staff work through strategy, development, deployment and operations during their tenure, a holistic experience, he says, that can only benefit their careers.
"It gives them a much broader technology understanding. You really do need to play all the areas, but a lot of IT careers don't allow that. I worked in operations and networks and some of these are capable of being the CIOs of the future. You go through a project like this and come out the better for it."
Team-Building for the Olympics
Pennell says motivating and managing his team, which includes seven direct reports, is not a problem.
"I spend a lot of my time trying to get people to have a good work/life balance. Everyone in Locog is passionate about the Games," he says of the draw of the project.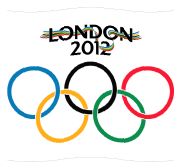 With technology central to the delivery of the Games and expectation high, Locog has formed a close technology team beyond its internal operations to ensure the team secures victory.
Atos has a long-standing relationship with the IOC to create and deliver the central results and accreditation software.
Swiss Timing has the critical role of measuring athletes' times around the track or across the pool, and BT and Cisco have created the LAN, WAN and wireless networks across the Olympic venues.
Acer is the 2012 hardware partner providing PCs and servers, while Samsung and Panasonic provide mobile handsets and AV equipment respectively.
Finally Airwave and Akomi ensure there is a trunked radio network and web content delivery.
Closing Ceremonies
As a clock in Trafalgar Square counts down the days to the opening ceremony on July 27, Pennell is building up to one of the biggest moments in his CIO career and in the U.K.'s prodigious sporting history.
But it will mean that come the end of 2012 he will be on the market. How does he describe his life since 2008?
"Building an infrastructure of this scale is very exciting. It is the best job in IT, but occasionally the worst," he says of the constant attention of all-too-willing critics.
"We have achieved a remarkable amount. The worst bit of Manchester was after the closing ceremony. The adrenaline is over, people are very tired and many people are leaving, but there are things that have to be done."
Having worked on a Commonwealth Games and now an Olympics, would he consider promoting himself a specialist at this unique type of CIO challenge?
"I'm not doing one of these again. I said that after Manchester, but I couldn't turn down the Olympics," he says. The offer that came while he was CIO of the Manchester-based Co-operative Group.
It's clear from meeting Pennell and members of his team that the driving factor is their passion for the event and for the technology involved in putting on four weeks' worth of sporting spectacle.
They may not see much of the action. Pennell would watch the sailing, a sport he takes part in, if he could.
But, I suspect that just like the sporting legends competing in London, whether their name is Hoy, Bolt or Ainslie, their focus throughout the Games will remain firmly on performance excellence and gold medal-standard delivery.
This story, "Olympics CIO Tells How to Build a Gold-Standard Team" was originally published by CIO (UK).