Turns out the WRT Switch isn't the only new product Linksys had up its sleeve this week. The company announced two brand-new 802.11ac routers this morning: The Linksys EA9200 Smart Wi-Fi Tri-Band Router and the Linksys E8350 Dual-Band Router.
If you're confused by Linksys's branding—it now has three series at the high-end: the E, EA, and WRT—join the club. I quizzed Linksys about this and will clear it up for you before I provide details about the new models.
Linksys spokesperson Karen Sohl tells me Linksys uses the WRT designation—and its old-school form factor—to identify routers with alternative open-source firmware support. To that end, Linksys has released two SDKs (software development kits) for the Attitude Adjustment and Barrier Breaker versions of OpenWRT. Full source code is available here.
The company has not released a complete set of wireless drivers for the WRT 1900AC, however, so the SDKs are somewhat academic (and the typical consumer is not likely to be interested in them anyway, since switching over isn't a simple plug-and-play affair).
EA-series routers offer Linksys's Smart Wi-Fi technology, which supports first- and third-party apps, plus the ability to access and configure the router via the cloud (the WRT-1900AC also supports Smart Wi-Fi, but I'm glad it's not called the WRT-EA1900AC). E-series routers, meanwhile, have neither open-source firmware nor Smart Wi-Fi support, though that doesn't mean they're low-end, bare-bones models.
And now, on to the products:
Linksys E8350
Linksys sent me a pair of the E8350 models, but not in time for me to review. As mentioned above, this is a 4x4 802.11ac model, meaning it can support four spatial streams on the 5GHz frequency band to deliver throughput up to 1733Mbps. The router supports three spatial streams (plus 256QAM support) on the 2.4GHz band to deliver throughput up to 600Mbps. It has four removable antennas and supports beamforming.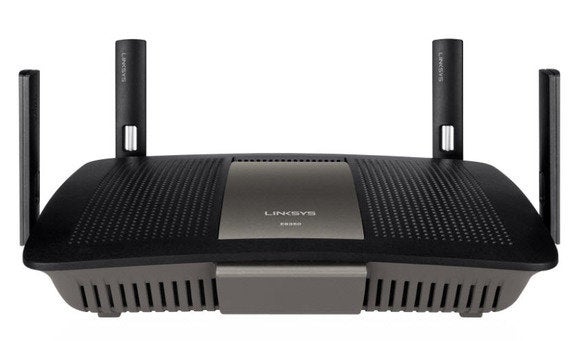 Like the Asus RT-AC87U and the Netgear Nighthawk X4 , which are also based on Quantenna's chipset, the Linksys E8350 will support MU-MIMO (multiple user, multiple input/multiple output) whenever Quantenna finishes the firmware to enable that feature.
Buyers shouldn't actually expect to experience that high throughput in most situations, however. If your laptop is outfitted with an 802.11ac client adapter to begin with, it's probably a 2x2 or even a 1x1 model (MacBook Pros are notable for having 3x3 802.11ac adapters). And on the 2.4GHz band, relatively few client adapters support 256QAM.
One way to take full advantage of a router like this is to configure a second router with the same capabilities as a wireless bridge, to which you then hard-wire your clients. If you want to wirelessly stream media from a server in your closet to a networked TV in your home theater, for instance, an 802.11ac wireless bridge is the ideal solution.

The E8350 has a four-port gigabit ethernet switch and a gigabit WAN port for connecting to your Internet gateway. There's a USB 3.0 port and one USB 2.0/eSATA combo port in back for sharing storage devices and printers over the network. The router is outfitted with a 1.4GHz CPU, and it supports drives formatted FAT, FAT32, NTFS, or HFS+. It has UPnP and DLNA media servers, but no iTunes server.
Linksys EA9200
It looks as though the industry will persist in labeling routers that support two independent networks on the 5GHz frequency band and one on the 2.4GHz band "tri-band" routers. That's how Linksys is labeling the EA9200. Like the Netgear Nighthawk X6 and the vaporish Asus RT-AC3200, the Linksys EA9200 boasts six antennas and supports three spatial streams on each of its three networks (delivering throughput of 1.3Gbps on each of its two 5GHz networks, and 600Mbps on its 2.4GHz network). (Update: Asus tells me the RT-AC3200 it announced in June will finally ship in late November.)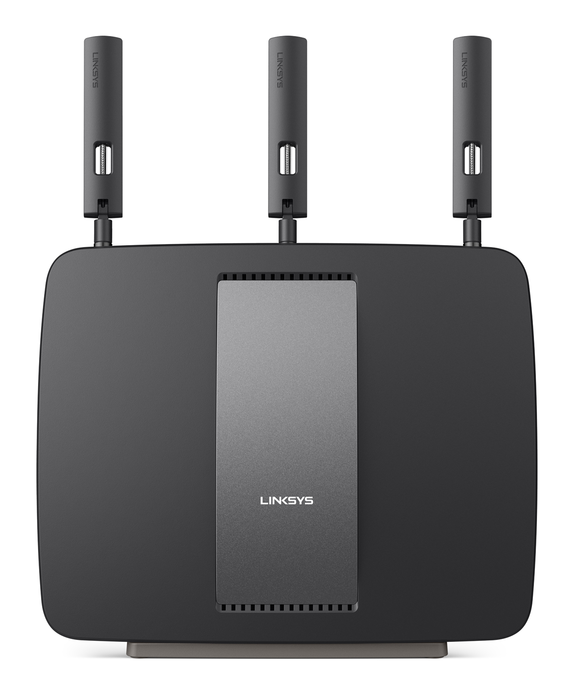 Only three of the EA9200's antennas are external and adjustable/removable. The other three are fixed inside the chassis. Like the E8350, beamforming support is included. A 1GHz dual-core CPU supports a four-port gigabit Ethernet switch, a gigabit WAN port, and one USB 2.0 and one USB 3.0 port to share storage and a printer over the network.
Linksys has a feature it calls Smart Connect that automatically balances connected devices over the router's two 5GHz networks in real time, to ensure everything enjoys an optimal connection.
Pricing and availability
The Linksys E8350 is available now at a promotional price of $250 (regular price is $280). The EA9200 is also available now and is priced at $300. I'll post reviews of both models in the coming weeks.
What type of router are you using today: 802.11n, 802.11ac, or are you finding that an older model still suffices? If you're looking to upgrade, what standard do you think you'll embrace? Let us know in the comments section, below.
Update: This story was updated to report the correct pricing and to add a late update about the ship date of the Asus RT-AC3200.
This story, "Linksys jumps into the 4x4 and tri-band Wi-Fi frays with its new E8350 and EA9200 routers" was originally published by TechHive.