Google Fit's Android app is finally here, but it's the platform that really matters. It's Google's best tool for convincing you to go with Android Wear as a digital health aide instead of that Apple Watch with its own HealthKit looming around the corner.
The fitness tracking platform launched for Android and unveiled an SDK for fitness app developers on Tuesday. Google Fit is designed to integrate with data from other services, with partners including Nike, Adidas, Runkeeper, Withings, and more. If you give it permission, it will share your stats with those apps for a more complete health picture.
While it monitors your steps and activity using your phone, it's most effective with Android Wear, as you don't always (or at least you shouldn't) hold on to your phone when going for a run or walking around the house.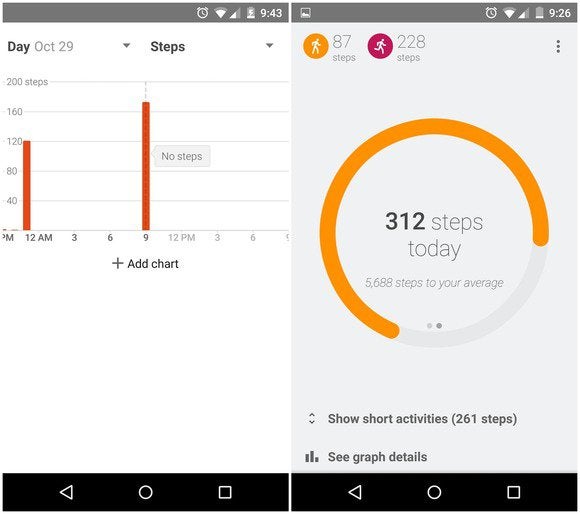 It compiles this information into a series of graphs, giving you an idea of how well you're doing at staying off the couch. You can also tell Google how much you weigh as part of any personal goal-setting you're doing. 
The interface and feature set is pretty basic right now, though it looks good on Android Lollipop and has a strong Material Design theme. Google probably didn't want to go too heavy with the feature set given the newness of the platform, instead choosing to leave room for other apps to add their data. For Fit to be truly useful, a wealth of other popular apps must be updated to share their data with it, making the Fit app your one global overview for health and fitness tracking data.
Why this matters: The challenge for Google Fit is getting buy-in from developers who already have popular fitness-tracking platforms and wearables, such as FitBit and Jawbone. Neither company has committed to Google Fit, and it's unclear if that will change in the future as smartwatches may only eat away at their business. On its own, Google's own service is pretty limited, so it will either need to bulk up or get more support from the current heavyweights to rule your health data.
This story, "Google Fit consolidates your health data, but needs third-party apps to prosper" was originally published by Greenbot.