SLIDESHOW
10 killer Black Friday gaming deals: Games, hardware, consoles, and more
Black Friday's got some great gaming deals, provided you know where to look. We snagged the best deals we could find and threw them in here, from the R9 290X to the Alienware Alpha to Titanfall for $5.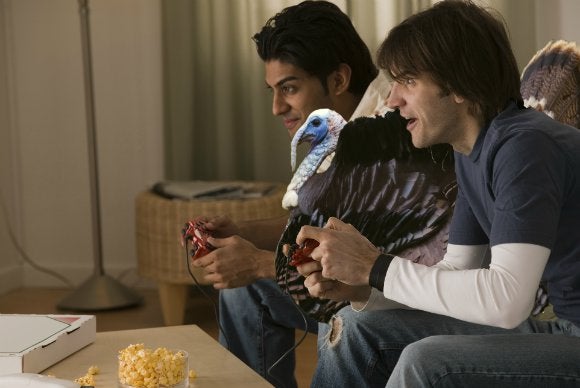 Post-turkey gaming
You've finished your turkey and stuffing. You've washed the dishes and put away the leftovers. Now it's time to ditch your family and enter into the all-night/all-day/all-weekend nightmare that is Black Friday, in hopes of scoring some great gaming deals.
America's most consumerist holiday gets more tangled every year, though. You have to have a plan. We've gone ahead and grabbed the ten Black Friday deals that impressed us most—everything from video cards to peripherals to consoles to the actual games. Online, offline, we've got it all.
And it starts with AMD's top-of-the-line consumer graphics card, the R9 290X.
MSI R9 290X
AMD's hardware rebuttal to Nvidia's potent 900-Series GeForce cards won't hit until next year most likely, so as a result you can score great deals on high-end AMD GPUs this fall.
The best deal? Newegg is offering MSI's R9 290X for $300—which would be a decent deal in and of itself, but also comes with four free games. Civilization: Beyond Earth is a locked-in freebie, but the other three are up to you, from more than 25 available titles. With the brand new Alien: Isolation, Total War: Shogun 2, Tomb Raider, Just Cause 2, Saints Row IV, Sniper Elite III, and Payday 2 among the offerings, there's something for everyone.
Samsung SSD and Far Cry 4
Alienware Alpha
The Alienware Alpha might not be the console competitor it wants so desperately to be, but it's a damn fine miniature computer for $550—and an even better one for $500. Ebay's running that sale price right now, and while it's not a steep discount, it's still decent when you consider the machine just came out this month and is already a good cost/performance ratio.
Amazon
Amazon's given Steam a run for its money in recent sales, and that continues here.
Shadow of Mordor for $20! Dark Souls II: Collector's Edition for $30! Civilization: Beyond Earth for $25!
And that's to say nothing of Amazon's lightning deals, which run for an hour or two at a time and are swapping out all weekend.
Prepare for Titan-falling prices
Yeah, yeah, EA is the devil and Origin isn't Steam. I get it.
But Origin's running some decent sales this week, especially on classic games. Finished with Civilization: Beyond Earth? Pick up Alpha Centauri for $2.50. Or snag the entirety of the Wing Commander series for $2.50 each. Populous, also $2.50—as is Syndicate.
As for modern games, Origin's deals are more mixed. However, it's selling Titanfall for a mere $5. That's a pretty incredible deal on a game that just came out in March and is one of the year's flagship shooters.
You can also pick up the entirety of the Mass Effect trilogy for only $15, which is a fantastic deal.
SteelSeries Sensei Wireless
The SteelSeries Sensei Wireless is one of my favorite devices this year, with one problem—its gargantuan, $160 price tag.
The Sensei Wireless is a great mouse though, with a wonderful cable system that lets you swap between wired and wireless at will, and a clever LED-based battery indicator. With Amazon selling it for $100 this week, now is the time to pick one up if you've been looking at it covetously. It's still expensive for a mouse, but also an incredible deal.
Best Buy is also offering the excellent Logitech G502 for $80 with a $50 Steam gift card.
A flurry of Blizzard sales
Blizzard's games are almost never on sale, so now's your time to pounce. The existing two pieces of StarCraft II's trilogy (Wings of Liberty and Heart of the Swarm) are on sale for a mere $10 each.
And if you've somehow avoided playing World of Warcraft for the last decade? You can pick up all the content except for the recent Warlords of Draenor expansion for a paltry $5, which is an insane time/money ratio.
As for Diablo III? The prices aren't quite as impressive, but both it and Reaper of Souls are 50 percent off.
Grand strategy at a small price
Gamersgate (with an "s") is holding its own Thanksgiving sale, and chief on the list are a bunch of Paradox bundles. While the Paradox Indie Bundle and Paradox Platinum Pack are appealing in their own right, the star is the Paradox Grand Strategy Bundle—Crusader Kings II, Europa Universalis IV, Hearts of Iron 3, and Victoria II all for $25.
That's an insanely good deal for some insanely good games. Note, however, that only EUIV and CKII will come with Steam codes, as far as I can tell.
Xbox One
Listen, we don't often write about consoles here at PCWorld, but it's that time of year where maybe you're looking to get in on a next-gen box. We're a full year into the new console generation—and hey, Forza Horizon 2 is utterly fantastic, so I don't blame you.
$330 is about the cheapest you'll get for an Xbox One. Everyone from Walmart to Target to Best Buy is selling the system around that price point with a game included. The best deals? Walmart is tossing in Halo: The Master Chief Collection and a $30 gift card, while Target is tossing in Assassin's Creed: Unity and a $50 gift card.
You can also snag a year of Xbox Live for $36.
PlayStation 4
The deals on Sony's end aren't nearly as impressive. The system is sticking to its $400 launch price across the board, though Walmart, Best Buy, Newegg, Toys R Us, and others are offering a $400 PS4/Grand Theft Auto V/Last of Us bundle.
The best deal, if you're not looking to buy two games from last generation, is coming from Target, which offers (as far as I can tell) a no-strings-attached "$400 for a PS4 and two games of your choice" bundle.
New games for a new console
Target's also the place to be as far as console games are concerned, not least because the same deals in stores are (supposedly) also offered online.
You can get the PS4 versions of The Evil Within and Shadow of Mordor for only $25 while supplies last. That's a great deal for the two recently released games. Other games, including Destiny, Halo: The Master Chief Collection, and Call of Duty: Advanced Warfare will come with a $15 Target gift card (though they're otherwise full price).
And Kmart is (shockingly) another destination for console game sales this Black Friday— The Evil Within is $25, as is Wolfenstein: The New Order.
Next Up: Check out these related slideshows
Today's Best Tech Deals
Picked by PCWorld's Editors