Updated
The best laptops: Premium laptops, budget laptops, 2-in-1s, and more
Our top picks feature the best tech advances in portable PCs, from new CPUs and GPUs to new materials.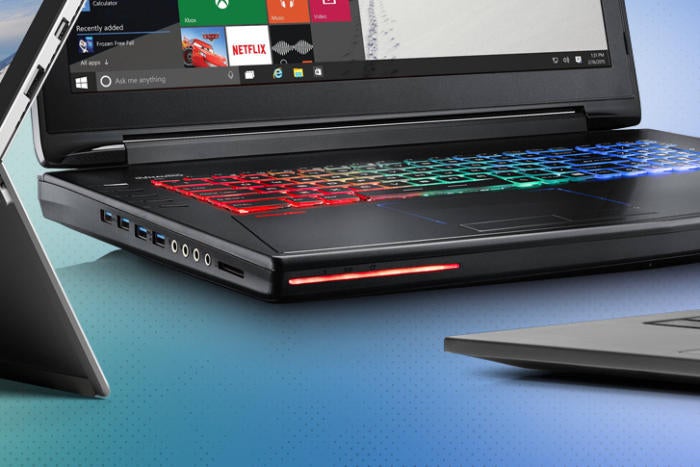 Today's Best Tech Deals
Picked by PCWorld's Editors
Top Deals On Great Products
Picked by Techconnect's Editors
Best gaming laptop
Gigabyte's Aorus 17G gaming laptop, with its high-end parts and sharp-angled design, looks like it should be loud, but it's not. It's amazingly quiet, actually. We've heard ultraportable laptops produce more noise under a load than the Aorus 17G does while gaming.
It may spoil your fun a bit to know that Gigabyte achieved this feat by taking the RTX 3080 mobile GPU down a notch in performance. If you always want the ultimate gaming machine, you'll invest in a good pair of gaming headphones and put up with a shrieking hair dryer shaped like a laptop. But if you wished gaming laptops weren't so loud, the Aorus 17G grants your wish with a modest tradeoff. Read our full review.
[$2,700 MSRP as reviewed; available from Newegg]
Best budget gaming laptop
We've long been fans of Acer's line of affordable Nitro 5 gaming laptops. This new entry in the series ups the ante with eye-popping CPU performance and great battery life. 
Note that it keeps the same GTX 1650 graphics card that we saw in a similar model last year, so don't expect ray tracing or frame rates much higher than 60 fps or so. But with its revamped cooling system and Ryzen 4000-series CPU, the updated Nitro 5 manages to squeeze every last ounce of performance from its limited GPU power, making it an enticing pick for gamers on a budget. Read our full review.
[$670 as tested via Bestbuy.com]
Runner-up
The Pavilion Gaming Laptop punches well above its weight in the entry-level range. It's every bit as sturdy and refined as its high-end counterparts, and it even has surprisingly respectable battery life. The Pavilion Haming Laptop has sacrificed a few things to hit that budget level, namely a dismal display and no mouse buttons. Still, with models starting as cheap as $800 on HP.com, you can configure this overall solid machine to fit your budget. 
Best portable gaming laptop
The MSI GS65 Stealth Thin 9SD we've reviewed (available via MSI.com) is similar to the MSI GS65 Stealth Thin 8RE that preceded it, but with new hardware: Intel's 9th-gen Core i7-9750H, along with Nvida's GeForce GTX 1660 Ti, which turns it into the GS65 Stealth Thin 9SD. (If you want your RTX hardware, you can get that in the pricier GS65 Stealth Thin 9SX.) Although it's heavier than before, it still beats many competing laptops with the same hardware, which tip far closer to five pounds. Read our full review.
Runner-up
Razer isn't exaggerating when it calls its Blade 15 the "world's smallest 15-inch gaming laptop." It's nearly as small as the popular workhorse Dell XPS 15, yet it offers blistering gaming performance. 
The Razer Blade 15 that we reviewed features a 15.6-inch, 1920x1080 IPS 144Hz factory-calibrated screen, an 8th-gen 6-core Intel Core i7-8750H, 16GB of DDR4/2677 in dual-channel mode, Nvidia's GeForce GTX 1070 Max-Q (optional GTX 1060 Max-Q), and a 512GB Samsung M.2 PCIe SSD
While it's impressive to get a six-core 8th gen Core i7-8750H and GeForce GTX 1070 Max-Q performance into a compact chassis, note that it's densely packed and feels heavy for its size. If you can deal with the additional weight, the payoff may well be worth it. Read our review.
[$2,600 MSRP as reviewed]
Best luxury laptop
The HP Elite Dragonfly is a corporate laptop that is clearly executive-class. Designed for the boardroom rather than the racetrack, don't expect blazing speed (though performance is still good). What you will get is a solid configuration dressed in a beautiful cerulean magnesium body that's fingerprint-resistant. Its stunning 2.2-pound weight means you'll barely feel it in your bag. Add some premium options, amazing battery life, and corporate-level security—and let's not forget the truly classy design—hmmm, maybe this laptop is too good for your boss? Read our full review.
[$2,100 MSRP as reviewed. Available on HP.com]
Best overall Chromebook
Google's Pixelbook Go is a perfectly good Chromebook, and that's exactly what the company set out to create. It offers a careful balance of quality features and economical compromises for a reasonable $649 starting price. And it's a darn sight better than the typical bare-bones model. If you're committed to the Chromebook universe, this is a laptop worth buying. 
[$649 MSRP; available via Google]
Best budget Chromebook
The HP Chromebook x360 12b takes you a cut above the rock-bottom basic Chromebooks that hover around $250 (and continue to sell well). Get one of those for your kids—who cares if they destroy it? But you, the adult in the room, deserve this one, with its surprisingly good design and great battery life.
This is still a budget-grade Chromebook, so there are some compromises: Performance is mediocre, and the 3:2 display, while nice and tall, isn't very bright. Still, we think HP made reasonable choices to provide a productive and enjoyable experience without breaking the bank. Read our full review.
 [$360 MSRP; available on Adorama]
Best MacBook
The MacBook Air with the new M1 processor so absolutely and thoroughly trounces the Intel version released earlier this year (with Intel's "Ice Lake" Y-series CPU/GPU) that it defies belief.
Unfortunately, Apple changed practically nothing else about the MacBook Air. This new model is exclusively a processor swap. But what a processor! You can read the full review of the MacBook Air M1 at our sister site, Macworld.
[$999.99 MSRP as reviewed by Macworld.]
Note: When you purchase something after clicking links in our articles, we may earn a small commission. Read our
affiliate link policy
for more details.
Shop Tech Products at Amazon