Google Maps got a small but useful feature bump in its update to version 9.3. You can now share directions with others, taking the pain out of trying to tell someone how to get to your scheduled meetup.
When you search for or touch a location on the map, head to the navigation menu by touching the car, walking, or transit icon. Then the three-dot overflow menu appears at the top right, from which you can send directions, opting to include the current traffic, satellite view, or terrain.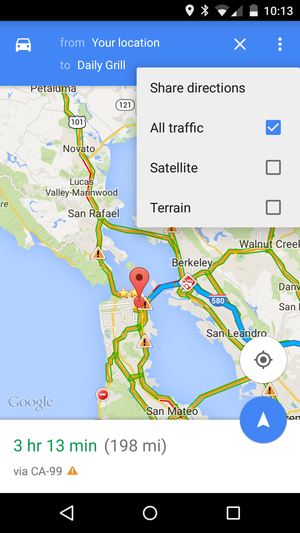 The "Share Directions" option could use a little differentiation from the check boxes underneath it, as it's not quite clear that it's a button you press to do something. Once you hit send, you get Android's excellent sharing menu which sends a link of the directions via whatever method you choose.
The other new discovery is that when Maps alerts you about optimizing your device's location settings, you can permanently get rid of the notification.
As is often the case with such updates, there may be other hidden features that pop up over time—we'll let you know if there's another gem underneath the surface. The update is rolling out through the Play Store, or you can get it now by installing the APK.
The impact on you: This is a great way to send a set of directions to another. It beats retyping the address or trying to describe to someone key intersections or landmarks. As with other Google Maps features, look for it to get tweaked as needed over time.
This story, "Google Maps 9.3 adds shareable directions in latest app update" was originally published by Greenbot.