SLIDESHOW
Windows 10: The 10 best new features to try first
From Cortana to the fancy new Start menu, you won't want to miss these Windows 10 features.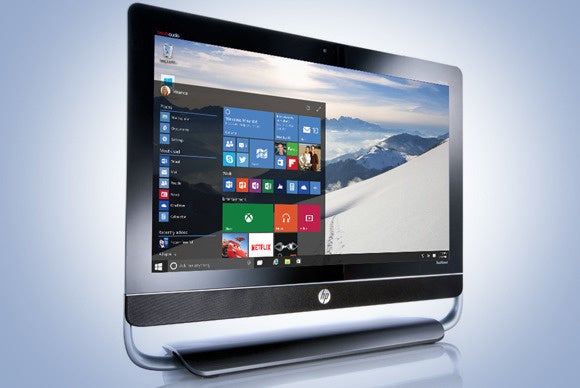 The best of what's new
Let's not beat around the bush: Windows 10 is wonderful. It's head-and-shoulders better than Windows 8.1, at least for traditional PC users. The fact that it banishes full-screen apps and the Metro Start screen, focusing instead on the tried-and-true desktop, should be reason enough to make PC purists smile. The massive Windows 10 Anniversary Update released on August 2, 2016, added even more features, functionality, and polish.
The obvious desktop improvements are just the tip of the iceberg, though. If you're fresh to Windows 10, these are the cool new features you'll want to check out first.
Editor's note: This article has been updated several times to reflect new capabilities as major Windows 10 updates roll out.

The Start menu
Windows 10 atones for one of Windows 8's greatest sins by returning the Start menu to its rightful spot in the lower left-hand corner of the desktop. But rather than focusing on desktop apps alone, the Windows 10 Start menu mixes in a dash of the Metro Start screen's functionality, sprinkling Live Tiles of Windows 8-style apps next to shortcuts to more traditional PC software.
You can turn off that Live Tile functionality if you'd like, and even unpin all the Metro apps from the Start menu, returning it to purely desktop-focused glory. Or you can choose to have the Start menu expand to the full screen, and resize Metro apps to recreate a more Windows 8-like experience. The choice is yours.
The Windows 10 Anniversary Update tweaks the Start menu's layout, shifting power and settings options to a new left-hand rail and ditching the "All apps" button in favor of a long, scrolling list of all your apps in alphabetical order underneath your new and most-used apps.
Windowed Windows Store apps
As you might have caught onto by now, those reviled Windows Store apps from Windows 8 haven't been eradicated—but they have been remolded to fit desktop sensibilities. In Windows 10, launching a Windows app on your PC opens it in a desktop window, rather than dumping you into a full-screen app. The windowed apps have a mouse-friendly toolbar of options across the top, and even alter their interface to best fit the size of the window. Nifty.
I never used Metro apps in Windows 8, but Windows 10's windowed Windows Store apps (whew!) have coaxed me into using them on a daily basis, especially Mail, Calendar, and Photos.
Cortana
Cortana, Microsoft's clever digital assistant on Windows Phone 8.1, makes the jump to PCs with Windows 10, where she assumes control of the operating system's search functions. Cortana will want to access your personal info, then use that info along with her Bing-powered cloud smarts to intelligently surface information you're looking for and perform other helpful tasks.
Cortana can help you find all sorts of online information via natural language queries you ask using text or voice commands. Cortana can also apply those natural language smarts to search your hard drive, OneDrive, and business network for files that meet certain filters, like "Find pictures from June."
The digital assistant can also play music, create reminders, set alarms, and even crack jokes; the Anniversary Update adds more contextual awareness for Cortana across several apps, and adds the digital assistant to your PC's lock screen. Read PCWorld's ultimate Cortana guide for the full lowdown.
The Edge browser
Forget Internet Explorer. Well, don't forget it entirely—it's still tucked away in a corner of Windows 10 for legacy compatibility purposes. But the star of the internet show in Microsoft's new operating system is clearly Edge, a brand-new browser built from the ground up for speed, slickness, and trawling the modern web.
Edge uses Microsoft's new rendering engine—which isn't included in IE in Windows 10—and packs some nifty extras. Cortana pops up with supplementary information while you search the web, such as Yelp reviews and Bing Maps directions when you're viewing a restaurant website, or coupons when you're shopping online. Digital inking tools let you easily mark up a website and share it with others. Finally, Edge also includes an awesome clutter-stripping Reading View, and allows you to stash articles in the complementary Reading List app for later perusal.
Edge is still a bit bare-bones compared to Chrome or Firefox, but it's making great strides. It's the only browser that can stream Netflix at 1080p, and limited initial extension support was added in the Anniversary Update. Check out PCWorld's guide to Edge for all the info you need.
Virtual desktops / Task View
It's time to stop begging, enthusiasts: Virtual desktops have finally come to Windows. The poor man's multimonitor setup allows you to go back and forth between either open apps or multiple virtual "desktops" of apps, organized how you like them.
Task View, as Windows 10's virtual desktop implementation is called, won't appeal to everybody but it provides deep new functionality for power users. (The integration with windows snapping is especially handy!) Be sure to check out PCWorld's Windows 10 Task View guide to learn about all its nooks and crannies.
Action Center
Notifications are one of the coolest features of modern operating systems, with pop-ups reminding you of all sorts of useful information. Windows 8 had them, but those notifications disappeared forever as soon as they faded from your screen—an issue if you weren't actively sitting in front of your PC when one popped up.
Windows 10 cures that ill with its Action Center. As notifications slide into view, they're archived here. Those notifications were listed in simple chronological order in the initial Windows 10 release, but the Anniversary Update overhauled the interface to group notifications by app—a welcome, much more polished change. The Action Center also provides quick-action buttons for common functions, like activating Bluetooth or connecting to a VPN, as well as an option for shifting the interface to Tablet Mode.
The notification tracking carries over to the main Windows taskbar, too. Any Windows Store apps pinned to it will display a circular icon with the number of unread notifications when applicable, while the Action Center icon will show your total number of unread notifications.
Revamped core apps
Windows 10 introduces overhauled Mail and Calendar apps that are vastly better than their Windows 8 counterparts. While the Windows 8 apps were pokey, the Windows 10 variants are speedy and responsive, and they manage to fit much more info on the screen while still being friendly to mice cursors and fat fingers alike. The new apps also dynamically shift their interfaces to fit nicely into windows of all shapes and sizes.
The Mail app adds swipe gesture controls so you can quickly sort your inbox with just a few swipes—and what each swipe does is user-configurable, too. But more important for practicality, the revamped apps include key functionality that was missing in their Windows 8 predecessors: POP email support in the Windows 10 Mail app, and Google Calendar support in Calendar.
The new Photos app is surprisingly robust, as well.
The Xbox app
Windows 10's new Xbox app should feel deeply familiar to Xbox One fans: The center point is your Activity Feed, which is populated by your Xbox Live Friends' activities, such as unlocking an achievement or launching a Twitch stream. The right side of the app lists your friends; selecting one offers options to view their game clips, invite them to a party, send an IM, and more. You can also view your own achievements, manage your profile, and more all right within the app. You can even stream your Xbox One games to a Windows 10 PC or tablet.
We can't help but feel that this app is more beneficial to console gamers who happen to have a PC than to true PC gamers, despite the Xbox app's Game bar, a system-wide tool that lets you snag screenshots and video clips of your PC games (and more). But it's a very handy tool indeed if you fall into the former camp—and it will no doubt gain more significance once Microsoft rolls out the Xbox Play Anywhere initiative, which will let you buy games once and play them on Windows PCs or the Xbox One, with cloud saves and cross-platform multiplayer traveling between the two.
The Anniversary Update also adds a dedicated hub for Windows 10 PC games in the Xbox app.
Continuum
Yes, Windows 10 is vastly improved on PCs, but Microsoft didn't forget about touchscreen users. The operating system includes a handy "Continuum" feature that dynamically switches the interface between the PC-friendly desktop and a Windows 8-like mode that's better suited for fingers (pictured above), depending on how you're using the device.
Windows tablets will default to the latter; PCs to the former. Hybrids will intelligently switch between the two modes depending on whether you have a keyboard attached. Windows 10 Mobile phones will even ape a full-blown PC when they're connected to an external monitor.
In tablet mode, the Start menu expands to fit the full screen, as do Windows apps. If you'd like to force a switch, the new Action Center has a dedicated "Tablet Mode" button that you can enable or disable at will.
Another device-specific Windows 10 feature: Windows Hello, which uses biometric authentication to log you into your PC—if your PC packs hardware that's compatible with the new feature.
Windows Ink
The Anniversary Update added all sorts of polish and little extras to existing Windows 10 features, but it also introduced a new feature of its own: Windows Ink.
Windows Ink furthers Microsoft's focus on stylus support. Clicking the button on your styli or pressing the new pen icon in the taskbar pulls up the new Windows Ink dashboard. The dashboard includes a trio of native new inking apps, displays any inking apps you've recently used, and even makes suggestions for stylus-supporting apps you may enjoy, complete with a link to a curated section of the Windows Store devoted to Windows Ink.
The native Sticky Notes app can read your scrawl to automatically identify key info and intelligently create Cortana reminders or display relevant info provided by Bing. In the future, Windows Ink will even be able to do your math homework.
Next Up: Check out these related slideshows
Today's Best Tech Deals
Picked by PCWorld's Editors