NEW YORK—Samsung and HTC aren't the only ones dueling it out in the premium smartphone game this spring. LG's throwing its own entry into the ring, too, with its fourth-generation flagship device, the G4.
Here's what to expect when the phone eventually comes stateside next month, though if you live in Korea you can buy the phone beginning April 29.
Want more on the LG G4? Check out our hands-on impressions.
Let's try leather for a change
The G4 offers something its opponents don't: a leather outfit. There are eight different leather backings, as well as two polymer (plastic) ones, including one ceramic-coated back, all of which are interchangeable so that you can match them with your outfits as you see fit.
The leather is real cowhide that's "vegetable aged" with banana peels and other organics, which is why it will take three months before the leather back is ready to outfit the phone. LG said that the leather it chose is "the same leather used in the premium brand handbags sold on Fifth Avenue."
The phone itself is a tad thicker than its predecessor, the G3, and it definitely has a bit of heft to it compared to the Galaxy S6 or Galaxy S6 Edge. It also sports the same rear-facing buttons as the G2 and G3, which LG now refers to as the "identity" of its smartphones.
A Snapdragon… 808?
LG didn't power the G4 with a Snapdragon 810 processor, despite the fact that it's used in the company's G Flex 2. Instead, the G4 runs a Snapdragon 808 processor, supported by 3GB of RAM and a 3000 mAh removable battery pack.
Those components also power the phone's 5.5-inch Quad HD IPS "Quantum Display." Rather than using conventional blue and yellow light sources, the G4 utilizes blues, reds, and greens, which LG says contributes to the "[Digital Cinema Initiative (DCI)] quality display in the G4." It's the same quantum dot technology used in the company's latest TVs.
LG doesn't offer its own proprietary mobile payment system, like Samsung does. The company opted to stick with what Android natively offers, which is Google Wallet via NFC. There is also no mention of fast charging capabilities, though the Snapdragon 808 supports Qualcomm's Quick Charge. Wireless charging will only be possible with the G4's Folio case, which is sold separately. 
Rear-facing camera with a cherry on top
The rear-facing camera got a makeover, too. LG increased the resolution from 13- to 16-megapixels, balancing pixel size on the small sensor with resolution. The camera module employs an f/1.8 aperture lens that lets in more light to improve low-light photos and it has the same optical image stabilization (OIS) and laser autofocus featured in the G3. 
The companion camera app also offers a manual shooting mode, which lets you adjust every little facet of the photo, including white balance and shutter speed, as well as the option to save your photos in RAW format. When you're ready, you can then take those photos and adjust them as you like with desktop apps like Photoshop or Lightroom.
The front-facing camera is 8-megapixels, which beats out both the HTC One M9 and Galaxy S6's front-facing cameras. The G4's front-facing camera offers a "beautify" mode, which smoothes out your skin and makes you look cherub-like. In addition to this, LG added a new selfie mode that takes four photos at once, each a second apart, so you can decide which photo looks best for sharing with your social network. It's sort of like a photo booth.
A little more Google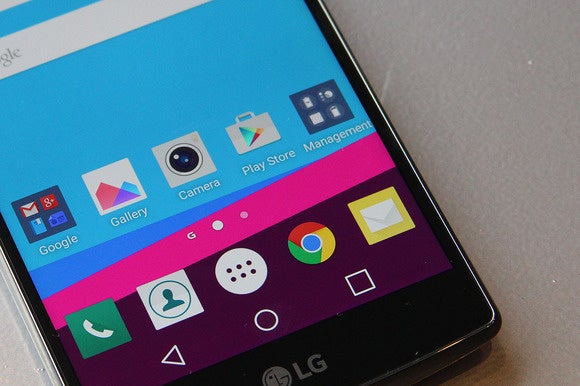 LG said it "spent a lot of effort with Google to deliver the best Android and Google experience," regardless of the fact that the G4 is not a Nexus device.
Depending on the carrier, Google Chrome will be the only browser installed on the phone. There are still a few LG apps, however, like its Smart calendar, which has direct integration with Google and Facebook's location services, and a Gallery app, which LG said it overhauled to make it faster and more concise. LG also teamed up with Google to offer 100GB of Drive storage for anyone who brings home a G4.
Anything extra?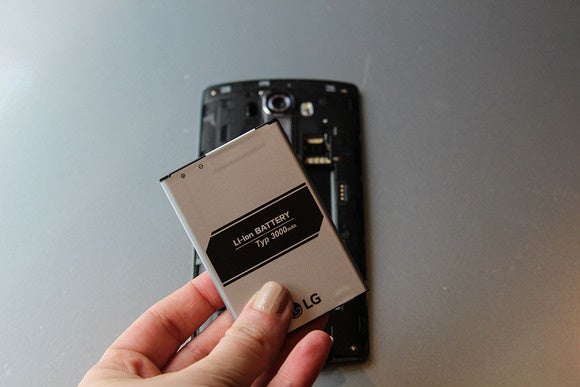 Those of you rueing the loss of the removable battery and storage expansion slot on the Galaxy S6 might want to give the G4 a try when it goes on sale. LG played up those facts and even said it expects to sell a whole lot of removable batteries for its flagship device this year. It's a deliberate dig at Samsung, though it's a wonder if a removable battery pack is really going to be the major selling point of a flagship device.
Editor's note: We updated this story at 4:45 p.m. PT on April 28 with correct information about the G4's camera sensor.
This story, "Meet the LG G4: Clad in leather and sporting an impressive camera" was originally published by Greenbot.