SLIDESHOW
Just Cause 3, Hitman, Deus Ex, and Tomb Raider: Square Enix's E3 event sticks to PC stars
Square Enix oversees some of the most beloved franchises in PC gaming, and all of those star-studded series were out in full force during the company's big E3 event.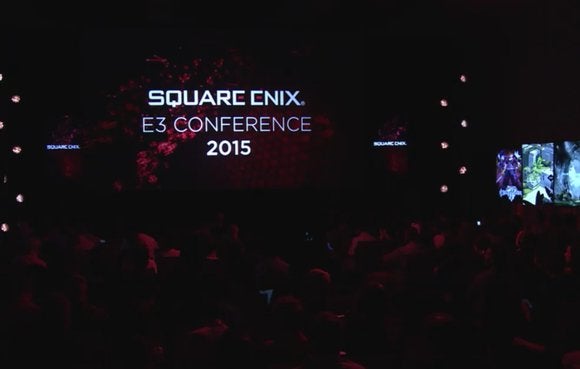 Bring out your beloved franchises
From Hitman to Deus Ex to Tomb Raider to the explosive Just Cause, Square Enix oversees some of the most beloved franchises in PC gaming, and all of those star-studded series were out in full force during the company's big E3 event.
Read on for full details about Square Enix's PC-centric offerings, and be sure to check out our previous E3 "Day Zero" coverage from Bethesda, Microsoft, EA, Ubisoft, and Sony's events. If you're interested in PC games and PC games alone, our guide to E3 Day Zero's PC reveals can open your eyes to every game you'll be able to play on your computer in the coming months.
Just Cause 3
How do you make the most amazing action game of all time look boring? You present it the way Square Enix presented Just Cause 3—with a droning, James Earl Jones-esque voice over top of the footage explaining literally. Every. Single. Thing. You. See.
I have no doubt Just Cause 3 will be as full of mayhem as the second—after all, Square revealed you can now use multiple grappling hooks at the same time (without modding). Also, some of the shots in today's trailer seemed designed to mimic iconic Fast and the Furious franchise scenes, which I am all about.
But come on, Square. Make a better trailer, next time. Or even better, just show us game footage. Show us all the crazy things that can happen with literally five minutes in the game.
Tomb Raider
We literally saw less of Tomb Raider at Square Enix's conference than we did at Microsoft's yesterday. Mostly we saw Square trundle through my favorite E3 trope—shots of people moving models around in Maya. So basically nothing.
Though Square did make sure to say it's "putting the tombs back in Tomb Raider."
Final Fantasy VII remake
Continuing its baffling trend of "Boring everyone to tears," Square then showed the Final Fantasy VII Remake trailer again, and followed it up by "announcing" the game again. It's like Square lives in some weird world where the Sony press conference never took place.
Hitman
After showing off a brief teaser Hitman trailer during Sony's PlayStation event on Monday, but revealed many more details during its own event. Subtitled "World of Assassinations," the game will continue to be updated after it launches to add new missions, new assassinations, and even entirely new levels to the game. For example, it was mentioned that an assassination target may only appear for 48 real-time hours, and you only get one shot to take him out—or fail the mission.
Contracts mode will now let you mark your own assassination targets and share them with friends, as well. It all sounds like a pretty nifty base for a living, breathing new Hitman game—at least if Square Enix handles it correctly. Here's hoping Hitman's more Blood Money than Absolution.
Deus Ex: Mankind Divided
Deus Ex: Mankind Divided wasn't an unknown quantity coming into Square Enix's E3 event, as a lengthy pre-rendered trailer for the game was released months ago. But more information about the highly anticipated sequel to Deus Ex: Human Revolution was revealed, as well as a trailer comprised of in-game Dawn engine footage.
Mankind Divided takes place in 2029, two years after the events of Human Revolution. That game's "Aug Incident" has turned unaugmented humans against cybernetically-enhanced individuals in what Square Enix calls "mechanical apartheid." Adam Jensen returns as the star once again, now working for Interpol rather than Sarif Industries—though as a double agent, since he suspects the series' iconic Illuminati may be secretly pulling the strings behind the organization. Your choices and their consequences will affect both the events and the ending of the game.
All in all, it sounds like another Deus Ex game, and there's nothing wrong with that. Look for Mankind Divided to hit the streets sometime in early 2016.
That masked man
Oh, and this happened. No, seriously. There's a person under there. Why? I don't know. It had something to do with the console-only Nier.
Next Up: Check out these related slideshows
Today's Best Tech Deals
Picked by PCWorld's Editors