You may rightly assume that Google's apps work better on Android. Since Google builds the operating system and its own fleet of apps, those apps should work far better than their counterparts on iOS, right?
But Google makes money through its services, not by selling Android devices. An ad clicked in Chrome on iOS generates just as much money as one on Android. So while the company certainly loves it when you opt for the green robot (as you'll buy apps in the Play Store, use its location services, and so forth), it's going to pull out all the stops to make sure you can use Gmail, Chrome, Drive, and other services on the iPhone.
There are many ways that Google apps retain their edge on Android. So much so that when you go to use them on iOS, you may end up contorting your fingers in frustration over how badly you're restricted. 
More powerful Gmail (and Inbox)
Even though Inbox, Google's hip new alternative to Gmail, is relatively similar on both platforms, there are some subtle differences. The default "open from" method on Android opens up the device's file system, just as any Android app has permission to do. With iOS you're limited to the photo gallery, so developers must build in inter-app connections for sharing content. Additionally, email apps on iOS will never quite serve as the default app, as email links in the browser will route to the stock Mail app.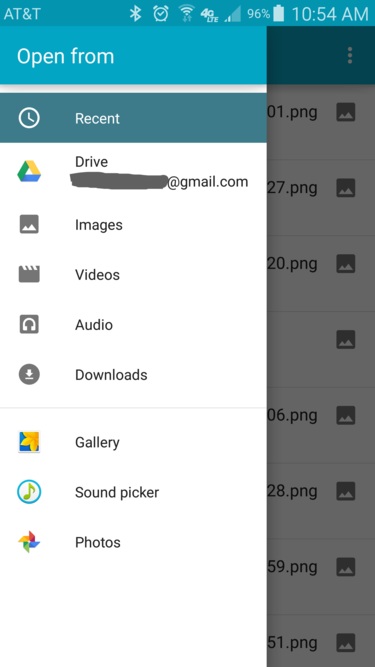 Gmail offers more capabilities for attaching files, as you can only insert an attachment from Drive or your camera roll (or if for some reason you want to you're able to draw a scribble with your finger) on iOS. Developers can embed access to other cloud services, but with Android it's there by default. All the user has to do is install their favorite service on their device and it appears in the file picker menu.
Another benefit is the way Gmail uses Lollipop's multitasking scheme that breaks separate tasks into their own cards, so it's easy to jump back to the inbox without closing your draft.
Google Maps
Given the importance of Google Maps to the company, it's not surprising to see near feature parity between the iOS and Android versions.
The most prominent difference is the Your Timeline feature, which puts a record of all your travels in Google Maps.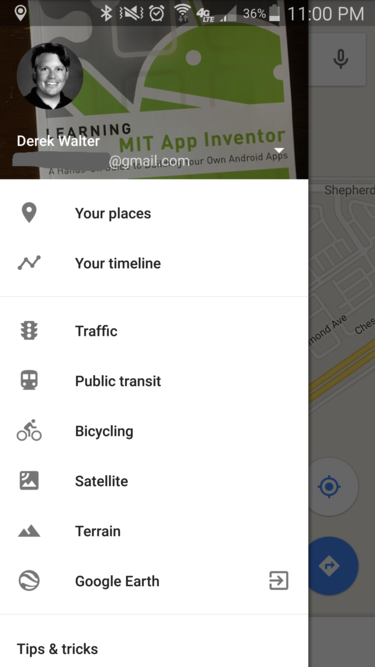 Given how iOS takes tighter reins on background processes, there's a chance this may not make its way over. But there are a lot of smaller features that distinguish Google Maps on Android, too. 
You can edit your customized Google maps built with My Map maker. Additionally, you can give places a private name that only you can see in the Maps app on mobile and desktop. And the turn-by-turn voice navigation seems slightly more robust on Android than it does on iOS.
Of course, one of the best ways to get directions or locate a business is to ask your phone's voice assistant. On iOS, Siri only serves up answers with Apple Maps.
Play Music
The main advantage you get with Play Music on Android is deeper integration with the operating system.There's a handy Google Now voice command that lets you speak a particular artist or a play random selection through, "OK Google, Play Music."
Google will search your song selection when you type in the search bar. It's like searching content in Spotlight on the iPhone, but better.
With the Android app you're able to use an equalizer to customize the sound to your liking. This is especially handy if you connect your device to a set of speakers. 
On iOS, Play Music is of many streaming services that play second fiddle. The ability to search tracks with Spotlight or specify a default application still remains with Apple's own apps.
Chrome on iOS is fake Chrome
This may be sound like hyperbole, but it's not far off. Yes, Chrome on iOS may walk and talk like Chrome, but underneath the hood it's a completely different story. 
That's because Apple restricts how third-party developers build a web browser. They're only allowed to use Apple's WebKit rendering engine. The problem is that Google has its own engine called Blink, which powers Chrome on Android as well as desktop PCs.
In iOS 8, Apple finally allowed app developers to use WKWebKit, which uses the same JavaScript engine as Safari. Yet Chrome still uses the previous-generation UIWebView. According to Google, "significant technical limitations" keep the browser stuck on the old rendering engine. 
Pokey browsing aside, there is a long list of things you can only do with Chrome on Android. The flags (go to chrome://flags) let you try out experimental tools like showing content when you hover over a link or generating secure passwords. You can also add links to websites to your home screen. On iOS, you can only do this with Safari. 
Additionally, Incognito mode on iOS gets an asterisk next to it. According to Google, Apple's WebView doesn't allow the browser to clear HTML5 local storage. So while your history isn't shared with regular Chrome tabs, some offline content may still be saved on your iPhone.
Individually each issue may be small, but they add up to show much more more capable of a browser Chrome is on Android than iOS. 
A closer tie to desktop commands
Another Android advantage is how many commands you can type into Chrome that perform an action on your phone. You're able to send directions, set an alarm, create a note, or set a reminder.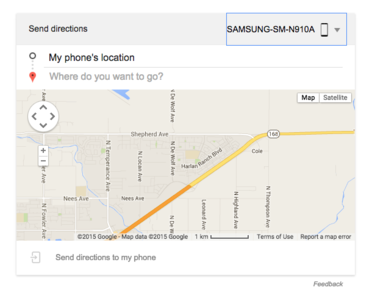 If you want to try out these tricks, here's a walkthrough on how to link your phone to Google. I expect Google to build a deeper tie between Android and Chrome. While Google has brought the directions feature to iOS, the new rollouts are likely to be much faster on Android.
Google Search rules the roost
On iOS Google has put a lot of Android-style tools into the Google Search app. You can get Google Now voice search and all your cards, but you have to open the app to do it.
Google search is siloed into its own application. On Android, Google powers the entire operating system experience. So touching the search bar or saying, "OK, Google" opens a wide door of voice commands. While many of these may work on the iPhone, they can't control your device.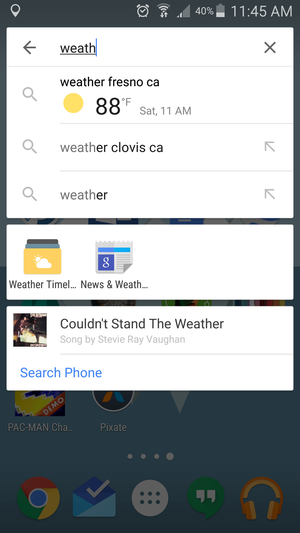 If you want a voice search of your email or contacts from the home screen you're stuck with Siri. While Android allows you to select Hound or Cortana as the default search, you better get close with Siri on iOS. Spotlight is getting better with iOS 9, but after using it for a while on my iPad, it still leaves me wanting and I head right back into the Google app. 
While I love all the Google integration, the reality is that you can seriously dial it back on your Android device if you want. I personally think closely tying together your data and Android's capabilities make it a stronger package, but you don't have to do that if you don't want to. On iOS, you don't have much of an option.
Google Now on Tap will push the gap further
One of the most substantial differences is yet to come: Google Now On Tap. This will be Google's largest push yet to put its machine learning capabilities into the core of Android.
Google offered several demos of the forthcoming service at its I/O Conference. Essentially, Google Now will always be working in the background to find ways to better serve you information. Should someone suggest dinner at a Mexican restaurant, Google Now will offer details about that place and directions via Google Maps. 
But even in Lollipop Google Now already plays a substantial role in Android that it can't do on the iPhone. On iOS, Google Now is locked inside the Google app. It can't do all the clever voice commands you can with an Android device.  
If you're all-in with Google, Android is still better
Sure, from time to time you'll see Google launch a new app or feature on iOS and wonder what the benefit of Android is. But it won't be long before you find a new feature or discover some clever trick in Google Now to remind you why the leap to Android in the first place. 
But over time, you'll see the subtle differences and extra features that don't quite make it over to iOS sink in. The main app to keep your eye on is Chrome, as it's a core 
This story, "Why Chrome, Gmail, and other Google services are still better on Android than iOS" was originally published by Greenbot.