YouTube has apparently come to terms with the fact that people just can't stop filming vertical videos with their phones.
The latest update to the YouTube Android app now expands vertical videos to fill the phone or tablet's display (pictured). It improves the experience of watching such an incorrectly-filmed video, eliminating any visual interference.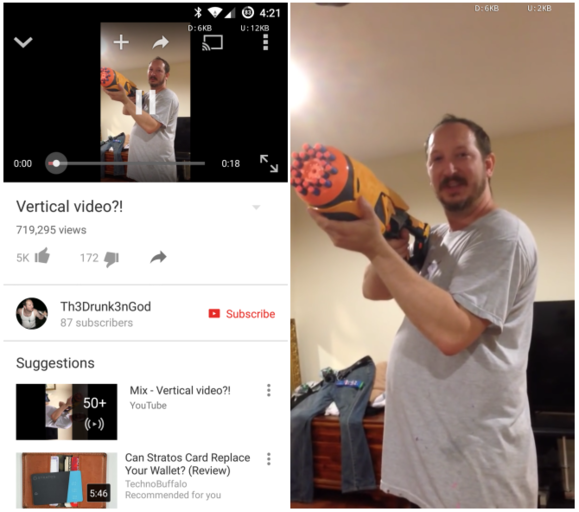 Google has made subtle efforts to discourage vertical videos. The Google camera app pops out an icon with moving arrows to indicate you should turn your device when recording in vertical mode. However, the rise of Snapchat, Meerkat, and other services have only fueled this activity. 
To check out the new version of YouTube, grab the 10.28.59 update from APK Mirror or the Play Store.
The story behind the story: A lot of people film videos the same way they hold their phone: vertically. The problem is, that creates a less-than-ideal video. There's a reason that televisions are all have a widescreen aspect ratio—it's better suited to the way our perception works. However, YouTube clearly decided this update was a necessary concession to the way that people continue to film all those not-so-special moments.
This story, "YouTube for Android update now plays vertical videos in full-screen mode" was originally published by Greenbot.