SLIDESHOW
The 10 best hidden features of Windows 10
Windows 10 isn't all Cortana and the Start menu, you know. Follow the ninjacat to find the best stuff under the hood.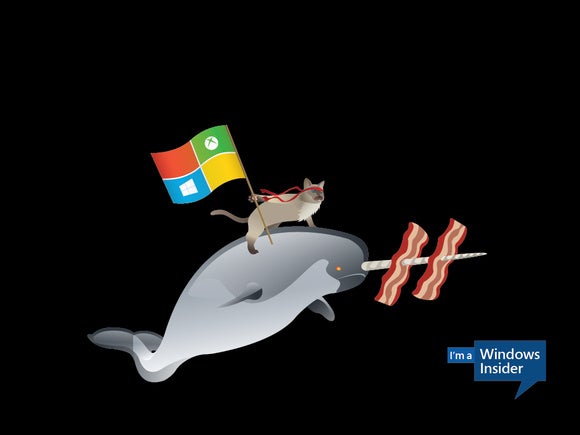 Follow the ninjacat to the best features
Windows 10 has officially been unleashed upon the world, but Insiders have lived with the operating system for months and know things the newbies don't. Insiders have even created their own mascot, a ninjacat with a variety of trusty steeds, to symbolize their pioneering, adventuresome spirit.
We've been playing with Windows 10 for weeks now. Let's follow the ninjacat deep within the bowels of Windows 10, where narwhal guides are eager to point out tasty bacon features you might otherwise miss. We think these ten are some of the most useful, productive, hidden gems you're going to find. Well, except for number five. You're probably going to think that one's a bug.
Put the Web (and desktop) in your toolbar
You can make your desktop toolbar even more powerful with a few tweaks in a configuration menu, adding a Web address bar and desktop links.
Click the toolbar, and right-click in any unused space you can find. Select the "Toolbars" tab. There, you can check off one of three options: Address, Desktop, and Links. With the address bar, you can quickly type in a Web site and launch your browser. Links allows you to do the same, but via saved bookmarks. Instead of launching your desktop directly, the Desktop link brings up folders and other locations on your PC. 
You might not want the extra clutter, but it can be pretty handy.
Which apps take up the most room?
Hidden away within Settings > System > Storage is a list of the drives on your PC. Click a drive, and you'll receive a handy breakdown of how much space apps, photos, videos, and more take up on that particular drive. Click each of those subcategories to get even more detail.
We think you'll find the list of apps the most useful of all of these, especially as that SSD gets clogged. It's a great way to keep tabs on what's using up all of that space so you can quickly decide which ones get the heave-ho. 
Mail's hidden Clutter feature
Microsoft filters out spam, but the company also places email that you probably don't care about in a "Clutter" folder, a feature that is now included in the Windows 10 Mail application. Clutter is not quite spam, but not quite relevant, either.
The Clutter folder hides out in the "More" subheading in Mail—where a number of other folders hide as well, incidentally. If you're worried that a critical email may be lost in Clutter, check often as you first use it, and drag anything important back into the Inbox. Clutter will learn which email is important over time. Microsoft will also email you periodically about what's gone into the Clutter folder.
Go away, Cortana! I'm not your friend!
Yes, there's a toggle to turn off Cortana. And you'll probably want to ensure your information is erased from the Microsoft cloud, if you decide you want Windows 10 to preserve your privacy wholesale. But if you just want to erase Cortana's memory and turn her off, go to Settings > Privacy > Speech, inking & typing, and click the big gray button that says "Stop getting to know me."
Whoa -- we're supposed to pay for Solitaire?!
Solitaire has been one of those idle pursuits for people with a lot of time on their hands—receptionists, bored office workers, you know the type. But for some reason Microsoft now thinks that Windows 10 users will still pay, monthly, for premium Solitaire. Yes, Microsoft tried out premium Solitaire features in Windows 8 as well...but they're back. And they still only pop up when you try to access the daily Challenges. (An M&M's candy video ad popped up when I tried them out, just to assure me that yes, Microsoft is serious.)
Technically, this is a "feature." But we've stretched the definition of the term for this one. 
Solitaire Challenges!
Speaking of Solitaire, if you manage to make it past the ads in Windows 10's Microsoft Solitaire Collection app, check out the Daily Challenges. This is serious business.
Not only is someone at Microsoft coming up with these things, you get special e-currency (that does what?) as a reward for completing them. And in the future, there will be leaderboards. Big things are coming, we tell you.
Background app manager
Another carryover from Windows 10 Mobile, the background manager allows you to tweak the settings for apps that run in the background. You might think, nah, why bother? Well, do you really need all the hidden ads in your Web browser connecting to the Internet when you're not actively using it? It's something to keep in mind. 
Battery use/battery meter
With Windows 10 running both on computers and on phones, we're seeing a lot more "mobile aware" applications running in Windows 10. Case in point: the battery management applications, hidden within Settings >System > Battery saver.
Yes, there is a battery saver mode, but that's not the most useful tool. And no, it's not the hidden battery meter (with an estimated time to battery rundown), either—the first app I thought of when writing this piece, incidentally. The only reason I can think that Microsoft hid it in the Settings menu is that it doesn't actually work—it spent five minutes trying to calculate my remaining battery life before I gave up.
No, I like the breakdown of battery use by apps and device. Not only can you see what really sucks down power in your system (the display, by and large), but it's an insightful look into which apps are battery hogs, too.
Edge's convenient advanced options
Based on our Windows 10 review, you might think that I hate Edge. I don't. In fact, one of the most convenient things about it is a settings menu that allows you to turn on or off several useful features—no muss, no fuss. 
Dive into the Edge settings menu via the "ellipsis" menu to the upper right, then Settings, then all the way down to the Advanced Settings menu. There, you'll find these nice little options, which you may tweak at will. (Yes, I'll be turning off Adobe Flash.)
Fast startup
While this may be old hat to Windows 8 users, Windows 7 users are in for a treat. Windows 10 should come pre-configured to enable fast startup, where certain system files are written to a master file, resuming them rather than restarting the entire system. Microsoft implies that this helps cut boot times to about 60 percent of where they were.
Combine fast startup with a SSD, and, man, reboots are fast.
Those are our ten favorite hidden Windows 10 features, but there's a lot more to this new operating system. Did we miss something good? Tell us in the comments below.
Next Up: Check out these related slideshows
Today's Best Tech Deals
Picked by PCWorld's Editors