SLIDESHOW
The 15 most anticipated PC games of (the rest of) 2015
Sure, delays have pushed some games into next year. But the next few months are still packed with worthy titles like these.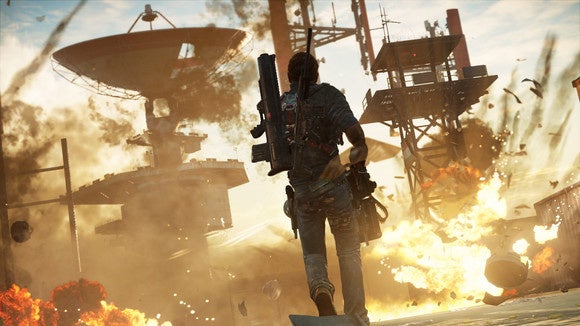 Blow up the outside world
It's August, which means we're technically two-thirds of the way through the year. But don't tell that to video games. We're about to enter the vaunted "fall release cycle," which means in the next three or four months publishers will release more big-name games than they've released since January.
Like last year, though, delays have pushed some of the year's most-anticipated titles back to 2016. But all is not lost. We've rounded up fifteen of the most interesting PC games still scheduled to release this fall, from Fallout 4 to SOMA.
Did we miss any? Let us know.
Shadowrun: Hong Kong – Aug. 20
"Fall" starts a bit early next week, when we get our hands on Shadowrun: Hong Kong. I fell in love with the RPG/tactics hybrid of both Shadowrun Returns and last year's Dragonfall expansion, so I have no problem with saying this third iteration is high on my most-anticipated list this year. Developer Harebrained Schemes has some of the most talented writers in the industry right now.
Metal Gear Solid V: The Phantom Pain – Sept. 1
It's a bit hard to know what to expect from Metal Gear Solid V, what with the ongoing Konami/Hideo Kojima drama.
But I'm still (fingers crossed) tentatively excited for Metal Gear Solid V: The Phantom Pain to hit PCs. I enjoyed the teaser we got with last year's Ground Zeroes, and if Phantom Pain is just a larger/longer version? Count me in. Ground Zeroes was a fantastic stealth game, and I say that as someone who's never been a big Metal Gear Solid fan before.
SOMA – Sept. 22
When it comes to horror games, Frictional is a damn institution. Penumbra, Amnesia—the studio's created some of the best horror games ever made, and with a fraction of the budget allotted to most other horror franchises.
And now we're finally nearing the launch of SOMA, which looks like the studio's most ambitious game to date—one that delves into psychological horror as much as physical. Here's a useful link to help get you prepared.
Sword Coast Legends – Sept. 29
Favorite demo of GDC, favorite demo of E3—this isometric CRPG somehow has me even more excited than Pillars of Eternity.
That's all thanks to the free-form Dungeon Master mode, which allows players to create custom dungeons, quests, and campaigns with some very powerful-looking in-game tools. Computer games have never quite captured the improvisational feel of real tabletop roleplaying, but Sword Coast Legends looks like it might come close.
Rainbow Six: Siege – Oct. 13
Blow up the walls. Blow up the floor. Blow up the everything. If I'm excited about Rainbow Six: Siege it's because it's the first shooter I've seen since the new consoles launched that uses modern tech to push not just graphics but the game itself.
Sure, the alpha had its fair share of problems—but it's an alpha. Hopefully this one's ready to go when it launches in October.
Anno 2205 – Nov. 3
Ubisoft's long-running city builder Anno series takes us into the far-flung future of 2205 A.D. this year—and, in the process, to space. Progress far enough on Earth and you'll eventually be able to send humans out to colonize the stars.
I took a look at this one during E3 and liked what I saw. I don't think it'll dethrone Cities: Skylines as best city-builder of 2015, but the whole moon-city premise has me excited nevertheless.
Need for Speed – Nov. 3
Need for Speed 's story looks goofy—I'm not sure I expected the team to "reboot" Need for Speed with more FMV sequences, a la 2005's Need for Speed: Most Wanted.
But whatever. As far as arcade racers go, this is where I have my hopes pinned for 2015. Trackmania Turbo could come from behind to surprise me, but I'm not holding my breath. Luckily, Need for Speed seems like it could turn out pretty good, provided it ditches the previous game's framerate cap.
Fallout 4 – Nov. 10
It's the juggernaut of 2015. I'm honestly not sure I'll have any time for other games once Fallout 4 lands on my computer, so uh…sorry Battlefront, Just Cause 3, and everything else releasing after November 10.
The first Bethesda RPG since 2011's Skyrim, Fallout 4 takes us to post-apocalyptic Boston for all sorts of nuclear hijinks. And a dog. And hopefully a better story than Fallout 3.
Star Wars Battlefront – Nov. 17
I'm not entirely sold on this new Battlefront—as a longtime fan of Battlefront 2, this isn't exactly the Battlefront 3 I'd been holding out for.
But I'm probably going to end up playing it anyway, truth be told. The battles in Star Wars are iconic, and DICE looks like it's done a hell of a job recreating them for modern platforms. At the very least, I expect to play quite a bit of that newly announced dogfighting mode.
XCOM 2 – November
When you played XCOM: Enemy Unknown, did you lose? Did the aliens overrun your soft human troops and take over Earth?
Great, then you're prepared to leap into XCOM 2, which starts from that very premise. The aliens won and now control Earth. XCOM went underground in order to resist the new occupation. It's an interesting premise for another iteration of the venerable strategy series, and I expect to spend plenty of hours playing—and losing. And swearing.
Just Cause 3 – Dec. 1
I've been eagerly awaiting a Just Cause 3 ever since I finished Just Cause 2. The latter's one of my favorite games of all time, if only because it utterly eschewed the ideal of games-as-art for pure, summer blockbuster mayhem. And it was glorious.
Set in a world where everything explodes, you'll once again take hold of Rico Rodriguez and undoubtedly guide him through a series of cutscenes that don't matter in any way, shape, or form. All in pursuit of leaping out of planes mid-air and parachuting through the ensuing explosion.
Hitman – Dec. 8
I hemmed and hawed about whether or not I'm anticipating this year's Hitman. On the one hand, Absolution was a bit of a mess. On the other hand, IO Interactive is touting this as a return to the sandbox-style levels that made Blood Money a classic stealth game.
It's a coin-flip, for me. Hitman could go down as the game that resurrected Agent 47, or the most disappointing game of the year. A lot's resting on this one.
The Banner Saga 2 – "Winter"
I didn't love The Banner Saga as much as my colleague Brad Chacos—but that's in part because it ended so abruptly. I'm looking forward to finally continuing with the story of my poor caravan and seeing how some of the last game's choices play out.
Plus, the art style and animation are still gorgeous.
StarCraft II: Legacy of the Void – 2015
It's coming. The final piece of StarCraft II's epic trilogy is confirmed to release before the end of 2015, bringing closure to stories that began almost twenty years ago. Also on deck: a host of changes to the game's popular multiplayer. Blizzard overhauled massive portions of the game to bring back lapsed players.
Even more intriguing, to me: Blizzard's said it's considering a Warcraft 4 once the book is closed on StarCraft II. Yes, please.
Total War: Warhammer – 2015
Total War's shaken off the confines of history for orcs, goblins, and gryphons in the upcoming Total War: Warhammer—and I think that may be exactly what the series needs, at the moment.
I don't know that it'll be great—I'm not sure I'll ever feel comfortable recommending a Total War game prior to review codes again, thanks to the debacle that was Rome II. But Warhammer's looking a lot more inspired than Attila, and I have high hopes it gives the series the shot in the arm it needs right now.
BONUS: Pillars of Eternity: The White March – Aug. 25
It's an expansion, not a full game, but I'm just as excited about the first Pillars of Eternity expansion as I am about most other releases on this list. Pillars of Eternity is already riding high as one of my favorite games of 2015, and the expansion is set to add quite a bit to the game—from (obviously) new story content to cross-class talents to adjustable party AI.
And it's just over the horizon.
Next Up: Check out these related slideshows
Today's Best Tech Deals
Picked by PCWorld's Editors