SLIDESHOW
10 gloriously excessive, wildly exotic PC cooling setups
So you liquid-cooled your CPU? That's cute. These masterminds turned to over-the-top modding to drive temperatures low and frame rates high.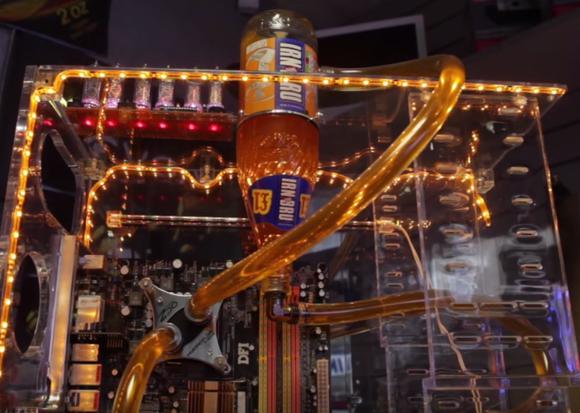 The start of something glorious
There's a common refrain in some corners of the PC enthusiast community: "May our frame rates be high and our temperatures low." More than a mere utterance, it's a simple, straightforward embrace of the very best that the PC has to offer. There's a lot of power in those words—and some people truly take them to heart.
Don't believe me? Witness these utterly magnificent, borderline crazy creations devoted to sending temperatures plummeting and performance skyrocketing. Are these cooling masterworks practical? Nah. But when someone slaps a custom liquid-cooling loop on a router, modem, or Raspberry Pi just because they can, the least you can do is bask in their glory.
Water-cooled router
Okay, maybe I lied. There's a fine reason for enhancing your router's cooling. If you slap the DD-WRT firmware on your router and overclock its processor, you can seriously amplify your wireless signal. That's helpful if you have dead spots in your house, and there's an entire "Actively Cooled Modem/Router Club" thread dedicated to the subject on Overclock.net…which includes weesteev's wonderful creation.
When another user complained that chilling down a router with liquid wouldn't actually improve throughput, weesteev responded like a true enthusiast: "Haha since when was that a reason not to water cool it!!" Then he revealed his entry, a custom water-cooled DLink 615.
Water-cooled router, part 2
Here's a look at the innards of weesteev's liquid-cooled router. He mounted the waterblock using Sekisui thermal tape. Bravo, sir.
Now that's a heatsink
Not into water-cooling your electronics? Fear not! You can mod your router using more traditional cooling fans as well, as this forum thread shows—though most mods are far more pedestrian than this gloriously ridonkulous specimen.
Wet Pi
Fun fact: The $35 Raspberry Pi micro-PC ships with a system menu devoted solely to overclocking the chip. More fun fact: "There is no need to watercool it," Wet Pi mod creator Phame readily admits, "but I like to do something a little different."
The water-cooling block covers the three main hotspots on the original Raspberry Pi, and the Wet Pi earns extra props for the Raspberry-esque color of the liquid itself.
Irn Bru PC
This one's for the Scottish folks in the house. John Lawson, who runs the PC Doctor repair business in Edinburgh, designed this water-cooled PC to celebrate "Scotland's other national drink." (You know, after Scotch.) The liquid's not really Irn Bru—it's standard water-cooling solution dyed to mimic the soda's iconic look. That doesn't detract from this custom rig's majesty, though.
For more details, check out this YouTube video of Lawson explaining the ins and outs of his PC. Those lights.
The Asus GX700
Nvidia's new GTX 980 mobile graphics processor is unprecedented, delivering the same full, no-compromises gaming experience as its vaunted desktop cousin. But in order to accommodate all that power, Asus did something unprecedented of its own with the GX700 gaming laptop: It's the first-ever water-cooled notebook.
It's not always water-cooled, though. When you want to crank your graphics to 11, you attach the GX700 to a separate liquid-cooling dock that gets the juices flowing—the big bubble butt in the picture above. When you successfully do so, a klaxon-like sound rings out and lights flicker in the depths of the cooling unit. Funky!
PCs as art
If the GX700's cooling system is funky, the MAXXPlanck V2 mod's is unreal. Overclock.net forum-goer Show4Pro created this case-ditching masterpiece, as well as a pint-sized version. Because the only PC chillier than a water-cooled PC is a water-cooled PC with all its parts left out in the open air.
The 0-decibel behemoth
Then there's ghmk's Water-cooled 0 Db Game Developer PC. "I wanted to get an absolutely silent but also powerful PC system for my home office," gmhk explains in his post. To do so, he outfitted an aluminum server case with 4 car radiator units (each rocking 8 silent fans), a hand-made copper pipe grill, and a mix of boxed coolers and ones ghmk made himself with copper pipes. All told, the system uses 14 liters of water to keep gmhk's PC running cool (25 degrees Celcius) and utterly silent.
This, folks, is overkill at its most deliciously overkill.
Colorful iGAME Nvidia GTX 680
The more powerful your graphics card gets, the more heat and noise it spits out. It's simple physics. Cards like the Radeon Fury X or EVGA's GTX Hydro Copper series compensate with integrated closed-loop liquid-coolers, but Colorful's iGAME GTX 680 went a different route, incorporating an insanely massive heat sink with 20 copper heat pipes. The card was devoid of fans—and noise. 
It also may have been devoid of existence. While there's ample record of Colorful revealing the card at Computex 2012, searching for reviews or unboxing videos for is fruitless. But we'll always have the dream.
Water-cooled modem
When slapping loops on your router loses its thrill, there's only one place left to turn: Liquid-cooling your DSL modem. So Danlor at McBeen.com did just that. "The modem now runs icy cold… just the way it should be," he says. "No more modem over heating for me!!!"
Truer words have never been spoken.
Water-cooled modem, part 2
Here's a glimpse at the insides of Danlor's liquid-cooled modem.
Fully submerged PCs
There's liquid cooling and then there's liquid cooling—as in submerging your entire PC in a mineral oil bath. Yes, this is a real thing. The boutique builders over at Puget Systems have been dabbling in submersion cooling since 2007 and will sell you an "aquarium computer" kit if you want to build one yourself. They won't build one for you, though.
Your laptop's biggest fan
BONUS: Hey, if it works, it works. This Imgur user even popped a tile off his table to let the fan's cooling air flow freely over his Acer Aspire 5755 so he can play Counter-Strike: Global Offensive without overheating. That gamer's no salty silver.
Next Up: Check out these related slideshows
Today's Best Tech Deals
Picked by PCWorld's Editors