SLIDESHOW
The coolest, craziest next-gen car tech from the Tokyo Motor Show
Electric, hydrogen and lots of tech dreams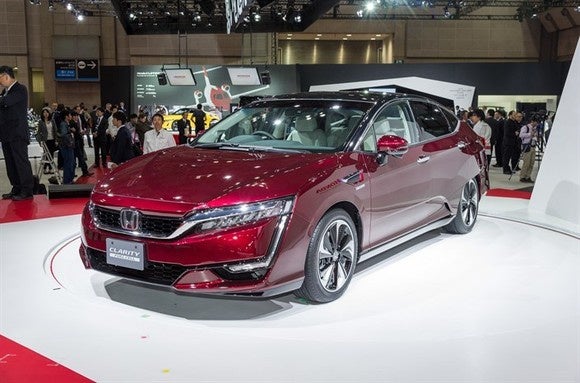 Electric, hydrogen and lots of tech dreams
The 44th Tokyo Motor Show opens to the public this weekend showcasing some of the most advanced car tech yet. Japanese car companies have a major presence at the show and on Wednesday unveiled new prototypes that provide a taste of the tech we'll soon be seeing in our cars.
Toyota's FCV Plus
Toyota put the world's first hydrogen-powered commercial passenger car on sale in 2014 when it launched the Mirai in Japan. At this year's Tokyo Motor Show, it unveiled this concept of a future hydrogen car called the FCV Plus.
Toyota's FCV Plus
The FCV Plus integrates with a whole green-energy ecosystem and is able to supply power when needed. For example, the car could feed electricity to a house in case of an emergency.
Toyota's FCV Plus
True to its futuristic stylings, the FCV Plus doesn't include any conventional dials or gauges on the dashboard. Instead data about the car and driving conditions are projected onto the windshield through a heads-up display.
Nissan IDS Concept
Nissan's IDS concept car combines the company's electric vehicle technology with autonomous driving into what the company believes all future cars will be like. Nissan has a plan to put autonomous driving technology into cars by 2020.
Nissan IDS Concept
The dashboard of the Nissan IDS concept car is just as futuristic as the rest of the vehicle. A large flat-screen panel sits in place of a conventional dashboard and a tablet PC-type device sits in the center of the steering wheel. Advanced electronics are very much a feature of this car.
Nissan IDS Concept
A unique feature of the Nissan IDS concept is the intention indicator, an LED strip along the side that communicates to pedestrians and other road users that the car is aware of their presence. There's also an LED display that can transmit messages to others. In this image, it's telling the pedestrian that it will wait for her to cross the street before proceeding.
Honda Clarity FCV
Honda's Clarity FCV is a hydrogen fuel-cell vehicle scheduled to go on sale in Japan in 2016. Fuel cell vehicles are essentially electric cars that use hydrogen to supply the power needed, rather than rely on lengthy recharges. It has a range of more than 700 kilometers and a hydrogen refill takes just three minutes.
Honda Clarity FCV
Honda says the Clarity FCV can seat five people thanks in part to a more compact design. It's the first production sedan that houses the entire fuel cell stack and drivetrain system in the space normally occupied by the engine and transmission.
Nissan Teatro for Dayz
Nissan's Teatro for Dayz is one funky looking concept car. Nissan says it's designed for "digital natives," who are accustomed to using digital devices to share content so why should the car be any different?
Nissan Teatro for Dayz
The car is blanketed in dispays that come to life when it's parked (they wouldn't want to encourage distracted driving) and act as a digital canvas for the driver and passengers. Any images and video can be displayed on the screens, said Nissan.
Nissan Teatro for Dayz
And there are even displays on the outside. Check out this nifty charging meter built along the lower edge of the car. Owners can quickly and instantly see the charging status without having to peer at the dashboard.
Toyota Kirobo Mini
This cute little robot is Toyota's Kirobo Mini. A miniature version of the Kirobo robot that went up to the International Space Station, it's meant to provide companionship while driving. It's small enough to fit in a cup holder and can converse in Japanese.
Next Up: Check out these related slideshows
Today's Best Tech Deals
Picked by PCWorld's Editors