Moving on, the Video tab offers tools for people who want to exert a bit more control over—you guessed it—video playback.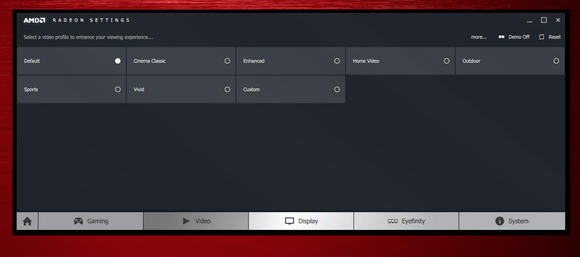 The core part of the tab revolves around numerous video profiles optimized for specific situations, such as sports, home videos, and the outdoors. Clicking on the Demo option in the upper-right "toggles a split-screen demo mode," presumably so you can preview the visual difference between various profiles.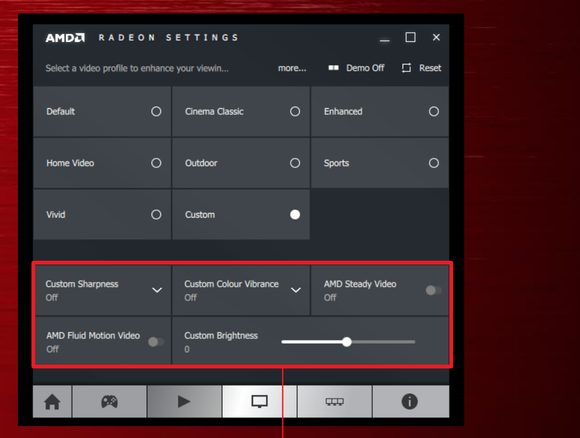 Clicking on "More…" next to the Demo option reveals additional unknown settings, while creating a Custom video profile brings up these configurable options.

The Display tab is pretty straightforward. Each monitor in your setup is represented, with some quick-action options for each. (Obviously, if your hardware doesn't support a particular feature—like FreeSync —it'll be grayed-out.) Both the More and Additional Settings options in the upper right reveal more detailed screen-tweaking options.

While it could thematically be bundled inside the Display tab, Eyefinity earns its own dedicated tab in Radeon Software Crimson. The most notable feature here is a new Quick Setup option, which, with a single click, automatically configures your multi-monitor setup—no muss, no fuss.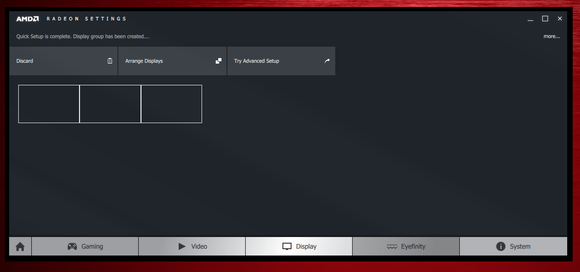 Once Quick Setup performs its magic, you'll be able to reshuffle your display layout manually if the automagic got it wrong. For even more control there's an Advanced Setup option, presumably stocked with all the granular settings you can already find in Catalyst Control Center.

The System tab displays all the nitty gritty information about your PC, from the high-level overview above…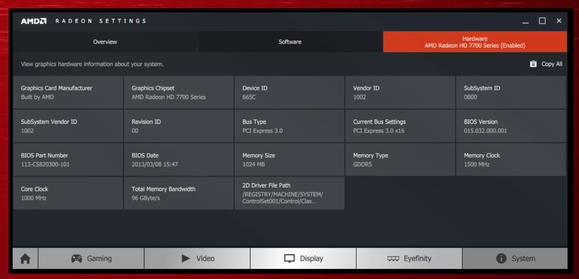 …to deeper hardware information, down to your total memory bandwidth, bus settings, and BIOS date…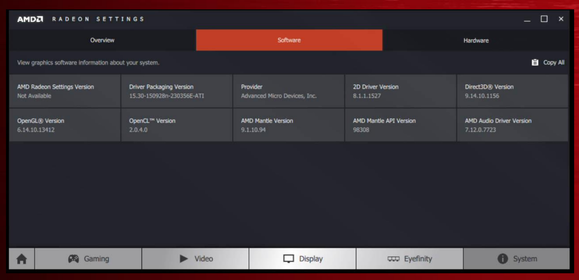 …to in-depth details about the software on your system, like the operating system, driver specifics, and even OpenCL/OpenGL/Direct3D version information.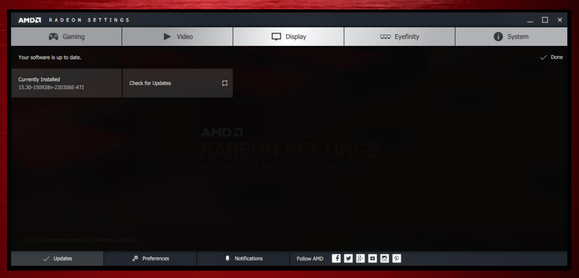 Speaking of software, the Updates tab lets you know if your Radeon Software Crimson driver's up to date, or if a new one's available. You can also manually check for updates.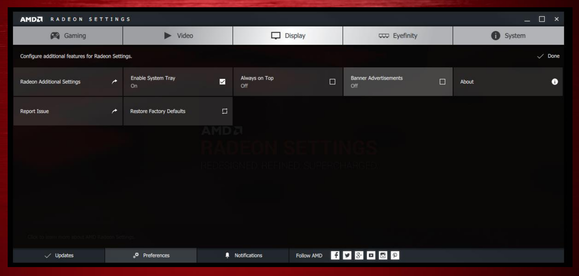 The Preferences tab, meanwhile, lets you configure how Radeon Software Crimson itself behaves. You can tell it to stick around in the Windows system tray or disable the banner ads on Radeon Setting's main page, for example.

Outside of the core Radeon Software Crimson interface, the new software also introduces a revamped right-click context menu with quick options for changing graphics settings, video profiles, and more.
That's it for our tour of Radeon Software Crimson and Radeon Settings, the much-needed overhaul of AMD's graphical software. On paper, it looks pretty damned appealing in a way that Catalyst never did.
Don't get too excited just yet though. Crimson won't be available until sometime later in the fourth quarter, and when it does land, it'll be restricted to Windows alone—though the fact that it's based on the cross-platform Qt architecture hints that it could spread further as time goes on. Patience, grasshopper.