SLIDESHOW
10 powerful Microsoft Office 2016 features you don't want to miss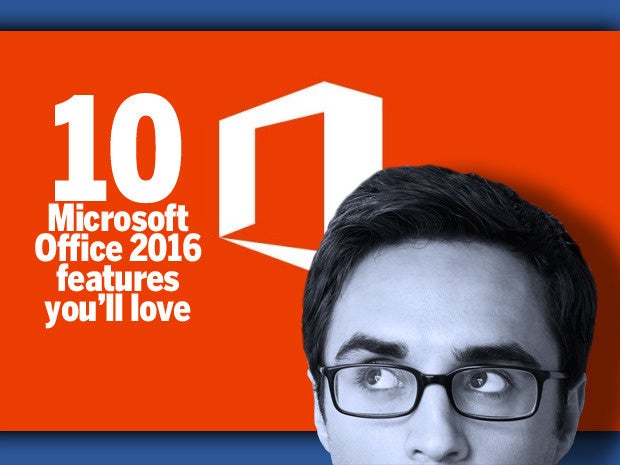 Collaboration is the key to Microsoft's still-ubiquitous productivity suite.
To the casual user, the applications that make up Office 2016 – Word, Excel, PowerPoint and Outlook are the anchor tenants, of course, rounded out by OneNote, Access and Publisher – will be indistinguishable from their predecessors. But make no mistake about it; Microsoft's reboot of its flagship software suite is a major update, offering a wealth of collaboration capabilities that integrate more tightly with SharePoint and OneDrive than before. The many tweaks and enhancements across the board can be confusing though, and we peek under the hood to highlight the features that matter most.
1. Real-time co-authoring
The capability to work on the same document simultaneously with your colleagues comes to the desktop version of the productivity suite in Office 2016. Colleagues can work on the same Word documents and PowerPoint presentations that are saved on SharePoint or OneDrive without overwriting each other's changes. Note that the "real-time typing" feature in which you can see your colleagues working on the same document is only available in Word for now. PowerPoint supports co-authoring, but without real-time typing.
2. Simplified document sharing
You can now easily share your documents in Office 2016, courtesy of a prominent "Share" button in the Ribbon. Available across Word, Excel and PowerPoint, the Share button lets you share access to a document to your team members, and serves as a one-stop location to review access permissions or see who is currently working on the document. As with co-authoring, the files must be saved in either SharePoint or OneDrive in order to be shared.
3. Capability to send large files using OneDrive
While the ability to share large files by sending a private URL link to friends and colleagues is hardly a novel feature, the fact that it is now integrated into Office 365 should be of interest from a productivity point of view. File attachments added to an email message in Outlook are automatically converted into a link that recipients can click on to download, assuming they are already synced to an OneDrive account or SharePoint folder. You can also specify whether they can be edited, or opt to attach the file as a local file copy instead, too.
4. Improved versioning
Made a mistake while editing a document, or accidentally deleted a chunk of content some time back and only just realized it? For files saved on SharePoint and OneDrive for Business (This doesn't work for regular OneDrive at the moment), Office 2016 allows you to view historical versions of Office files directly from within Word, Excel and PowerPoint. Simply go to File > Historyto see a list of all prior versions in the History pane, click on the desired version, and load it in a separate window. The feature is also useful for reviewing earlier drafts of documents when editing a file or collaborating with others.
5. Smart Lookup
Smart Lookup is a new feature that allows you to highlight a word and selecting "Smart Lookup" from the context menu (right-click on the mouse) to quickly pull up some related information without having to leave your Office app. Use it to look up the definition of a new word, or to gain some context with an unfamiliar term. Results are Bing-powered and will load into an "Insights" pane within your current authoring environment.
6. Support for Office Groups 365 in Outlook
A new feature called Groups in Outlook 2016 was quietly added with the launch of Office 2016. While relatively little mention was made of it, the new tool essentially offers a superior way to eliminate traditional distribution lists or messy email chains for collaboration within teams and project groups – both at work or at home. Essentially, you can create a group for new colleagues or friends to join, with each group having its own shared inbox, calendar, file repository and even integrated OneNote notes.
7. New chart types
For those who felt the selection of charts in Office is getting a tad boring, Microsoft added a bunch of new charts to Excel that should help users to do a better job when it comes to visualizing financial or hierarchical data. Use the following new charts on Word, Excel and PowerPoint: Treemap, Waterfall, Pareto, Histogram, Box and Whisker, and Sunburst. Click on the links to see how they look like, and how to use them.
8. One-click Forecasting
Excel ninjas will appreciate the ability to create a forecast from available data. This new capability is embedded within Excel's charts feature, making it easy to derive quick and dirty projections with the click of a mouse. Microsoft says the feature uses the industry standard Exponential Smoothing (ETS) algorithm to give reliable forecasting data. For employers, insisting that staffers use this feature could help cut down on shenanigans in which forecasts gets too "creative."
9. Skype integration
One of the tighter integration that Office 2016 offers is how the various desktop apps now let users jump into a Skype call from within Word of Excel. Tap into the various capabilities in Skype such as Instant Messaging (IM), voice or video calls, as well as screen sharing without having to break out of your current workflow or to launch the Skype client.
10. Stronger cross-device support
Finally, there is no question that Office 2016 represents a key step forward a new world of cross-platform support with tighter integration across both platforms and apps than before. Importantly, there is no feeling that any of these Office apps are abandoned or even "left behind" in terms of the development curve.
Of course, many of the capabilities highlighted here do require a subscription to Office 365 to either use, or to derive the maximum benefit from. There is no question that the new productivity and collaboration enhancements are real though, which is as good an argument as any to consider Office 365.
Next Up: Check out these related slideshows
Today's Best Tech Deals
Picked by PCWorld's Editors