SLIDESHOW
The latest, greatest, and most ridiculous health and fitness tech of CES
From a high-profile Apple Watch rival to a fat-detecting breathalyzer, we saw some pretty incredible devices at CES this year.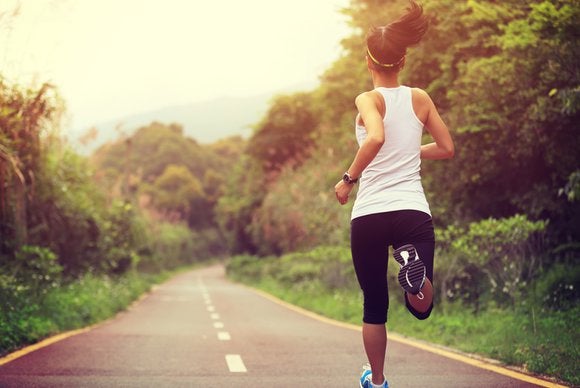 Fitness watches, sensor-filled clothes, and much more
CES is where health and fitness gadgets shine. Withings and Fitbit took steps out of their comfort zones with unexpected new products, while a slew of start-ups took to the show floor to show off crazy, weird tech that made me laugh and shake my head.
Here's all the wonderful and wacky health and fitness gear that might help you live a healthier life—if it works.
Fitbit Blaze
At CES, Fitbit took the wraps off Blaze, the latest addition to its activity-tracking lineup, but this device is nothing like the Fitbits you know and love.
Fitbit Blaze looks more like an Apple Watch than a Surge, with a touchscreen color display, continuous heart rate monitoring, native apps, and free personal trainer-guided workouts. You can even read and dismiss texts, check your calendar, and swap out the watch's bands—sound familiar?
Fitbit decided to wait until March to release the $200 Blaze, missing the lucrative holiday shopping season. A spring release could mean Fitbit will run up against the second-gen Apple Watch.
Withings Thermo
Withings announced an affordable new fitness tracker at CES, but its coolest new gadget is a Bluetooth thermometer that takes your temperature by scanning your forehead.
Not only is the FDA-approved Thermo more hygienic than sticking a thermometer under your tongue, it's also connected to an app that lets you monitor and store temperature over time. Having that data on hand makes it easier to explain to a doctor.
Thermo is $100 and will ship sometime this quarter.
Skulpt Chisel
With 12 sensors sending electrical currents through your skin into 24 individual muscles in your body, Skulpt Chisel promises to not only calculate body fat percentage, but also tell you if your muscles are weak or strong.
The $99 device, which starts shipping next month, uses those electrical currents to calculate each muscle's fitness. You can also get an overall picture of your body by using Chisel to measure your triceps, abs, and quads.
Skulpt is working on an app update that will offer tailored fitness advice based on your muscle quality, which could make the rechargeable Chisel just the coach you need to get your butt in shape.
Solos
One of the coolest pieces of fitness tech I saw on display at CES was Solos, a pair of Google Glass-like cycling sunnies that promise to perfect your ride.
Like Google's unpopular lenses, Solos puts a heads-up display right above your eye, but unlike Glass, Solos isn't trying to appeal to average folks. This gear is for cyclists who need performance data in sight, without having to glance down at a smartphone.
Solos shows metrics like heart rate, speed, distance, duration, and other data about your ride. It also has voice recognition tech baked in so you can give commands without having to take a hand off the handlebars.
Solos is $500 and ships in the second quarter of the year.
OMbra
OM Signal already has a line of smart workout shirts, but I'm more excited to check out the company's new sensor-packed, biometric sports bra.
Sensor-packed fitness apparel was a major trend on the CES show floor, but OM Signal's sports bra is impressive because it promises to be a supportive bra in addition to a high-tech one. That's difficult to achieve. I haven't tested the OMbra, and it doesn't launch until spring, but OM Signal says its will give women metrics like running economy and breathing rhythm, plus gauge overall fatigue and offer coaching. All of this is visible in the OM Signal app, but that data comes straight from the sports bra.
OMbra is $150, and will ship with the bra and Bluetooth fitness tracker. Additional bras can be purchased for $60.
Levl
One of the most bizarre health devices I saw on the CES show floor was Levl, a breathalyzer that can tell you whether you're burning fat or not. 
The science behind Levl: When your body goes into a fat-burning state known as ketosis, higher levels of acetone are detectable in your breath. Levl detects that acetone.
A Levl rep told me that the best time to test your breath is in the morning, right after waking up. Then you'll be able to see the results of the previous day's decisions—if your body is burning fat when you wake up, the device will light up a 4, 5, or 6. If you ate and drank yourself silly the day before, you'll see a number closer to 1.
The device I saw was still a prototype, and Levl's rep said the company is still aiming for FDA approval.
Lumo Run
Pieces of fitness clothing filled with sensors were strewn across the CES show floor, but Lumo Run's smart shorts measure more than just how fast and far you've run.
The sensor tucked in the back waistband of Lumo Run's shorts for men and capris for women measure pelvic rotation and pelvic tilt, neither of which I've ever thought about while running, but apparently can cause injury. The sensor links up to the Lumo Run app, which gives you advice on improvements to make while you're running.
Shorts and capris start shipping March 31. The shorts are $99 and the capris are $119 during the preorder window.
Veta
Veta is a Bluetooth EpiPen case that could prevent you from going into anaphylactic shock.
How? Well, the case never lets you out of its sight. If you head out the door without Veta in tow, the case sends you a notification that something is wrong. If you lose the case around the house, the "find me" option in the Veta app will prompt the case to ring the alarm—literally.
There are a slew of safety features in the app to help those prone to severe allergic reactions. Veta is a health gadget that's actually essential—and you can't say that often.
Slendertone Connect Abs
When I saw Slendertone in action at CES, the first thing that came to mind was Peggy Olson's exercise belt in the first season of Mad Men. Wearing a belt to stimulate your muscles just seems so 1950s.
But the Slendertone Connect Abs belt is decidedly 21st century. It even has an app! The belt uses electric currents to stimulate your ab muscles into toning and tightening. The app offers training programs and and tracks your toning progress.
Slendertone is FDA-approved and will be sold in high-end department stores like Nordstrom and Bergdorf Goodman for $229 in February. It might seem like a punch line, but, hey—maybe it really works.
Altra IQ
Shorts, bras, and socks are getting smarter and more high-tech, but your footwear has been left out in the cold. 
Not anymore. Altra Running just unveiled Altra IQ, a pair of smart shoes for runners that have accelerometers and pressure sensors built right into the bottom. That means they can measure balance, cadence, pronation, current pace, and foot contact time. That data gets stored in the Altra Running app to help you perfect your running form.
If you think these smart shoes could help you pick up the pace, Altra IQ will be available in spring for $200.
Next Up: Check out these related slideshows
Today's Best Tech Deals
Picked by PCWorld's Editors