Whether you're an emerging Twitch broadcaster or simply a gamer who wants to share your epic gaming highlights with pals, recording your video gameplay is all the rage these days. But which recording software should you use if you're just dipping your toes into capturing gaming videos? There's no shortage of free video recording tools out there vying for your attention, many with unique hooks or features.
We played with five of the most popular freeware gameplay capture tools around—Open Broadcast Software Studio, Nvidia ShadowPlay, AMD ReLive, MSI Afterburner, and Plays.tv—to answer that question. Each serves a different purpose, such as recording and sharing highlight clips, broadcasting your gameplay to the world, or creating a complete archive of your favorite game.
This guide will point you to the best recording software for your needs. (If you're looking to start livestreaming specifically, be sure to check out PCWorld's guide to game streaming with Twitch.)
Let's start with an overview of each of the five featured programs in no particular order, followed by a look at what sort of performance hit each program inflicts on games. If you don't like any of the five tools we look at, we've also added two video capture alternatives—though one isn't free.
Plays.tv
Of the five game recording programs we're covering, Plays.tv is by far the easiest to use. Plays.tv makes it really simple—and fun—to post short gaming clips online.
But Plays.tv isn't just a video capture tool; it's hooked into a website that's sort of like an Instagram for gamers. When you first boot up Plays.tv, the program features three options on the left hand rail: Explore, Feed, and Dashboard.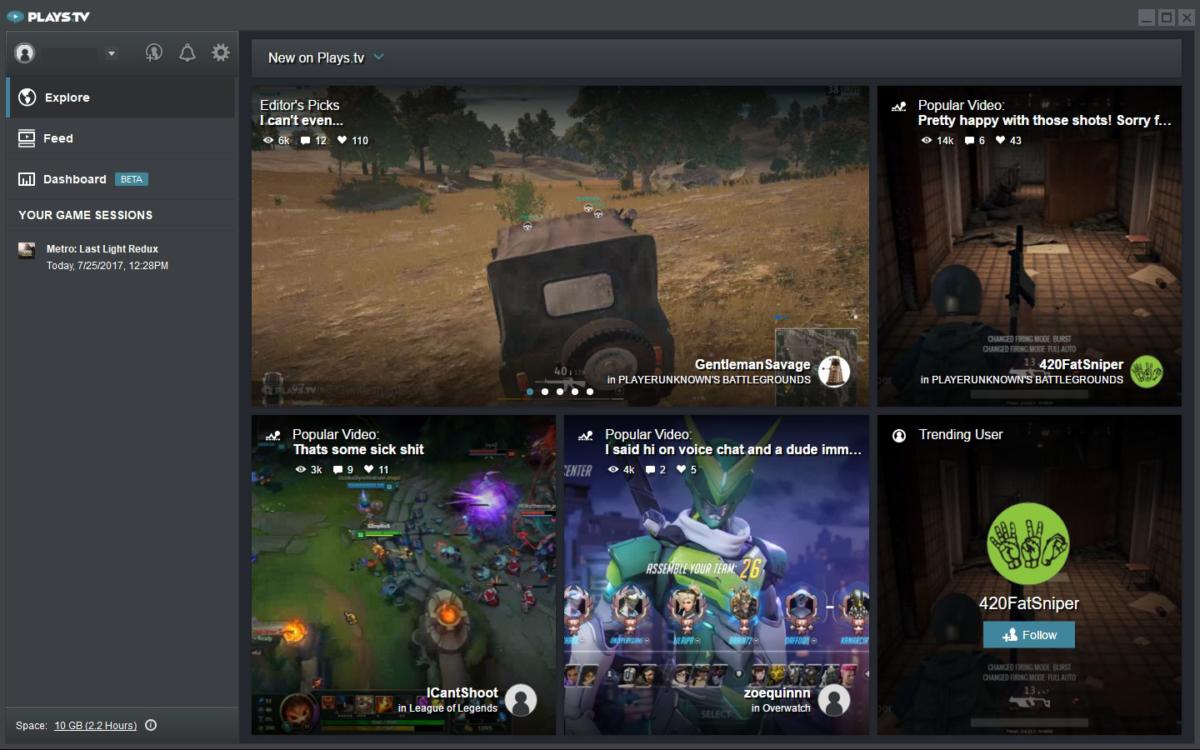 Explore features a collection of popular gameplay clips from the Plays.tv website. It shows six larger thumbnails for game clips, several of which rotate as a carousel. Click on the video you want to watch to view it inside the desktop program. Each clip can also be shared to Twitter, Facebook, or Reddit.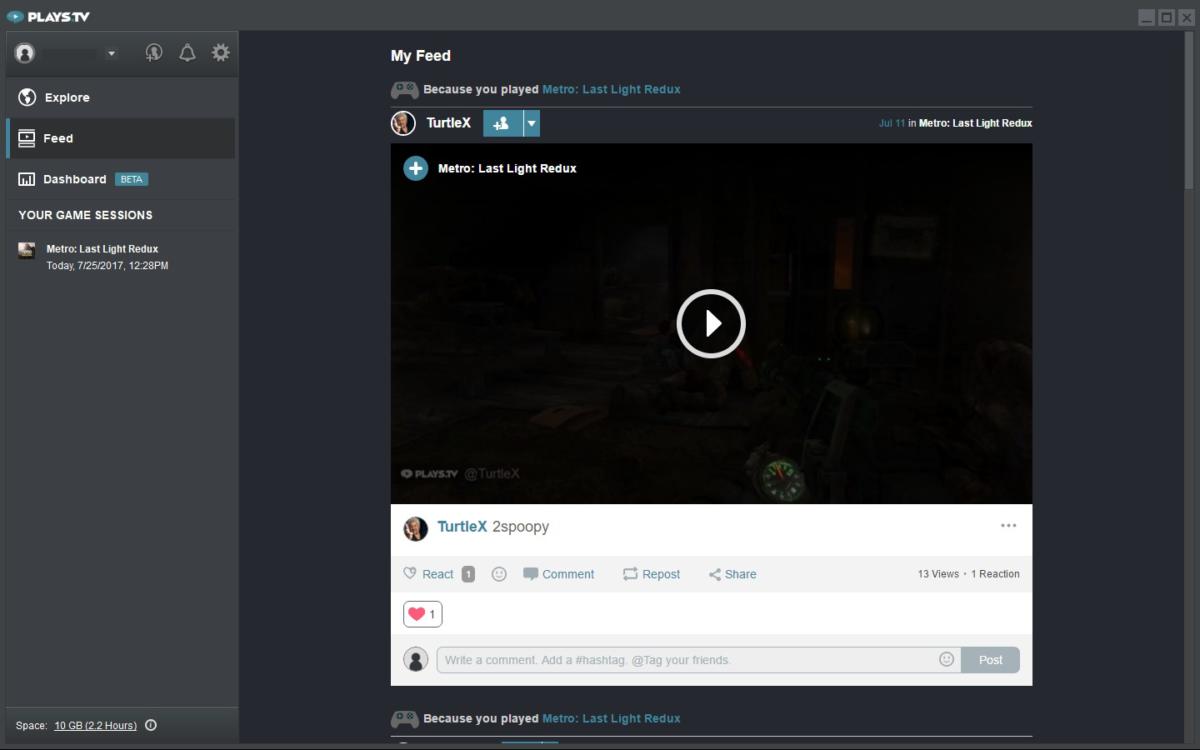 Feed is a list of your uploads as well as those of the people you follow, interspersed with clips from games you've played and popular clips from Plays.tv.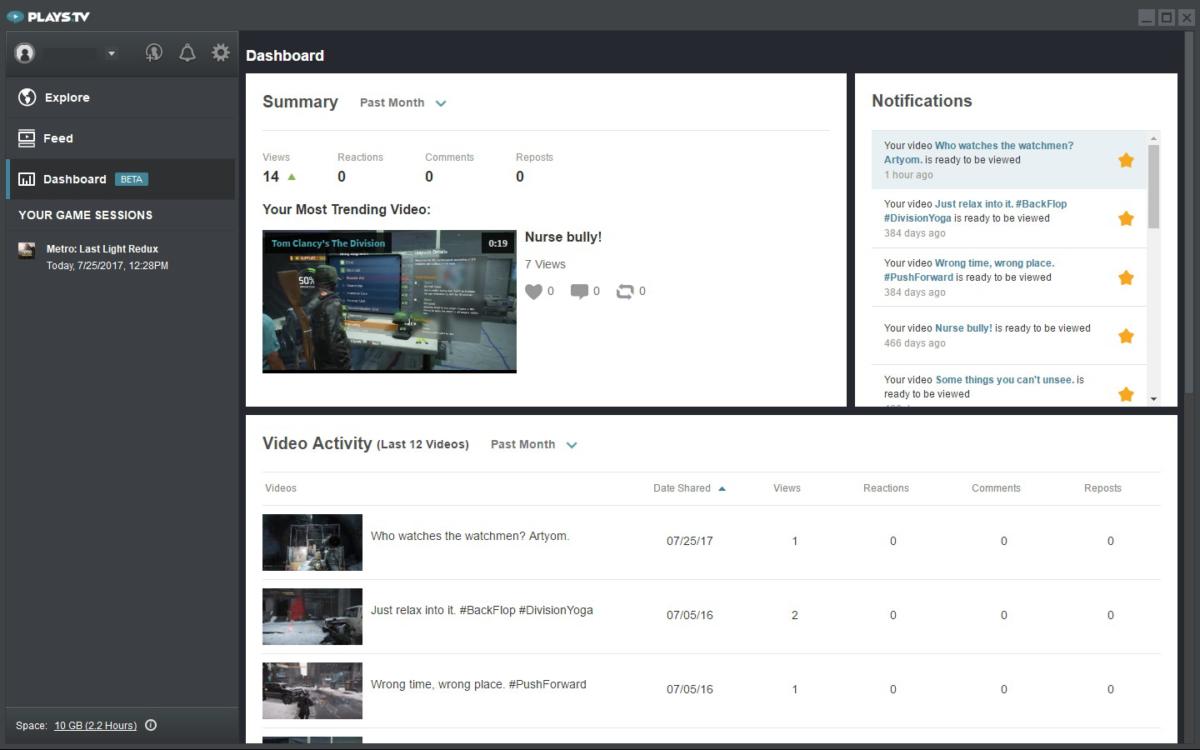 Dashboard, meanwhile, is a beta feature that shows you stats about your most popular videos from the past month or less—there are options for viewing stats for the last two weeks, three days, and so on.
As for the actual game recording features, when the app is running it starts recording your gaming sessions automatically. By default, Plays.tv will record up to 10GB of gameplay at 720p resolution and 30 frames per second. If you'd like to tweak the maximum storage capacity, resolution, bitrate, recording framerate, or other technical aspects of the video, all those options can quickly be changed in the software's settings. The settings also let you disable automatic recording of full gameplay sessions if you'd like, and allow you to enable configurable hotkey-based video capture instead.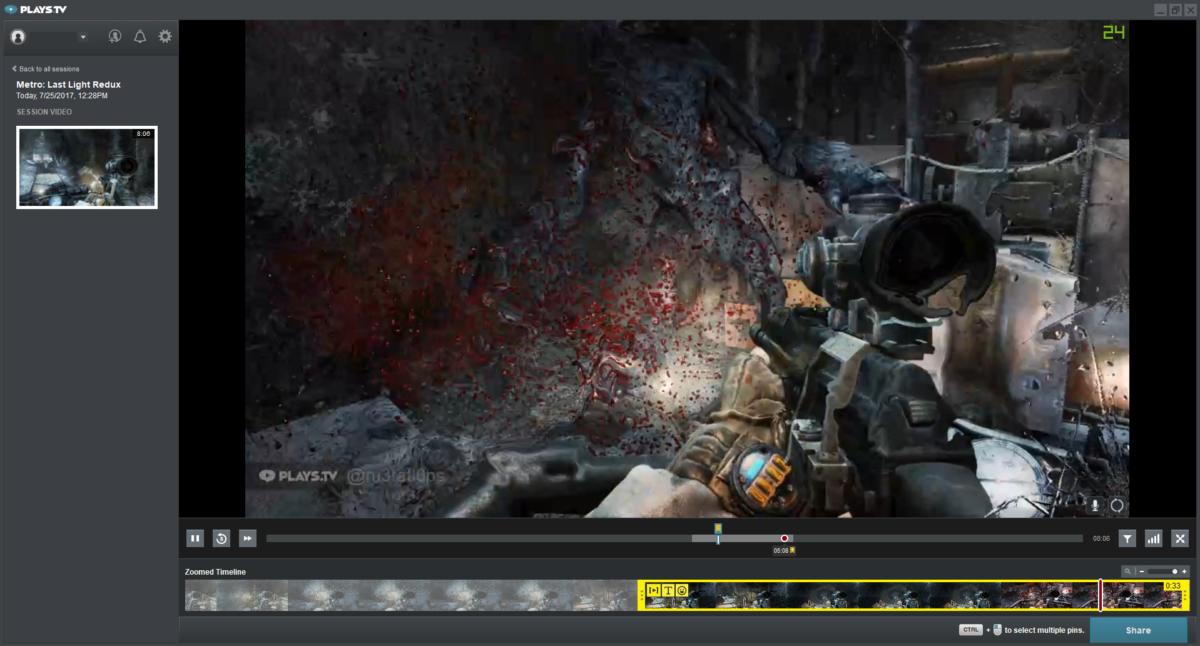 Once you're done with your gaming session, Plays.tv pops up with your recorded gameplay and very simple tools for cutting down your video into a shareable 60-second or less clip. (If you're playing League of Legends, Overwatch, Rocket League, Dota 2, or Counter-Strike: Global Offensive, the client will even automatically flag key moments like deaths, kills, and bomb plants.) Once that's done, you add a title, a description, and upload it to Plays.tv with one click. The URL for your new clip can be copied to your clipboard for easy sharing on email, instant messaging, or social networks like Twitter and Facebook.
Nvidia ShadowPlay
Nvidia's GeForce Experience software for PCs with GeForce graphics cards looks straightforward, but it's got a few nice hidden features, including automatic game optimization and a highly regarded game recording application called ShadowPlay.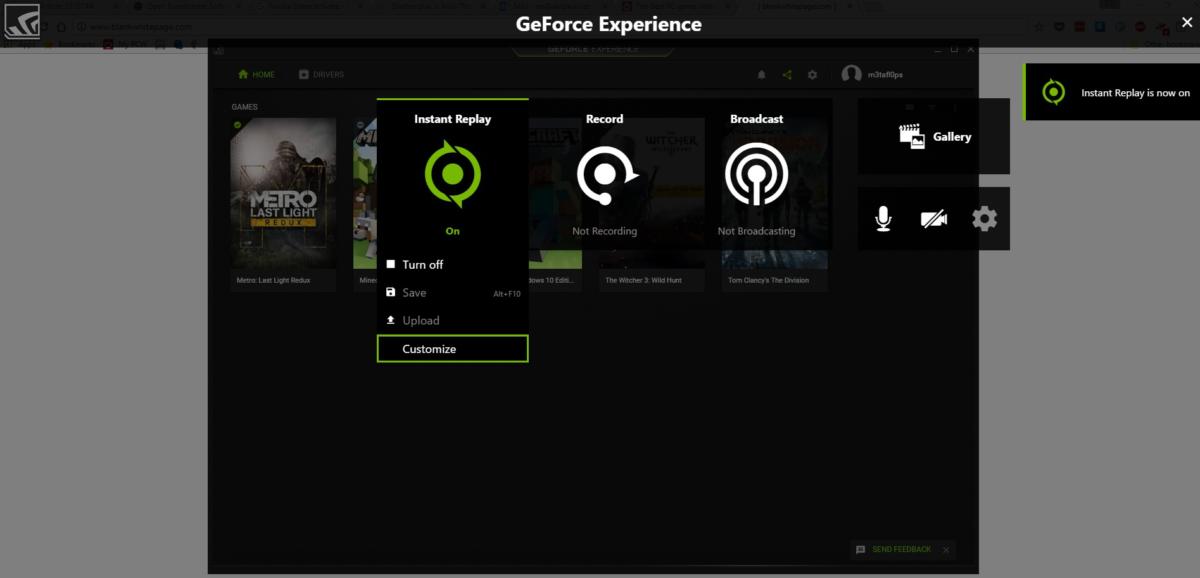 To start using ShadowPlay, click the triangle-looking "share" button in the upper-right corner of the GeForce Experience (GFE) window. This will summon what Nvidia calls the Share UI. You can tweak each feature's quality, audio, activation, and length of recording by clicking the feature you want to tweak and selecting Customize from the drop-down menu.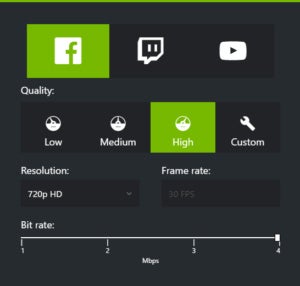 By default, ShadowPlay records up to five minutes of gameplay at any given time unless you turn on the manual recording feature, which captures your action until disabled. The Instant Replay feature saves the last five minutes of your gameplay if you press Alt + F10. That's an important tool if you do something cool or want to record a ridiculous bug, but didn't hit the manual record button. If five minutes isn't enough, Instant Replay can save up to your last 20 minutes of gameplay up to 1440p at 60 frames-per-second. You can also configure ShadowPlay to stream your gameplay to Twitch, YouTube, or Facebook via the Broadcast feature.
Nvidia announced a new feature in February called ShadowPlay Highlights that automatically records your best gaming highlights in select games, similar to Plays.tv. Nvidia's approach requires game developers to integrate the feature in their games. As this is still a new feature, only one game has integrated ShadowPlay Highlights: LawBreakers, which launches on Tuesday, August 8, 2017.
AMD ReLive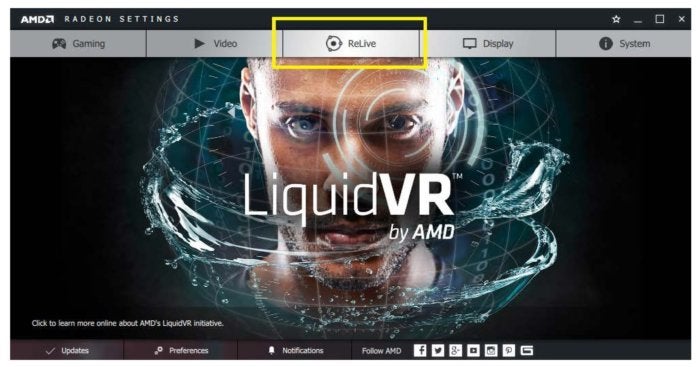 AMD also has its own game capture software for Radeon graphic cards users, called Radeon ReLive. The new-ish software replaces the Raptr-powered AMD Evolved that the company dumped in 2016. ReLive is part of Radeon Software Crimson, AMD's alternative to Nvidia's GeForce Experience.

The ReLive part of Crimson lets you record and stream video, as well as capture highlights and grab screenshots. ReLive is disabled by default. To fire it up, open Crimson and go to Settings > ReLive. Once it's enabled, you can summon the ReLive overlay to record video. ReLive's recording keyboard shortcut is Ctrl + Shift + R.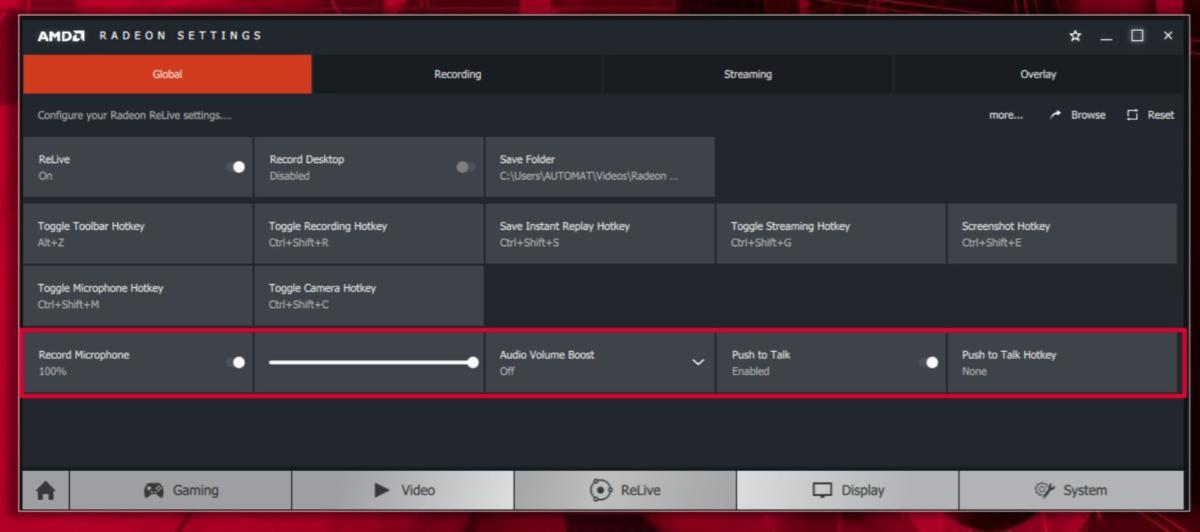 For a complete rundown of ReLive check out our look at Radeon Software Crimson. AMD recently updated ReLive with enhanced audio controls, double the maximum recording bitrate for higher-quality videos, webcam transparency options, memory optimizations, and more.
OBS Studio
OBS Studio is a popular open-source solution for recording gameplay, and more specifically, for blasting it out to the world. OBS Studio can broadcast your game streams on platforms like Twitch, and OBS is also used for creating screencasts. It's a powerful program, but it's probably too much for anyone who just wants a quick and easy game capture solution.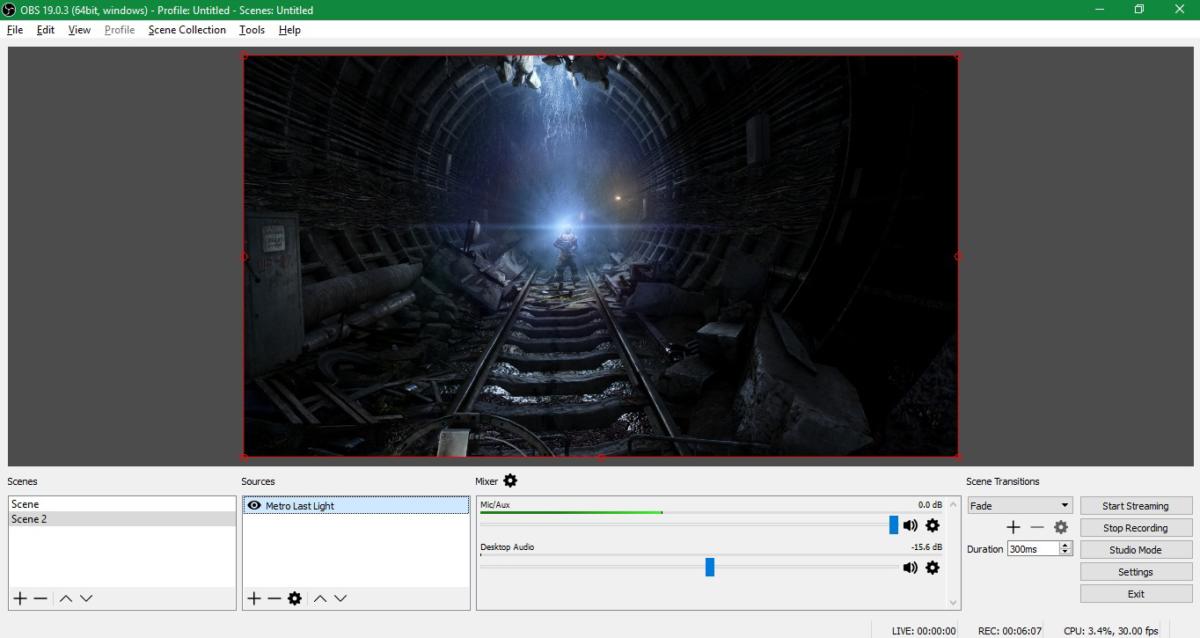 OBS Studio packs a lot of features and settings, and if you're willing to put in the time to learn it, this program offers amazing flexibility for power users. To ease the learning curve, OBS Studio includes a wizard to help you optimize your setup for streaming or recording video when you first fire up the program. It's also surprisingly easy to figure out compared to OBS Classic.
OBS works best if you have a multiscreen setup where you can observe OBS on one display and play your game on the other, though that's not a requirement. Unlike the other apps, OBS doesn't throw up an in-game overlay. Instead, it just does its work in the background. For most uses, you'll also have to tell OBS to start recording or streaming once your game is running. 
Unless you're willing to put in some time to learn this software or have needs beyond simple game recording—professional Twitch streamers swear by OBS and its deep, configurable power—OBS Studio probably isn't for you. 
If you do decide to go with OBS Studio I'd highly recommend checking out some online tutorials. Once you understand the inner logic of the program you'll be up and running in no time.
MSI Afterburner
This program isn't exactly game capture software, but it is a popular program with gaming enthusiasts. If you're already using it, you can just have it pull double-duty instead of downloading a separate piece of video capture software. MSI Afterburner is predominantly a graphics card overclocking tool—and not just MSI graphics cards, either—that comes with a second download called RivaTuner Statistics Server. RTSS is a great tool for limiting the frame rates of your games if your GPU is working harder than necessary.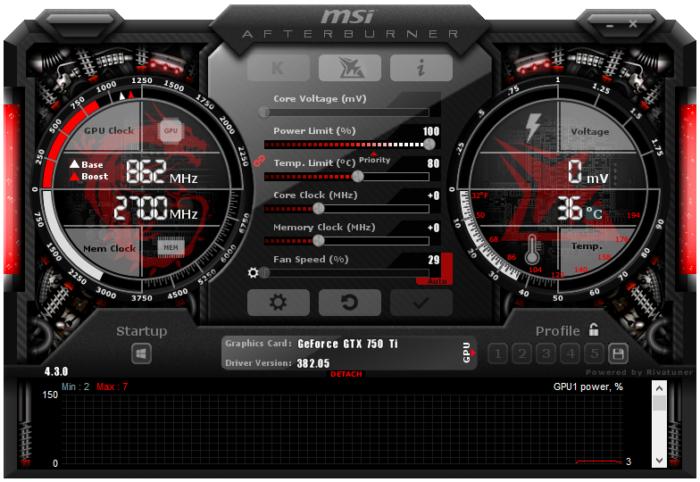 In the current version of Afterburner—version 4.3.0—you can get to the video capture settings by clicking on the settings cog icon in the center of the main dashboard. Then use the scroll arrows in the window that opens to get to the Video capture tab. By default, you set your own hotkey to start recording, but you can also set it to automatically start recording every time you start a game. There are other settings below that if you want to change any video capture settings, such as the recording frame rate or the default video file type.
Next page: Benchmarks and other alternatives