SLIDESHOW
The best Oculus Rift games and virtual reality experiences
The Oculus Rift may be impressive hardware, but it's the games and experiences that will make or break virtual reality. Here are the best VR games in the Rift launch lineup.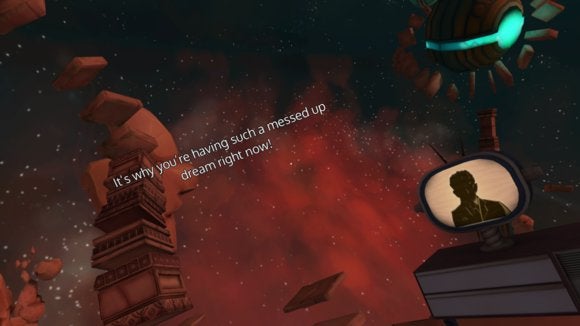 Welcome to VR
After years of teasers and hardware iterations, the Oculus Rift VR headset launches today, and it's a magical piece of hardware. But when it comes to splurging on a $600 peripheral—especially one that promises to transport you to virtual reality worlds—I'd wager that software is the more important part of the equation.
As such, I've spent the past week trying out everything the Oculus Store's "Rift Launch Lineup" offers. It's a huge and diverse list, with experiences ranging from first-person point-and-clicks to third-person dungeon crawlers to real-time strategy games to space dogfighters and virtual tourism. If ever you wondered "Could a person really spend eight or more hours a day in virtual reality?" the answer is "Yes." (Though I wouldn't necessarily recommend it.)
But I've emerged from the warm embrace of the Matrix to handpick the fifteen experiences I've enjoyed best out of thirty or so total available at the Rift's launch—ten games, five apps. Some are short two-minute demos, others are hours-long investments. And hopefully at least one suits your tastes.
Esper 2
Esper 2 is easily the best game I've played on the Rift—and as I said, I've played a lot of them. In case you missed it on Samsung's Gear VR, Esper and its sequel involve a shady research facility (think Aperture Science) experimenting with telekinesis. You solve puzzles by picking objects up "with your mind."
The first game was a successful, albeit short, demo project but Esper 2 is a two-to-three hour romp through an ancient temple, a dream sequence, and some other craziness I don't want to spoil. It's a solid puzzler with some excellent Portal-style humor, and it's the only VR game of its length that I played start-to-finish without wanting to take a break.
And movement is node-based, beaming you from place to place, so it's fairly nausea-free—making Esper 2 a great game for VR beginners.
Dead Secret
Dead Secret would be a fun, but fairly unremarkable point-and-click adventure if it released in 2D. The game's clearly made by a small team, it's fairly short, the puzzles aren't too difficult, and the more action-heavy sequences can be a chore.
That being said, Dead Secret is an entertaining little murder mystery/horror game and—more importantly—it gets the benefit of right-time-right-place. Meaning: It's the only point-and-click that's ready for Oculus's launch date. The old node-based first person navigation of Myst turns out to be an excellent fit for VR and I wouldn't be surprised to see a rash of similar adventure games hit the Rift/Vive in the near future, including Myst spiritual sequel Obduction, of course.
Chronos
Fixed camera angles went out of fashion years ago, but prepare to see them make a comeback in virtual reality! It turns out the ol' Resident Evil -style art of fixed cameras is great for eliminating nausea problems in VR.
Chronos takes advantage of it, creating a third-person action game sort-of in the vein of Dark Souls (albeit easier) where every room features a new fixed camera angle. It's a bit clumsy at times—the combat's not very forgiving, and it can be frustrating when you swing and miss due to an awkward camera—but it's maybe the longest singleplayer game on offer for the Rift launch and it's packed full of spectacle. Chronos is one part Cold War bunker, one part fantasy-world, and full of intrigue.
Apart from Esper 2, Chronos is probably the best singleplayer experience the Rift has to offer at launch.
Herobound: Spirit Champion
Herobound is like Chronos-lite—which isn't too surprising because it was literally created by the same developer (Gunfire Games) and features the same fixed-camera, room-to-room setup. But where Chronos channeled Dark Souls for inspiration, Herobound borrows from an iconic green-capped Hyrulean. You're crawling through dungeons themed after the four elements (Earth, Air, Water, Fire) with your trusty sword and bow, opening up new areas as you get new tools.
Yeah, like Zelda.
It's addictive, though. The map could use some more finessing and I ran into a few bugs, but I played for probably two hours at a time. There's nothing in the way of nausea to worry about, and the raised camera angle helps avoid some of the depth-perception problems that plague Chronos's combat. If you're looking for a "real game" to play on the Rift, Herobound could be a good place to start.
EVE: Valkyrie
EVE: Valkyrie is the first game I ever played in virtual reality. Actually, it was the first time I ever used a VR headset. Ever. Three years ago. And now it could be the first game you play in virtual reality, since Valkyrie comes bundled with every Rift preorder.
It's still great. If you just want to fly around space and explore, Elite: Dangerous might be more your speed, but Valkyrie's built-for-VR dogfighting is a thrill. I haven't tried any online multiplayer yet because, well, there were barely any headsets out in the wild before today. I have no idea how the servers will hold up, or how many people will be playing, or whatever.
But the few singleplayer missions on offer are heavy on spectacle, and the numerous LAN multiplayer matches I've played over the years have all been great. If Valkyrie came free with your Rift preorder there's really no excuse not to try it.
[Disclosure: My roommate works with CCP as part of an external PR agency.]
Keep Talking and Nobody Explodes
You know that scene in films where the hero's all "Do I cut the red wire or the blue wire?" and the FBI is a hundred miles away flipping through a computer database of bomb schematics so Los Angeles doesn't get nuked? That's Keep Talking and Nobody Explodes. One person plays bomb defuser. The other looks through a manual and tells them how to go about defusing. Neither can see what the other's doing.
The game's already a hit on Steam, but the first time I played Keep Talking and Nobody Explodes was on the Rift and it's still probably the best way to play if you want full action-hero, sweat trickling down your neck, sweaty-palms stress.
Fly to Kuma
I've spent a ridiculous (maybe embarrassing) amount of time playing this silly little game about pink space bears. Fly to Kuma is a series of puzzle rooms where you guide the aforementioned bears to their spaceship. The problem: The bears just run forward, only turning if they meet an obstacle. You move blocks around to steer the bears so they don't fall off the edge and die.
It's a simple concept, and I don't necessarily think it needed to be in VR. But damn if it's not addictive. I've been using Fly to Kuma to take breaks in between more intense experiences, and it's worked wonderfully as a palate cleanser.
Also, the bears are adorable. And they look at you when they run.
Pinball FX2 VR
Fair warning: Pinball FX2 VR is pretty goofy. Zen Studios basically took three of its pinball tables (Secrets of the Deep, Epic Quest, and Mars), put them in a fake house, and made it so the room changes when you play them. Secrets of the Deep, for instance, has you playing "underwater," while a shark swims around your house.
The tables are decent though, and it's a fun little pop-in-pop-out arcade experience.
But I'm more excited about what Pinball FX2 VR demonstrates for the future of game emulation and preservation. Imagine, for instance, sitting and playing an Atari 2600 in a faux-1970s living room. Or arcade games in Flynn's.
AirMech
Here's something you might not expect in VR: A real-time strategy game/MOBA hybrid. In AirMech you play robot general to a bunch of warring troops, corralling them down towards the enemy base and occasionally intervening directly in combat.
It lacks the precision of a traditional RTS, but AirMech is an interesting take on tabletop war games, with your miniature troops scurrying around the battlefield under your watchful eye. I'm not particularly fond of the cartoon art style and the camera controls could use work, but it's a solid proof-of-concept and I'd love to see someone take a crack at a more realistic setting, Company of Heroes or Total War style.
Farlands
The first day I played Farlands I thought to myself "Okay, so it's basically like a VR Tamagotchi?" Then I came back the second day and was like "Yeah, definitely like a VR Tamagotchi." And then I came back the third day and went "Why the hell can't I stop playing this VR Tamagotchi?"
But I think I know why. I once wrote about an Oculus demo where an alien waved at me and, without thinking about it, I instinctively waved back—to a virtual being. Farlands is that demo blown out into a much larger experience. Although Farlands is light on the "game" elements (it's essentially a big-budget Neko Atsume), it's excellent at making you feel like you're standing on an alien world. Strange creatures run around, the sun rises and sets in real-time, and you're given time to relax and soak it all in.
It helps that Farlands is standing-centric, which is a rarity here at launch. For me, at least, standing helps convince my brain to mostly forget I'm wearing a headset.
Jaunt VR
The Rift might be positioned as a games-first platform, but one of my favorite experiences this week actually came from Jaunt, a curated 360-degree video app. Inside the "Travel" section was a report done by ABC News—made for virtual reality—on North Korea.
Over the course of a few minutes, Bob Woodruff takes you on a tour of a handful of North Korean landmarks. Nothing truly shocking, given how rigorous North Korea is about shepherding press from place to place, but given that it's unlikely I'll ever go to North Korea it makes for a fascinating (and very professionally done) glimpse of the potential for both virtual tourism and newscasting.
Other highlights: A Paul McCartney concert clip ("Live and Let Die"), shot from both on-stage and in the front row, plus a highlight reel of the NHL Winter Classic. It's still infant days for 360-degree video, but Jaunt is an excellent showcase of what's to come.
Oculus Video
There's also Oculus's built-in video app, which is more focused on traditional video than the 360-degree type. There's Facebook/Twitch/Vimeo integration (but no YouTube), or you can launch your own videos and watch DVD rips/old home movies/your senior film project/Hulk Hogan's sex tape/literally anything in a faux movie theater setting. Or a movie theater on the moon. Or a "movie theater" that's actually a smart phone dropped into some grass, blown up to a thousand times actual size.
The app needs some work though. It's currently impossible for me to tell what folder it's building my video library from (though I suspect it's Windows' own Videos folder) and it's similarly impossible for me to change what directory it's pulling videos from. Considering most of my videos are on a secondary storage drive, this is a bit of a pain.
Henry
Originally shown as a behind-closed-doors demo, I'm pretty excited to see Henry as an Oculus launch title. Built by Oculus Story Studio, the company's internal film team helmed by ex-Pixar vets, Henry tells the story of a hedgehog who wants a hug, but his spikes keep getting in the way.
And since Henry is all CG, it's able to do some amazing things that can't be emulated by capturing footage in real life. Small things, like Henry's eyes tracking you around the room, or the fact that it's a full 3D environment with position tracking, instead of essentially a camera gimbaled on a stick. It's also a damn good short film in its own right, equal parts funny and tragic.
Lost
It's only maybe two minutes and there's not really a story, but I might like Oculus Story Studio's short film Lost even more than I like Henry. And no, it's not related to the TV show. There's no numbers or mysterious hatches here.
There is a mysterious forest though, and—oh yeah—a massive robot. Lost clearly takes inspiration from The Iron Giant, and that's A-OK with me. Seeing a 100-foot tall robot bend down and look you in the eyes really gives you an idea of how VR can play with scale and perspective. Seeing the same image on a monitor (or even on a theater screen) wouldn't elicit the same reaction.
Oculus Photos
I keep coming back to the Oculus Photos app. I don't know why. It's easily the least system-intensive app Oculus offers. You literally just...look at 360 degree photos.
Again, it's the draw of virtual tourism. Not just to places you may never go, like UNESCO World Heritage sites or the Mos Eisley set in Tunisia, but to places you've already been. There's something oddly fascinating about putting on a headset and suddenly being teleported to the town you grew up in, or to the place you vacationed last summer.
It's a thin recreation, of course—just one step above a normal 2D photograph. But more than once this week I've donned the Rift intending to play a game and found myself instead looking through snapshots of places from my past.
Next Up: Check out these related slideshows
Today's Best Tech Deals
Picked by PCWorld's Editors