SLIDESHOW
The best April Fools' Day tech pranks of 2016
Those crazy, geeky pranksters from Google, Samsung, Kayak, and more are at it again for April Fools' Day 2016.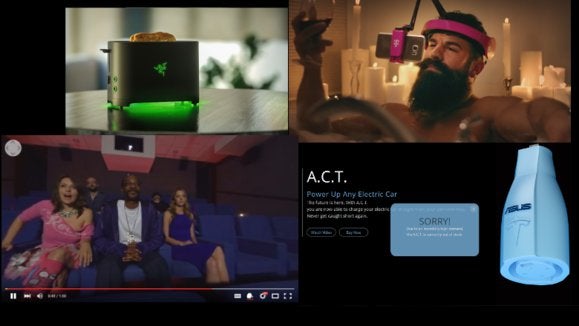 Hardy, har, har
It's that time of year again when tech journalists everywhere fear to write anything in case it turns out to be an elaborate prank. Did a product-discovery website really buy a struggling Internet giant? Are parachutes the future of delivery? Just how powerful is the battery in that ZenFone Max?
Nope, these aren't real stories—just some of the top April Fools' pranks in tech for 2016.
Google's April Fools' minions come home to roost
Google always has some amusing ideas for April Fools' Day, but this year things went a little too far. Gmail came up with a "drop the mic" prank that replaced the Send and archive button with Send + Mic Drop in the free version of the service.
When you hit the mic drop button, Gmail would insert a GIF of a Minion from the Despicable Me and Minions movies dropping a mic. The conversation would then be archived. Sounds like a great plan, but this year's prank had some unfortunate consequences. That mic drop button replaced Gmail's "send and archive" option, which many people use for professional reasons. The uproar, as you can imagine, as been deafening.

BFTW
It's already pretty strange that gamer-focused Razer offers wearable devices, and on April 1 the company went even stranger with a toaster called Project Breadwinner. Razer calls it the "world's first gaming grade kitchen appliance built for gamers, by gamers. Bread to Win."
Google self-driving bike
The Dutch are famous for flowers, wooden shoes, great fries, and bicycles everywhere. So it made sense that the latest innovation in bicycle technology would come from Google's Die Niederlande branch: the self-driving bicycle you have to see to believe.
Binge On Up
It's worse than a selfie stick, yet strangely practical. T-Mobile's joke Binge On Up headset puts your smartphone right in front of your face 24/7, letting you watch streaming videos, with no hit against your monthly data cap, anywhere you go: yoga class, outside doing yard work, or whatever. If only it came in blue.
Pillow Hablar
The Duolingo app is known for being an easy way to learn the basics of a language. For April Fools' Day, Duolingo took its language learning magic to the bedroom with the Duolingo Pillow, which "guarantees language fluency by sunrise" by "stimulating brain oscillations during sleep" to enhance "learning and memory consolidation." If only.
Sony's Ghostbusters Proton Pack
You're trying too hard, Sony. The company used April Fools' Day to advertise its upcoming reboot of the popular Ghostbusters series (which hits theaters July 15, 2016) with a product video for a ghost-busting proton pack straight out of the movies.
Samsung's Internet of...Things
Internet of Things? How about the Internet of Trousers? It's a fashion-forward pair of jeans, complete with cutting edge technology such as Wi-Fly, which sends a smartphone notification when you forget to zip up. Good one, Samsung.
One big battery
You can get all kinds of accessories for your smartphone, including 360-degree cameras and virtual reality headsets. How about a small adapter that lets you charge your Tesla with an Asus Zenfone Max? If you want one, forget it. They're already sold out (wink, wink). But you can watch this video instead.
Kayak Arcade
Kayak swapped out its homepage for an old school arcade. Click here to destroy your productivity.
Yahoo gets sold
We knew things were bad at Yahoo, but wow. Props to Product Hunt for coming up with this one. Unless it's an actual strategy. In which case they paid too much.
Google Photos emoji search
Why search with keywords when you can search with key-mojis?
Google Express Parachutes
Forget about drone delivery—the technology just isn't ready, Google Express says in its April Fools' product video. Instead, Google's dropping packages from the sky with parachutes. Just don't ask how the packages got up there in the first place.
Snoopavision (beta)
Watching 360-degree YouTube videos with Google Cardboard is great, but what would make that experience even better? Watching them in a virtual theater with the D-O-double G. Check out this page to find some actual 360 videos in Snoopavision.
Next Up: Check out these related slideshows
Today's Best Tech Deals
Picked by PCWorld's Editors