SLIDESHOW
Google I/O's biggest reveals: VR dreams, personalized AI, and chips that blow away Moore's Law
Google I/O 2016 was full of big news, from Android N to Daydream VR to new apps galore.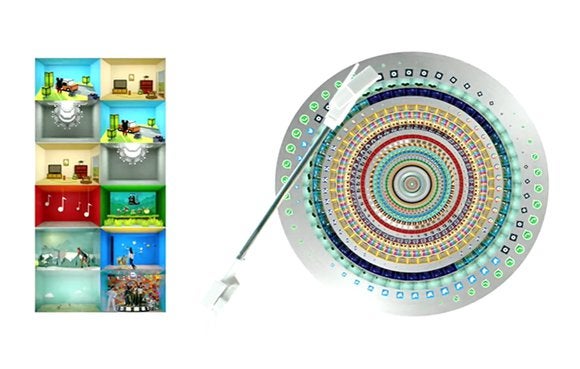 An I/O to remember
Google's annual I/O developer conference is always good for a spectacle, and Google I/O 2016 was no different. The show kicked off with musicians dressed in medieval garb standing in giant towers, creating haunting music by sliding their fingers over meters-long wire. By the time it was done Google revealed everything from super-intelligent conversational AI to an Android-powered VR platform to a custom-made processor that ostensibly advances Moore's Law by seven full years.
And that's not even mentioning all the announcements around more typical new products, or the forthcoming Android N. But we'll cover it all! Let's dig into Google I/O 2016's biggest reveals.
(Prefer seeing them with your own eyes? Check-out PCWorld's video wrap-up of Google I/O's major moments.)
Google Assistant
Google's finally interweaving the deep treasure troves of information it holds about the world at large and you, specifically. Google Assistant is a conversational digital assistant built around the company's strengths in deep learning and natural language recognition, summoned at an utterance of "Ok Google" to respond to any queries you may have. It can understand context depending on the topic at hand, too: Holding your camera at a famous sculpture and asking "Who designed this?" will get an answer, as will queries like "Show me his other movies" after asking something like "Who directed The Revenant?"
That's just the tip of the iceberg, though. Google Assistant will be able to play music playlists, file reminders, help you buy movie tickets, and a whole lot more. Interestingly, it doesn't appear to be a discrete app; instead, it appears tied to be baked right into Google-y gadgets, in what Google CEO Sundar Pichai calls "an ambient experience that extends across devices." Think of it as a supercharged version of Google Now, mixed with Amazon's Alexa. Speaking of which…
Google Home
Google's rolling out an Amazon Echo-like avatar for Google Assistant in your home, dubbed (appropriately enough) Google Home.
The device taps into Assistant's cloud-based smarts to let you enjoy music and entertainment throughout your house, set alarms, manage shopping lists, ask Google what you want to know, manage smart home devices like Nest, and more. Google's so confident in its natural language capabilities that Google Home doesn't feature any buttons whatsoever; if you want to use it, you'll need to talk to it.
Google Home will offer several bases in custom colors (all the better to match your décor) when it launches this fall alongside Google Assistant.
Google Allo and Duo
Google's rolling out a pair of interesting new messaging apps too, because simply slotting new features into Hangouts is apparently too much to ask for.
Beyond simple chatting, Google Allo blends in Google Inbox's Smart Replies feature to offer quick auto-response suggestions that you can blast off with a single tap, intelligently crafted based upon the messages you've received. (The image above shows some examples at the bottom of the app.) You can use it to chat with Google Assistant to perform tasks like making restaurant reservations, too.
Google Duo, meanwhile, is a video calling app based around the WebRTC and QUIC web codecs. It monitors your network situation to work well even on shoddy connections. The most interesting part is Duo's "Knock Knock" feature, which shows you a live video stream of the caller before you accept the connection. And by "interesting," I mean "sounds like a flasher's wet dream."
Android N
Of course, it wouldn't be Google I/O without a new version of Android. The thing is, Google previewed Android N earlier than usual this year, and it didn't have many additional new Android N features on display at I/O. Our previous look at all the new things coming to Android N can catch you up on what to expect when the final release launches later this summer.
One cool tidbit: Google's holding a contest to let the public vote on what the "N" in Android N stands for. Another cool tidbit: You can download the Android N Developer Preview 3 right now to try out the new goodies yourself, including the lone blockbuster Android N reveal from I/O…
Daydream VR
Move over, Samsung GearVR. Google's moving beyond Cardboard alone to bring a more premium virtual reality experience to Android, dubbed Daydream.
Daydream's composed of several parts. Google's baking "VR Mode" directly into Android N, with a notification system built for VR along with software tweaks to ensure sub-20-millisecond latency, which is crucial for avoiding nausea. Daydream also requires phones with potent processors and displays with fast response times, so Google's introducing a new "Daydream-ready" certification for phones that meet those standards.
Finally, Daydream moves beyond Cardboard with custom VR hardware, most notably a headset that presumably packs extra hardware like the GearVR, as well as a motion-sensing controller. Google's created reference designs of each that it's sharing with hardware partners. Overall, Daydream's hardware and software design seems to largely rip off the Oculus Rift's style.
Android Instant Apps
Google's working on letting you enjoy more Android apps with less hassle. In a sneak peek at a feature rolling out some time in the next year, Google showcased "Android Instant Apps" that open on your phone even if you don't have them installed. The secret sauce? Instant apps are split into separate internal modules, and your phone loads only the part it needs. Think of it sort of like the website-ification of mobile apps.
Developers will need to modularize their apps to work with the feature, however, which Google says can take less than a day of work. Once they do, support will be fairly widespread—instant apps will work with all Android phones running the older Jellybean OS on up.
Tensor Processing Units
Software? Pfah! Google's making its own deep-level hardware now, in the form of a "tensor processing unit" that advances Moore's Law by a whopping seven years, the company claims.
Intel and AMD have nothing to fear, though. Google's TPU isn't a competitor to traditional computer processors. Instead, it seems to be an application-specific integrated circuit—a hard-coded piece of hardware designed to do a specific task really, really well, as opposed to the overall versatility of CPUs. Google's TPUs are ASICs created to bolster the machine learning tasks underpinning so many of Google's various features and services.
Android Auto anywhere
It didn't make it into the keynote, but Android Auto's receiving one hell of an upgrade. While prior versions of the in-car software required specific integration by automakers, Google's updating the Android Auto app to work in any car. It'll run directly on your smartphone; just slap it in a dashboard mount and you're ready to rock. Groovy.
Android Auto's also wrapping in Waze traffic navigation, in a "what the heck took so long?" move. Google's additionally adding support for AM/FM radio, HVAC, Bluetooth calling and media streaming, multi-channel audio, and digital instrument clusters in Android N's Android Auto, and open-sourcing the code so that car manufacturers can add even more.
Check out our hands-on with the new Android Auto to see all the goodies in action.
Android Wear 2.0
Google-y smartwatches will get a big upgrade, too. Android Wear 2.0 will add all sorts of new features, including automatic detection of exercise; the ability to add at-a-glance information from apps; smart replies, a new keyboard, and handwriting detection for easier conversations; and the ability to connect directly to the Internet, rather than be forced to tether to a smartphone. That last tidbit should make Android Wear watches much friendlier for folks who want to tap into the new exercise detection.
The Android Wear 2.0 beta is out for developers now, with a consumer release targeted for some time later this year. We went hands-on with Android Wear 2.0 if you want to see it in action.
Android Pay
Google's Apple Pay rival didn't make the keynote either, but it still received some noteworthy new tweaks. Android Pay will work with Bank of America ATMs going forward. Google also revealed a bevy of new APIs to let you use Android Pay on the web, use it to enroll in loyalty programs with retailers like Walgreens, and hopefully see it directly inside your bank's own app.
Android apps on Chromebooks
Finally, Chromebooks are continuing their shift away from being pure web-browsing machines—and fueling continued rumors about a supposed ChromeOS-Android merger. After rolling out in limited capacity in the past, it appears Android apps are invading Chromebooks en masse now, with full Google Play Store support (though Google has since changed the name of the developer session after it was discovered by the press).
I'm not sure if that's a good thing or a bad thing. Android apps aren't optimized for computer screens, and a big part of the allure for Chromebooks is their simplicity. But it'll be a thing, regardless.
Next Up: Check out these related slideshows
Today's Best Tech Deals
Picked by PCWorld's Editors