SLIDESHOW
The best hidden features of Windows 10's Anniversary Update
Dig through the Windows 10 Anniversary Update a bit, and we think you'll be delighted by these hidden helpers.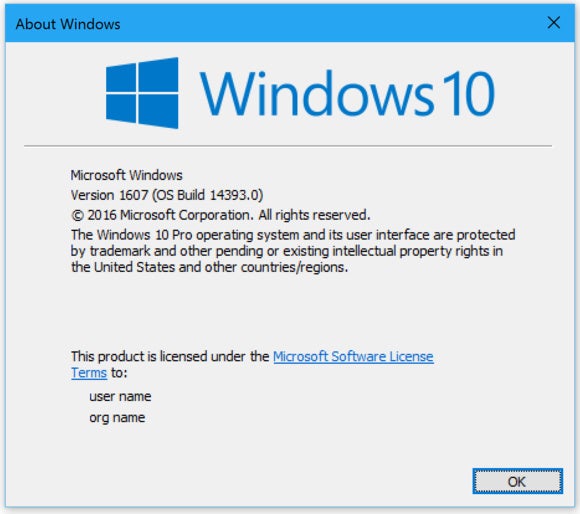 A year's worth of features within Windows 10
Since Microsoft rolled out Windows 10 at the end of last July, the company has been busy adding features to the code. Cumulatively, these additions and tweaks have produced the Windows 10 Anniversary Update. (Read our Anniversary Update review here.)
We've played around with Insider builds for the last year, enduring some of the early bugs and enjoying the discovery of some of the more obscure features. Not all of these features are specific to the Anniversary Update code, per se, but they're all relatively new. Likewise, these features aren't "hidden" in the sense that you need to edit the registry to find them.
Still, these are the features that are not being heavily promoted within the Anniversary Update—like, say, Windows Ink. You might know about them; you might not. But these are the kind of hidden gems I've really enjoyed using, and think that you will, too.

A handy Groove Music miniplayer
One of the most requested features for Windows 10 has been a miniplayer for Groove Music, Windows 10's music app. While the app itself is responsive—meaning it will reformat itself as you adjust the size of the window—it's not really a miniplayer, per se: Even when reduced as far as it will go, the window takes up a lot of space.
Of course, any app can be minimized to the taskbar, but then it becomes unusable, right? Not in this case. Hover over the Groove icon in the taskbar, and you'll see some minimal controls to play, pause, and skip between tracks. It's certainly nothing compared to the currently defunct Winamp MP3 player, but it's still a nice little addition to the Anniversary Update.
(Note that this isn't the only way to control your music; you can also tell Cortana to "skip to the next track." But if you use the more natural command, "play music," while a song is already paused, she'll most likely jump to a random track in your playlist.)
Use Cortana as your own personal reminder
What's the combination of the garden-shed lock? What toys does Jan's nephew like? What's the name of Miguel's math teacher?
Sometimes we want to remember stupid little facts for a day, an hour, or indefinitely. With the improved version of Cortana in the Anniversary Update, you can tell the digital assistant to "remember" a particular fact, such as your hotel room number. Unfortunately, unlike other Cortana reminders, they don't seem to traverse from the PC to the phone—yet. But at least they're there.
Coupon clipping with Cortana, on Edge
Though it's one of the features I highlighted in my Windows 10 Anniversary Update review, shopping with Cortana might be one of the underappreciated features of Windows 10—especially if you never use Edge. Open a site like Target.com or BestBuy.com in Microsoft's browser, and Cortana will generally pop up an offer to use one of several coupons. (Note the $250 MacBook Air discount, for example.)
I'm not saying that Cortana's going to offer you a coupon for the specific item you're buying, and you might find the same coupon code if you hunt around the web. But the feature is a nice little convenience within Edge, and one you should take advantage of.
Solve hardware upgrade issues with the Activation Troubleshooter
Anyone who's upgraded their PC has wondered at some point whether Windows will accept the changes, or suspect you of trying to copy the OS to another machine and demand your Windows license key. With Windows 10, you can partially alleviate this risk by tying your Windows 10 license to your Microsoft account—you shouldn't have to type in your Windows 10 key again, as it's now stored in the cloud.
If Windows 10 freaks out after a hardware upgrade to your PC,  go to Settings > Update & Security, add your Microsoft account (if it isn't linked already), and then click Troubleshoot at the bottom of the screen. If everything goes as planned, your worries should end there.
Change your audio source with ease
Sometimes I feel like working with headphones on, to dull the roar of my coworkers (or my kids). Sometimes I feel like using the speakers in my tablet or monitor to play back any video I come across. Windows 10 has been somewhat finicky about automatically switching to headphones if a pair of cans is plugged in. But now, even if I do have headphones connected, I can switch back and forth between audio sources by clicking the volume icon on the taskbar, and then up to the source menu. Before, I had to this via a Control Panel setting, and it was a pain in the rear.
Windows Ink shortcuts, even when the device is locked
Yes, a version of this feature shipped with the Surface Pro 3 and Windows 8. Still, with Windows 10 and the Anniversary Update, there's even more flexibility to launch apps like the Windows Ink Workspace with a click of your stylus. Granted, not all tablets ship with a stylus that has a quick-launch "eraser" button, and you'll need to make sure your stylus is close at hand. But within those parameters, it's a great way to jot a quick note when you can't ask the speaker to slow down and repeat herself.
A quick click on the taskbar reveals your calendar
There are so many ways to check your calendar in the Windows environment, but with the Windows 10 Anniversary Edition, Microsoft has added another: the taskbar. Just tap it, and up will pop a view of the month, with a brief summary of the day's events. Quick and easy!
Use Windows Hello to authenticate purchases in the Store
We can already log in to our Windows 10 PCs via Windows Hello, which uses our face, fingerprint, or iris to prove who we say we are. One day, we should be able to eliminate the need to remember complex passwords for various sites throughout the web, by using Windows Hello instead.
This capability isn't quite yet ready for the web at large, but it is ready within the Microsoft Store. Pony up for a purchase and you can use Windows Hello to confirm it. (It's lickety-split, but don't worry—Windows Hello isn't the final step in the purchase, and you'll still have a chance to change your mind at a subsequent dialog box.)
Hey Insiders, are there any obscure features you've found that are worth sharing? Let us know in the comments below.
Next Up: Check out these related slideshows
Today's Best Tech Deals
Picked by PCWorld's Editors