SLIDESHOW
10 games to bring on your next trip
These travel-themed games are not only entertaining, but also immune to a so-so internet connection and the limitations of your portable device.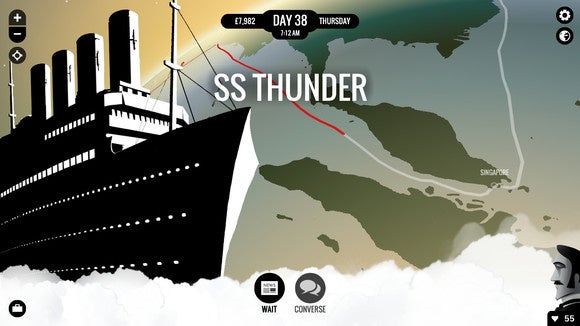 On the road again
I've been out of town the past few weeks, which is always an interesting challenge. By that I mean gaming on vacation. Away from your main computer, maybe in a place where the Internet's not so great—what do you play? It got me thinking...
...and then thinking some more. This time about games related to travel in some way. What better time to play games about the wandering life than while wandering? Here, you'll find 10 games about travel, which also happen to be super fun and have modest system requirements, so they can probably be played on whatever spare laptop you've got sitting around.
Mini Metro
I take public transit a lot, but most of the time I do so without thinking about the work that went into it. The planning, the excavation (for subways), the laying of rail lines. These are important things, but for many of us who rely on public transit, it's just there. It exists.
But not in Mini Metro. Drawing inspiration from maps of real cities, Mini Metro tasks you with laying out subway lines in cities like Paris, Shanghai, and New York. Not only is it an excellent puzzle game, but it will probably give you a whole new perspective the next time you're staring at a subway map.
The Longest Journey
I mean, it's called The Longest Journey and it's one of the most well-regarded point-and-clicks ever made. Seems like a natural fit for this list.
The Longest Journey tells the story of April Ryan, an art student drawn into a conflict that spans dimensions—science-heavy Stark and magic-filled Arcadia. And somehow, she's the key to saving both. Originally released in 2001, The Longest Journey has two semi-sequels in the form of Dreamfall and Dreamfall: Chapters, but the original is still the best. Just be sure to load up a walkthrough before getting on a plane—there are some tough (some might say unfair) puzzles in this one.
80 Days
80 Days is the ultimate travel game. Adapted from Jules Verne's Around the World in 80 Days and then given a steampunk twist, the game charges you—Passepartout, loyal servant—with escorting your employer Phileas Fogg on a trip around the world. By train, ship, or robot horse, you must circumnavigate the globe and make it back to London within the titular 80-day time constraint.
Or not. Get lost in Paris at the World's Fair. Dilly-dally at boxing matches in the Americas. Visit the Arctic. Developed by Inkle, the game's a choose-your-own-adventure with near-limitless branches to explore. And while I recommend the PC version, you can also grab this one on mobile if you're traveling light.
Baldur's Gate II
The choice of Baldur's Gate II here is sort of arbitrary. I could've easily picked any Infinity Engine game. 1) They all involve a lot of traveling around a world and exploring. 2) They're extremely lengthy, so no worries about running out of game during your trip. 3) They're old, so they'll run on just about any potato laptop (or iPad/Android tablet) you've got laying around. 4) They're some of the best RPGs ever made.
Bonus shout-out to Fallout and Fallout 2. These are all great choices for when you need to kill 50-100 hours.
You Must Build a Boat
There's not really much to You Must Build a Boat. In fact, that's it: You must…build a boat. A big one, and one piece at a time. Then sail it up the river.
Basically a slightly more-elaborate version of the developer's previous game, 10000000, You Must Build a Boat is built upon a match-three game—except here you're trying to unlock chests, defeat enemies, and upgrade your boat with new shops. If you're a fan of Bejeweled, then check out this game. It's an amazing time killer. (Also available on iOS/Android.)
Papers, Please
The worst part of any trip: Customs. The lines. The glares. The double- and triple-checked passports.
But hey, the agents don't have it easy either—at least, the ones working in Soviet Bloc-esque dictatorships. In Papers, Please you control entry to the glorious country of Arstotzka and must check people's passports and other documents to make sure only the "right" people make it through. Husband's papers are in order but the wife's aren't? Better turn her away, or else the higher-ups will dock your pay. And you wouldn't want your own wife and kid to starve, would you? It's an excellent ethical conundrum, and our Game of the Year from 2013.
The Banner Saga
The Banner Saga is one part choose-your-own-adventure, one part tactical combat. But it's actually the stuff in between the game-y bits that lands it on this list: 75 percent of The Banner Saga is spent watching your ragtag band of humans and giants ("Varl") trudge across the map in single file.
There's a reason, of course. With the world threatened by an unknown foe, you flee and try to lead the remnants of civilization to safety. Doing so means keeping them fed, safe, and, ultimately, alive. It's one of my colleague Brad Chacos's favorite games, and perfect for travel whether you're fleeing the forces of evil or merely taking a trip.
FTL: Faster Than Light
Forget boring ol' Earth. How about traveling through space instead? In FTL you're a fugitive on the run from the law, and your only goal is to survive the unknown depths of space and escape unscathed.
You probably won't. Chances are you'll die. Then die again. And again. And again. But FTL's blend of choose-your-own-adventure with Oregon Trail (and its genius real-time combat) will keep you coming back for one more run.
(Side note: This one's also available on mobile, though only iOS.)
Sunless Sea
Along with 80 Days, Sunless Sea is easily one of the best exploration games I've ever played. You're captain of a steamship, and your job is to explore. Easy enough, except you're exploring the world of Fallen London, aka the Victorian era if it were infested with Lovecraftian monsters.
The game has its issues—it's a bit slow and tedious after a certain point, which is frustrating when you just want to find the next bit of story—but the first hours exploring the Zee are amazing. The game piles on atmosphere until you think you can't take anymore, and then you can't—because your captain's dead. Time to start smuggling human souls again.
Organ Trail
What is Organ Trail? Well, it's Oregon Trail with zombies. Done. Ship it.
Organ Trail faithfully recreates the experience of playing the original Oregon Trail on an Apple II, down to the color scheme. But more than just a technical achievement, Organ Trail is a hell of a lot of fun. The ol' covered wagon is replaced with a station wagon, hunting wildlife now involves fending off zombies, and dysentery is…well, still dysentery.
And as with some others on the list, this one's on phones too.
Next Up: Check out these related slideshows
Today's Best Tech Deals
Picked by PCWorld's Editors