Updated
The best graphics cards for PC gaming
We'll help you find the best graphics card to fit your needs.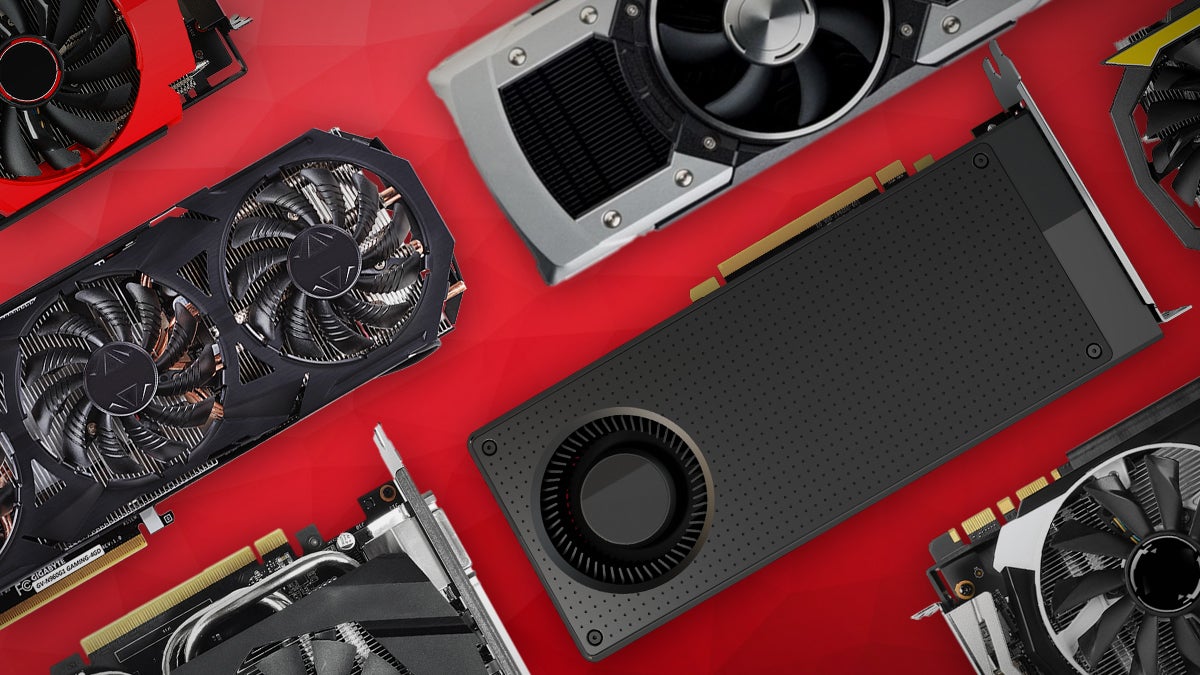 Page 2 of 2
Best $500 graphics card
Up here in the "firmly enthusiast" $500-ish territory you've got four options: Nvidia's $450 GeForce GTX 1070 Ti, the $500 GeForce GTX 1080, the $500 GeForce RTX 2070, and AMD's $500 Radeon RX Vega 64. As with Vega 56, the Radeon card has suffered from severe pricing inflation and availability woes since its August 2017 launch, and we can't recommend the Vega 64 at its current pricing unless you find a deal that brings it down to MSRP.
These graphics cards push a 144Hz 1440p monitor damned well in many games, or inch ever-closer to 60fps at 4K resolution, especially if you pair them with a G-Sync monitor like the luscious, $850 ASUS ROG Swift PG27AQ (though it costs more than the graphics cards themselves). Our pick for the best of the bunch, the GeForce RTX 2070, actually flirts with or surpasses 60fps at 4K in many of the games we've tested thanks to its enhanced performance, and bumping in-game graphics settings from Ultra down to High should send the card's frame rates soaring past the mark.
The GeForce RTX 2070 offers a 10 to 15 average performance improvement over the GTX 1080 Founders Edition, and that grows to just over 20 percent in games that respond well to hardware that can process GPU compute tasks asynchronously, like Rainbow Six Siege and Middle-earth: Shadow of War. Nvidia's one-click Scanner auto-overclocking tool makes adding around 5 percent more performance a breeze.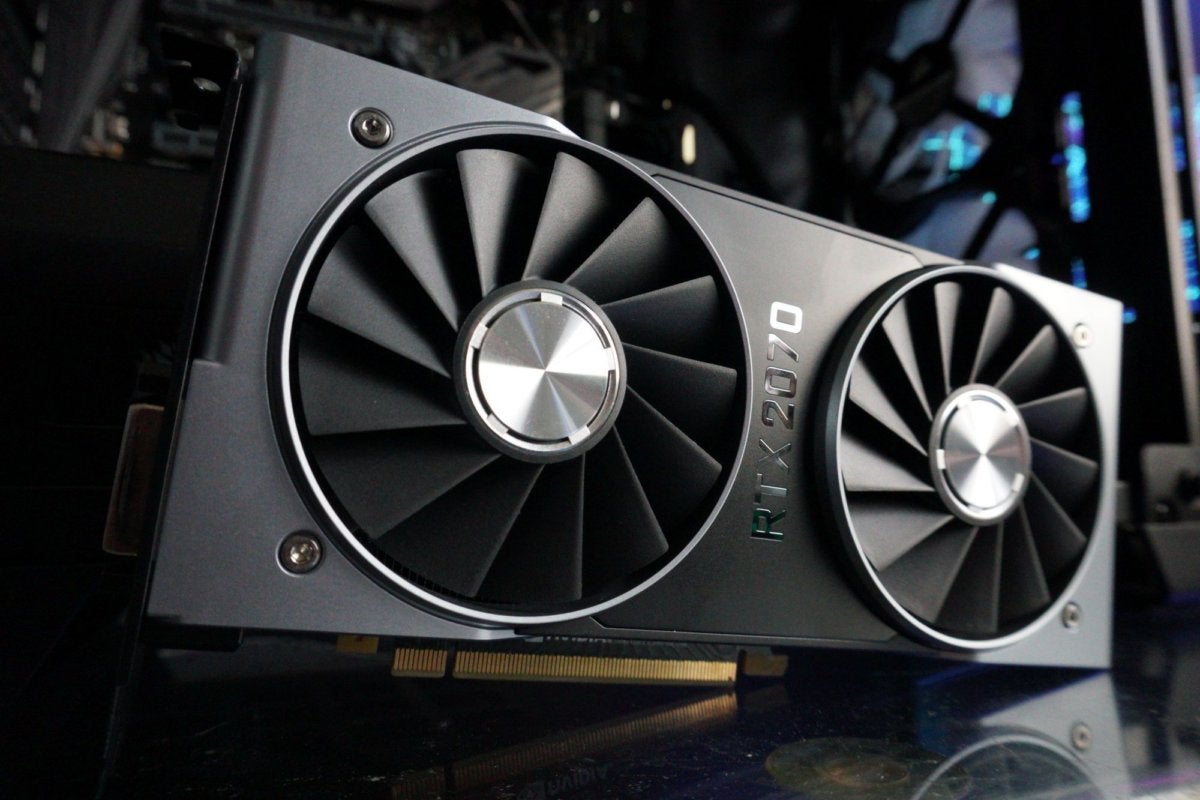 Plus, Nvidia's GeForce RTX GPUs are infused with dedicated hardware that support real-time ray tracing and enhance visuals with the power of machine learning and the company's Saturn V supercomputer—feats no other graphics cards can match. Early demos look promising, and developers we've spoken to seem genuinely excited about the technology, but there's a catch: Ray tracing and AI-enhanced Deep Learning Super Sampling aren't available in any actual games yet. The RTX 2070 has half as many dedicated ray tracing cores as the $1,200 GTX 2080 Ti, but with nothing to test, we have no idea what that means in real-world performance.
Regardless, the GeForce RTX 2070 comes with that dedicated hardware in case the features do catch fire, and coupled with the performance boost in traditional games, it's a no-brainer unless you find a GTX 1080 exceptionally cheap. We recommend EVGA's GeForce RTX 2070 XC ($550 on Newegg), an overclocked, custom-cooled model that's significantly cheaper than Nvidia's Founders Edition card.
All of these graphics cards are good options, though. The older GTX 1080 are better if you find them on a sale that brings prices below $450.
The $450 GeForce GTX 1070 Ti serves as a sneaky stunner if you're willing to roll up your sleeves and overclock the card. Its GPU just barely lags behind the GTX 1080's in raw hardware, and Nvidia actually restricts third-party board vendors from factory overclocking custom GTX 1070 Ti cards to keep those from overtaking the bigger brother. Silicon lottery willing, you can manually overclock a GTX 1070 Ti to meet or exceed a basic GTX 1080 in performance, especially if you spring for a customized version like the $420 EVGA GTX 1070 Ti FTW. Out of the box, the GTX 1070 Ti often offers performance slightly better than the $400 Vega 56, but a bit slower than the GTX 1080.
Best 4K graphics card at 60Hz
If you want to dive headfirst into the word of 4K gaming, you want either the Nvidia GeForce GTX 1080 Ti ($700 and up on Amazon) or the GeForce RTX 2080 ($800 Founders Edition at Best BuyRemove non-product link or GeForce.com). Radeon RX Vega cards can't come close to touching this level of firepower.
Both cards run neck-and-neck in traditional gaming performance, delivering a consistent 60 frames per second at 4K resolution with plenty of graphical bells and whistles cranked. In games that can't quite hit 60 fps at Ultra graphics settings, dialing back the anti-aliasing (which isn't a necessity at pixel-packed 4K) and turning some visual options to High will get you there. Like the GTX 1080, these are excellent candidates for pairing with a 4K G-Sync monitor, and they deliver superb high refresh-rate 1440p gaming experiences too.
With both graphics cards in a dead heat performance-wise, we suggest leaning toward the GTX 1080 Ti. It's $100-plus cheaper, can frequently be found at a discount, and the models you'll find at those prices often come overclocked, with custom cooling solutions.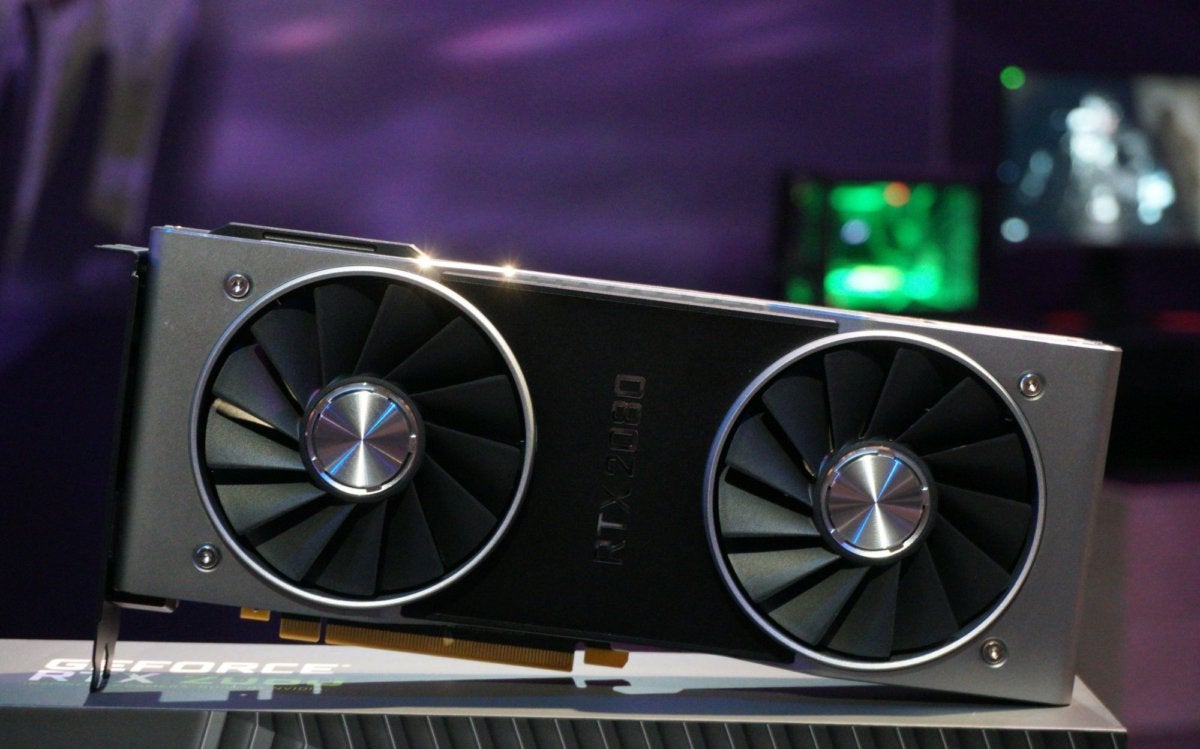 But it might be worth spending the extra money on a GeForce RTX 2080, especially if you don't upgrade your graphics card very often. As mentioned earlier, Nvidia's GeForce RTX GPUs are infused with dedicated hardware that support real-time ray tracing and enhance visuals with the power of machine learning and the company's Saturn V supercomputer. The GTX 1080 Ti isn't. But real-time ray tracing and AI-enhanced Deep Learning Super Sampling aren't available in any actual games yet. You're taking a leap of faith that these technologies will catch on if you invest in a GeForce RTX 2080.
For much more information on all the factors involved in this decision, be sure to check out our detailed GeForce RTX 2080 vs. GTX 1080 Ti comparison.
The best 4K, 144Hz graphics card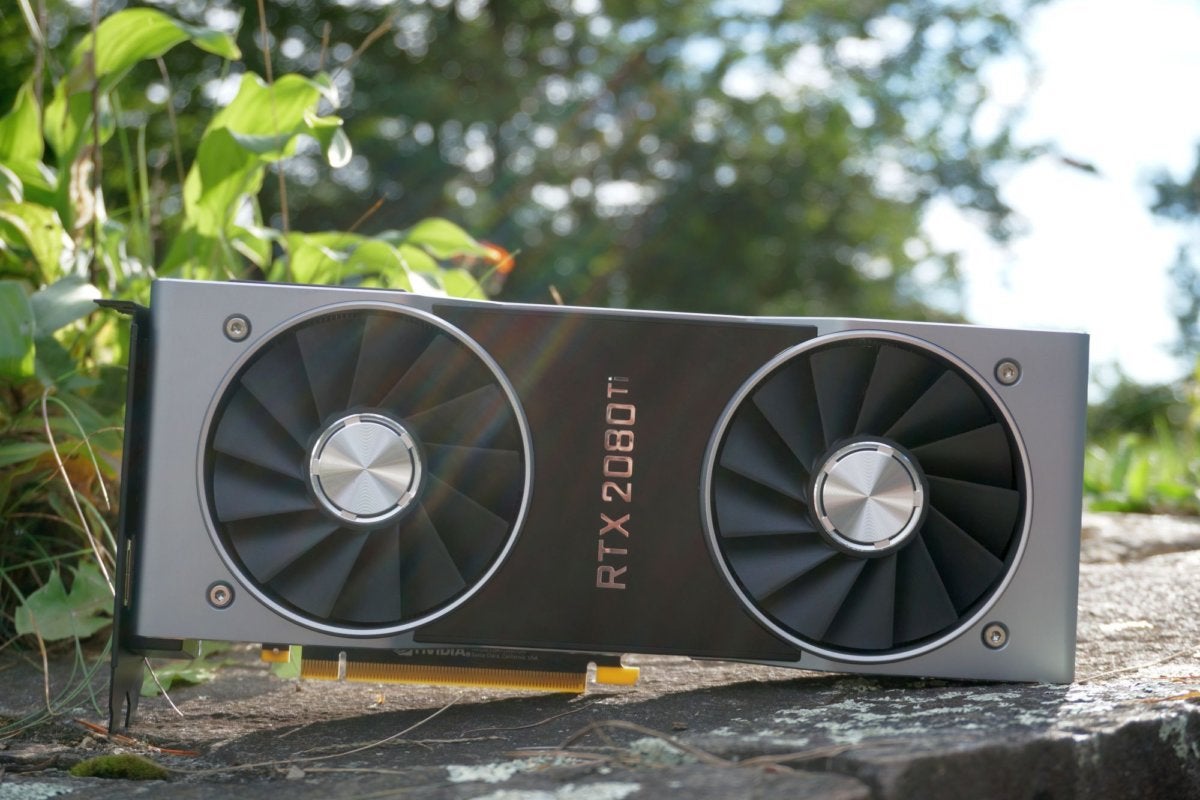 The gaming world finally blew past the 4K/60 barrier in summer, 2018. Between the release of 4K, 144Hz G-Sync HDR monitors like the Acer Predator 27 and the September 27 release of Nvidia's monstrous GeForce RTX 2080 Ti, you no longer need to compromise on sheer face-melting speed to achieve maximum fidelity. You can have your cake and eat it too.
The GeForce RTX 2080 Ti surpasses the hallowed 60-fps barrier across our entire benchmarking suite, save for in Ghost Recon Wildlands, which designed its upper-tier graphics settings to melt even the most potent GPUs. If you disable anti-aliasing and drop the graphics options from Ultra to High—reasonable, common compromises at 4K resolution that don't result in much of a loss in visual quality—then it clears 80 fps across the board. This puppy screams.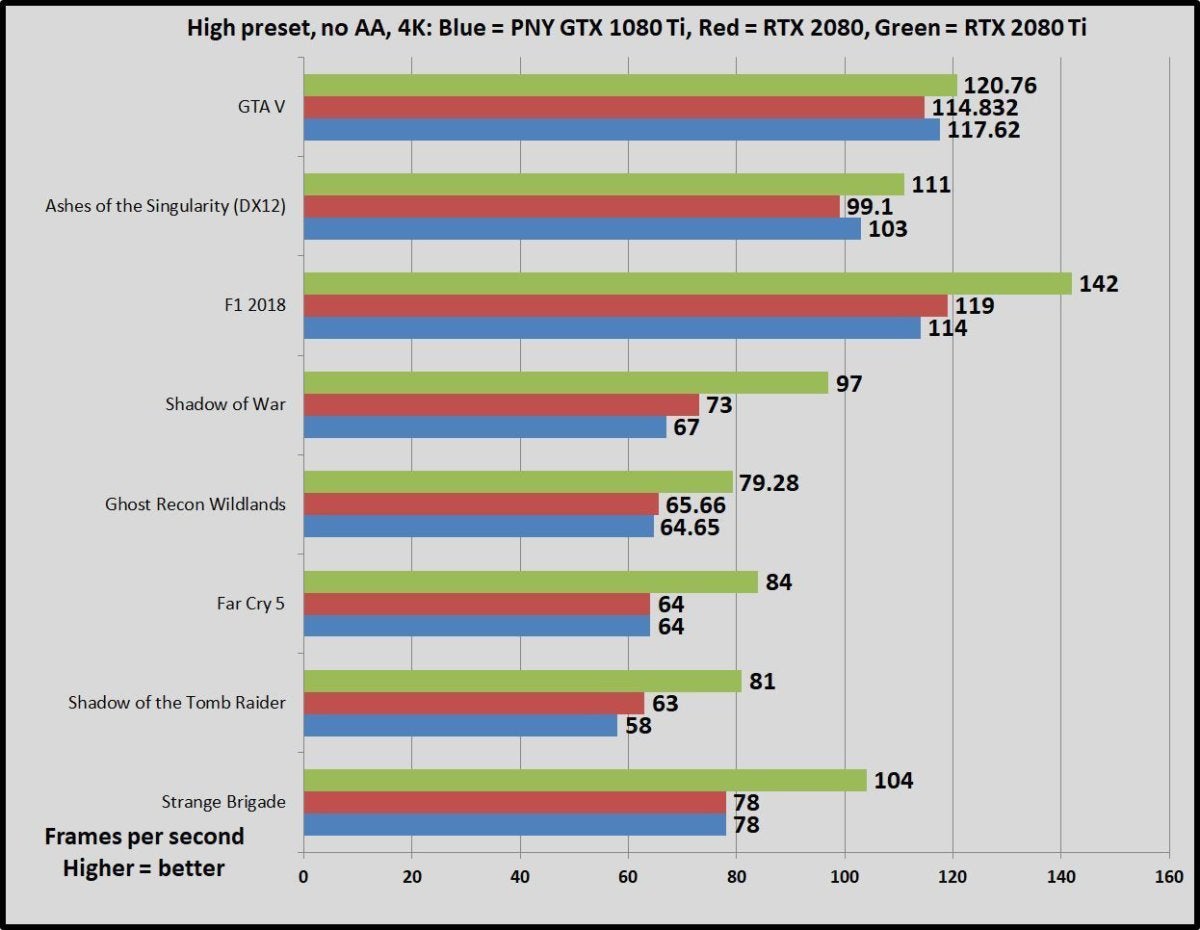 The card might get even faster in the future, too. Like the GeForce RTX 2080, it includes dedicated hardware for Deep Learning Super Sampling, which improves performance by a whopping 39 percent in Nvidia's demos. If developers embrace DLSS, the RTX 2080 Ti could become even more fearsome. The card also includes hardware that enables real-time ray tracing. Unfortunately, you won't find actual games leveraging either technology right now, but dozens have lined up ray tracing or DLSS support. Our deep-dive into the Nvidia Turing GPU inside the GeForce RTX 2080 and 2080 Ti explains these new technologies in detail if you're interested.
But be warned: This glorious future for gaming doesn't come cheap if you want to buy in today. The first G-Sync HDR monitors go for a cool $2,000, though a less-vibrant 4K, 144Hz G-Sync display will launch soon for $1,300. And while the GeForce RTX 2080 Ti ostensibly starts at $1,000—already a $300 increase over the GTX 1080 Ti—the Nvidia RTX 2080 Ti costs $1,200 at Best BuyRemove non-product link or GeForce.com in reality, with custom, overclocked models by the likes of EVGA and MSI costing even more in some cases. Living on the cutting-edge never comes cheap, but this generation, it's truly priced like a luxury.
If you can afford it, though, playing HDR games at 4K, 144Hz is nothing short of glorious.
What to look for in a custom card
If you want to shop beyond the scope of our picks, know that finding the right graphics card can be tricky. Various vendors offer customized versions of every GPU: For example, you can buy different Radeon RX 570 models from Sapphire, XFX, Asus, MSI, and PowerColor.
To help narrow down the options and find the right card for you, you should consider the following things when doing your research:
Overclocks: Higher-priced custom models are often overclocked out-of-the-box to varying degrees, which leads to higher performance.
Cooling solutions: Many graphics cards are available with custom coolers that lower temperatures and fan noise. The vast majority perform well. Liquid-cooled graphics cards run even cooler, but require extra room inside your case for the tubing and radiator. Avoid graphics cards with single-fan, blower-style cooling systems if you can help it, unless you have a small-form-factor PC or plan on using custom water-cooling blocks.
Length: Many graphics cards are of a similar size, but longer and shorter models of many GPUs exist. Double-check that your chosen graphics card will fit in your case before you buy.
Compatibility: Not all hardware supports a wide range of connectivity options. Higher-end graphics cards may lack DVI ports, while lower-end monitors may lack DisplayPorts. Ensure your graphics card and monitor can connect to each other. Likewise, make sure your power supply meets the recommended wattage for the graphics card you choose.
Avoid mining GPUs: During the height of 2018's mining craze, manufacturers introduced mining-specific variants of graphics cards equipped with either an ancient DVI port alone, or no video outputs whatsoever. We're starting to see some trickle into online stores. If you go hunting for deals, ensure the model you're looking at includes HDMI and DisplayPort options before you buy.
Check out our recent reviews
Below is a list of our most recent reviews for individual graphics cards. We've kept it to the most current GPUs.
At a Glance
Nvidia GeForce RTX 2080 Ti Founders Edition

Asus ROG Strix RTX 2080

Nvidia GeForce RTX 2080 Founders Edition

EVGA GTX 1070 Ti SC Black Edition

Nvidia GeForce GTX 1060