Updated
The best graphics cards for PC gaming
We'll help you find the best graphics card to fit your needs.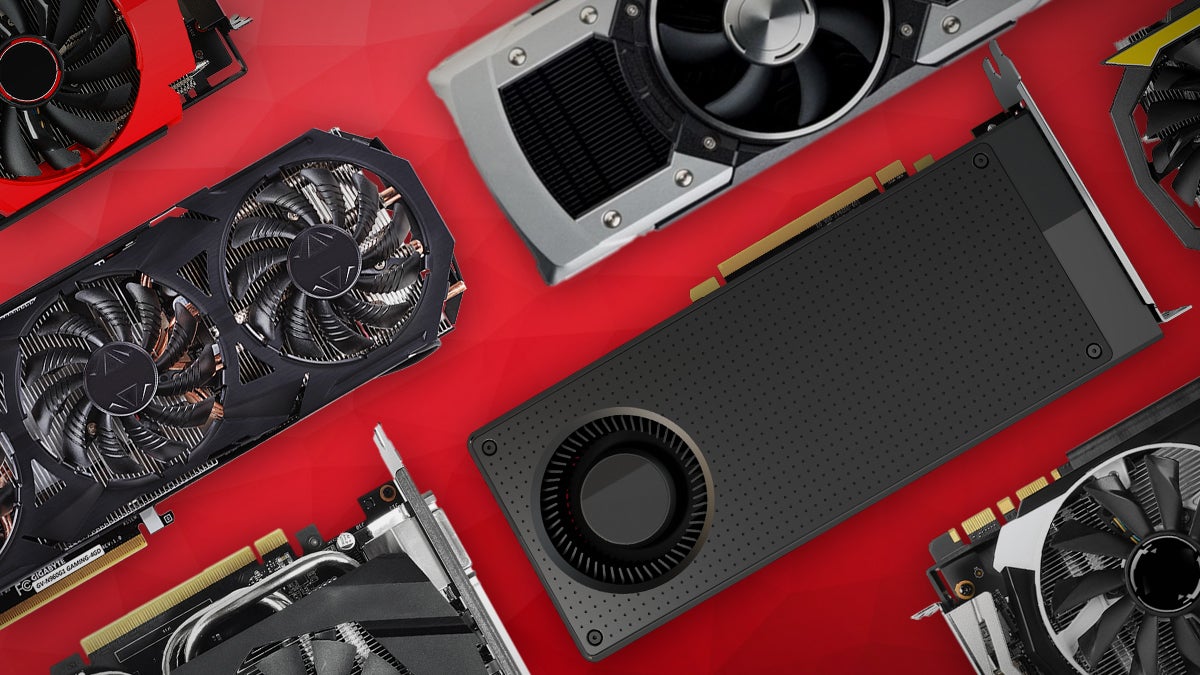 "What graphics card within my budget gives me the best bang for my buck?"
That simple question cuts to the core of what people hunting for a new graphics card look for: the most oomph they can afford. Sure, the technological leaps behind each new GPU can be interesting on their own, but most everyone just wants to crank up the detail settings on Battlefield and get right to playing.
Updated October 7, 2019 to include the Radeon RX 5500's announcement in the news section, and mention the GPU's impending arrival in the 1080p graphics card section.
Answering the question can be a bit trickier than it seems. Raw performance is a big part of it, but factors like noise, the driver experience, and supplemental software also play a role in determining which graphics card to buy. And do you want to pay Nvidia's RTX premium to get in on the bleeding edge of real-time ray tracing?
Let us make it easy for you. We've tested nearly every major GPU that's hit the streets over the past couple of years, from $100 budget cards to $1,200 luxury models. Our knowledge has been distilled into this article—a buying guide with recommendations on which graphics card to buy, no matter what sort of experience you're looking for.
Note: There are customized versions of every graphics card from a slew of vendors. For example, you can buy different GeForce GTX 1660 models from EVGA, Asus, MSI, and Zotac, among others.

We've linked to our formal review for each recommendation, but the buying links lead to models that stick closely to each graphics card's MSRP. Spending extra can get you hefty out-of-the-box overclocks, beefier cooling systems, and more. Check out our "What to look for in a custom card" section below for tips on how to choose a customized card that's right for you.
Graphics card news
AMD revealed the next step for Navi on October 7, unveiling the Radeon RX 5500 series for "next level 1080p gaming." These less powerful cousins to the Radeon RX 5700 series will include all the same cutting-edge technologies, from GDDR6 memory to modern media engines to PCIe 4.0 support. A lower-clocked mobile version was also announced. In an unusual move, the Radeon RX 5500 will appear in prebuilt laptops and desktops first, followed by discrete graphics cards sometime in the fourth quarter. Reviews aren't yet available.
VideoCardz reports that Nvidia is prepping a GeForce GTX 1660 Super to counter AMD's launch, and possibly a GTX 1650 Super as well. While you should take all rumors with a punch of salt, VideoCardz has a solid track record for reporting accurate information before products are formally revealed. The site also noticed listings for those GPUs at the Eurasian Economic Commission.

High-end custom versions of the Radeon RX 5700 XT finally launched in September, when the Sapphire Nitro+ and the XFX Thicc II Ultra hit the streets.
Best budget graphics card
The best low-cost graphics card you can buy right now didn't start off as one. The AMD Radeon RX 570 started off as a $180 refresh of the already-great Radeon RX 470, but now that 2018's cryptocurrency crunch is over and Nvidia's new wave of mainstream GPUs is starting to crest, this family of graphics cards is starting to get cheap. Like, really cheap. "You can always find a Radeon RX 570 for $130 with three months of Xbox Game Pass for PC thrown in" cheap.
That's an incredibly enticing price for a superb 1080p graphics card that can hit the hallowed 60 frames per second mark at High or Ultra settings in most modern games. You may need to tinker with some visual settings to achieve that goal, though. Both 4GB and 8GB versions are available. Always take more memory if you can afford it in a graphics card, but the cheaper 4GB models should hold up fine at 1080p resolution in most games.
The insane value proposition of these discounted Radeon RX 570 graphics cards have rendered true budget GPUs like the GeForce GTX 1650, the older GeForce GTX 1050 Ti, and the Radeon RX 560 obsolete unless you need a graphics card that doesn't require any extra power connections. Just get one of these—and enjoy those free games while you're at it.
Best 1080p graphics card
Many PC gamers play on basic 1080p, 60Hz monitors, thanks to their compelling blend of resolution, speed, and affordable pricing. The best graphics card for feeding those displays is Nvidia's $220-and-up GeForce GTX 1660, which we crowned "the new 'sweet spot' champion" in our review.
The GTX 1660 beats the snot out of the Radeon RX 580—our previous long-standing sweet spot recommendation—in performance, soaring well past 60 fps in the games in our testing suite. It's faster than the similarly priced Radeon RX 590 in most scenarios, too. On top of the performance advantage, the GeForce GTX 1660 comes equipped with 6GB of RAM, runs cool, and is incredibly power-efficient compared to its Radeon rivals. Plus, modern GeForce GPUs now play nice with affordable FreeSync monitors as well as pricier G-Sync display option. The GTX 1660 is a no-brainer.
Well, most of the time. We've recently witnessed incredibly good sales for the Radeon RX 580 that bring it down to the $170 or $180 range, with two free triple-A games thrown in. The GeForce GTX 1660 pummels it, but if you can find a deal that juicy, the Radeon RX 580 still delivers an outstanding 1080p gaming experience.
Conversely, if you're playing on a 1080p monitor with an ultra-fast 120Hz or 144Hz refresh rate, consider investing in the more powerful $280 GeForce GTX 1660 Ti instead. It provides significantly more performance legroom than the GTX 1660, and you'll appreciate it at those higher speeds. The GTX 1660 Ti could double as an entry-level 1440p gaming card, too.
Changes could be coming to this segment soon. AMD revealed the Radeon RX 5500 series for "next level 1080p gaming" in early October, outfitted with all the same cutting-edge technologies as the more powerful Radeon RX 5700 series, from GDDR6 memory to modern media engines to PCIe 4.0 support. But there's a twist! The Radeon RX 5500 will appear in prebuilt laptops and desktops first, followed by discrete graphics cards sometime in the fourth quarter. 
Best 1440p graphics card
Now we're getting into the futuristic stuff. The GeForce RTX 20-series graphics cards come rife with hardware dedicated to real-time ray tracing and AI enhancements, while the Radeon RX 5700 series are the first graphics cards with 7nm process technology, PCIe 4.0 support, and AMD's all-new and vastly improved RDNA graphics architecture. But beyond those bleeding-edge extras, these can just plain game.
The GeForce GTX 1660 and 1660 Ti are fine options for a decent 1440p/High gaming experience, but you won't be able to crank graphics options to the max and still hit 60 fps in many games. You'll find the $350 GeForce RTX 2060 as a solid 1440p option, but recent introductions have shaken up the entire high-end market. AMD's $350 Radeon RX 5700 and $400 Radeon RX 5700 XT were countered by Nvidia's $400 GeForce RTX 2060 Super and $500 RTX 2070 Super. All of these graphics cards kick ass.
The AMD duo is the best of the bunch, though. The Radeon RX 5700 competes directly in price with the original 6GB RTX 2060, while the Radeon RX 5700 XT competes directly in price with the new 8GB RTX 2060 Super, and both AMD GPUs offer noticeably faster performance than their Nvidia rivals in many games. In some games, the Radeon RX 5700 XT even goes toe-to-toe with the GeForce RTX 2070 Super, which costs $100 more!
AMD's next-gen GPUs switched to GDDR6 memory, giving them the same blistering speeds as Nvidia's cards, while the new RDNA architecture is much more power efficient than previous-generation Radeon options and on par with the RTX 20-series. Great stuff. The Radeon RX 5700 is our pick for the best 1440p graphics card overall, especially if you're using a 60Hz display, but the Radeon RX 5700 XT is another excellent value if you want even higher framerates for just $50 more.
Spend the extra money on a custom version if you can, however. The excellent Sapphire Pulse Radeon RX 5700 delivers vastly improved cooling, nice extras, and much better performance with the help of clever software tricks for a mere $10 more than the reference RX 5700.
After a long wait, enthusiast-class custom versions of the Radeon RX 5700 XT finally appeared in mid-September, when the Sapphire Nitro+ and the XFX Thicc II Ultra hit the streets. They're both loaded with custom cooling designs, some nice extras, and the best out-of-the-box Radeon RX 5700 XT performance you can buy. The XFX Thicc II resembles a muscle car in both its gorgeous, chrome-accented design and slightly finicky nature, while the Sapphire Nitro+ is virtually flawless. Both are well worth your money, but opt for the Nitro+ if you can find it. Custom models are in short supply at the moment and subject to frequent bouts of poor availability. 
Only Nvidia's GeForce RTX graphics cards perform real-time ray tracing though. The futuristic technology has been slow to gain steam, but began seeing more traction at E3 2019, where several hotly anticipated games announced support plans. If you don't want to miss out, and don't mind leaving the faster overall speeds of the Radeon RX 5700 series on the table to get it, the $400 RTX 2060 Super is a good option, delivering performance on par with the original $500 RTX 2070.
Finally, the new $500 GeForce RTX 2070 Super is a stellar option of its own if you want to feed a high refresh rate 1440p gaming monitor and even better ray tracing performance. It's only slightly behind the original RTX 2080 in performance, and that costs $700 or more. But if you don't care about ray tracing and don't need to max out frames, the Radeon RX 5700 XT is only a step behind the Nvidia option for $100 less.
Don't buy Radeon Vega graphics cards or the original RTX 2070 at this point unless you find them at spectacular discounts. This new wave of GPUs blows their value proposition out of the water.
Next page: 4K graphics cards at 60Hz and 144Hz, what to look for in a graphics cards
Today's Best Tech Deals
Picked by PCWorld's Editors
Top Deals On Great Products
Picked by Techconnect's Editors