SLIDESHOW
IDF 2016: Powerful chips, robot brains, and super-fast data lasers
PCs may not be the sole focus at IDF anymore, but Intel's annual event still highlights the future of technology.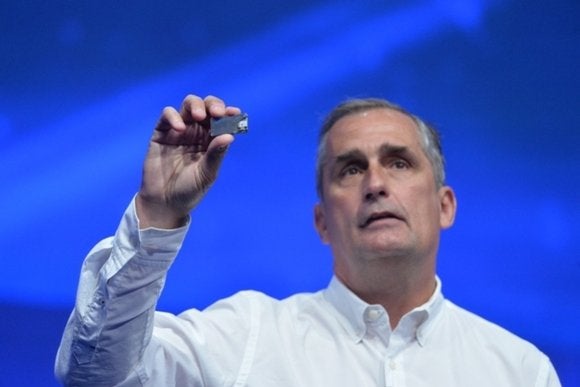 A diversified future of computing
The Intel of today isn't the Intel you know, and that truth was hammered home at the annual Intel Developers Forum in San Francisco this week.
Sure, Intel's still the most prodigious PC chip maker in the world—by far—but its focus has shifted away from computers alone to embrace the idea of bringing smarts to all sorts of devices. While the IDFs of yesteryear leaned heavily on PC processors and new tech designed to make computers more potent, at IDF 2016 PCs shared the stage with drones, DJ tables, robots, Raspberry Pi-esque maker boards, and even 5G networks.
And that's not even mentioning the "hell froze over" announcement about Intel and ARM—or the surprise mic-drop moment from AMD.
The times are definitely a-changin', but at the same time, IDF has always been about what's coming next in the world of computing—and IDF 2016 delivered wild visions of the future in spades. Let's dig in, starting with some radical new PC hardware.
Project Alloy
The star of IDF's day one keynote wasn't a ferocious new processor or an arcane Internet of Things invention. Instead, it was Project Alloy, a wireless virtual reality headset created by Intel with help from Microsoft.
Project Alloy uses dual Intel RealSense 3D cameras to detect the outside world, offering "five-finger detection" to help you manipulate virtual objects. Whereas the Oculus Rift and HTC Vive focus on straight virtual reality—plopping you wholly inside virtual worlds—and Microsoft's HoloLens uses augmented reality to overlay digital objects in the physical world, Project Alloy is a marriage of the two. Intel's headset uses its cameras to display real-world objects inside a 3D-rendered virtual world.
Intel didn't dive into specifics; we don't know when Project Alloy will be released, or for how much, or even what chip powers it. But the company plans to open-source the design of this potential PC savior sometime mid-2017.
Windows Holographic
Open-sourced VR headsets are only part of the equation, though. Hardware is useless without software. Fortunately, Windows chief Terry Myerson strode onstage shortly after Project Alloy's reveal to announce that Microsoft is bringing Windows Holographic to the masses.
Windows Holographic, which powers Project Alloy and Microsoft's own HoloLens, uses augmented reality to show digital objects overlaid in the physical world, such as Minecraft blocks or wall-sized calendars. Microsoft will push Windows Holographic to every Windows 10 PC sometime in 2017—presumably around the time Intel open-sources Project Alloy's design.
Kaby Lake
Virtual reality demands more computing performance than most tasks. At IDF, Intel formally showed off its next generation of CPUs, dubbed Kaby Lake.
Intel actually spent more time talking up Kaby Lake's graphics performance than its computing chops, which may not be surprising when you consider that the chips were hastily added to Intel's road map as Moore's Law slows. The seventh-generation Core processors feature hardware-accelerated video decoding and graphics cores powerful enough to push 4K video, Intel says. The company also showed those integrated graphics cores running Overwatch smooth as silk—though Intel didn't say which graphics settings or resolution were used in the demo. Don't expect Kaby Lake's built-in graphics to play games at 4K resolution, is what I'm saying.
Laptops based on Kaby Lake—like the Asus Transformer 3 pictured above—will start shipping this fall.
AMD Zen
But Kaby Lake is evolution. AMD's forthcoming Zen architecture is a CPU revolution for the company, and AMD piggybacked on IDF for a major reveal of its own.
AMD's been teasing Zen details for a while now, but pulled back the curtain pretty far at an evening event in San Francisco. The highlight: a demonstration of two PCs—one powered by an 8-core Zen chip, the other by Intel's 8-core Core i7-6900K—set to 3GHz clock speeds and facing off in a multithreaded Blender rendering task. AMD's Zen chip beat out Intel's latest, greatest 8-core chip by a hair.
Considering that the internet rumor mill pegged Zen performance as roughly on par with old-school Intel "Ivy Bridge" chips, that's damned exciting. Be sure to read our Zen performance report for nitty-gritty tech details, and our 10 things you need to know about Zen to learn about its potential place in your system. Thirsting for more? We also sat down for a massive Zen Q&A with AMD CTO Mark Papermaster that's not to be missed.
Knight's Mill
Intel's truly awe-inspiring hardware is destined for data centers, though. During day two's keynote, Intel took the wraps off "Knight's Mill"—a powerful, secretive new Xeon Phi chip loaded with dozens of CPU cores and cutting-edge stacked memory in order to chew through artificial intelligence tasks.
Knight's Mill isn't a direct replacement for the 72-core Knight's Landing chip, nor Knight's Hill (aka Knight's Landing's eventual successor). Instead, the chip's cores focus on "low-precision calculations," which can be strung together for approximations that can help the chip make decisions in neural networks. It's a direct response to the meteoric rise of Nvidia GPUs for AI tasks.
Photonic connectors
After 16 long years of testing and teasing, Intel's finally making good on its promise to move beyond copper. At IDF 2016, the company announced that it's begun shipping silicon photonics modules, which use light and lasers to turbocharge data transfers between computers.
This initial broadside focuses on optical communications technology inside of data centers, at blistering 100Gbps rates. And while it's based on the widely used ethernet protocol, servers will require special switches to support silicon photonics.
But the really intriguing tidbit is what lies beyond this rollout: Over time, Intel will bake optical communications directly inside its chips—which means blazing-fast beams of light will push the data inside PCs. Yes please.
DDR5 memory
The future of memory was explored at IDF 2016, too. No, we're not talking about Intel's revolutionary 3D Xpoint memory (though it made an appearance in an enterprise-only role). Instead, we're talking about DDR5 RAM.
"What? Isn't DDR4 memory just starting to roll out?" you ask. Yes indeed, dear hypothetical reader—DDR5 isn't expected until 2020. But seeing DDR5's mere existence on an IDF 2016 slide is eye-opening, as many hardware experts expected DDR4 to be the last major DDR RAM iteration before the technology gives way to better, brighter things (like the aforementioned 3D Xpoint, or phase-change memory). 
DDR5 DRAM will have many benefits: Users will be able to cram more memory into PCs, and applications will run faster. DDR5 memory will also be denser and consume less power than earlier DRAM, which could extend battery life in laptops. Look for the initial DDR5 specification to land later this year.
Intel <3 ARM
Speaking of chips, Intel's ramping up plans to make processors for other entities, and in a big way. At IDF 2016, Intel announced that it's open to fabricating custom chips based on designs from arch-rival ARM.
Hell hath frozen over. Pigs are flying. It appears Intel's retreat from x86-based mobile chips is well and truly complete.
On the other hand, the mix of Intel's best-in-class manufacturing capabilities and its newfound willingness to create ARM-based chips (even using the cutting-edge 10nm process) could lead to big new business for the company, no doubt to the chagrin of Qualcomm, Samsung, and other notable ARM chip creators. LG's already revealed plans to create custom ARM chips for its mobile devices in Intel's fabs. And who knows? Intel may even succeed in winning Apple's iPhone business, nearly a decade after famously turning down the opportunity to make chips for the original version.
USB-C tunes
Intel's keeping its fingers in the mobile pie in other ways, too. At IDF, the company seized the opportunity to preach the superiority of USB-C digital audio over the analog signal of traditional 3.5mm headphone jacks in smartphones. Nerd fight!
Digital audio over USB-C facilitates killer features like noise cancellation, specialized sound effects, and smart power management—the latter of which helps dispel concerns about digital audio's effect on mobile battery life. Embracing USB-C audio could also result in thinner, lighter devices by doing away with the relatively wide 3.5mm jack as well as the complex digital-to-analog circuitry that spec entails.
Add it all up and those features "will really make USB Type-C the right connector for audio," Intel architect Brad Saunders says. And industry-wide USB-C support could truly replace the ubiquitous 3.5mm jack—unlike Apple's rumored plans to funnel audio duties through proprietary Lightning cables in the iPhone 7.
Joule
Intel continued its quest to woo the hearts of tinkerers and electronic enthusiasts at IDF 2016, where it announced Joule, a new high-end maker board. But whereas the $35 Raspberry Pi 3 keeps things lean to stay affordable, Intel's Joule is loaded with all sorts of advanced features, like 802.11ac connectivity, DDR4 memory, graphics capable of playing 4K videos, and a 64-bit quad-core Atom processor. It also supports Intel's RealSense 3D camera.
Joule's intended to provide big-time computing power for robots, drones, smart devices, and wearables. Intel showed it off in a variety of projects, including a bartending robot and a smart motorcycle helmet. But the price may be a barrier for all but the most devoted developers: The Joule board will set you back a cool $370. That's more than 10 times the cost of the Raspberry Pi, and even pricier than some entry-level PCs.
Euclid
Joule wasn't the only maker-centric announcement at IDF 2016.
"Euclid" looks awfully similar to the Microsoft Kinect sensor, but it's actually a fully self-contained computer designed to power robots. Euclid's magic stems from its Atom processor and world-defining RealSense camera, paired with Ubuntu Linux and the ROS (Robot Operating System) set of robot development tools and libraries, which are used to create many robots today.
Project Aero
Likewise, Intel also announced its new "Project Aero" development kit for drones, which Intel CEO Brian Krzanich says is a complete drone system all on a single board. Project Aero packs LTE communications, a flight controller, Airmap SDKs, and a RealSense camera for vision. You'll be able to preorder Project Aero for $400, though Krzanich failed to say when the board will actually ship. Intel also plans to release Project Aero kits with everything you need to create a full-blown drone at some point in the future.
Next Up: Check out these related slideshows
Today's Best Tech Deals
Picked by PCWorld's Editors