SLIDESHOW
BlizzCon 2016: Overwatch's Sombra revealed, Diablo returns, Hearthstone's Gadgetzan, and more
At BlizzCon 2016, Blizzard revealed the long-teased Sombra character for Overwatch, teased World of WarCraft content plans, and more.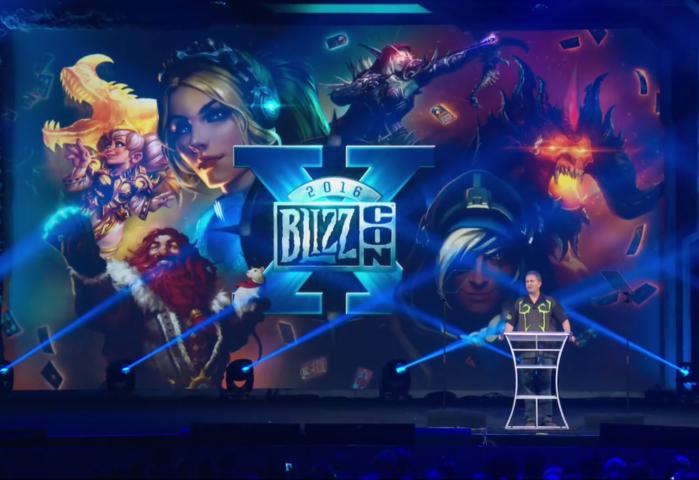 25 years of Blizzard
BlizzCon 2016 kicked off on Friday, finally putting to rest six months of teasing about a new Overwatch character and those pesky Diablo IV rumors. And before you ask: No, Blizzard didn't reveal Diablo IV—for real. But it did recreate the original Diablo inside Diablo III.
The show kicked off with a somber moment, for once. No big trailer, no explosions, no execs. Instead, Blizzard rolled a retrospective to celebrate 25 years since the studio's founding, highlighting many of its most iconic moments (Leeeeeroy Jenkins and South Park's World of Warcraft episode among them).
Here's to 25 more, Blizzard.
World of Warcraft
From there, it was right down to business. Blizzard CEO Mike Morhaime came out to give his annual opening address, and then talk World of Warcraft. "We're committed to releasing more content on an ongoing basis than ever before," Morhaime said, in reference to the game's recent Legion expansion.
That's a vital claim for longtime fans, considering the previous Warlords of Draenor expansion is considered a failure largely because of how sparse updates were for the two years after launch. Unfortunately, the only concrete plans mentioned were for this year's Make-A-Wish Foundation charity pet, Mischief (pictured above).
Sombra
That's basically it for World of Warcraft though because Overwatch has taken over Blizzard's sweet spot. The long-awaited Sombra reveal finally came, putting to bed an alternate reality game that wore out its welcome about four months ago.
It's a great trailer. Even if you don't play Overwatch, I think we can agree Blizzard's still making some of the best cinematics in the entire industry, this one showing Sombra, Reaper, and Widowmaker attacking an enemy compound.
Now let's see how the players use her. You can find all of Sombra's capabilities on her character page on the Overwatch website.
More Overwatch
Also revealed at BlizzCon: A new Overwatch map dubbed "Oasis." It's a high-tech city set in the desert. Sounds (and looks) a bit like Dubai. There will also be a new map based on Mei's origins that Morhaime promises will be "very cool." (Groan.)
Overwatch is also adding an Arcade mode with custom maps and gametypes, including 1v1 and 3v3.
StarCraft II
It's been about a year since StarCraft II officially wrapped up, with the third part of the trilogy releasing last November. But Blizzard's been dribbling out a series of mini campaigns since then, dubbed Nova Covert Ops. If you've been waiting for the conclusion, Blizzard confirmed the third and final set of missions will be out on November 22. The game will also be receiving a new co-op commander, Alexei Stukov.
Blizzard also brought a member of DeepMind out on stage to talk about the company opening StarCraft II up to AI researchers. "Maybe we'll even see an agent take on the BlizzCon champion in a match," he said, discussing the future.
Overwatch League
Furthering its push into e-sports, Blizzard revealed the Overwatch League (OWL?), its new competitive outlet for the shooter. The key seems to be permanent, city-based teams, a la a real sports league, with more predictable schedules. This is different from basically every other e-sports league at the moment, which normally involves teams vying for spots in tournaments.
The Overwatch League will offer a real salary for players. Most esports leagues have no set rules for player compensation, with teams typically chasing those big end-of-year prize pools. Blizzard wants Overwatch's competitive players to earn an actual living wage. Hopefully that becomes a trend across the industry.
Heroes of the Storm
Blizzard's MOBA continues to add characters at a semi-regular pace. This year's addition isn't quite as crazy as last year's dual-headed Cho'Gall character. Instead, Heroes of the Storm is getting two World of Warcraft characters: Varian Wrynn, hero of the Alliance and...well, let's not spoil Legion, eh? And then Ragnaros the Firelord, an evil character that can take over a fort, grow gigantic, and "become a raid boss."
Varian and a new Brawl map, Blackheart's Revenge, should drop in mid-November, with Ragnaros hitting Heroes of the Storm sometime in December.
Heroes of the Storm, continued
Here's a normal in-game trailer showing off the Heroes of the Storm-specific talents of Varian and Ragnaros.
Hearthstone's Mean Streets of Gadgetzan
Time for BlizzCon's annual Hearthstone expansion reveal. The card game's struggled quite a bit this year with balance issues and player discontent, but nevertheless Blizzard seems committed.
The latest expansion is Mean Streets of Gadgetzan, which takes players to the...well, mean streets of Gadgetzan, the goblin port city of Warcraft fame. The gimmick of this expansion is tri-class cards—for instance, cards that can be played (with specific effects) in the Mage, Priest, and Warlock decks, but no others. The Mean Streets of Gadgetzan expansion is coming in December.
Diablo!
Okay, the moment everyone was waiting for: Diablo, and its 20th anniversary. But alas, the Diablo IV rumors were not to be. Instead, Blizzard unleashed a bunch of information for Diablo III.
Arguably the most important addition, celebrating the aforementioned anniversary: Blizzard recreated the original Diablo in the Diablo III engine, complete with eight-direction character movement and a retro graphics filter that makes the visuals look pixelated. It's coming as an "Anniversary Patch" later this year, after debuting on Blizzard's Public Test Realm next week.
And if that's not enough Diablo for you, Blizzard is also adding the series-favorite Necromancer class from Diablo II into Diablo III, filling in one of the last gaps in the character roster. Need more reasons to go back? Blizzard's tacking on two new areas (Shrouded Moors and the Temple of the Firstborn) to Adventure Mode for free, giving you another reason to explore.
Rest in peace, Diablo IV rumors. We hardly knew ye.
Next Up: Check out these related slideshows
Today's Best Tech Deals
Picked by PCWorld's Editors