SLIDESHOW
Black Friday deals: 10 tech doorbusters worth fighting the crowds
Most Black Friday 'deals' aren't really deals at all. These 10 tech deals truly are.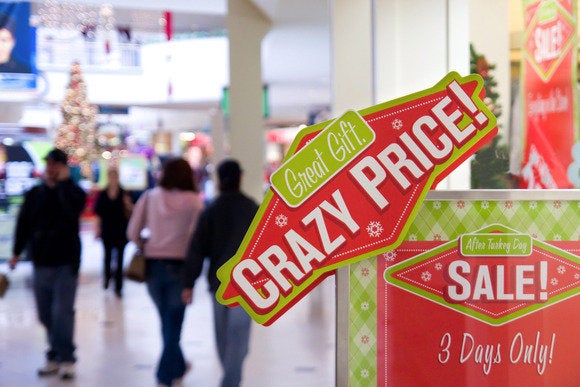 Digging for true gold, not fool's gold
Black Friday may have a reputation for ridiculously low sale prices, but truth be told, it's probably the worst day to be a shopper. Not only are the crowds out of control, but retailers inch their prices up before the event just to have a seemingly "crazy" sale price a few weeks later. PC makers will sometimes work with retailers on exclusive holiday models that are just a little bit different than the models you usually see—making it harder to comparison-shop.
And yet, even with all the madness and shenanigans, there are still good deals to be found on Black Friday. These ten doorbusters are truly good products at truly great prices.
BEST BUY: Samsung 60-inch 4K Ultra HD TV, $800
Model: UN60JU6390FXZA
Specs: 60-inch 3840-by-2160 display, 60Hz, 3 x HDMI, Wi-Fi
The deal: At this writing (November 25), Amazon has this set on sale for $900, just $100 more than Best Buy's Black Friday price. Still, with a non-sale price of $1,500 at Best Buy this is a pretty sizeable discount. If you can't get out the door on Friday, this deal does not have an in-store only tag—so you should be able to pick it up online. If not, there's always Amazon for an extra $100.
BEST BUY: Yoga 3 Pro, $750
Model: 80HE011WUS
Specs: 13.3-inch 3200-by-1800 display, 1.2GHz Intel Core M processor with Intel HD Graphics 5300, 8GB RAM, 256GB SSD, 3 x USB, 1 x micro HDMI, Bluetooth, 802.11ac Wi-Fi, webcam, Windows 10
The deal: The most common price you'll find for this device is in the $900 range. So at the very least you'll save about $150 on this deal. We called the Yoga 3 Pro a potential Surface Pro 3 killer (before the Surface Pro 4 launched), praising its better battery life and higher pixel-density display. It works really nicely as a traditional laptop.
MICROSOFT STORE: Samsung Ativ Book 9, $900
Model: NP930X2K
Specs: 12.2-inch 2560-by-1600 display, Intel Core M-5Y31 with Intel HD 5300 graphics, 8GB RAM, 256GB SSD, microSD slot, 2 x USB 3.0, micro HDMI, 720p front camera, 802.11ac Wi-Fi, Bluetooth 4.1
The deal: Since it comes from the Microsoft Store, this isn't your average Ativ Book 9. The Signature Edition version features a clean Windows 10 installation with minimal bloatware, which is always nice. The non-Black Friday sale price is around $1200. It's hard to go wrong with this deal, which appears to also be available online. The Microsoft Store's deals go live at 12 a.m. on Thursday.
DELL: Inspiron 13 7000 Series 2-in-1, $300
Model: N/A
Specs: 13.3-inch 1366-by-768 display, 1.9GHz Intel Pentium processor with Intel HD 5500 graphics, 4GB memory, 500GB hard drive, Windows 10, 802.11ac Wi-Fi, Bluetooth 4.0, 2 x USB 3.0, 1 x USB 2.0, SD/MMC card reader
The deal: The processor won't amaze you, but the price is still great for a 2-in-1 that can do double duty as a laptop and tablet.
OFFICE DEPOT: Acer Chromebook, $95
Model: CB3-111-C670
Specs: Chrome OS, 11.6-inch 1366-by-768 display, 2GB memory, 16GB SSD, 2.2GHz, dual-core Intel N2830 Celeron Processor, 802.11a/b/g/n/ac Wi-Fi, Bluetooth 4.0, 1 x USB 3.0, 1 x USB 2.0, 1 x HDMI, SD card reader
The deal: Chromebooks are known for their affordability, but this one's being offered at an even more killer price. Office Depot's Black Friday bonanza starts at 6 p.m. on Thursday, but if you miss it at Office Depot, Best Buy is offering the same model for $100.
MULTIPLE STORES: $300 PlayStation 4 and Xbox One console bundles
Model: N/A
Specs: 500GB console, 1 game controller, 1 game
The deal: Console prices have been all over the place in recent months. This Black Friday you can find both the 500GB Xbox One and PlayStation 4 consoles pretty much everywhere for $300. That's $50 cheaper than usual, with a free game tossed in, too. The Xbox One bundles are usually packing Gears of War Ultimate Edition while the PS4 usually has the Uncharted collection. Check out stores such as Best Buy, Gamestop, and Walmart for these deals.
MULTIPLE STORES: Gamer gear
Specs: Razer Naga MMO mouse for $40, cheaper games, $50 off graphics cards
The deal: Pop into Best Buy for the button-laden Razer Naga on sale for $40, down from its usual $70. Gamestop and many other retailers have a variety of good games on tap at steep discounts, including game of the year contender The Witcher 3: Wild Hunt (console) for $30, Gears of War Ultimate Edition for $20, or Battlefield 4 for $15. Over at Newegg you'll find a bunch of graphics cards discounted by $50 or more, with additional mail-in rebates often available.
OFFICE DEPOT: Toshiba Encore 2 tablet, $90
Model: WT10-A32
Specs: 10.1-inch 1280-by-800 display, 1.83GHz Intel Atom Z3735G processor, 1GB RAM, 802.11b/g/n, Bluetooth 4.0, micro HDMI, micro USB 2.0, 32GB onboard storage, microSD slot, Windows 8.1
The deal: Okay, let's be honest here. You probably won't want to upgrade this tablet to Windows 10, which isn't as finger-friendly as Windows 8.1, but at least the Toshiba Encore 2 is designed to live in Microsoft's touch-centric modern UI universe. If you choose to skip the free Windows 10 upgrade, the downside is a Windows 8.1 tablet cannot take advantage of Microsoft's universal apps.
Nevertheless, at a mere $90—about 50 percent off its typical price—it's hard to go wrong with the Encore 2 if you want a solid, affordable tablet for Netflix, Facebook, email, and the like.
STAPLES: Toshiba Satellite, $500
Model: C55-C5381
Specs: 15.6-inch 1366-by-768 display, 2.4GHz, dual-core Intel Core i7-5500U, 8GB RAM, 1TB HDD (5400RPM), DVD MultiDrive, 802.11b/g/n Wi-Fi, webcam, Windows 10
The deal: The $500 Toshiba Satellite is a nice standard laptop with a powerful processor, a good amount of RAM, and more storage than you'd need. Plus, this thing is probably a solid candidate for an external GPU set-up—although do your research for any BIOS problems. The only thing that could make this laptop better would be to swap that hard drive for an SSD. Alas.
WALMART: iPad Air 2 (Gold), $400
Model: Multiple
Specs: 9.7-inch display with 2048-by-1536, 16GB onboard storage, Wi-Fi only, gold color
The deal: As long as you don't mind the gold color you can buy an iPad Air 2 for $100 less than the usual price at Walmart. But pay attention: This deal only runs from 6 p.m. to 7 p.m. on Thursday—Thanksgiving itself—and it's only available inside the physical stores. Walmart's online sale starts at 3:01 a.m. Eastern on Thursday.
Next Up: Check out these related slideshows
Today's Best Tech Deals
Picked by PCWorld's Editors