SLIDESHOW
Everything AMD revealed: 16-core Threadripper CPUs, Radeon Vega's debut, Ryzen laptops, and more
AMD announced a slew of products at its 2017 Financial Analysts Day, from the debut of Radeon Vega in graphics card form to all kinds of new Ryzen chips.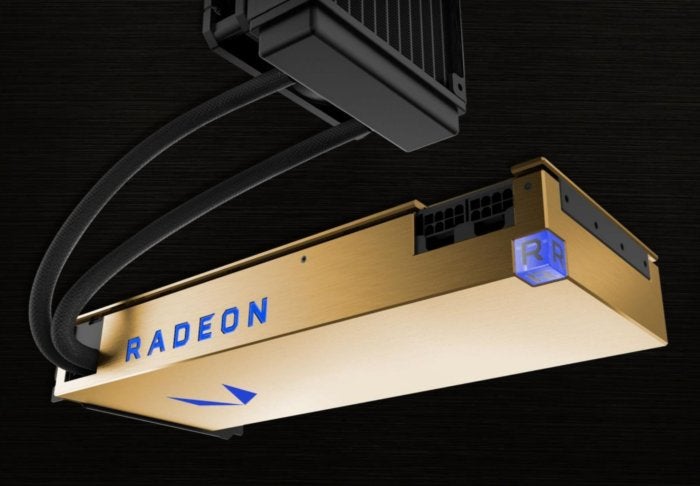 A blitz of badass hardware
A session dedicated to investors doesn't sound like the ideal venue for big product announcements, but at AMD's 2017 Financial Analyst Day on Tuesday, the company revealed all sorts of nifty new hardware sure to get PC enthusiasts drooling, from monstrous new Ryzen processors to the first-ever Radeon graphics card built using the new "Vega" architecture. And those were just the beginning!
Want to catch up quickly? Here's everything AMD announced at its Financial Analyst Day that everyday enthusiasts and PC gamers should care about.
Threadripper
Let's start with the most jaw-dropping reveal. AMD's keeping its foot on the gas pedal after the launch of its disruptive Ryzen 7 and Ryzen 5 processors, revealing a monstrous new Ryzen "Threadripper" series that boasts up to an amazing 16 cores and 32 threads.
Threadripper's a high-end desktop platform designed to compete with Intel's Extreme Edition processors, which currently run $1,000 for an 8-core CPU and $1,700 for a 10-core processor.
Sixteen cores in a consumer/prosumer chip is unprecedented. Given that AMD's other Ryzen chips match Extreme Edition core counts at vastly lower pricing, we're excited to see where Threadripper lands. Read PCWorld's AMD Threadripper coverage for an even deeper dissection of the beast.
Epyc
Threadripper wasn't the only big CPU reveal at the event. AMD also announced that the Zen-based Naples server chips will be christened "Epyc" when they launch later this year. Fingers crossed the flagship model's called the Epyc 1337.
Ryzen everywhere
Heavy-hitters dominated AMD's presentation, but massive chips weren't the only ones talked about. The company bragged that by the end of June, prebuilt Ryzen PCs will be available from the top five PC vendors, after launching successfully for DIY types and boutique system builders. Acer's Aspire GX (pictured) came out of nowhere to become the first Ryzen rig from a major PC maker earlier this month.
Ryzen Pro
AMD also announced that Ryzen Pro chips with pro-style features will launch later this year in desktops, and in laptops in the first half of 2018.
Ryzen laptops, with Vega
Ryzen's long-awaited mobile debut will also take place in the second half of the year, as laptop chips roll out with what AMD called "fantastic battery life," and a claimed 50-percent performance increase over AMD's existing notebook CPUs (which makes sense, as Ryzen desktop chips achieved a similar leap).
Perhaps more interestingly, Ryzen APUs will come with enthusiast-grade Radeon Vega graphics cores for their integrated graphics, rather than the more mainstream Polaris GPU found in today's RX 500-series lineup. Ryzen laptops could potentially kick a lot of ass for gaming.
Check out PCWorld's Ryzen laptop coverage for deeper details.
Radeon Vega Frontier Edition
Speaking of Vega, AMD's long-awaited, hotly anticipated new graphics architecture became tangible at the Financial Analyst Day—though the GPU's debut incarnation isn't for gamers whatsoever.
Instead, the Radeon Vega Frontier Edition is a graphics card designed for "data scientists, immersion engineers, and product designers" as AMD strives to break into the lucrative GPU compute market. The company showed the card cruising through Sniper Elite 4 at 4K resolution but Radeon boss Raja Koduri said bluntly that "Because this graphics card is optimized for professional use cases (and priced accordingly), if gaming is your primary reason for buying a GPU, I'd suggest waiting just a little while longer for the lower-priced, gaming-optimized Radeon RX Vega graphics card."
The bad news? Because the Radeon Vega Frontier Edition isn't hitting the streets until late June, that blurb seems to indicate that Radeon RX Vega gaming graphics cards won't land until later in the summer—though that's not definitive. 
The future of Radeon
AMD also gave us a brief glimpse at the future of Radeon with an updated—albeit very basic—roadmap. Previous roadmaps explained that Navi, Vega's successor, will launch in 2018 with "scalability" and "nexgen" memory as its key advancements. AMD's new roadmap shows that Navi will leap forward from the 14-nanometer manufacturing process that Vega and Polaris use to a 7nm process, followed sometime before 2020 by another "Next Gen" GPU architecture that uses a more refined version of the 7nm process.
Next Up: Check out these related slideshows
Today's Best Tech Deals
Picked by PCWorld's Editors