SLIDESHOW
The Google I/O 12 biggest reveals: Android O, Google Assistant, standalone Daydream VR headsets, and more
Here's everything revealed at Google's I/O 2017 keynote, from new Android O features to Google Home updates and standalone Daydream VR headsets.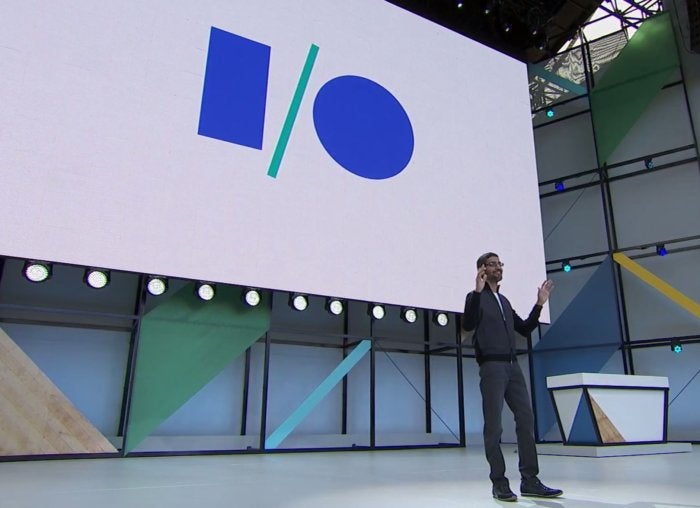 Big data on the big stage
Leading up to its annual Google I/O developer conference, Google announced so many new products and features that it was hard to imagine anything would be left. Android and Android Auto started being baked right into cars, Allo got selfie stickers, Search started showcasing local events, and Google revealed Project Treble, a handy new Android O feature that makes it easier to receive timely operating system updates—because yes, even Android O is already available in Developer's Preview form.
But Google indeed left some rounds in the chamber for Google I/O, revealing goodies ranging from an updated Google Assistant to helpful feature updates for hardware like Home and Chromecast to a new vision computing platform that imbues Google apps with the ability to see, understand, and translate the world around you. And, uh, real-world photo books you can buy?
Let's dig in, starting with the star of the show!
Android O
Even though Android O isn't new, Google revealed some fresh new features for its upcoming operating system revamp. Highlights include a picture-in-picture mode for app multitasking; "notification dots" that show when a home screen app has associated notifications, summonable with a long-press; and tweaks designed to make everyday tasks like signing into apps and copy-pasting much more fluid and seamless.
Android O's also getting OS optimizations that drastically reduce boot and app load times, as well as a new Google Play Protect app that's your hub for keeping your phone safe and secure. Even better? You can try all this stuff right now with the Android O beta program. Check out PCWorld's Android O coverage for the full scoop.
Standalone Daydream headsets
Google's Daydream VR platform has largely felt neglected since its launch at the last I/O, but it received a fresh injection of energy this year. While the initial Daydream devices required a compatible Android phone for its smarts and screen, standalone versions are now on the way, including devices created by Lenovo and HTC—the creator of the Vive headset for PCs.
The original version's still around, though. In fact, Samsung's Galaxy S8 phones will be receiving a software update to become Daydream compatible later this summer.
Google Lens
Google announced Google Lens, which is basically Google Googles on steroids. Point your phone's camera at an object, invoke Lens via the Assistant or Photos app, and Google's computing brains in the cloud will study the image to let you know what you're looking at. In an on-stage demo, Lens identified a flower correctly.
Google Lens offers some nifty extras, too. You can take a picture of your router's ID label to automatically connect your phone to its Wi-Fi network, and looking at a restaurant or other businesses will surface ratings and contextual information—including tickets to events—about it from Google's services. You can also use Google Lens on foreign language text to have Google Translate automatically kick in.
Look for Lens to eventually expand to other Google apps over time.
Google Assistant
Beyond the Lens integration, Assistant leveled up in several other ways. The conversational digital, well, assistant is now available on iPhone, and Google rolled out an Assistant SDK to allow hardware makers to bake the service directly into their devices. The company's working with vendors—including Sony, Panasonic, LG, and Bang & Olufsen—to include Assistant in a wide range of hardware this holiday season.
Google's also making it easier to converse with Assistant. Not only is it picking up support for several popular languages, it's adding the ability to type in queries—no more barking into your phone in public like a madman. Huzzah.
Google Home
Google Home's picking up some nice new features of its own—the highlight probably being hands-free calling capabilities. It'll call businesses and your Google Contacts on command, and you don't need any additional apps or even a phone line for it to work. You can opt to allow the call to show your personal mobile number on the receiving end, or it'll use a number flagged as private.
The smart speaker will also offer "proactive assistance," or the ability to notify you of timely and important notifications. The lights will flare to life when you have a notification, prompting you to ask Home "What's up?" Amazon's Echo rolled out similar functionality today.
Google Home's also adding Bluetooth compatibility, the ability to push content to Google apps on your phone—like Maps directions—and support for Spotify's free, ad-based streaming music tier.
Google Home <3 Chromecast
Google's interweaving Home more directly with Chromecast, showing visual cues to your voice queries on your TV when you're plopped in front of the boob tube. Asking about your schedule will bring it up on your TV, for example, as shown above.
You can command Chromecast with your voice using Home as well, using it to, say, call up and play your YouTube recommendations or even shut down your TV.
Google Photos
Google's updating Photos to make it easier for you to share your pictures with pals. A new selective sharing function—lurking in a new Sharing tab in-app—will automatically suggest photos for you to share with your pals, creating its recommendations based on where you were, who you were with, and your frequent image-sharing contacts. Once you share some pictures with a pal, they're get a notification that opens the Photos app on their phone, where they'll find a prompt to share photos of their own in return if they were at the same event.
Photo is also adding shared libraries, which lets you synchronize your albums with others. And it's of course one of the flagship apps for Google Lens, which can be used to identify items and objects in your snapshots and will offer actionable action prompts.
Photo Books
Surprise! Google's getting into hardwa…er, hardcovers. The company's new Photo Books service taps into Photos to intelligently and automatically create physical photo albums in Shutterfly-like fashion. Once you start an album, you can select a range of photos to include in it, and the Photos service will pick out the best images and even lay them out for you, using Google's machine learning smarts. (You'll also be able to tweak things if you want, of course.)
Photo Books will go live on the web today, with Android and iOS apps coming next week. According to a screenshot flashed onscreen during the IO keynote, softcover albums will start at $9.99, with hardcover albums starting at $19.99.
Google for Jobs
Google sees itself as organizing the world's information, and that endeavor takes a practical approach in troubled times with Google for Jobs. Google for Jobs essentially collects job postings from all over the world and makes them easily searchable via Search, complete with filters like the industry, the location, commute length, and the time of the posting. See it for yourself in the image above, which shows a Google for Jobs result for retail positions near Pittsburgh.
Gmail Smart Replies
Smart Replies, which presents you with three machine-generated short responses to quickly reply to incoming messages, is leaving the confines of Google's Inbox app and hitting the big stage. It's coming to Gmail's Android and iOS apps soon, though only the English versions at first. Spanish Gmail apps will gain the feature in the coming weeks, with other languages to follow.
YouTube
YouTube's getting the ability to play 360-degree videos on televisions sets, using a remote to navigate the scene. To bolster the launch, the service is also rolling out live 360-degree videos if you truly want to live in the moment.
YouTube's still trying to beat Twitch at livestreams, too. At Google I/O, the company revealed a new Super Chat APIs—"Super Chat" being YouTube's term for donations—that allows your digital dollars to do things in the creator's real world studio, such as shutting off lights or enabling a drone or whatnot. Sounds complicated.
Next-gen TPU hardware
A bit of ultra-nerdy, inside-baseball news came when Google announced a second-generation version of the specialized "tensor processing unit" hardware first announced at last year's I/O. Businesses will be able to tap into their power via the Google Cloud Platform, too. Want more nitty-gritty details? Check out PCWorld's second-gen TPU coverage.
Next Up: Check out these related slideshows
Today's Best Tech Deals
Picked by PCWorld's Editors