Benchmarks
That's enough of an overview of our four contestants. Let's get down to business. To see which browser is worthy of your bandwidth in 2018 we used a variety of testing tools. For judging JavaScript we used JetStream, and the now-unsupported Octane 2.0 and SunSpider 1.0.2 benchmarking tools. Then we turned to WebXPRT 2015 and Speedometer to test the browsers under simulated web app workloads.
Finally, we took a look at CPU and RAM usage by loading a set of 20 websites in a single window in quick succession using either a batch file or the command line depending on the quirks of the browser in question. Once all tabs began loading, we waited 45 seconds, and then checked the CPU and RAM usage. The idea was to see the amount of system resources the browser would use during a heavy workload.
For this test we ignored the Flash settings and left each browser in its default state. In recent years, most browser makers have de-emphasized Flash, enabling it as "click-to-play" and blocking nonessential website elements that use Flash. Since Flash is on its way out (and most users are unlikely to mess with Flash settings in the first place) we decided to leave everything as is. During the tests there are no extensions running, account sign-ups, or deliberate tinkering with settings: Just raw browser action.
Our test rig was an Acer Aspire E 15-575-33BM laptop loaded with Windows 10 Home (April 2018 Update), a 1TB hard drive, 4GB RAM, and an Intel Core i3-7100U. Each browser was tested over a hard-line internet connection.
One important note is that all browsers had noticeably worse performance in May 2018 compared to previous tests. That's been a trend in testing on this rig since the recent Windows 10 April 2018 Update and the Spectre/Meltdown vulnerabilities.
Edge stays the same
Looking at both JetStream and SunSpider, Edge 17 won top marks again by a wide margin. SunSpider has been deprecated for some time and is no longer supported, but the result was expected based on our earlier tests. Firefox's JetStream score was in the ballpark of its earlier test dropping slightly from 125.43 to 120.31 (higher is better). Its SunSpider score went up from 290 in November to 330.4 now—lower is better for SunSpider.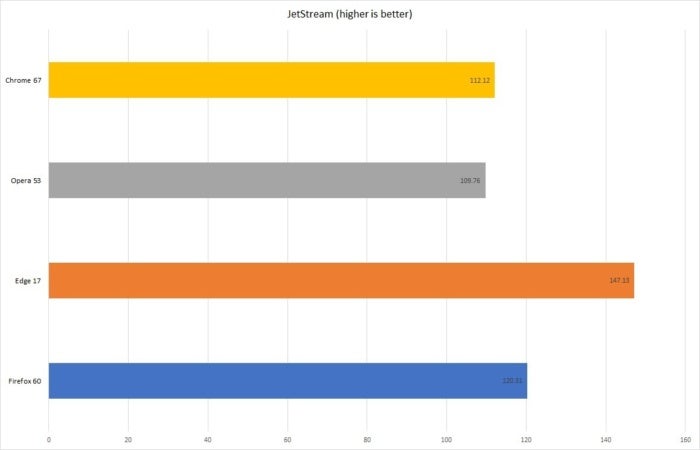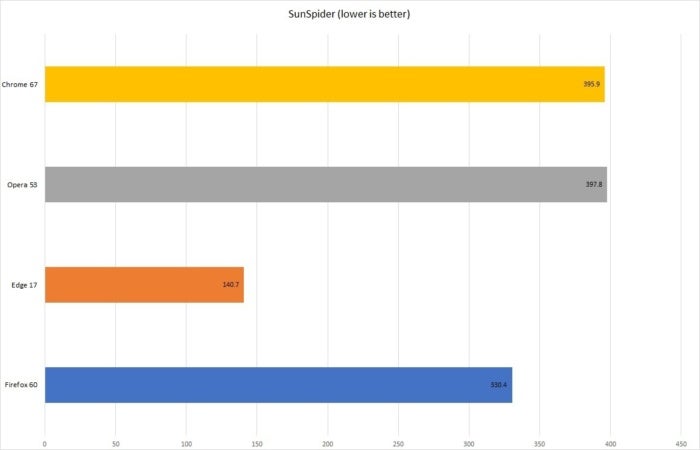 For Octane 2.0, which is also no longer supported, Opera won the top spot this go-round, followed closely by Chrome and Firefox with Edge coming in at the bottom. That's quite a difference from November when Edge was in the top spot.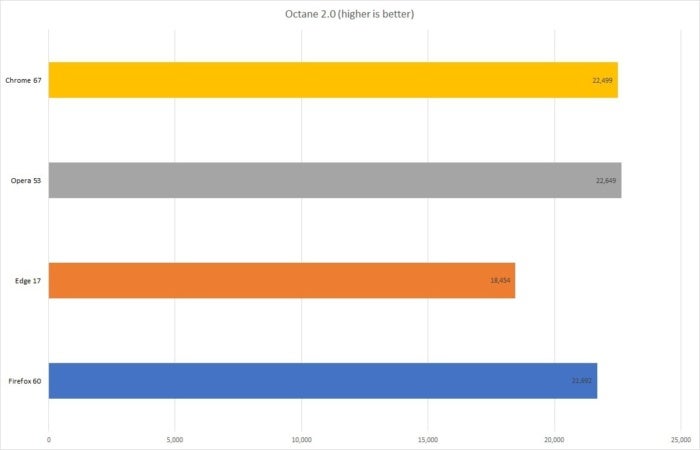 Moving on to the more modern Speedometer test, which quickly iterates through a bunch of HTML 5-based to-do lists, Chrome came out on top with Google's Blink-based cousin Opera a close second. Edge and then Firefox were way behind. This was similar to our results from November, though Edge was the poorer performer then.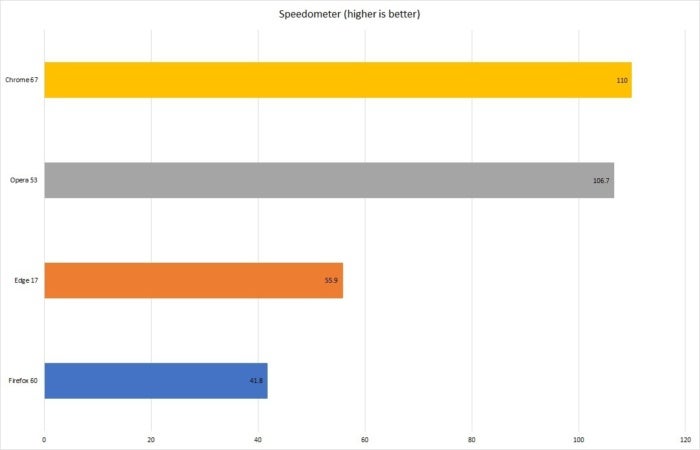 The numbers were much closer for WebXPRT 2015, and this is the one test where things actually improved over the November round of tests. WebXPRT 2015 uses a wide number of web apps, from photo collections to online note-taking to data sets. This test is kind of like a PCMark for browsers, and to my mind one of the most significant tests. Opera came out on top here, with Firefox and Chrome so close to each other that we'll call it a tie for second, followed by a trailing Edge. Again, higher is better.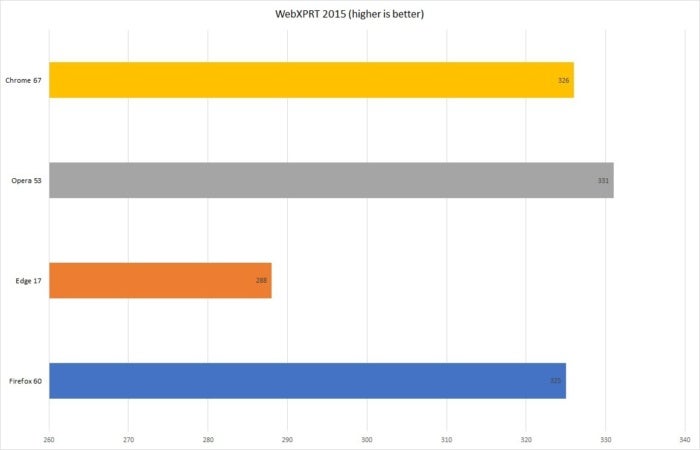 Finally, we come to the memory and CPU test. Slamming an average PC with 20 tabs of mostly media-rich sites all at once is going to chew up a good chunk of CPU and memory. Most of these browsers did not disappoint in that respect. That said, they all scored better than just a few short months ago in terms of memory, but the CPU usage was marginally worse. We guessed that back in November some change in the Fall Creators Update caused a spike in memory usage, and it looks like that fault—if there was one—has been corrected. 
Chrome was the best performer in terms of CPU usage by a mile. The one downside is that all 20 tabs loaded incredibly slowly—far slower than any other browser. Google is becoming increasingly concerned with background tab management so this is not too surprising.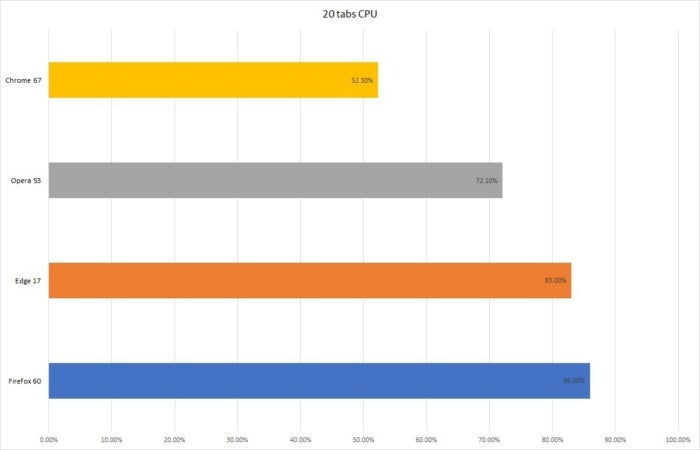 Just to see what would happen in one round of the test, we made Twitch.tv the main page during loading for Chrome. Twitch has an auto-play live streaming video on its main page, which makes it an interesting use case for these tests. With Twitch running as the primary page and the rest of the tabs loading, that caused the browser's CPU usage to spike to 83.5 percent. We didn't do this test with all browsers—though we likely will next time—so this is just an interesting side note for now.
Second place went to Opera, followed by Edge, and Firefox a little further out in the CPU stratosphere. 
The results were similar for memory, with Chrome using the least by a wide margin, followed by Opera, Firefox, and then Edge. As with last time, Edge's numbers were problematic as the PC froze during the test, and we couldn't capture a task manager screen shot as swiftly as with the others, thus manually jotted down the numbers instead. The bottom line here is that power users with multiple tabs open in Edge are still going to feel some serious pain trying to get work done.
And the winner is...
So who wins? Here's the way we see it.
Once again, Edge gets honorable mention for earning some truly impressive scores, but we've been saying that for several rounds of testing now. The fact is, as a day-to-day browser Edge is serviceable at best, and Microsoft really needs to step up its game especially when it comes to loading multiple tabs. 
As in our previous showdown, Chrome continues to capitalize on its strengths and improve in the performance department by managing resources very well. That makes it, once again, our top choice.
Opera earns second place this time. It performed well in the live stress test, and was close to Chrome this time around in many tests. If you want to get away from Chrome but aren't willing to try Firefox, Opera is a great alternative since it can be set up to take advantage of nearly all the same conveniences Chrome can. Plus the social sidebar is a unique feature that some users may appreciate.
Last time we called it a tie between Chrome and Firefox 57 (the first Quantum version of Firefox), but this time we had to give Mozilla's browser the bronze. Performance scores for Firefox 60 were in the same ballpark as last time (all things being equal), but it didn't beat out the other browsers in a single test this time around. The new Quantum versions of Firefox are dramatically better than their predecessors, but the goods just weren't there to stay in second place.
To sum up: If you love Chrome, keep sticking with it, or give Opera a try. Firefox is still a solid option, however, if you want something that isn't built with Chrome DNA.