CPU cooler cut-away: Speaking of the motherboard tray, some nicer PC cases include large cut-outs in the section behind your processor, which let you replace your PC's CPU or CPU cooler without ripping out your entire motherboard. It's not a feature you're likely to need often, but if you do, it's a godsend.
Front-panel connectivity: If you've got a lot of external devices, check out the front-panel connectivity of the PC case. Even cheap cases have a couple of USB-A Type 2.0 ports in the front. Some will include USB-A Type 3, USB-C, and even fan or RGB lighting controllers. You'll often find front-panel audio jacks as well, though we'd always recommend plugging your headset directly into the audio jack on your motherboard's rear I/O shield.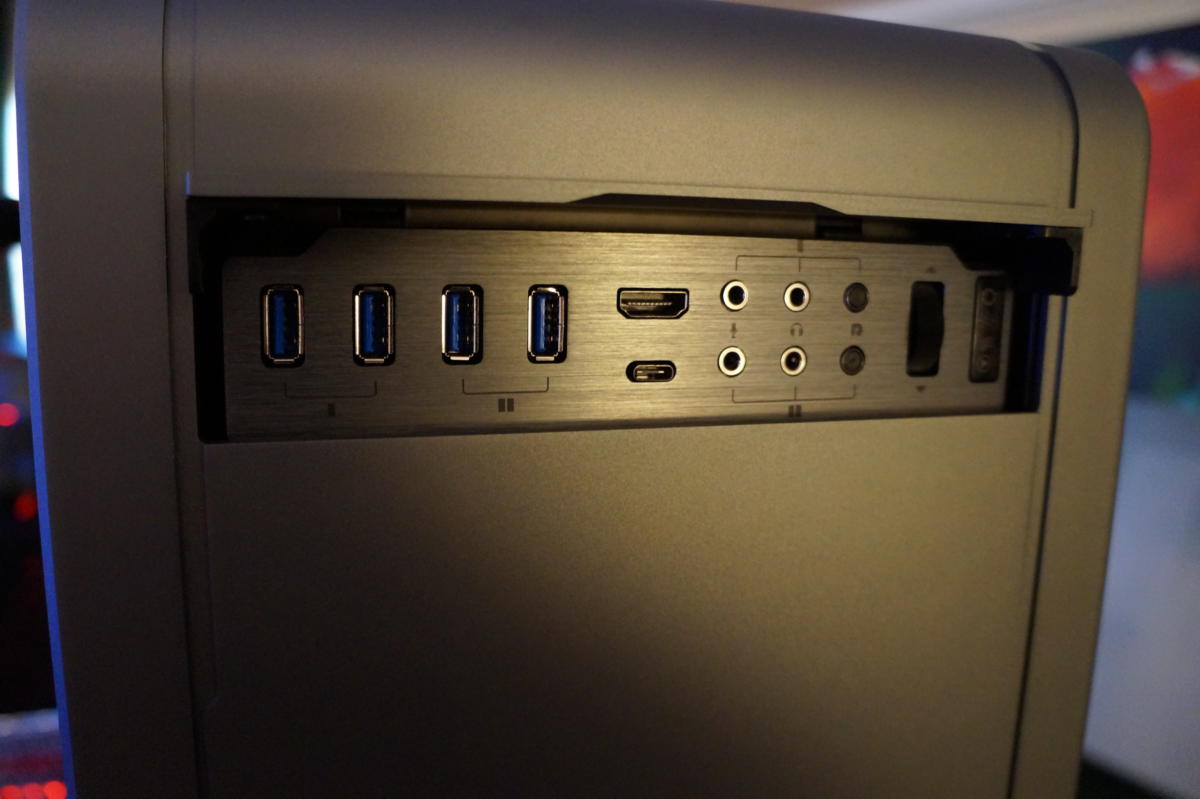 Fans and airflow: The more fans you have in your PC, the better your airflow is likely to be. At the very least, you want two fans for optimal airflow—an intake in the front and an outward-blowing fan in the rear. Some budget PC cases include only a single fan, and your PC's temperatures and performance will suffer for it. Even if they aren't populated, many cases include additional fan mounts that allow you to upgrade your cooling later. As mentioned before, some cases are ditching 5.25-inch drive bays to remove airflow obstructions for the front fans, though you obviously wouldn't want a case like that if you needed one of those bays.
Also pay attention to what's in front of those fans. Tempered glass and stoic metal front panels are all the rage these days, but those pretty designs can hinder airflow if they're not designed properly. The Silverstone RL06 ($75 on NeweggRemove non-product link) skips those obstructions, placing protective mesh in front of not one but three 120mm intake fans for superb airflow and thus, lower system temperatures than its rivals.
Dust filters: Keeping your PC clean is important. A computer clogged with dust and pet hair and tobacco gunk is a computer that runs hot and throttles more often. Dust filters keep most of that debris from ever reaching your fans, much less your precious internal hardware. But be sure to configure your fans for positive air pressure to keep dust from being sucked in through the unoccupied vents in your chassis.
Sound-dampening: Soundproof cases keep your rig running quiet, often by using sound-dampening materials inside the panels of your PC. Those materials keep noise in but also tend to impede airflow, so soundproof cases often hit somewhat higher temperatures than standard cases. Nicer soundproof cases like the Fractal Design Define S ($80 on NeweggRemove non-product link) manage to stay silent while also optimizing for airflow by including large 140mm fans spinning at low (and hence quiet) speeds.
Water-cooling support: The rise of sealed all-in-one coolers have made liquid-cooling more popular than ever. If you plan to water-cool your PC, pay fine attention to the support provided by your case. You probably won't be able to use liquid-cooling whatsoever in most mini-ITX cases, and many mid-tower cases only support up to 240mm radiators—and placement of that liquid-cooling radiator may be limited to only the top or bottom of the case, depending on the case's dimensions.
If you want a beefy 360mm radiator, you'll often need to step up to a full tower case, though unusually large mid-towers like the Phanteks Enthoo Evolv Tempered Glass ($190 on Amazon) can sometimes squeeze them in as well. Some pricier cases also have large swatches of interior space dedicated to liquid-cooling reservoirs for custom loops.
Tempered-glass panels: Many newer PC cases include panels consisting entirely of tempered glass, presenting an unfettered look at your PC's inner hardware, albeit at the cost of air flow. It's gorgeous, but brittle—handle with care! You'll start to find tempered-glass options around the $70 range, though they're more common around $100.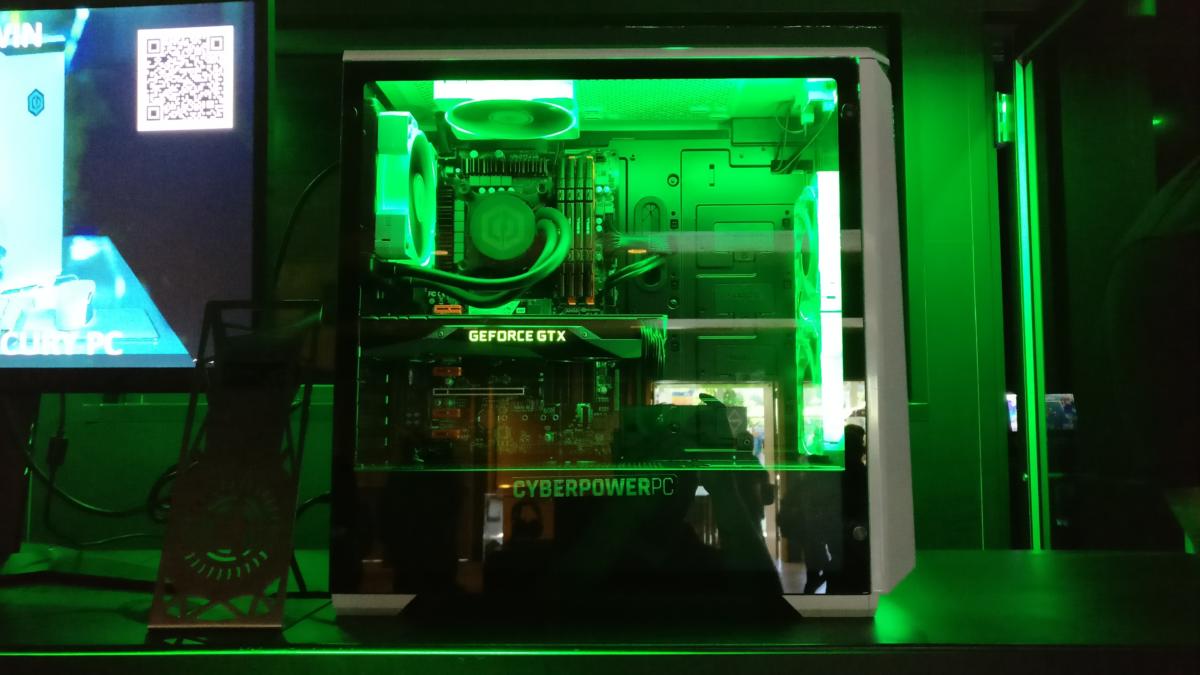 Integrated lighting: Customizable RGB lighting is 2018's biggest craze in computer hardware, and that includes PC cases. You either love RGB or you hate RGB. Either way, it's easy to find cases that meet your aesthetic tastes. You can even watch us build an RGB PC—that was fun!
Our favorite PC cases
We don't do many formal PC case reviews at PCWorld, but we're constantly building PCs in all sorts of rigs. Here are some of our favorites in each price point.
Best budget PC cases ($50 or less)
Silverstone Sugo SG13: Like all budget PC cases, the Silverstone Sugo SG13 ($40 on Amazon) isn't fancy. But this tiny mini-ITX case is perfect for LAN parties (and cramped desks) thanks to its affordable price and easy-to-carry design. Silverstone provides plenty of ventilation for improved airflow—a crucial feature in such a tiny PC—and despite its small size, the Sugo SG13 can accommodate a full-sized power supply, a 140mm closed-loop CPU liquid-cooler, and graphics cards up to 10.5-inches in length. We used it in our build of a mini-ITX Ryzen gaming PC with a discrete GPU.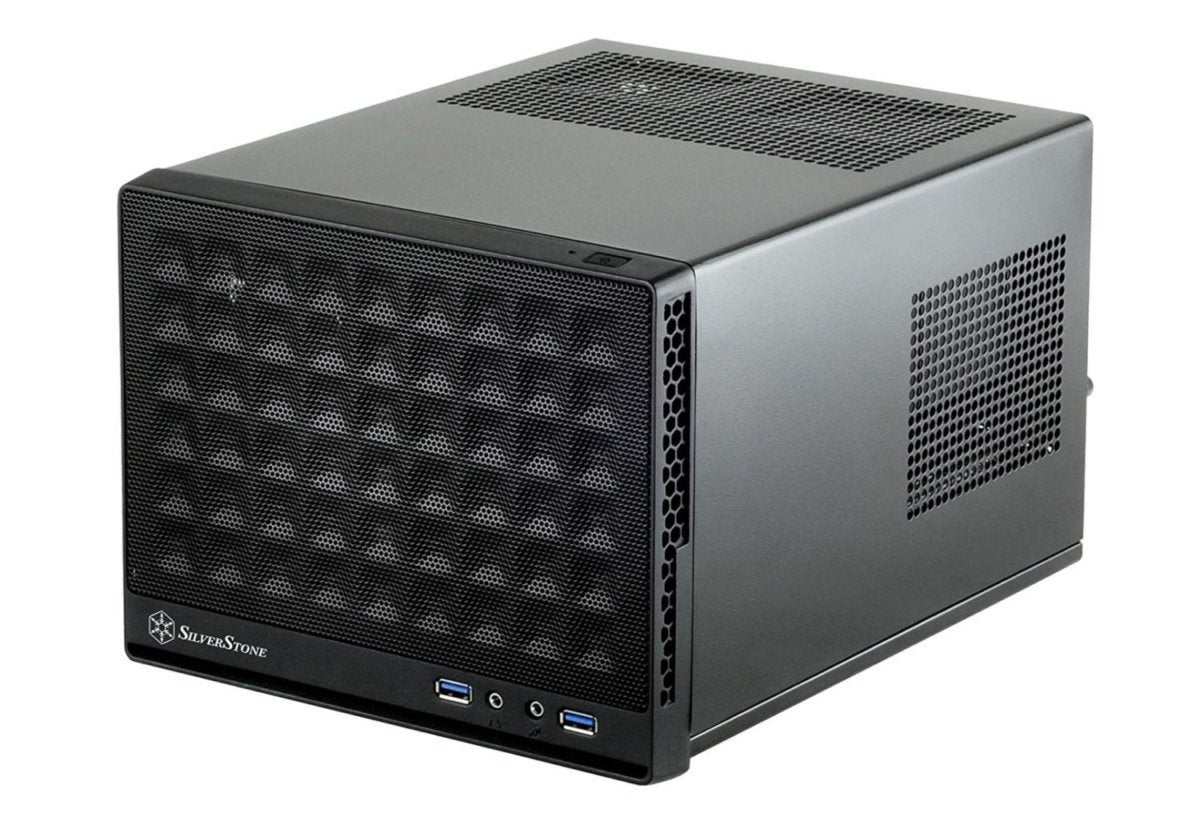 Deepcool Tesseract: The aforementioned Deepcool Tesseract ($45 on NeweggRemove non-product link) is a decent-sized mid-tower with two fans, sturdy-enough design, and all sorts of drive bays. It'll fit any graphics card you throw at it except for monsters like the Asus Strix GTX 1080 ($575 on Amazon).
Best mid-range PC cases ($50 to $150)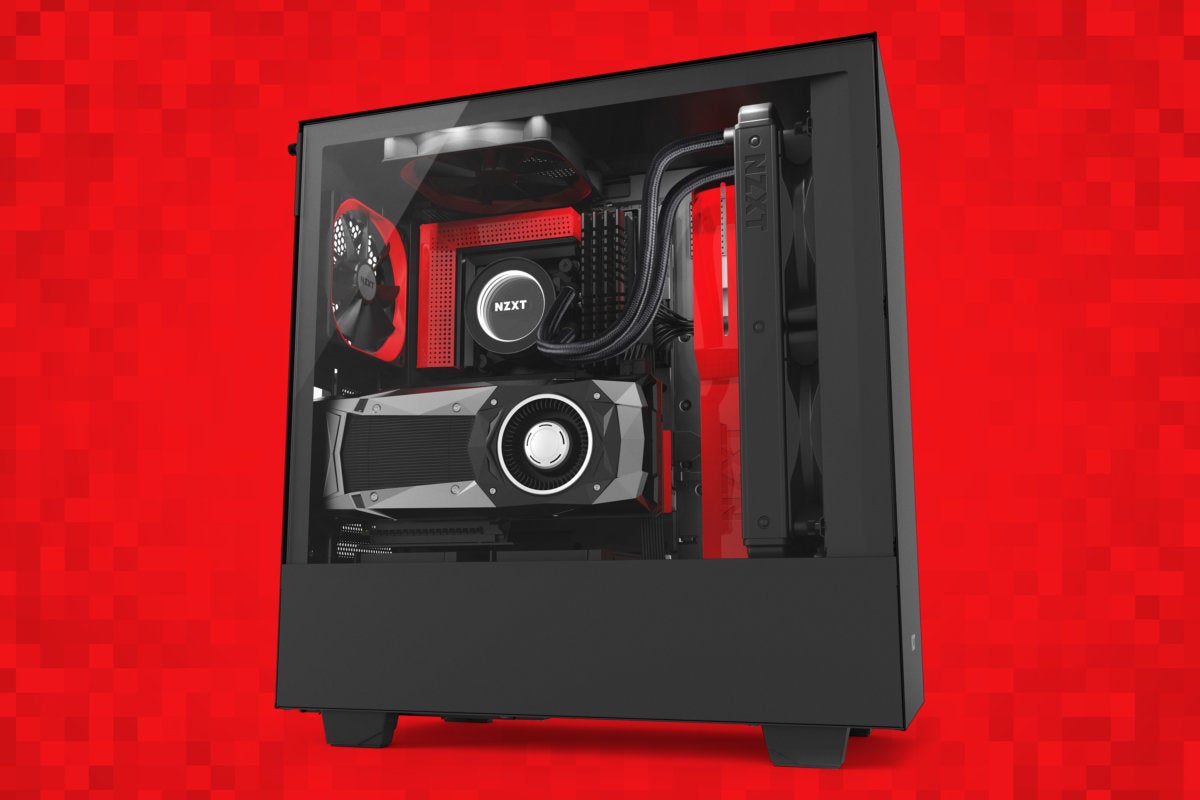 NZXT H500i: The NZXT H500i ($100 on Amazon) looks gorgeous with its clean all-steel construction and half-height tempered glass panel, and it helps you keep things clean inside too thanks to abundant hardware space and cable management features. Other niceties include an integrated RGB lights, a vertical GPU mount, and a Smart Device that taps into NZXT's CAM software to control your LEDs and optimize your fan speeds.
If you aren't interested in the Smart Hub or native lighting, NZXT also sells the dumbed-down but otherwise identical H500 for $70. Both are highly recommended
Corsair Carbide 270R: The no-frills Corsair Carbide 270R ($70 on Amazon) succeeds in getting out of your way. It's dead-simple to work with, includes cable management options you won't often find in budget cases, and the performance you get for the price is solid. Some notable extra touches include a power supply shroud to hide unsightly cables, and the ability to fit a 360mm liquid-cooling radiator in the front, a 240mm radiator up top, and a 120mm radiator in the rear.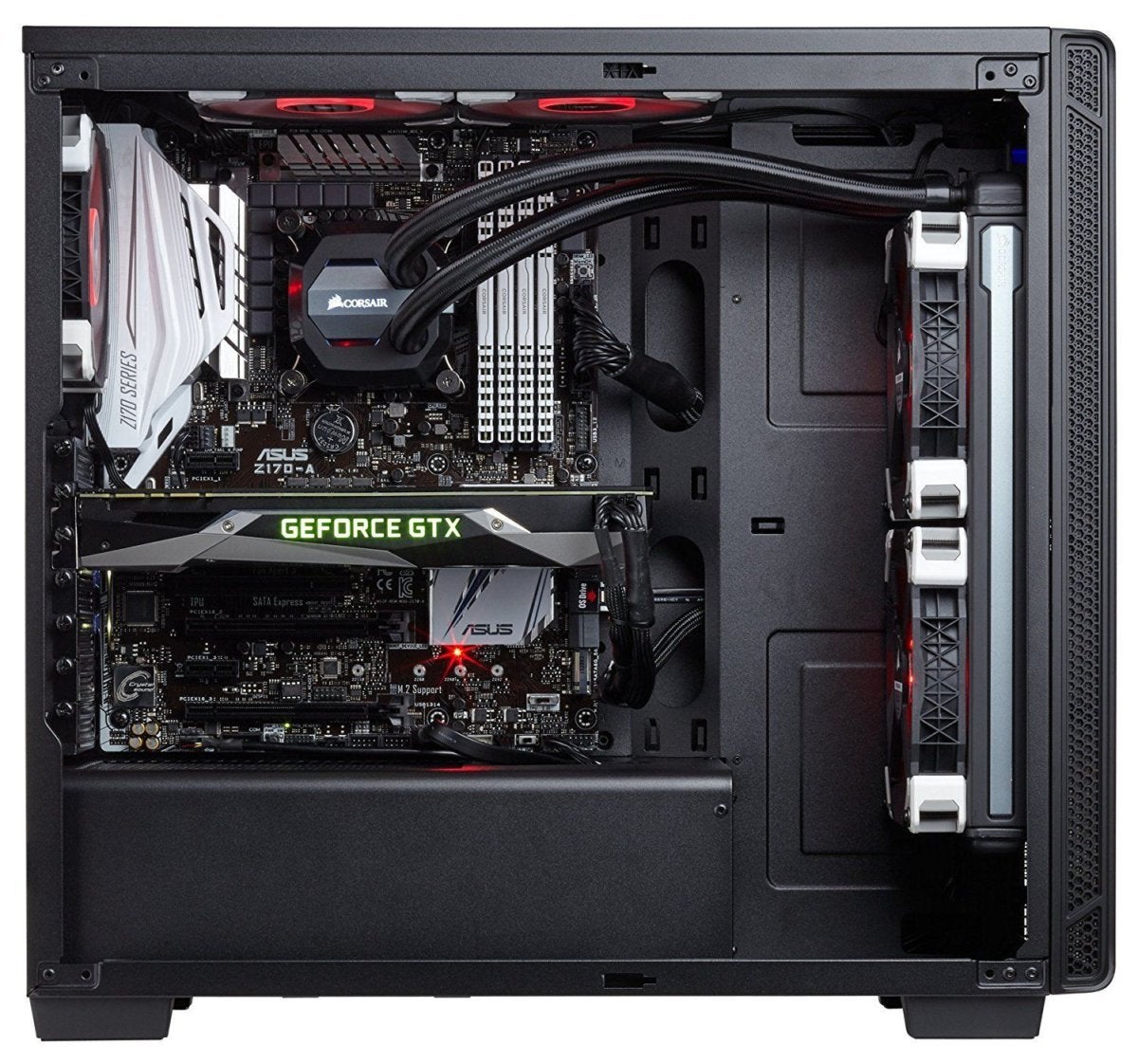 Fractal Design Meshify C: The Fractal Design Meshify C ($90 on Newegg), our Full Nerd podcast's best case of 2017, is basically the superb Fractal Design Define C with extensive mesh paneling to improve airflow. And like Corsair's Carbide series, it dumps traditional 5.25-inch bays in the front, both to improve airflow and to offer more extensive liquid-cooling options. (It also ditches all but two 3.5-inch drive bays, which may give some folks pause.) This case upholds Fractal's reputation for well-built, easy-to-use hardware. Just don't try to use a massively long graphics card in the teeny-tiny Define C.
Corsair Carbide Clear 400C: I've used the Corsair Carbide Clear 400C ($100 on Amazon) in several builds thanks to its clean design. The case has an incredibly small footprint for a mid-tower, but removable hard drive cages and the lack of 5.25-inch bays inside give the Corsair 400C a ton of elbow room inside. Heck, I even managed to cram the water-cooled Radeon Fury X and a Ryzen 7 1800X ($250 on Amazon) with a gigantic 240mm EKWB liquid-cooler inside this thing. The PSU shroud and latch-opened side panel are just icing on the cake, though note that this case consists of plastic and acrylic, not steel and glass.
Best high-end PC cases
Corsair Crystal 570X RGB: PCWorld's Full Nerd podcast named the Corsair 570X ($180 on Amazon) the best PC case of 2016, and it's easy to see why. Rather than having a simple see-through panel, almost every edge of this beautiful beast—the top, front, and side panels—consist of tempered glass. That sleek look is augmented by a trio of front-side fans with customizable RGB lighting that can be tweaked using a controller on the top of the case. Tool-less design and a roomy interior make building inside the Corsair 570X just as dreamy as staring at it.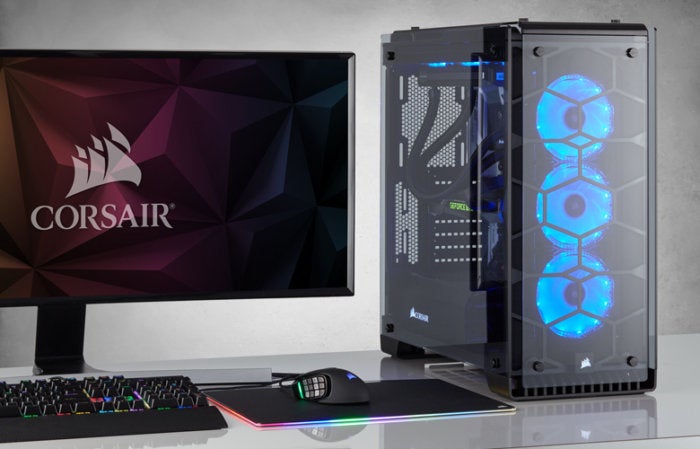 Phanteks Enthoo Evolv ATX Tempered Glass: The home of my own personal rig, the Phanteks Enthoo Evolv ATX Tempered Glass ($190 on Amazon) is a luxurious case built from aluminum and tempered glass, highlighted by customizable RGB accents on the front panel. The clean exterior hides hard drive cages and power supply alike, and the comparably massive Enthoo Evolv has ample room even for multiple graphics card setups. Cooling's a priority, with an offset radiator bracket, reservoir mounting locations, and even a PWM fan hub. You'll need it: The solid front panel of the case doesn't help air flow easily into the case, though the trio of included front-side fans still manage to keep things cool.