Updated
The best SSDs of 2018
The best SSDs can supercharge your PC. Here are our picks for the best SSDs, what to look for in an SSD, whether you even need an SSD, and more.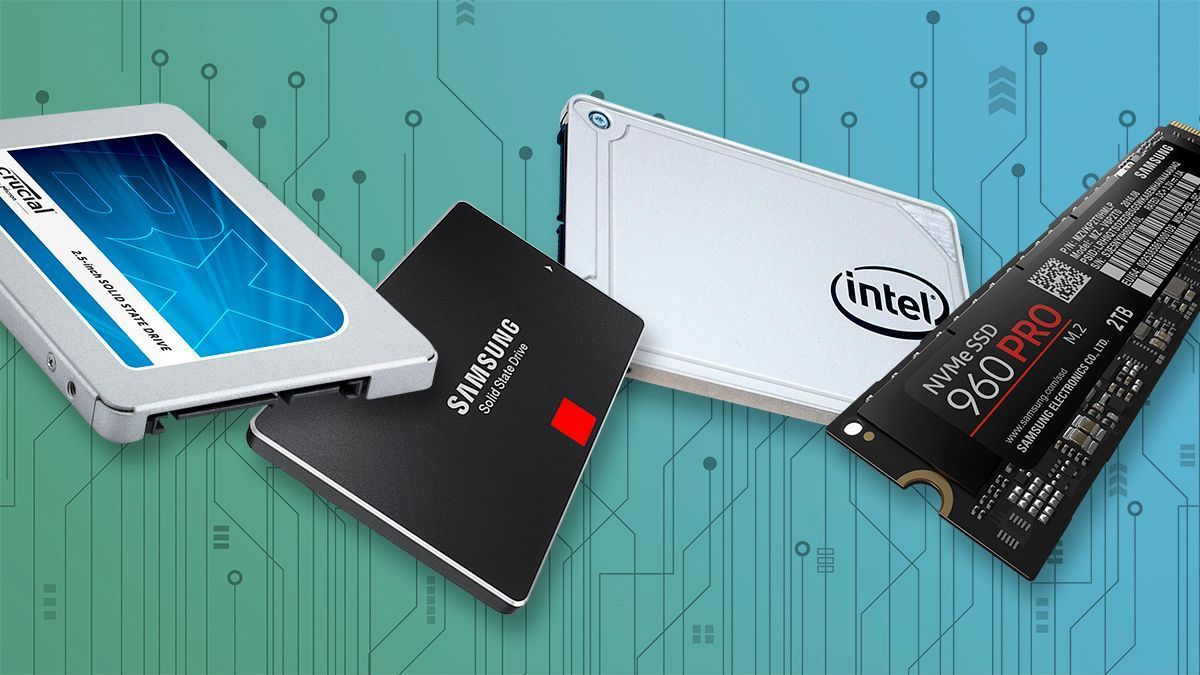 Page 2 of 2
If you decide to buy an NVMe SSD, make sure your PC can handle it.  This is a relatively new technology, so you'll only be able to find M.2 connections motherboards from the past few years. Think AMD Ryzen and mainstream Intel chips from the Skylake era onward, for the most part. NVMe SSDs that were mounted on PCIe adapters were popular in the technology's early years, before M.2 adoption spread, but they're rarer now. Make sure you're actually able to use an NVMe SSD before you buy one, and be aware that you'll need 4 PCIe lanes available in order to use it to its full potential.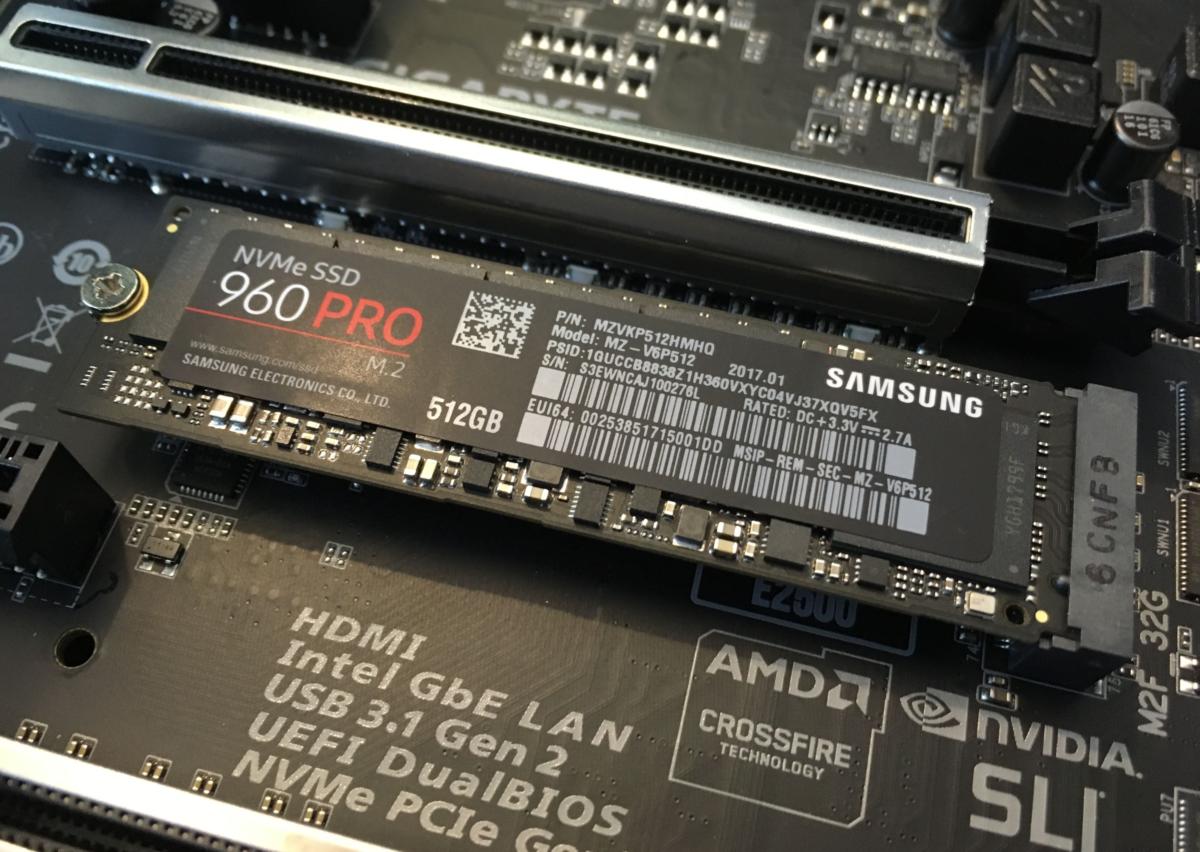 To get the most out of an NVMe drive, you want to run your operating system on it, so you must have a system that recognizes the drive and can boot from it. PCs purchased during the past year or two should have no problem booting from an NVMe drive, but support for that can be iffy in older motherboards. Do a Google search for your motherboard and see if it supports booting from NVMe. You may need to install a BIOS update for your board. If your hardware can't boot from an NVMe SSD, your machine should still be able to use it as a secondary drive.
What to look for in an SSD
Capacity and price are important, of course, and a long warranty can alleviate fears of premature data death. Most SSD manufacturers offer a three-year warranty, and some nicer models are guaranteed for five years. But unlike the olden days of SSDs, modern drives won't wear out with normal consumer usage, as Tech Report tested and proved years ago with a grueling endurance test.
The biggest thing to watch out for is the technology used to connect the SSD to your PC.
SATA: This refers to both the connection type and the transfer protocol, which is used to connect most 2.5-inch and 3.5-inch hard drives and SSDs to your PC. SATA III speeds can hit roughly 600MBps, and most—but not all—modern drives max it out. (More on that in the next section.)
PCI-E: This interface taps into four of your computer's PCIe lanes to blow away SATA speeds, to the tune of nearly 4GBps over PCIe gen. 3. Those sort of face-melting speeds pair nicely with supercharged NVMe drives. Both the PCIe lanes in your motherboard and the M.2 slot in your motherboard can be wired to support the PCIe interface, and you can buy adapters that allow you to slot "gumstick" M.2 drives into a PCIe lane.
NVMe: Non-Volatile Memory Express technology takes advantage of PCIe's bountiful bandwidth to create blisteringly fast SSDs that blow SATA-based drives out of the water. Check out PCWorld's "Everything you need to know about NVMe" for a nitty-gritty deep-dive.
M.2: This is where things get tricky. Many people assume M.2 drives all use NVMe technology and PCIe speeds, but that's not true. M.2 is just a form factor. Sure, most M.2 SSDs use NVMe, but some still stick to SATA. Do your homework. Many modern Ultrabooks rely on M.2 for storage.
U.2 and mSATA: You may also stumble across mSATA and U.2 SSDs, but both motherboard support and product availability are rare for those formats. Some older Ultrabooks included mSATA before M.2 became popular, and drives are still available if you need them.
Speed matters, of course, but as we said most modern SSDs saturate the SATA III interface. Not all of them, though. About that…
Buyer beware: TLC vs MLC vs SLC SSDs
We're starting to see more SSDs that use triple-level cell (TLC) NAND technology. TLC can store three bits per cell. By comparison, one bit single-layer cell (SLC) SSDs offer the best performance at the cost of higher prices and lower capacities, and multi-level cell (MLC) SSDs store two bits per cell.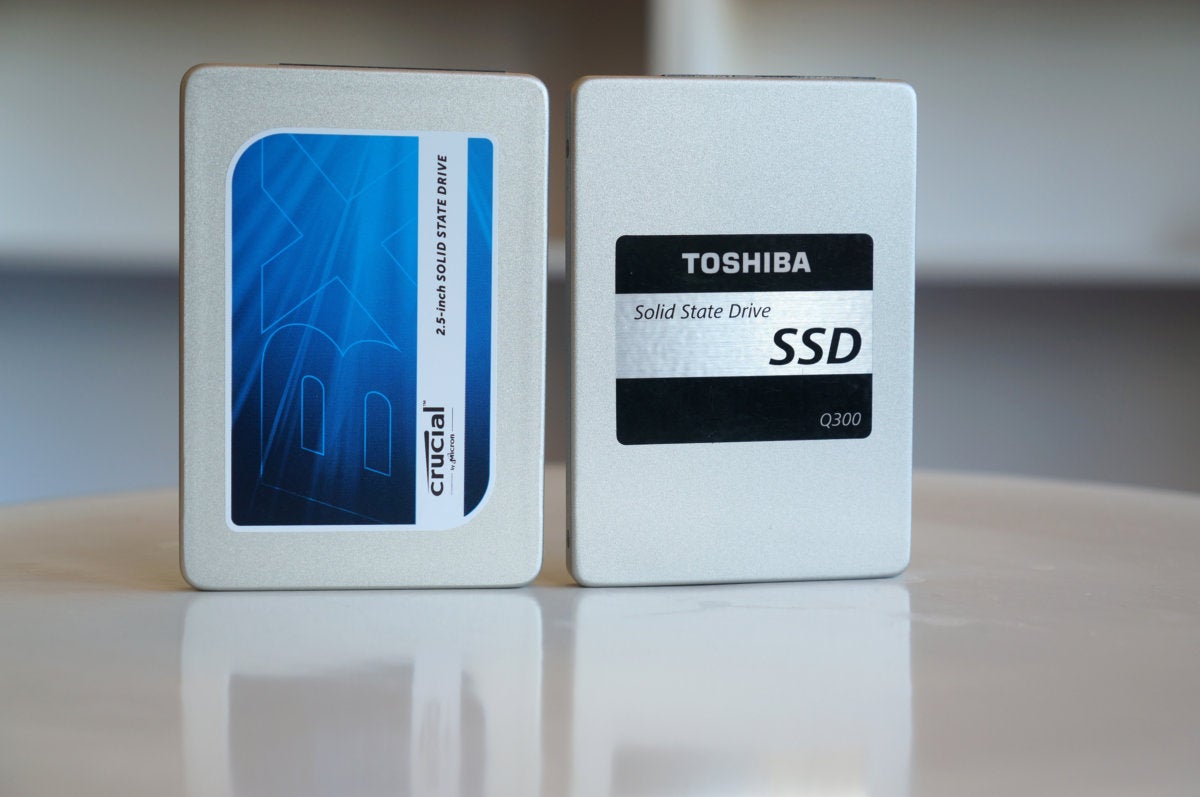 TLC drives offer greater data density, in other words, which in turn can be used to increase the capacity of SSDs, or offer standard SSD capacities at lower prices. But TLC's sustained write performance is comparatively poor—in some cases exceedingly. If you move large amounts of data, transfer speeds for these drives can fall off a cliff once you've exceeded the SSD's cache.
The problem isn't universal, and it won't matter if you don't move big batches of files, but storage makers don't advertise this potentially crippling SSD problem. We've witnessed the behavior in numerous SSDs, including the Toshiba TR200 and Q300 as well as the older OCZ Trion 100. Heck, even the TLC-packing Crucial BX200 suffers from the issue—and its MLC-equipped sibling the BX300 is our favorite budget drive! Stick to our tried and tested picks for the best SSD rather than rolling the dice on a cheap clunker.
SSDs vs. hard drives
Do you need an SSD? "Need" is a strong word, but we heartily recommend that everyone upgrade to an SSD. Solid-state drive speeds blow even the fastest mechanical hard drives out of the water. Simply swapping the hard drive in your old laptop or desktop out for an SSD can make it feel like a whole new system—and a blazing fast one at that. Buying an SSD is easily the best upgrade you can make for a computer.
SSDs cost more per gigabyte than mechanical hard drives, though, and thus aren't often available in ultra-high capacities. If you want speed and storage space, you can buy an SSD with limited space (like the 128GB Crucial BX300) and use it as your boot drive, then set up a traditional hard drive as secondary storage in your PC. Place your programs on your boot drive, stash your media and other files on the hard drive, and you're ready to have your cake and eat it too.
Alternatively, Intel's new Optane drives blend both worlds. These tiny, affordable M.2 drives are designed to pair with a hard drive in your system and act as a cache, speeding up the most-used programs on your PC. Intel's tech can truly supercharge your everyday experience, but once you blow past the M.2 drive's 16GB or 32GB of cache, you're back to pokey hard drive speeds. Optane also has strict configuration and supported hardware requirements. Check out PCWorld's Intel Optane memory review for the full details.
Best SSDs: Our reviews
If you'd like to know more about our best SSD picks as well as other options, the links below point you toward all the SSDs we've recently reviewed. We'll keep evaluating new ones on a regular basis, so be sure to check back to see what other drives we've put through their paces. And once more, if you're looking for portable storage, check out PCWorld's roundup of the best external drives.