Updated
Microsoft Surface Book 2 review: The ultimate laptop improves in every way but one
An under-the-hood power issue with the Surface Dock, a USB-C port, and the Surface Book 2 charger is the only flaw in Microsoft's new convertible tablet laptop.
Surface Book 2: The keyboard, and the port/power debacle
The Surface Book 2 didn't mess too much with one good thing: Its keyboard feels essentially unchanged from the first iteration. Note, however, that it follows the Surface Laptop's layout, rather than the original Book's: Microsoft eliminated the "Insert" key, and added a separate key for toggling through various backlight controls. Otherwise, a wider bezel surrounds the keyboard on the 15-inch model, really emphasizing how vast the available space is. 
I've always found the Surface Book's keyboard quite comfortable to type upon, with a firm response and good key travel. The Surface Book 2 keyboard felt ever so slightly stiffer, with response that felt a tad shallower. The trackpad feels identical: slick, smooth, and responsive. 
The Surface Book 2 also includes 802.11ac for wireless connectivity, which connected satisfactorily as I roamed around my home and office. Bluetooth 4.1 Low Energy is also built in, which avoids collisions with the Wi-Fi signal. Finally, there's a bonus for gamers: Xbox Wireless is built into the 15-inch version, meaning you can connect your wireless Xbox One controller for gaming on the go.
Microsoft did mess with the port allotment, however, and it's one area where I feel the Surface Book 2 takes a step back.
The left side of the Surface Book 2 base should look familiar to to Surface Book owners: with two USB 3.0 Type A connectors, plus a UHS-II SDXC card reader. Microsoft even preserved the 3.5mm headphone jack.
Along the right side, though, things change: Alongside the expected Surface connector, there's a USB-C connector—and that's it.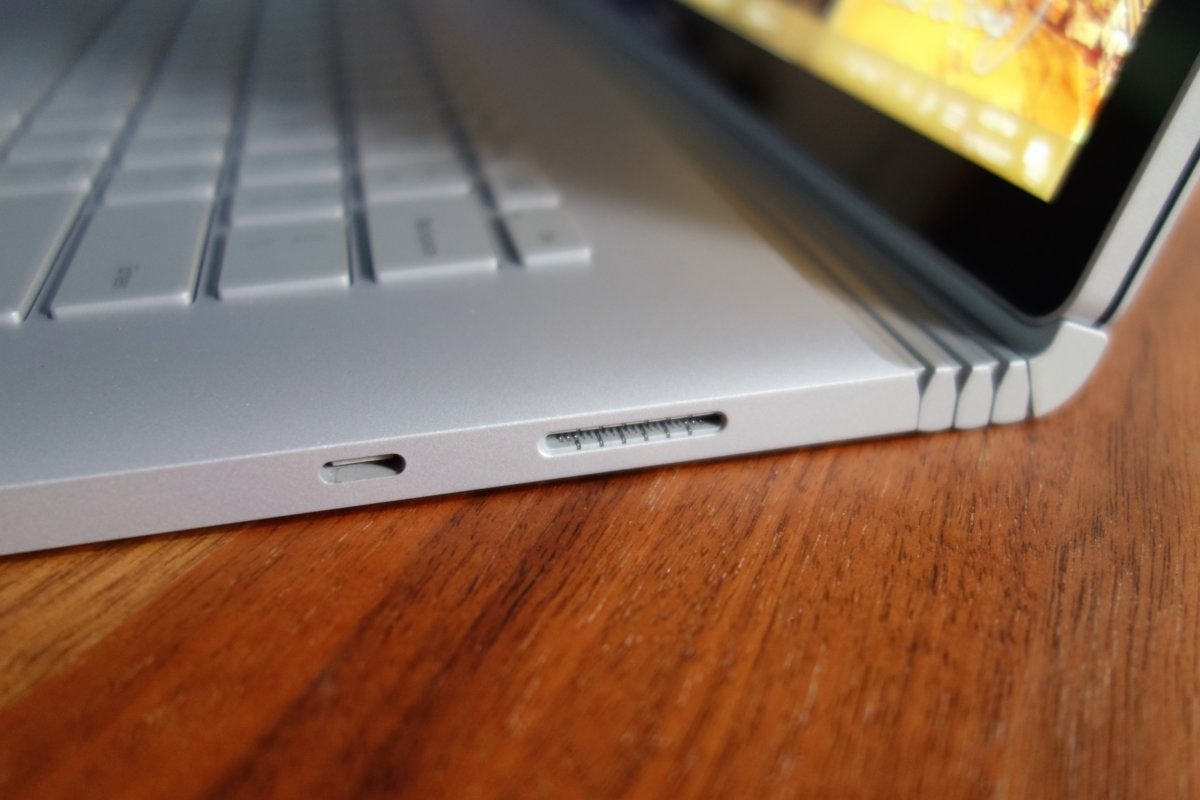 Previously, Surface Books included a miniDisplayPort connector, a simple way to connect to a single monitor by way of a miniDP-to-HDMI cable. To connect to multiple monitors, you used the Surface Dock, a $200 hub with two additional miniDP connections. 
With the Surface Book 2, the miniDP connector is gone. Instead, you'll need to invest in new infrastructure, beginning with a  new adapter—a USB-C to HDMI cable, perhaps—that will cost you about $20. Theoretically, the USB-C connector also anticipates a future where you'll be able to connect the Surface Book 2 to an ecosystem of external hard drives and other devices. But Microsoft's implementation also lacks the Thunderbolt I/O implementation, part and parcel of Apple's MacBook Pro and an easy way to connect multiple displays to a device that supports it.
That means connections to external monitors are somewhat limited. Officially, the Surface Book 2 can drive two 4K monitors at 30Hz either via the USB-C port or the Surface Dock. Alternatively, either the Dock or the USB-C port can power a single 4K monitor at 60Hz. (If you try simultaneously to connect a monitor via USB-C and a second monitor over the Dock, only the Dock-connected monitor will light up, Microsoft says.) We successfully connected the Book 2 to a conventional 1080p monitor at full frame rate, but managed only 30 frames per second on a 120Hz 4K HDTV.
Microsoft's traditional solution for multi-monitor setup has been the Surface Dock, which allows you to connect up to two external displays via a pair of miniDisplayPort connectors. But that has a problem, too: The 144-watt Dock doesn't supply as much power as the Surface Book 2's 180-watt native charger. Microsoft says that, under load, a Surface Book 2 powered by the Dock may use up so much power that it will drain the battery and enter sleep mode.
During testing, I played a few 3D-intensive games for nearly an hour, while using the Dock, as well as an additional 15 minutes or so while completely undocked. During that time, the battery decreased to about 65 percent overall. During ordinary use—web browsing, office work, et cetera—the Dock supplied sufficient power without issue. And if the Surface Book 2 is connected to its charger, as well as to a single monitor via a USB-C to HDMI cable, the Book 2 should operate normally.
Though we tested the Surface Book 2 by itself, with no external monitor attached, additional testing revealed an unexpected issue: undocked, while playing a 3D game, the Windows 10 power slider remains at its most conservative setting, clocking the GPU down somewhat beneath its full potential. If you dial it up to "Best performance" mode, the battery begins to discharge, as our separate testing shows.
Interestingly, the Surface Book 2 battery won't discharge completely. In fact, over time, the GPU seems to throttle itself to bring the power consumption down -- but this lowers the performance, too. Microsoft's explanation is that the Surface Book 2 is a content-creation machine for STEM users in the sciences and education, not a gaming platform. This smells like a bit of PR spin to us.
Meanwhile, Microsoft claims that the Book 2 will charge from any USB-C PD3.0 compliant charger from 7.5W to 95W, with a 60W to 95W USB-C charger powering the Surface Book 2 to 80 percent charged in 1.5 hours time. I didn't have enough time to confirm the latter claim, but as for the former, our Surface Book 2's USB-C port didn't accept power from a few random external chargers or battery packs. (And no, you can't charge the Surface Book 2 from the USB-C and Surface ports, simultaneously—we asked.)
All of this talk of ports and power sparked a somewhat lively internal debate. How many people actually connect more than one monitor to a laptop? How many buy a Surface Book 2 for gaming, and how many of those will be unhappy with a GPU that throttles itself over time to prevent the battery from discharging -- and isn't fully throttled up in the first place? Our initial review factored in the Dock issues. We don't consider the additional power issues a reason not to buy the Surface Book 2, especially if you do plan to use it as a content-creation machine, not as a gaming platform. But if gaming is your thing, consider one of these, the best gaming laptops, instead. 
Surface Book 2: Speakers, cameras, the Pen and the Precision Mouse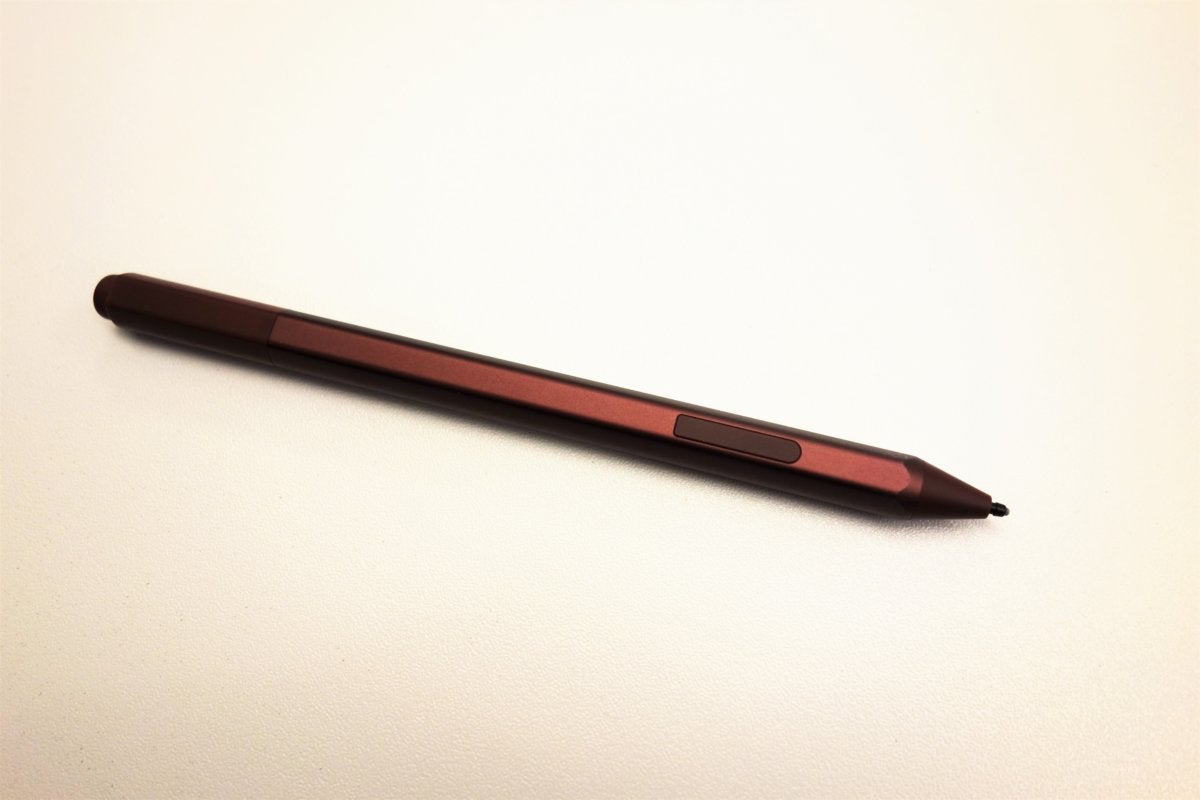 Like the original Surface Book, the Book 2 sports both front (5MP, 1080-capable) and rear (8MP autofocus, 1080p-capable) cameras that take serviceable pictures and enable Windows Hello's biometric logins. Normally, few people would care about a tablet camera. But the Windows 10 Fall Creators Update that's rolling out now includes such fun utilities as the Mixed Reality Viewer, where you can snap a photo with the rear camera and drop in a computer-generated dinosaur, giant taco, or bug right into the scene. Our review unit shipped with the older Creators Update, however.
The Surface Book 2 continues the Surface Book tradition of decent audio, accompanied by Dolby Audio processing. Though it supplies an adequate range of sound, you'd still be better off routing Spotify through headphones or an accompanying Invoke speaker for better bass response. The speakers are mounted inside the tablet, unlike the Surface Laptop's base-mounted speakers.
Microsoft also provided what it calls a "next-generation" Surface Pen for review. To be honest, the increasing levels of sensitivity—4,096 in this version—have moved beyond our ability to test. Microsoft's new Pen looks nice, writes smoothly, and is powered by a replaceable AAAA battery. That's enough.
We didn't receive Microsoft's new Precision Mouse in time for review, but we were quite impressed in the short hands-on time we had earlier. 
Microsoft says the Surface Book 2 is 3 to 4 times faster than the Surface Book. Find out for yourself on the next page. 
At a Glance
Microsoft Surface Book 2

Microsoft adds to its "ultimate laptop," the Surface Book 2, by increasing the performance, battery life, and display size.

Pros

Top-notch, all-day battery life
Excellent performance, particularly in graphics
Stellar display, complete with additional visual modes

Cons

Premium notebook, premium price
Underpowered Dock makes multi-monitor support problematic
USB-C without Thunderbolt is a mistake
Shop Tech Products at Amazon