Updated
Microsoft Surface Book 2 review: The ultimate laptop improves in every way but one
An under-the-hood power issue with the Surface Dock, a USB-C port, and the Surface Book 2 charger is the only flaw in Microsoft's new convertible tablet laptop.
Surface Book 2: Performance
We expect an Nvidia GTX 1060-powered system such as the Surface Book 2 to perform well. Microsoft created extra pressure, however, by claiming the Surface Book 2 would perform three to four times better than the original Surface Books. In our performance charts below, you'll see us compare the Surface Book 2 to its predecessor, as well as some recent laptops we've reviewed that have discrete graphics: Dell's XPS 15, Lenovo's Yoga 720, and Samsung's Notebook 9 Pro.
We threw both mainstream and gaming benchmarks at the Surface Book 2. Somewhat surprisingly, the Surface Book 2 doesn't necessarily top the heap in general productivity performance, but as a graphics workstation it's among the very best.
Our first test is PCMark Work 8 Conventional, which simulates everyday activities like web browsing, video chat, and document editing. It's a good test for isolating the CPU's role in everyday use. Any machine scoring 2,000 or above will sail along smoothly during these low-intensity tasks. The Surface Book 2 lands square in the middle: a little faster than its predecessors, but a little slower than the trio of recent competitors.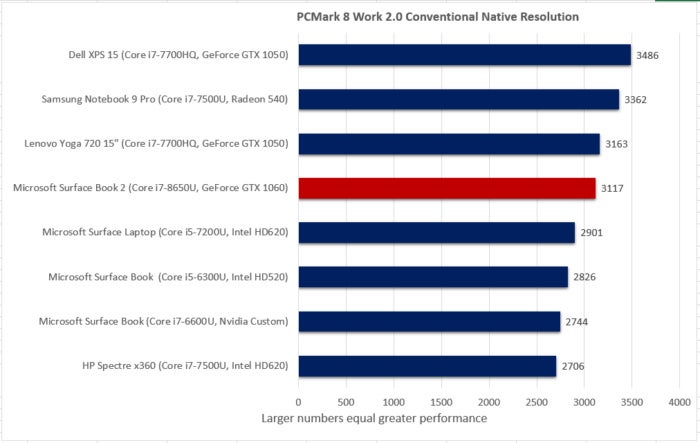 The Home and Creative broaden the scope somewhat, adding light gaming, photo editing, and finally some image and video processing. In general, how the Surface Book 2 compares against the Surface Book most likely ties into the base processor clocks of both chips: 2.6GHz for the original Book, 1.9GHz for the Surface Book 2. When needed, the Book 2 can boost up to 4.2GHz—but in these tests, it doesn't need to. As with the Work Conventional test, it scores below similar laptops with discrete GPU.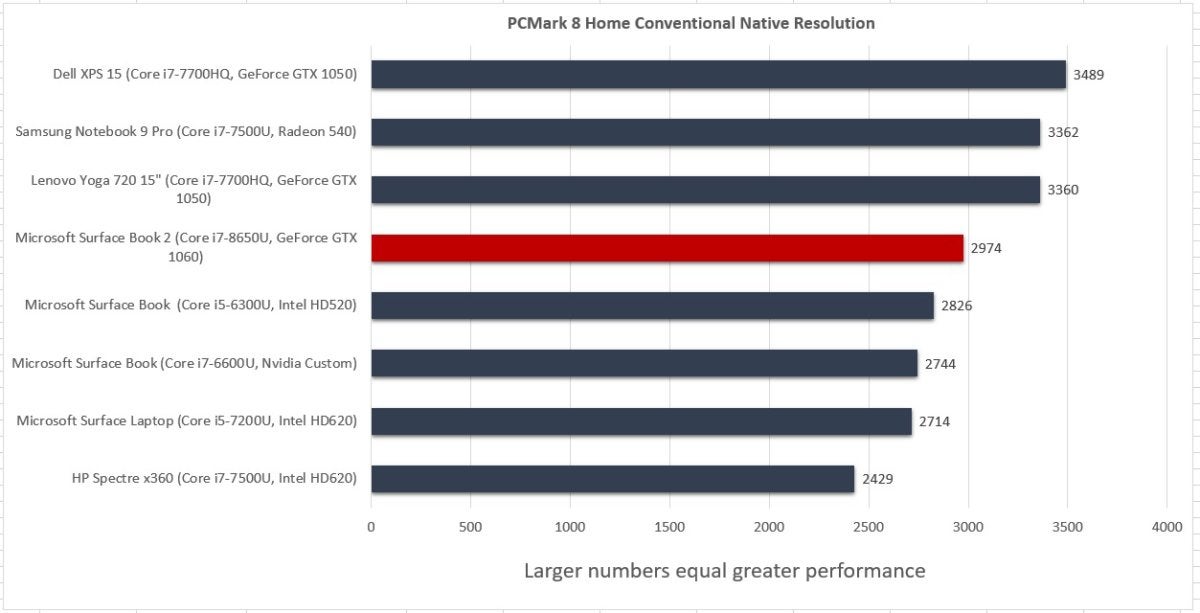 Remember, the eighth-generation Core chips use four cores and eight processing threads. Applications that take advantage of all of them perform better than the earlier dual-core Core chips. Maxon's Cinebench benchmark takes advantage of this, with benchmarks that exercise all available cores. Here, the Surface Book 2 is in the middle of the quad-core leading edge, while all the dual-core systems fall into place behind them.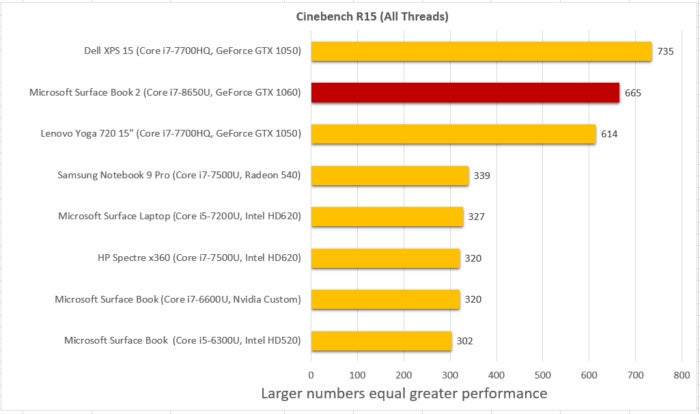 We ran HandBrake, a prolonged test that converts a Hollywood movie into a format suitable for an Android tablet. One of the advantages of Windows 10 and the new Core chips is that they're optimized for video playback. Still, the test is both a good workout as well as a real-world application, especially if you're preparing some in-flight entertainment for your kids. Here, Microsoft's Surface Book 2 is the slowest of the quad-cores, possibly because it throttles its fanless Core i7 chip under prolonged load.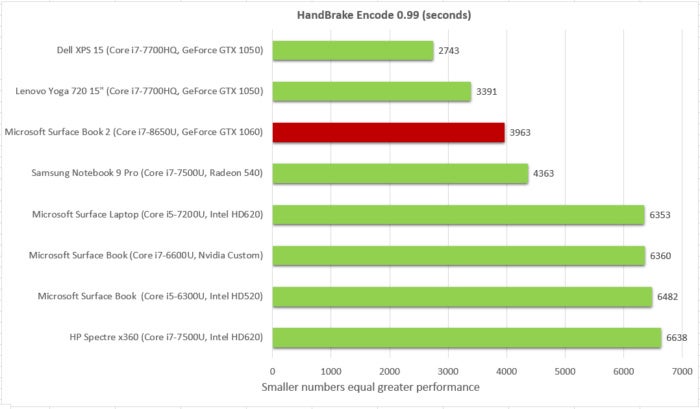 The Surface Book 2 differs slightly from gaming machines in that it's more of a general-purpose performance notebook. If you'd like, you can download an Play Anywhere title for the Xbox, like Gears of War 4, and fire it up on the Surface Book 2. Conversely, Microsoft also offers a complimentary three months of Adobe Creative Cloud—check the installed Surface app for the offer—as encouragement to use it for more traditional creative pursuits. Either way, it's hard to go wrong.
Here, we tested using the 3DMark Sky Diver benchmark, where the Surface Book 2 really begins to strut its stuff, outpacing all comers. Compared to the prior-generation Surface Book with discrete GPU, Microsoft's claim of a 3X to 4X performance difference is proven out.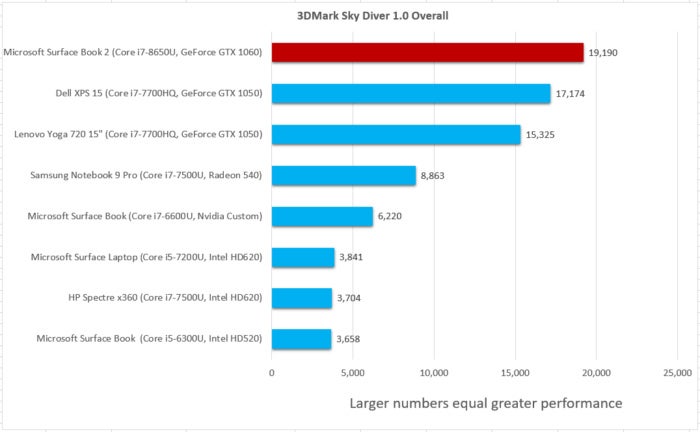 I also played around with performance-hungry games from yesteryear, like Crysis 2, and maxed it out on my 1080p monitor at Ultimate performance levels. Modern games, such as Watch_Dogs 2, also rendered smoothly at High and Very High settings. Just for fun, I tried Far Cry 3 on the Surface Book 2's native tablet settings. It didn't quite deliver playable frame rates, though the detail, naturally, was amazing. 
Finally, there's battery life—a traditional strength of the Surface Book, and one that carries over here. We gauge a laptop's stamina with our video rundown test. We first charge the laptop to 100 percent, then set its screen between 250 and 260 nits to simulate the brightness level you'd use in an office. With a pair of earbuds plugged in and the volume set to 50 percent, we run a 4K video file (the open-source Tears of Steel) on continuous loop in Windows 10's Movies & TV app until the laptop shuts itself off.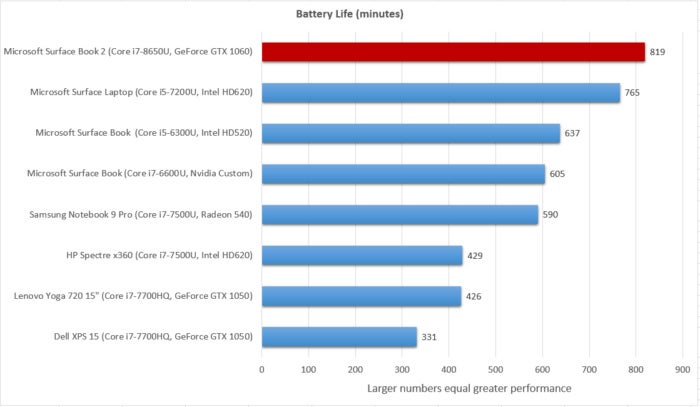 Over time, we've expanded the notion of "all-day battery life" from a generous six hours to more than eight hours and above. The Surface Book 2 carves out new territory at the high end, pushing past a whopping thirteen hours with ease. Microsoft's Surface Book 2 includes two different batteries: a 23.2 Watt-hour battery in the tablet, and a separate 62.2 Wh battery in the base. (Interestingly, those are the design capacities, as measured by Windows; the batteries actually charged to 23.6Wh and 65.6Wh, respectively.)
Sure, 13 hours is far less than the 17 hours at which Microsoft rates the Surface Book 2. But Microsoft typically dials down the brightness to below the levels at which we test. On the other hand, our tests didn't take advantage of the Windows 10 Fall Creators Update's ability to prolong battery life by playing back video at a lower resolution, or running entirely in battery-saver mode. As our previous tests showed, aggressively managing battery life can tack on as much as 30 percent more runtime—enough to match up with Microsoft's own numbers.
Surface Book 2: Our verdict
Reports of the PC's death have ushered in a renaissance of sorts, producing marvelous designs from Microsoft, HP, Lenovo, and others. I used the original Surface Book as a daily driver for months, if not years, and I'm an unabashed fan of that original—and now, the Surface Book 2.
The trap that Microsoft sets, though, is not unlike Apple's: The company tacitly encourages you to think within its ecosystem and only its ecosystem, rather than its competition. Once you begin looking elsewhere, options like the Lenovo Yoga 720 begin to look more attractive, and at possibly cheaper prices, too. Other alternatives include the Dell XPS 15, which tops the performance charts, above—save for battery life, where it finishes at the bottom. Otherwise, what's a few thousand dollars between friends?
There's one question we can't answer: stability. One of the unfortunate legacies of the Surface products is a shakedown period of a few months where some early models suffered anything from "hot bag" refusals to enter a sleep state, to screen flickering. Our Surface Book 2 exhibited a strange buzzing noise (a short? a speaker flaw?) almost immediately, which persisted for about an hour or so, then vanished completely. We experienced no other glitches.
The bottom line? If you can afford a Surface Book 2, we'd recommend it. So many of its attributes are simply fantastic, including its graphics performance and stellar battery life. If Microsoft had avoided all of the complications associated with its decision to incorporate USB-C (omitting Thunderbolt, upgrading the Dock), as well as the power issues, we'd be hard-pressed to find anything wrong with the Surface Book 2 at all. Microsoft has made its "ultimate laptop" even better, in many ways. Just not all of them.
At a Glance
Microsoft Surface Book 2

Microsoft adds to its "ultimate laptop," the Surface Book 2, by increasing the performance, battery life, and display size.

Pros

Top-notch, all-day battery life
Excellent performance, particularly in graphics
Stellar display, complete with additional visual modes

Cons

Premium notebook, premium price
Underpowered Dock makes multi-monitor support problematic
USB-C without Thunderbolt is a mistake
Shop Tech Products at Amazon