HP Omen 15 (2017) review: A good laptop that made some bad decisions
The devil's in the details
HP Omen 15 performance benchmarks
Gorgeous displays and fancy carbon fiber lids don't matter if a gaming laptop doesn't game, though. Fortunately, the HP Omen 15 works and plays like a champ. We'll be comparing it against several similar systems in our tests, including the GTX 1060 Max-Q-equipped Dell Inspiron 15 7000 Gaming, the Gigabyte Aero 15 with a full-fat GTX 1060, the Gigabyte Aero 15X with a GTX 1070 Max-Q, and the larger HP Omen 17 with a GTX 1070 inside.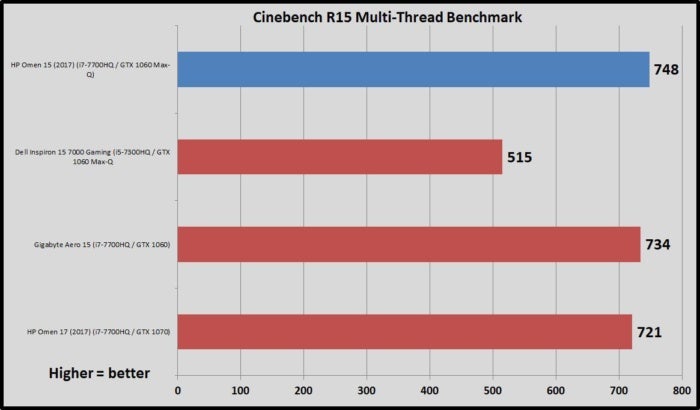 Maxon's Cinebench R15 measures raw CPU performance, and the more threads you can throw at it, the happier it is. Many of today's high-end gaming laptops lean on the quad-core Intel Core i7-7700HQ, including most of the machines compared here, and largely deliver similar results with some minor variations due to cooling design differences.
The Dell Inspiron uses a Core i5 chip instead. It stands strong in Cinebench's single-thread tests, but because the chip lacks hyper-threading support, Dell's laptop brings up the rear in Cinebench's multi-threaded benchmark by a large margin. The smaller HP Omen 15 actually outperforms the larger Omen 17 by a considerable amount.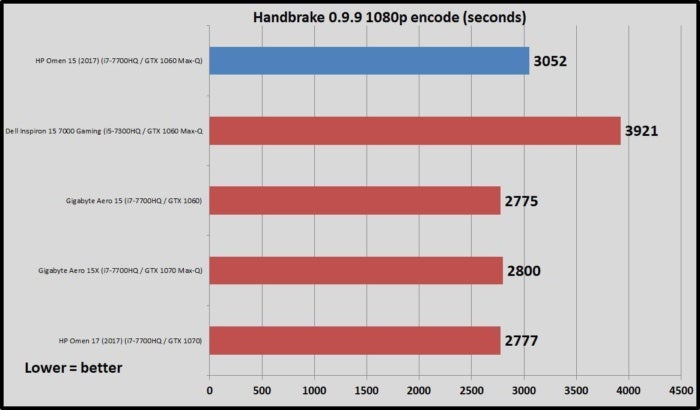 The Cinebench test has a short run time, but the file we encode in our CPU-intensive HandBrake test (which uses an older version of the software) takes around 45 minutes on a quad-core processor. The extended duration reveals how a laptop's temperature throttling affects performance over time. The Omen 15 finishes nearly five minutes after the Omen 17, despite its advantage in Cinebench. That suggests it throttles performance more aggressively during extended workloads to keep temperatures down.
But this is a gaming laptop, so let's get to the games! Note that we tested at 1080p. The GTX 1060 Max-Q excels at that resolution, but going up to the display's native 4K utterly cripples games. Keep that in mind if you pick this laptop up because you'll need to manually change the resolution to 1080p the first time you launch new games.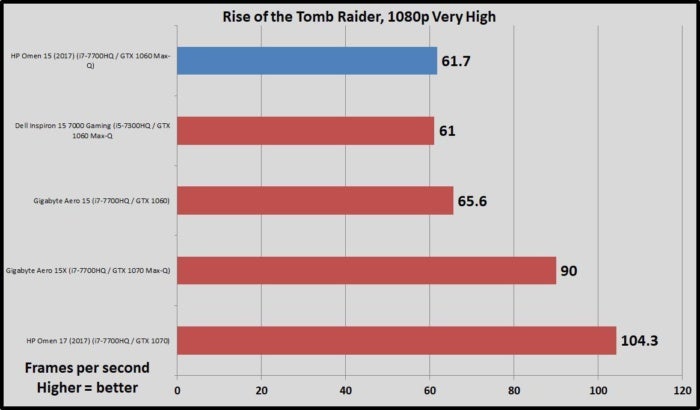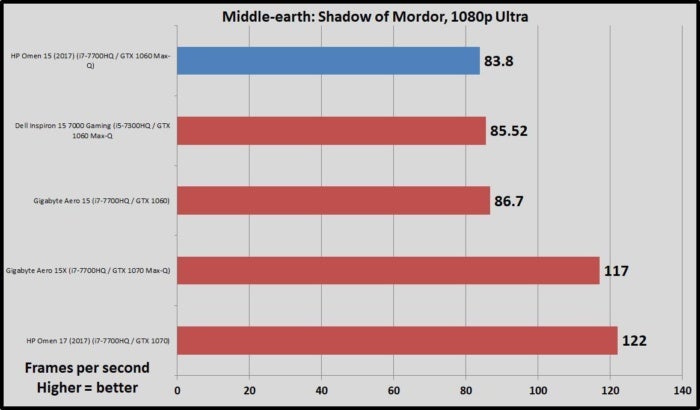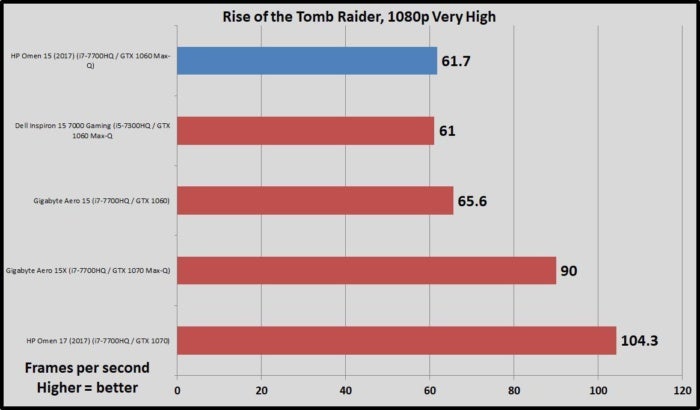 As you can see, the HP Omen 15 delivers in excess of 60 fps across the board at 1080p. The gorgeous G-Sync display makes every game look and feel marvelous. HP's Max-Q-equipped notebook hews closely to the Dell Inspiron 15 7000 Gaming, and lags behind the Gigabyte Aero 15's full-fat GTX 1060 by only a handful of frames per second. Moving up to a GTX 1070 provides a big jump in performance—and cost—as you'd expect.
We also ran the Rise of the Tomb Raider benchmark continuously for an hour. The only performance drop-off observed fell within the margin of error—around a frame per second. RoTR is a very GPU-intensive game; comparing the consistent results the Omen 15 delivered on it over an hour to the laptop's lagging Handbrake score, we're led to believe HP is more aggressive at throttling back the CPU during extended workloads.
The Omen 15's cooling is superb overall. The laptop didn't get overly hot during long gaming or benchmark sections, and while the fans indeed ramped up after a while, they never were so loud as to be distracting.
Now for the bad news: Battery life.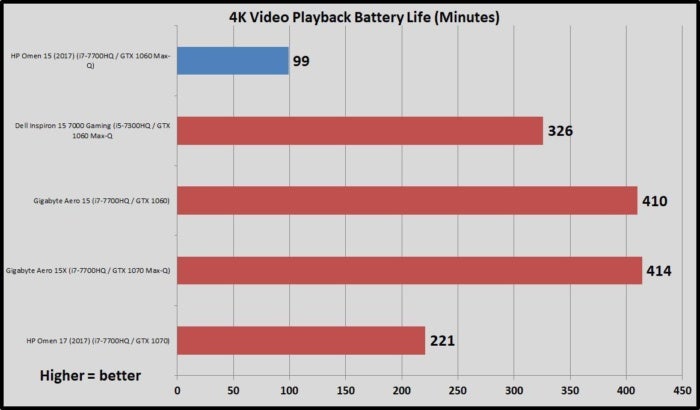 The HP Omen 15's battery life sucks, even after reducing the brightness to 250 to 260 nits to ensure a level playing field between all the machines. It's the worst we've ever seen in a gaming laptop, falling behind even the beastly Acer Predator 21 X and its dual GTX 1080s. It's so bad that we double-checked our settings and ran the test again to confirm our results.
Most Max-Q laptops we've seen pack modest batteries, and the Omen 15 is no different with its 64-watt-hour capacity. That's not enough to keep the screen fed for long with this particular configuration. 4K resolution is famous for murdering batteries. G-Sync is too, as it requires the Nvidia GPU to be active at all times—you can't switch over to integrated Intel graphics to increase endurance with a G-Sync display. The combination cripples this Omen 15. Keep your charger close.
Should you buy the HP Omen 15?
To finish where this began: I'm torn about the HP Omen 15. I thoroughly enjoy the core of system! It's not too bulky, the design looks good, there's plenty of ports, the keyboard and touchpad are comfortable, and the hardware delivers a top-notch 1080p gaming experience. That's everything you need for a competent all-around gaming laptop.
But HP repeatedly trips over the details in the specific configuration we were sent to review.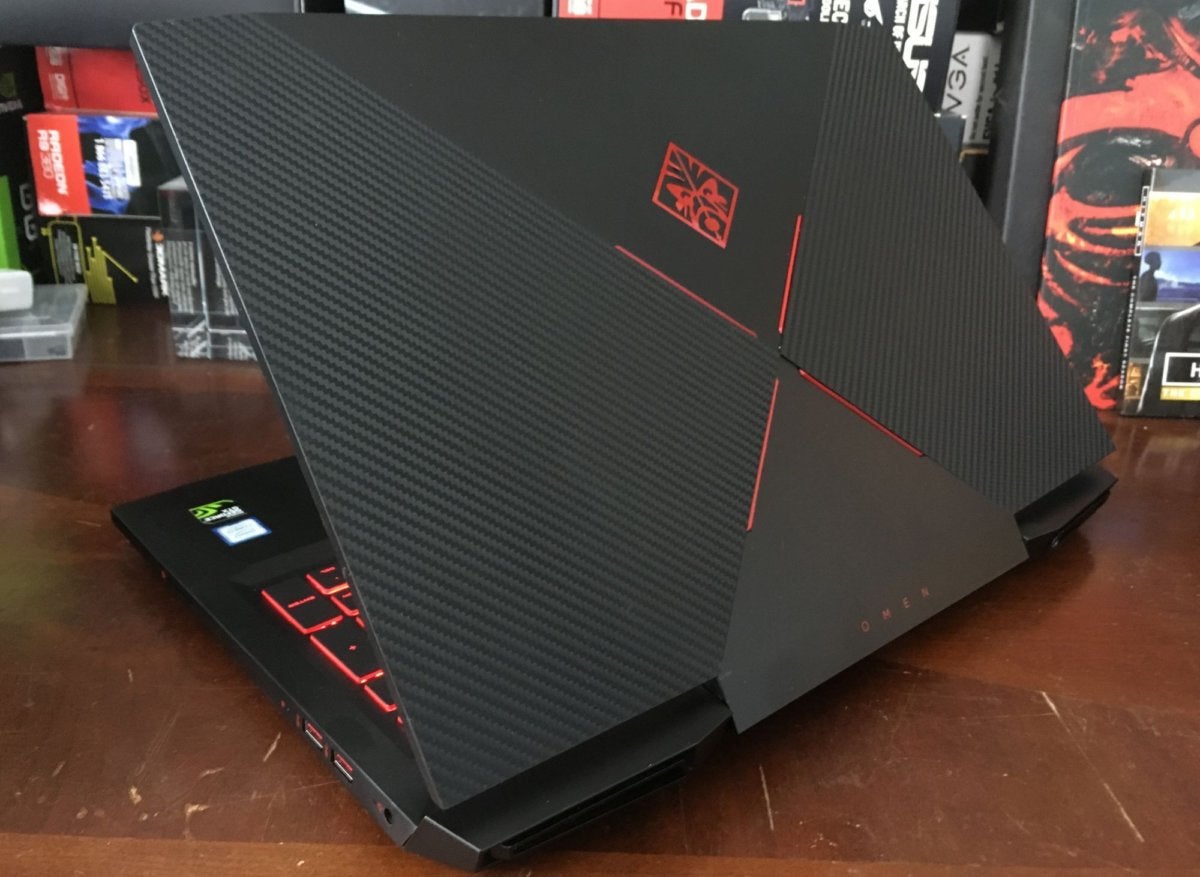 Pairing a tiny NVMe drive with a large but pokey 5,400rpm hard drive doesn't make sense. Gamers need 7,200rpm for mass storage—otherwise loading times and asset streaming in open-world games become excruciating. Mixing actual brushed metal and plastic designed to look like brushed aluminum feels cheap and jarring.
Worse, the Omen 15 is overflowing with bloatware. Not even counting HP's own software (of which there's an excessive amount) we counted roughly a dozen non-stock programs preinstalled on the system, including Netflix, Plex, a McAfee Livesafe trial, several meh games, and Dropbox (which sometimes pops up after you restart, asking you to register). 
All those little nitpicks add up when you're spending $1,740 on a notebook, but it's the display that kills this particular laptop's appeal, as gorgeous as it is. If you always travel with your charger, the scant 1.5-hour battery life—while watching videos, not gaming—might not faze you. It's a complete showstopper if you have any desire to truck out to the library or coffee shop with your laptop alone. Worse, the sacrifice is needless. So many pixels crammed into the 15.6-inch screen forces HP to scale desktop elements to 250 percent to remain legible, and the GTX 1060 Max-Q can't game beyond 1080p anyway. The 4K display isn't just superfluous; you actively need to adjust options to keep it from hurting your computing experience. Ugh.
The HP Omen 15 is still a solid gaming laptop at its heart though. Most of these gripes can be mitigated by selecting alternative configuration options on HP's website and running PC Decrapifier on your PC.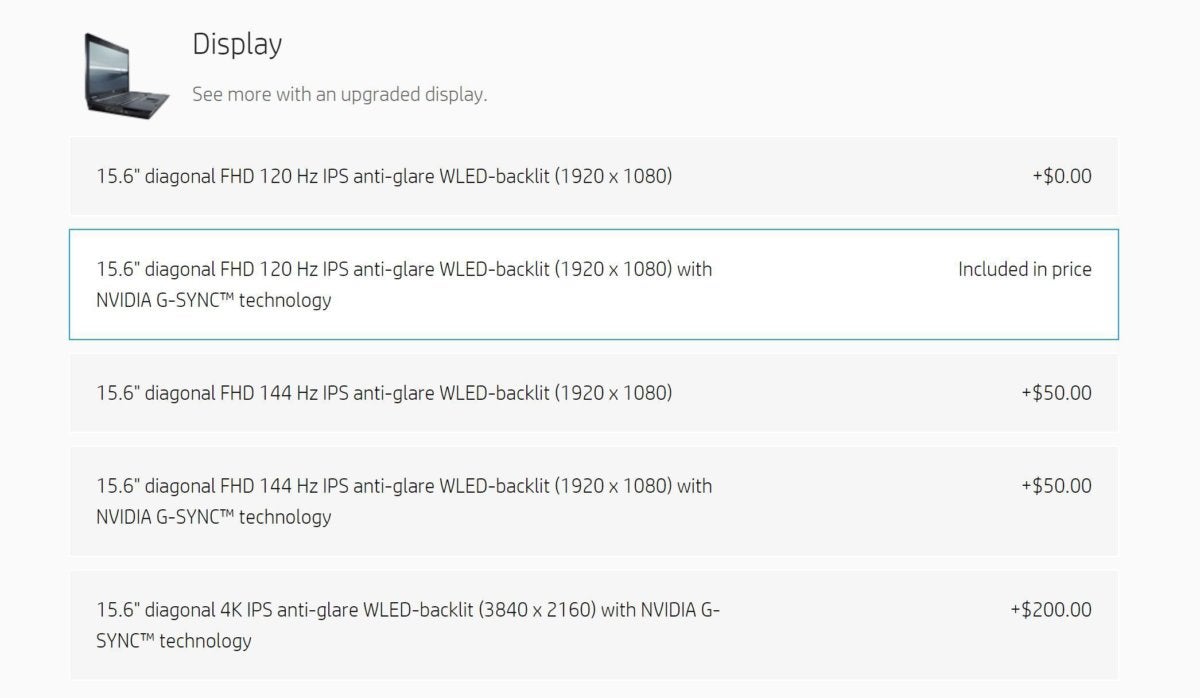 Swapping out the 4K display for a faster 120Hz, 1080p G-Sync screen would provide an objectively superior gaming experience, likely increase battery life by a significant amount, and shave $200 off the price. We'd also suggest skipping this model's 2TB, 5,400rpm storage option and going for the 1TB, 7,200rpm hard drive even though it's a smaller capacity. Doing so would also save another $40, bringing that configuration's total down to $1,500. If you don't need an infrared camera or fancier Intel networking gear, those can lop off another $20 each.
Make those tweaks and the only "problem" left is the plastic lid, which is more of an aesthetic quibble. The alternative configuration outlined above results in a superb gaming laptop, and at $1,440 to $1,500, it'd deliver a lot of value for the hardware you get. Too bad HP didn't send us that incarnation.
We don't recommend buying the $1,740 version of the HP Omen 15 that we tested, with a 4K G-Sync display and a terribly slow hard drive. But the cheaper, faster alternative configuration described above would strongly get our stamp of approval.
If you wouldn't mind abandoning G-Sync and downgrading your CPU to a Core i5, the Inspiron 15 7000 Gaming also packs a GTX 1060 Max-Q. It's a great value at $980 on Dell.com. Microcenter's homebrew PowerSpec 1510, on the other hand, only costs $1,200 and packs a more potent GTX 1070 with G-Sync. It's a classic big, heavy gaming laptop though, and G-Sync is quietly disabled by default (and enabling it is a convoluted hassle). Also, the PowerSpec 1510 can only be picked up in-store at physical Microcenter locations.
At a Glance
HP Omen 15 (2017)

The 2017 HP Omen 15 is a strong all-around gaming laptop option, but choose your configuration carefully. Our test model's 4K display and slow hard drive drag it down.

Pros

Great 1080p gaming
Comfortable keyboard and touchpad
Relatively light for a gaming laptop
Bright, vibrant G-Sync display

Cons

Worst battery life we've ever seen
4K display is useless, detracts from user experience
Slow 5,400RPM hard drive
Bloatware galore
Shop Tech Products at Amazon