Dell G7 15 (7588) review: A six-core gaming laptop that won't break the bank
Content creators will love the six cores of CPU power.
When a hot game gets too hot
Now, a word about heat. While playing Rise of the Tomb Raider, I noticed that the Dell G7 15's cooling fans were roaring and the chassis got uncomfortably hot, particularly near the top of the keyboard and a tad to the right. Indeed, the 7, 8, and 9 keys got so hot that they felt like they were burning my fingertips.
After about on hour of Rise of the Tomb Raider, I check the G7's CPU package temperature and got a reading of 98 degrees Celsius (208 degrees Fahrenheit), hot enough to boil water and a mere two degrees shy of the Core i7-8750H's maximum operating temperature. The CPU also engaged thermal throttling repeatedly in an effort to cool things down.
So, does the Dell G7 15 have a cooling problem? Not necessarily. Yes, the G7 runs hot, but its CPU package temperatures do stay within Intel's specifications. Also, Nvidia's Max-Q spec is intended to cram as much GPU power as it can into the smallest possible space, meaning temperatures are bound to rise. I should also point out that the G7 15 ran somewhat cooler while playing less graphically demanding titles like Diablo 3 and World of Warcraft (a game that maps the 7, 8, and 9 keys to various spells and abilities).
Still, the G7's tendency to run hot is an unfortunate fact of life for gaming laptops as thin and light (relatively speaking, anyway) as this one.
Battery life
You can't expect all-day battery life from a gaming laptop, but the Dell G7 15 and its 55-watt-hour battery do a reasonably good job of staying alive without help from the bulky AC adapter.
We test battery life on a laptop by looping a 4K video using the stock Windows 10 Movies & TV app, with screen brightness set at about 250 nits (which, in the G7 15's case, meant cranking the brightness all the way up) and volume dialed up to 50 percent, headphones plugged in.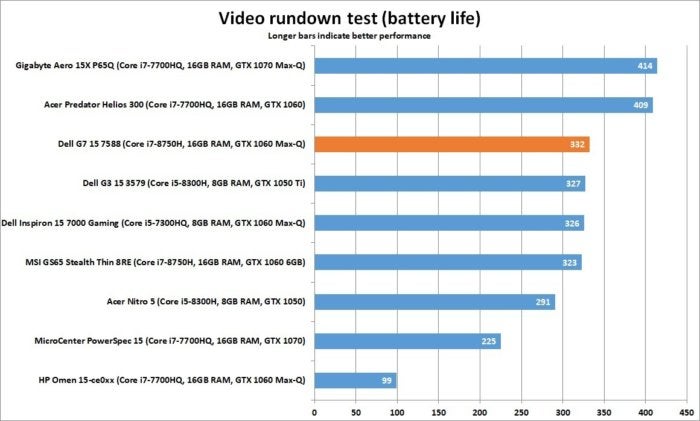 The Dell G7 15's result of 332 minutes (about 5.5 hours) isn't too shabby for a gaming laptop, landing in the middle of the pack with roughly the same battery life as the cheaper Dell G3 15, the older Dell Inspiron 15 7000 Gaming, and the svelte MSI GS65 Stealth Thin 8RE. Notably, the 5.5-pound Acer Predator Helios 300 squeezes more than an hour of additional life out of its slightly smaller 48 watt-hour battery, and that's despite its full-fat GTX 1060 video card. The laptop in our roundup with the best battery life, the Gigabyte Aero 15X P65Q (which includes a power-hungry 4K display), boasts a massive 94 watt-hour battery.
Conclusion
Armed with a screamingly fast six-core CPU and a fairly potent graphics card, the $1,200 Dell G7 15 packs an impressive amount of processing and gaming power into a shell that's less than an inch thick. Gamers looking for the highest frame rates possible will find better value in a quad-core laptop with a beefier GPU, while those in search of a thinner and lighter hex-core gaming laptop should check out the pricey MSI GS65 Stealth Thin 8RE. But if you're on a budget and want enough CPU power to stream or create videos while gaming, the G7 15 is an enticing, reasonably priced choice.
At a Glance
Dell G7 15 Gaming Laptop

Armed with a screamingly fast hex-core CPU and a reasonably robust graphics card, the Dell G7 15 packs an impressive amount of processing and gaming power into a shell that's less than an inch thick.

Pros

Solid GTX 1060 Max-Q gaming performance with frame rates north of 60
Relatively slim design
Blazingly fast six-core i7 CPU

Cons

Dim display
Runs hot when playing graphically intense games
Shop Tech Products at Amazon