Razer Blade 15 Review: The world's smallest 15-inch gaming laptop packs a punch
The Razer Blade 15 fits a GeForce GTX 1070 Max-Q and 8th gen Core i7 inside its tiny shell.
Razer Blade 15 Performance
Before we get into the performance of the new Razer Blade 15, we should note that we actually tested it in several different modes. Out of the box, the Razer Blade 15 defaults to "balanced" in the Razer Synapse utility. The optional "gaming" mode pledges to increase Graphics Performance, but our experiences tell us the mode doesn't impact gaming as you'd expect.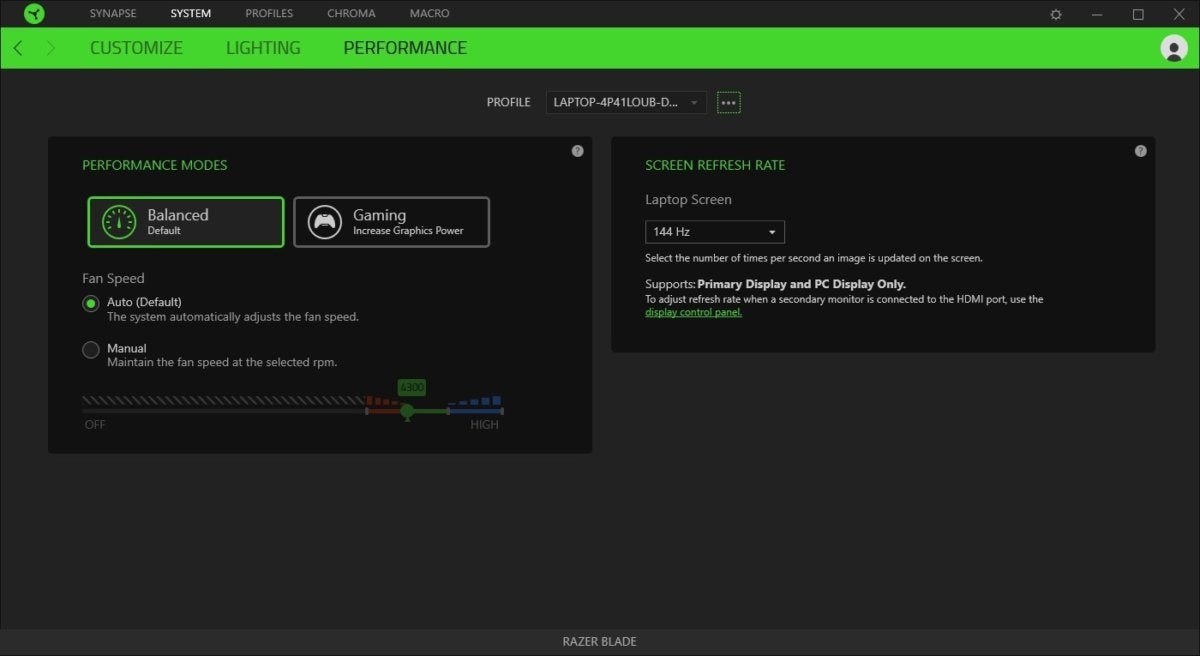 Multi-core and single-core Performance
Our first test of the Razer Blade 15 is in Cinebench R15. Based on Maxon's Cinema4D engine (albeit an older version), the benchmark measures CPU performance when rendering a 3D model. While that may not relate exactly to what you do in, say, a video editing application, it gives us a good idea of how the Blade 15 handles a workload that stresses all of the cores.
If you're puzzled by the performance results, remember that out of the box, the Razer Blade 15 is in balanced mode. As you can see, performance is way off the curve from the Dell XPS 15 and MSI GS65, which both use the same CPU.
On balanced, Razer basically ratchets back the clock speeds by a hefty amount. Switch to gaming mode, and the Razer Blade 15 makes up most of the margin. So yes, gaming mode looks to be mostly a clock boost of the CPU, not just the GPU as we'd expected.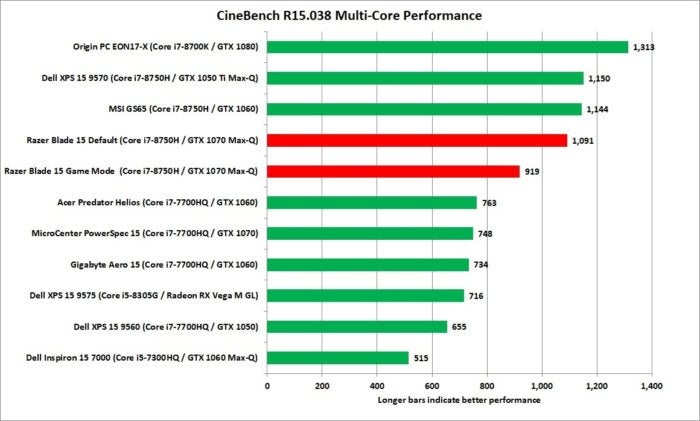 Because we don't all sit in 3D modeling or heavily multi-threaded applications all day, we also run Cinebench R15 in single-threaded or single-core mode. Again, while it is based on a 3D rendering engine, it's a good stand-in for general performance in single-core applications such as Microsoft Word, Photoshop (mostly), and Google Chrome.
The good news is the Razer is in lock-step with the two other laptops with the same CPU. We can also see that the balanced mode isn't a constraint here.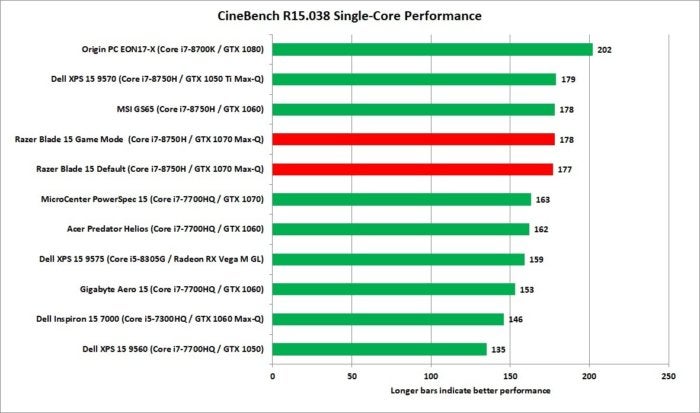 Razer Blade 15 Encoding Performance
One inherent weakness of Cinebench is that it only takes a minute to run on multi-threaded mode. That just isn't enough time to see how the system manages the CPU as it heats up. To find that out, we use HandBrake to encode a 30GB, 1080p MKV file using the Android Tablet preset. On a quad-core CPU, it takes about 45 minutes to complete, and on a six-core CPU, about 30 minutes. Our test is long enough that we should see performance degradation from heat or power limits.
The Razer Blade 15 on its default balanced setting falls back so far on clock speed that it's almost as slow as most quad-core laptops. That's a bummer for anyone who doesn't realize they should switch over to gaming mode. Especially because in gaming mode, it catches right up to the Dell XPS 15 9575 and MSI GS65. 
If you're thinking that you should just permanently set the Razer Blade 15 to game mode, you should know that doing so cranks up the fans, too. They remind us of the dulcet tones of a Boeing 757 preparing for take-off. So no, you probably don't want to leave it in gaming mode all of the time.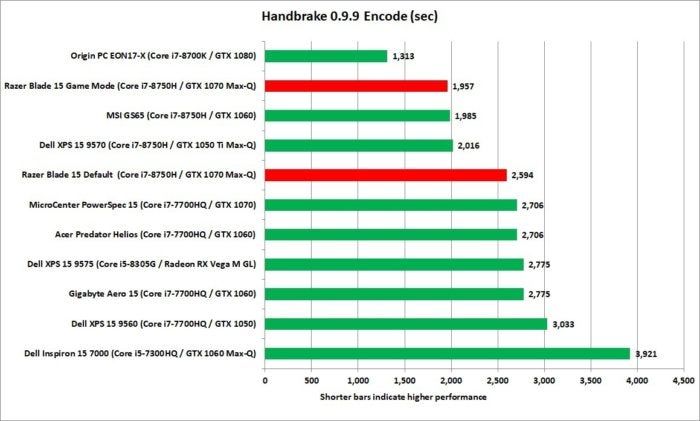 Razer Blade 15 Gaming Performance
You don't buy a Corvette to drive in the slow lane, and you sure as hell don't buy a Razer Blade 15 with a GeForce GTX 1070 Max-Q to watch YouTube. So we also run Futuremark's 3DMark FireStrike to gauge graphics performance. 3DMark FireStrike is a synthetic graphics benchmark, but generally well-regarded, and a neutral test that doesn't favor any particular graphics chip.
Because gaming is its main mission, the Razer Blade 15 needs to prove itself—and it does. The overall score reflects both CPU and GPU performance but is still mostly a graphics test. The Razer Blade 15 is actually a little faster than the MicroCenter PowerSpec 15 with a full GeForce GTX 1070 GPU.
While the Razer Blade 15 trades blows with the Dell XPS 15 9575 and MSI GS65 in CPU benchmarks, it's no contest here, as its rivals' GeForce GTX 1060 and GeForce GTX 1050 Ti Max-Q can't compare.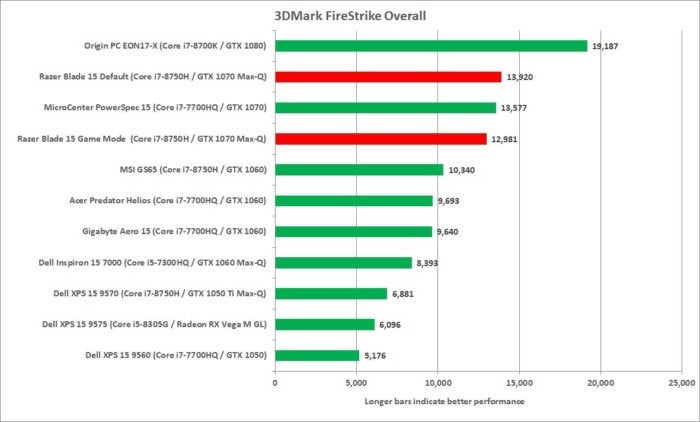 Moving on to in-game benchmarks, in Rise of the Tomb Raider on Very High with a resolution of 1920x1080 in DirectX 11, we can see the lower clocks of the Max-Q GPU in the Razer Blade 15 ceding to the full-tilt GeForce GTX 1070 in the Microcenter PowerSpec 15.
We should also point out that while the extra cooling from Game Mode appears to help, the mode mostly gives up CPU performance gains.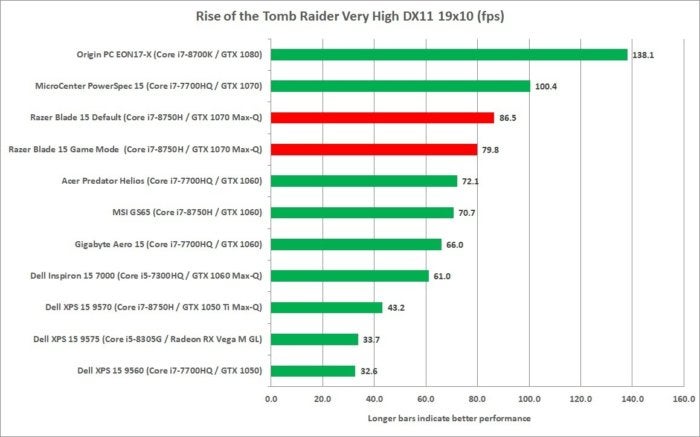 Razer Blade 15 Battery Performance
Besides gaming performance, the most important test for the Razer Blade 15 may be battery life. For that we loop a 4K resolution video in airplane mode with the screen set to a relatively bright 250 to 260 nits. For audio, we insert an analog headset.
With this test, we actually decided to keep the laptop only in default balanced mode, but we did test it in both the 144Hz mode and the optional 60Hz mode. This can be changed from the same screen you switch from Default to Gaming. We did this because we wanted to see what we'd get from slowing down the refresh of the panel. You don't, for example, need 144Hz to watch a 24-fps movie. We also switch off the keyboard's backlighting LED, which is a dazzling power hog.
Considering the Razer has a medium-sized battery in watt-hours and a 1080p screen, we expected decent battery life. Our experience was slightly longer than what Razer rates it at: about 7 hours. Razer claims 6 hours. That's decent, though not comparable to what the Dell XPS 15 9575 can do with its 97-watt-hour battery.
Keep in mind: Video rundown tests are realistic, but probably fairly light-duty in battery strain. Browsing the web with radios on and multiple tabs open takes a heavier toll. Pushing the CPU or GPU in a game or application should see battery life plummet to an hour or two if you're lucky. That's not just for the Razer, but for all performance laptops.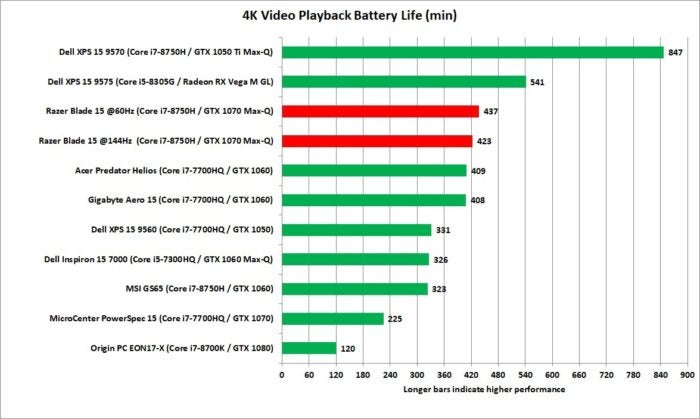 Conclusion
While gaming laptops are typically all measured on gaming performance and nothing else, the Razer Blade 15's selling point is being the "smallest 15-inch gaming laptop" in town. On that point, we'd have to agree.
While small, though, it's not light, and that just might bug you. Adding the power supply to the 4.6-pound laptop brings your full burden to 6.3 pounds. That's more than a pound heavier than the XPS 15 9570 and MSI's GS65 Stealth 8RE.
Still, it is hard to argue with the fit and finish and compact size of the Razer Blade 15. It's pretty damned impressive to get a six-core 8th gen Core i7-8750H and GeForce GTX 1070 Max-Q performance into a laptop that's about the size of a Dell XPS 15 or MacBook Pro 15. If you can deal with the additional weight, the payoff may well be worth it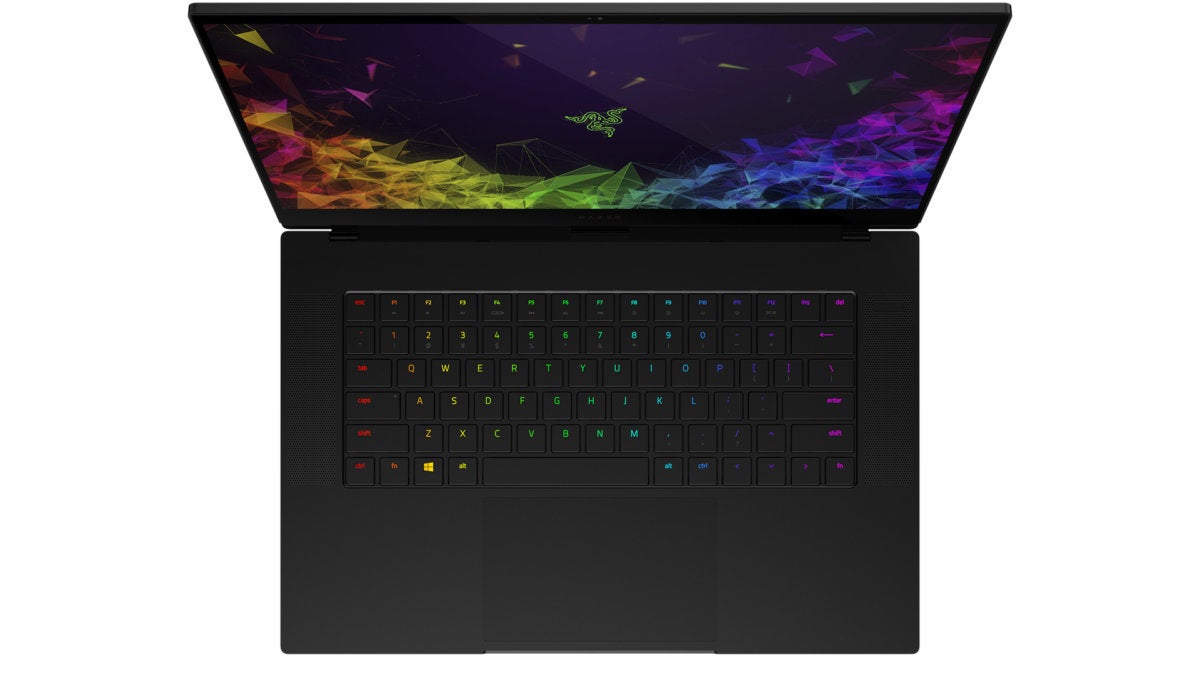 At a Glance
Razer Blade 15

Claiming to be the "smallest 15-inch gaming laptop," the redesigned Razer Blade 15 likely makes good on that promise by being pretty small and fairly light, while offering blistering gaming performance.

Pros

Amazingly compact for the performance it packs
6-core Core i7 and GeForce GTX 1070

Cons

A little heavy when the power brick is counted
Slightly slower CPU performance versus the competition
Shop Tech Products at Amazon