Nvidia GeForce RTX 2070 Founders Edition review: Better tomorrow and today
The Nvidia GeForce RTX 2070 Founders Edition packs futuristic hardware for ray tracing and AI-enhanced graphics, but it's also faster than the competition in traditional games.
Today's Best Tech Deals
Picked by PCWorld's Editors
Top Deals On Great Products
Picked by Techconnect's Editors
Our test system
Our dedicated graphics card test system is configured with some of the fastest complementary components available, to put any potential performance bottlenecks squarely on the GPU. Most of the hardware was provided by the manufacturers, but we purchased the cooler and storage ourselves.
We're comparing Nvidia GeForce RTX 2070 Founders Edition ($600 at Best Buy and GeForce.com) against EVGA's custom RTX 2070 XC ($550), and the GeForce RTX 2080 Founders Edition ($799 at Best Buy or GeForce.com) and RTX 2080 Ti Founders Edition ($1,199 at Best Buy and GeForce.com). We've also tested its performance compared to the GeForce GTX 1070 Founders Edition, GeForce GTX 1080 Founders Edition, and PNY GeForce GTX 1080 Ti. Finally, we've included results from the Radeon RX Vega 64 reference card, AMD's most potent GPU. It generally competes with the GTX 1080.
Each game is tested using its in-game benchmark at the highest possible graphics presets, with VSync, frame rate caps, and all GPU vendor-specific technologies—like AMD TressFX, Nvidia GameWorks options, and FreeSync/G-Sync—disabled, and temporal anti-aliasing (TAA) enabled to push these high-end cards to their limits. If anything differs from that, we'll mention it.
We tested these cards at 4K, 1440p, and 1080p resolutions. We put most of our focus on comparing the RTX 2070 Founders Edition against the GTX 1080 and Vega 64, as they're all roughly $500. The GTX 1070 debuted at $380.
Nvidia GeForce RTX 2070 Founders Edition performance benchmarks
Strange Brigade
Let's kick things off with Strange Brigade ($50 on Humble), a cooperative third-person shooter where a team of adventurers blast through hordes of mythological enemies. It's a technological showcase, built around the next-gen Vulkan and DirectX 12 technologies and infused with features like HDR support and the ability to toggle asynchronous compute on and off. It uses Rebellion's custom Azure engine. We test with async compute off.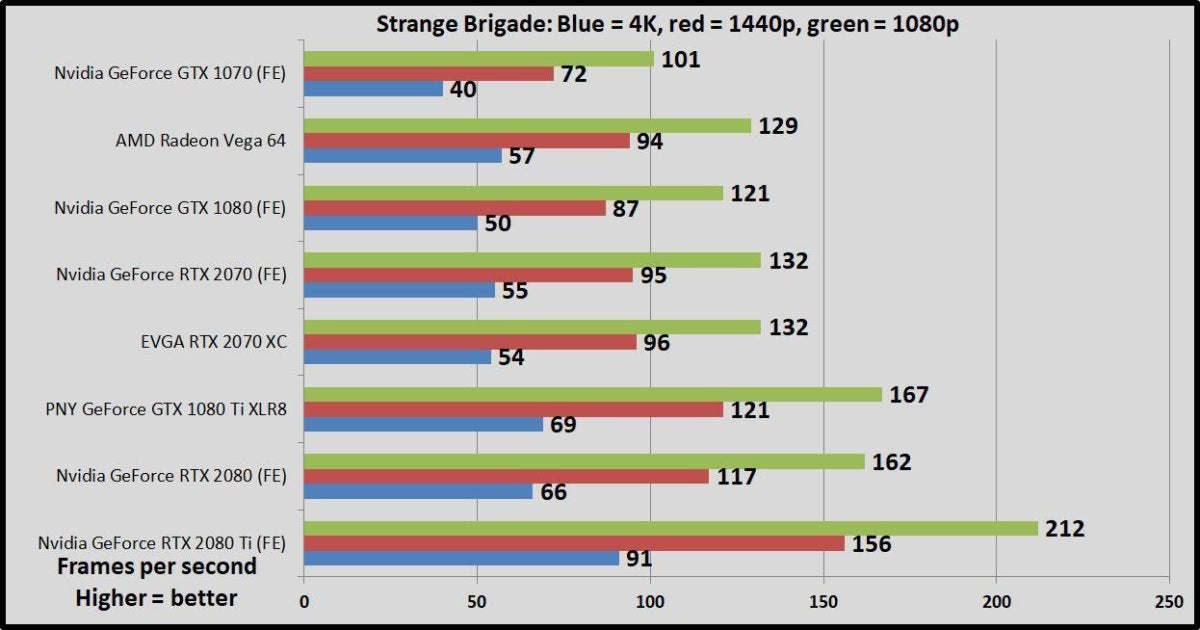 The RTX 2070 Founders Edition is 9.2 percent faster than the GTX 1080 Founders Edition at 1440p resolution, and roughly the same speed as the Vega 64. That's a trend we'll continue to see. The 2070 FE is faster than the GTX 1080 by 9 to 13 percent in most games, though that expands to 20-plus percent in a couple of titles, and just 3 percent in another. We'll highlight those oddities as we run across them.
Shadow of the Tomb Raider
Shadow of the Tomb Raider ($60 on Humble) concludes the reboot trilogy, and it's utterly gorgeous—even the state-of-the-art GeForce RTX 2080 Ti barely manages to average 60 fps with all the bells and whistles turned on at 4K resolution. Square Enix optimized this game for DX12, and recommends DX11 only if you're using older hardware or Windows 7, so we test with that. Shadow of the Tomb Raider uses an enhanced version of the Foundation engine that also powered Rise of the Tomb Raider.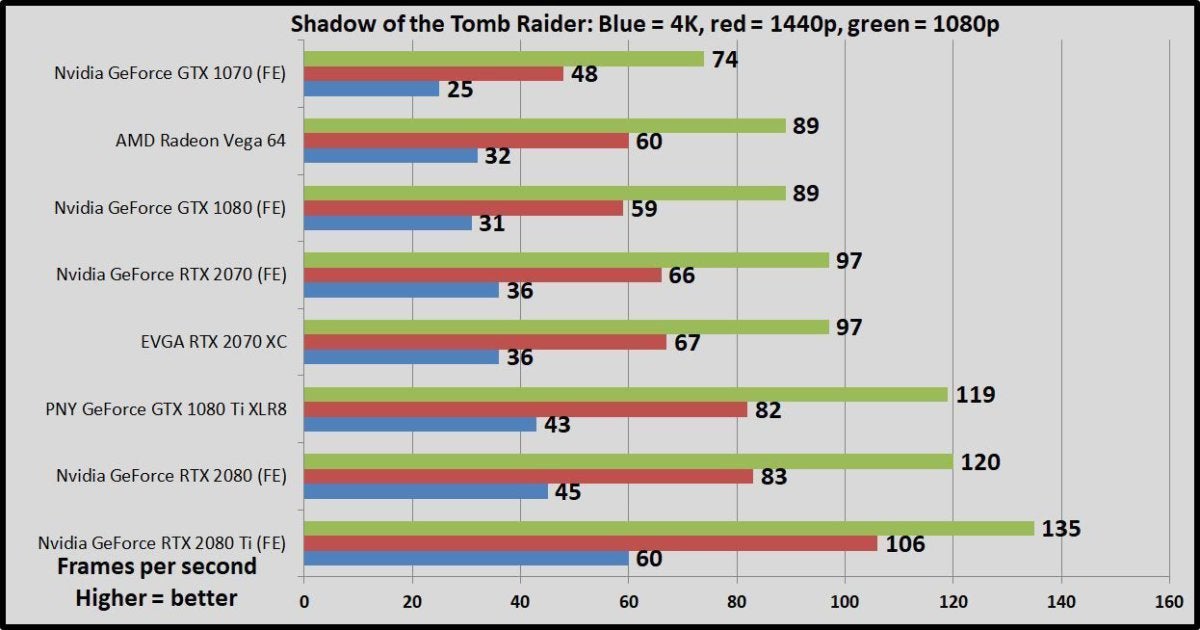 Far Cry 5
Finally, a DirectX 11 game! Far Cry 5 ($60 on Humble) is powered by Ubisoft's long-established Dunia engine. It's just as gorgeous as its predecessors, and even more fun.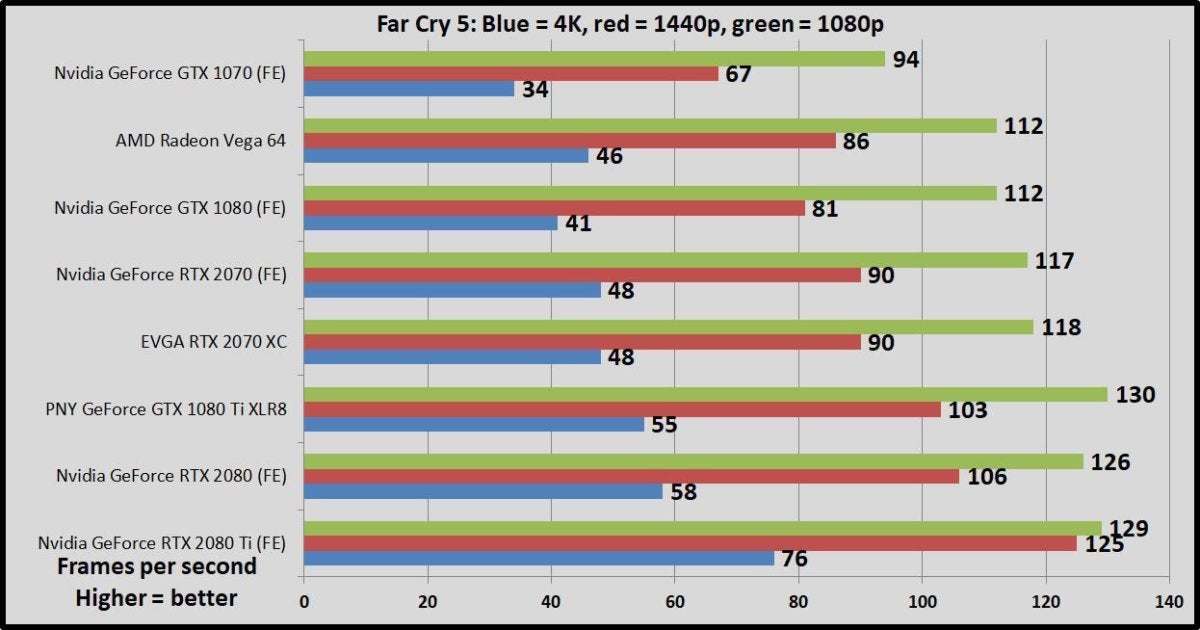 Next page: Game benchmarks continue
At a Glance
Nvidia GeForce RTX 2070 Founders Edition

The Nvidia GeForce RTX 2070 Founders Edition packs futuristic hardware for ray tracing and AI-enhanced graphics, but it's also faster than the competition in traditional games. Nvidia's design is gorgeous, but similar performance can be achieved with lower-priced RTX 2070 graphics cards.

Pros

Great 1440p and entry-level 4K gaming performance
Founders Edition is beautifully designed
Easily overclocked
RT and tensor cores for ray tracing, DLSS, and more

Cons

Ray tracing and DLSS not available in games yet
Not a huge performance leap over GTX 1080
Expensive
Shop Tech Products at Amazon