Nvidia GeForce RTX 2070 Founders Edition review: Better tomorrow and today
The Nvidia GeForce RTX 2070 Founders Edition packs futuristic hardware for ray tracing and AI-enhanced graphics, but it's also faster than the competition in traditional games.
Fire Strike, power draw, thermals, and noise
We also tested the GeForce RTX 2070 Founders Edition using 3DMark's highly respected Fire Strike synthetic benchmark. Fire Strike runs at 1080p, Fire Strike Extreme runs at 1440p, and Fire Strike Ultra runs at 4K resolution. All render the same scene, but with more intense graphical effects as you move up the scale, so that Extreme and Ultra flavors stress GPUs even more. We record the graphics score to eliminate variance from the CPU.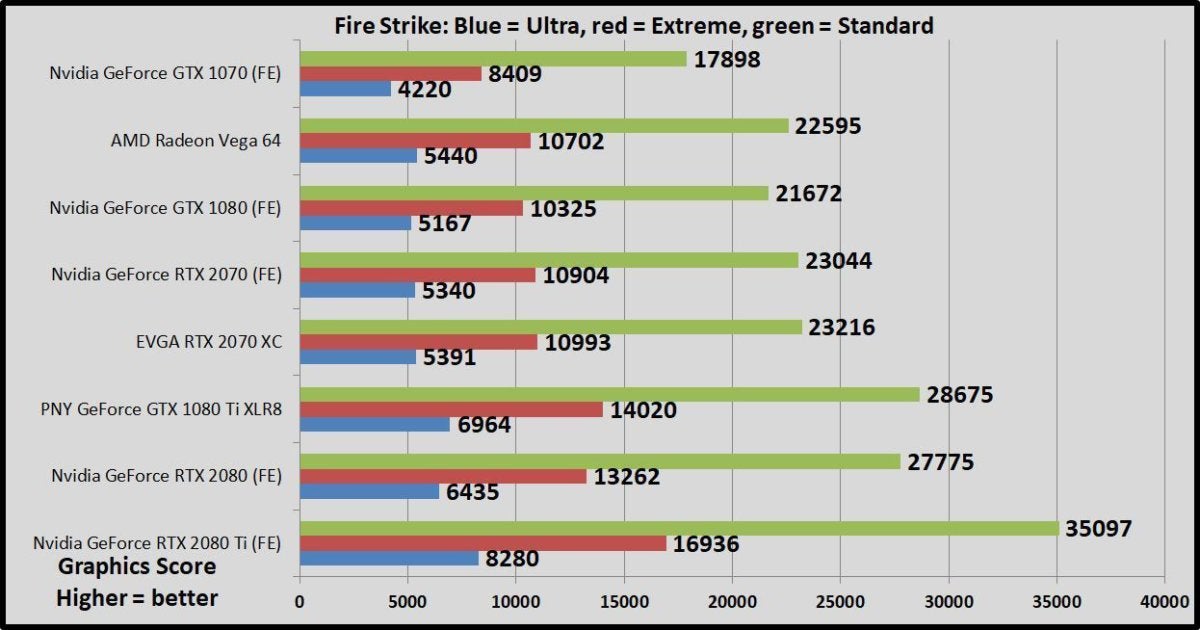 The RTX 2070 FE outpaces the GTX 1080, but interestingly, it isn't quite as fast as the Radeon Vega 64 at 4K resolution (and only 4K resolution). With high-bandwidth memory in tow, Vega was built for higher resolutions, and it shows here—though none of the $500 GPUs are really built for 4K.
We test power draw by looping the F1 2018 benchmark after we've benchmarked everything else with a card, and noting the highest reading on our Watts Up Pro meter. The initial part of the race, where all competing cars are onscreen simultaneously, tends to be the most demanding portion.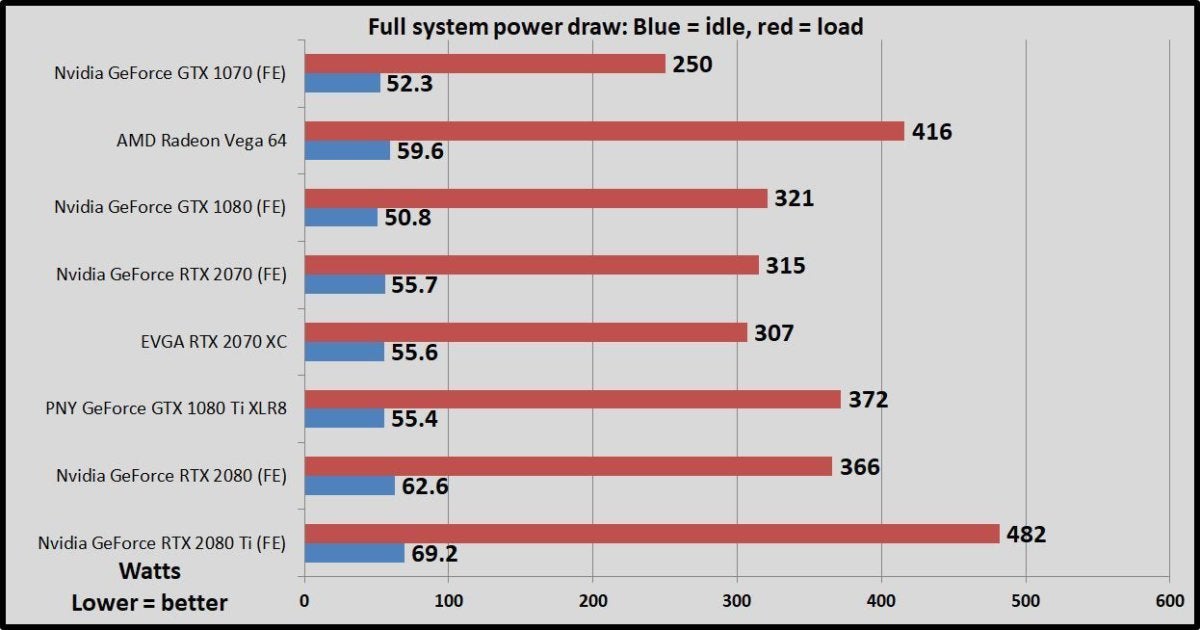 Despite being firmly ahead of the GTX 1080 in performance, the RTX 2070 Founders Edition sucks down a little less power. Yay efficiency! On the other end of the spectrum, the Radeon Vega 64 and extravagant GeForce RTX 2080 Ti Founders Edition each gobble an exorbitant amount of energy.
We test thermals by leaving HWInfo's sensor monitoring tool open during the F1 2018 5-lap power draw test, noting the highest maximum temperature at the end.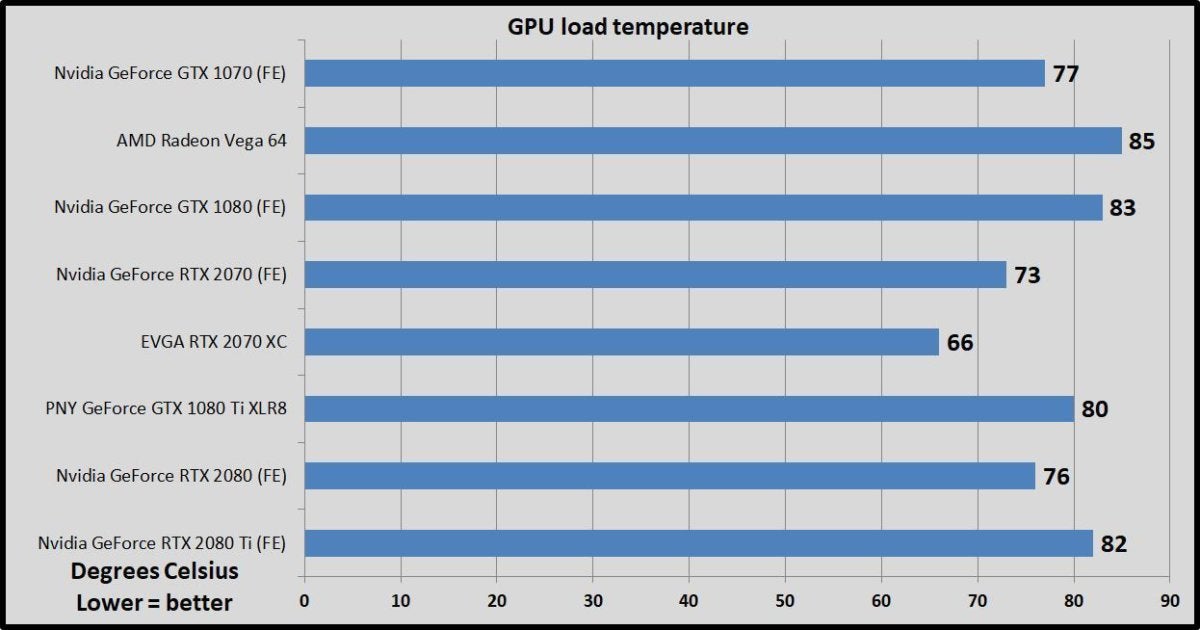 Here's where you see just how the Founders Edition's move to dual-fans makes a difference. The RTX 2070 FE is a full 10 degrees cooler than the GTX 1080 FE, and lower temperatures mean less thermal throttling. The RTX 1070 FE is much quieter than the GTX 1080 FE as well—a relative term that translates to "not unreasonably loud." The Vega 64 reference edition, on the other hand, is a hot, howling banshee. It's unpleasant just being in the same room as the card when it's under load.
Next page: Overclocking, should you buy the RTX 2070 FE?
At a Glance
Nvidia GeForce RTX 2070 Founders Edition

The Nvidia GeForce RTX 2070 Founders Edition packs futuristic hardware for ray tracing and AI-enhanced graphics, but it's also faster than the competition in traditional games. Nvidia's design is gorgeous, but similar performance can be achieved with lower-priced RTX 2070 graphics cards.

Pros

Great 1440p and entry-level 4K gaming performance
Founders Edition is beautifully designed
Easily overclocked
RT and tensor cores for ray tracing, DLSS, and more

Cons

Ray tracing and DLSS not available in games yet
Not a huge performance leap over GTX 1080
Expensive
Shop Tech Products at Amazon