At a Glance
Expert's Rating
Pros
Fairly lightweight at just over 4 pounds
Good CPU and GPU performance
Low-profile mechanical keyboard
Cons
Audio quality from speakers is sub-par
Body feels a bit thin
Power brick is too thick
Best Prices Today: XPG Xenia 15
The XPG Xenia 15 may not look "new" to you if you've been conditioned to consider "old hardware" obsolete the day the new models come out. But it's actually proof that prior-generation parts can be perfectly relevant, and even as fast as the latest generation of hardware.
The Xenia XPG 15's main specs consist of the Intel 9th-gen Core i7-9750H and the Nvidia GeForce RTX 2070 Max-Q. Both CPU and GPU are technically eclipsed by the newer 10th-gen Intel CPUs and Nvidia's new Super line of RTX GPUs, but if you think about the power and thermal limitations of laptops, the picture gets more complex.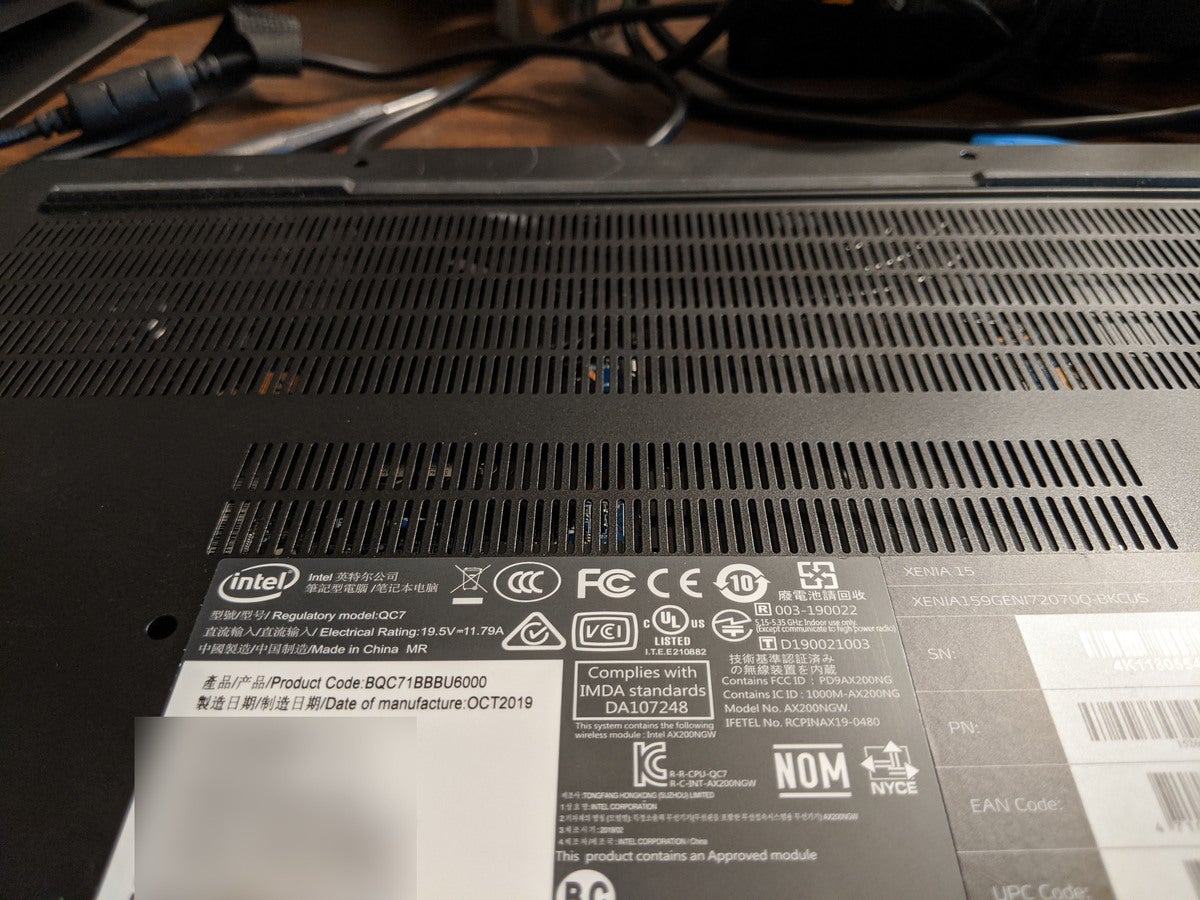 Intel designed it
Another unusual aspect of this laptop is its branding. Flip the laptop over and you'll see an Intel logo where you might expect to see XPG's. XPG is a gaming subsidiary of memory and storage maker Adata), but in this case Intel did much of the design work of the laptop and then tasked Chinese white-label PC maker TongFang with producing it.
Intel has long developed laptop and other PC hardware, which it shares with various companies, which in turn add their own finishing touches. This gives smaller players an opportunity even though they could never pay for the development costs themselves. As a result, you will see other laptops that look a lot like the XPG Xenia 15.
What's special about the XPG Xenia 15
Because XPG's parent company is Adata, naturally the company slips its own SSD into the Xenia 15, a 1TB XPG SX8200 Pro. OEM versions of SSDs often offer less performance than their retail counterparts by using higher-density, but slower QLC NAND drives. Not in this case: The SX8200 Pro is a 3D TLC drive with an SLC cache and DDR3 memory. The warranty on the SSD is five years, which is longer than a typical OEM SSD.
The other part XPG adds is a pair of 16GB Adata DDR4/2667 modules. Yes, we know, 32GB seems excessive for a gaming laptop. XPG said it opted for a minimum of 32GB for "future-proofing." XPG tries to sweeten the deal by saying the memory in the laptops use "hand-picked" Samsung dies, which are all rated with a CAS latency of 19. While it's true very few laptop vendors ever state the latency of the RAM they use, we should point out that CL19-rated SO-DIMMS are easy to buy on the open market.
Xenia 15 Specs
When you look at the whole spec list, you can see that if you set aside any bias toward last-gen parts, there's nothing "wrong" with this configuration:
CPU: 9th gen Intel six-core Core i7-9750H
GPU: nVidia GeForce RTX 2070 Max-Q
RAM: 32GB ADATA DDR4/2666 CL19 in dual-channel mode
Storage: 1GB ADATA SX8200 Pro NVMe SSD
Display: 1920×1080 144Hz AHVA
Networking: Realtek Gigabit ethernet, Intel Wi-Fi 6
Battery: 94 Watt-hour battery
Dimensions: 14 x 9 x 0.8 inches
Weight: 4.1 pounds, add 1.7 pounds for the power brick.
Xenia 15 Ports
For ports, we'll let the photos do the talking, but the main takeaway is you get just about everything you want. The first picture shows the spectacular Dell XPS 15 9500 next to the Xenia 15 for a size comparison. The right side of the Xenia 15 gives you two properly marked USB-A 5Gbps ports and an SD card reader. We have a longer story planned on SD card performance, but we'll say speed of the Realtek card reader in the Xenia 15 is underwhelming. The unit is plumbed to the laptop's PCIe, but it's only USB 3.0, so we saw read speeds of about 91MBps and write speeds of 64MBps in Crystal Disk Mark 7, using a Sandisk Extreme Pro UHS-II SD card rated for 300MBps reads and 260MBps writes. The same card in the Dell XPS 15 9500 will reach 275MBps reads and 217MBps writes. So yes, if you're copying a 40GB video to the Xenia, go grab a cup 'o joe while it's copying over.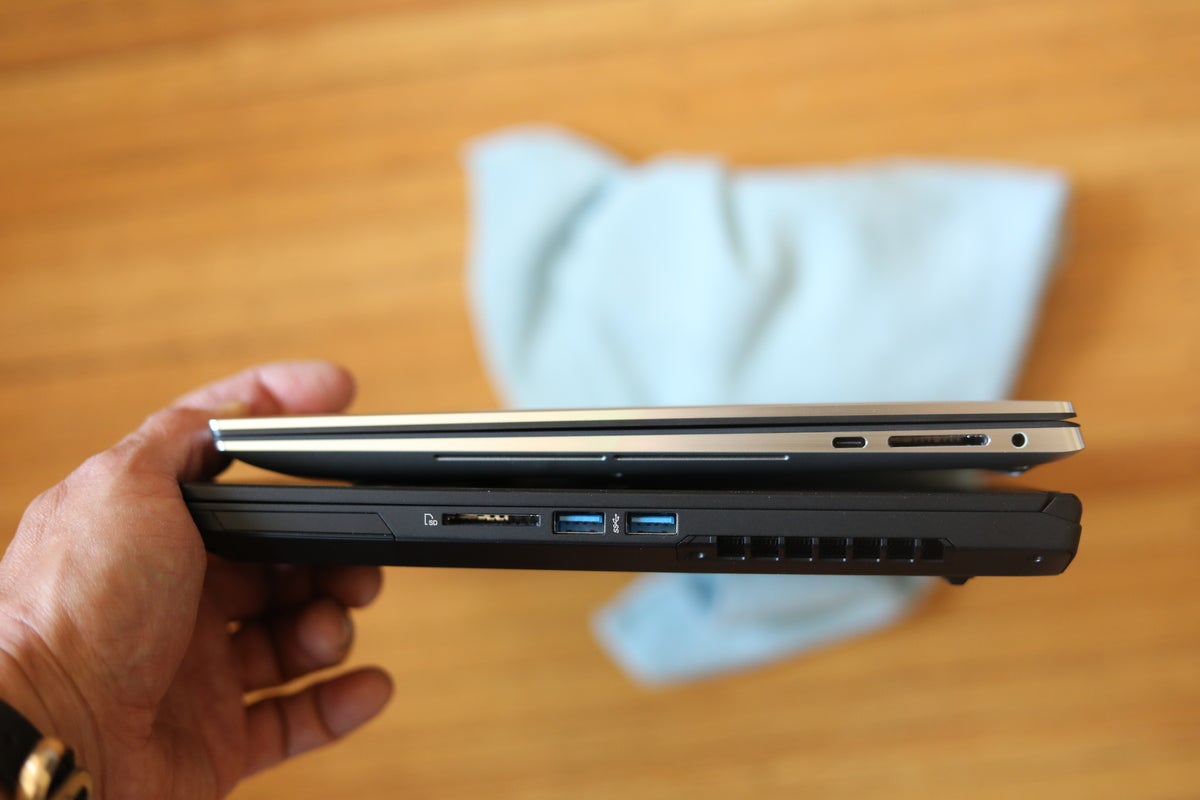 The left side of the Xenia 15 features a third USB-A 10Gbps port and a seperate mic and headset jack. If you're wondering why the Xenia 15 doesn't use a single combo jack like the average laptop, we suspect it's the gaming roots of the laptop. Gamers often want separate audio devices for streaming.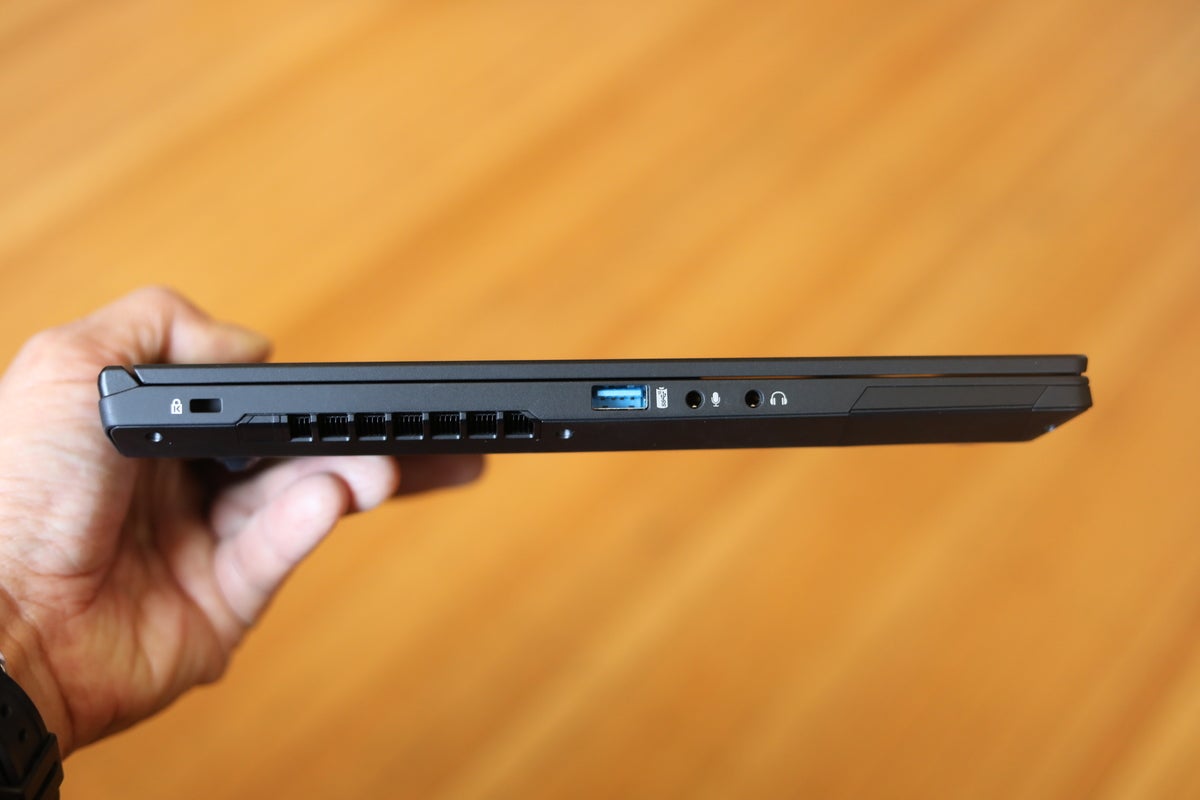 But wait, there's more. To jam more ports into the laptop, on the back panel XPG gives you Gigabit ethernet, full-size HDMI 2.0, Thunderbolt 3 and a dedicated charging port.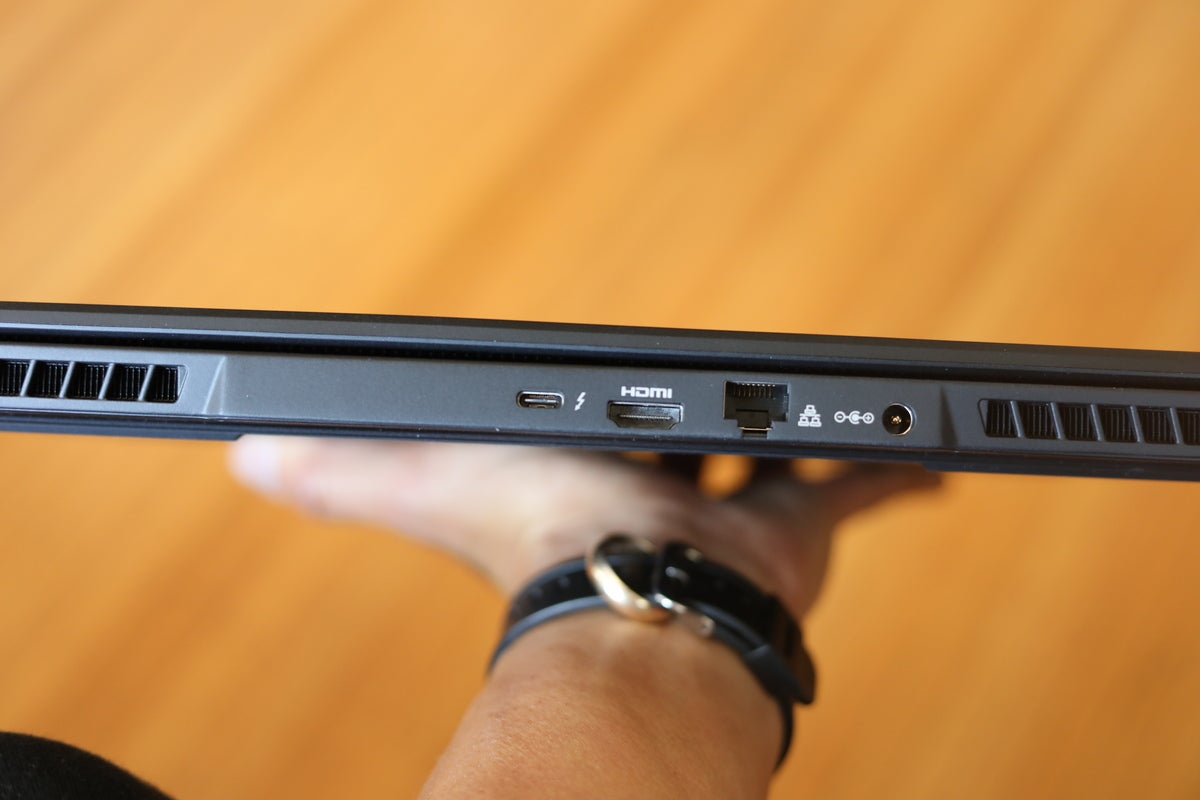 There is a little bit of a missed opportunity with the charging system on the Xenia 15. The laptop features a 230-watt power brick, which is fairly standard for laptops with GeForce RTX 2070 Max-Q level of graphics. It seems unusually thick, however, as you can see below compared to the same wattage brick that Gigabyte and MSI use with their GeForce RTX 2070 Max-Q laptops. The good news is that despite its bulk, it is actually a little lighter at 1.7 pounds for the XPG brick, compared to 1.9 pounds for the MSI and Gigabyte packs.
One feature we would have liked to see with the Xenia 15 is support for USB-C charging. Asus does it on its ROG Zephyrus Duo, so you can leave that bulky brick at home and carry a tiny GAN USB-C charger. You wouldn't want to play games or do anything strenuous for long on a 65-watt or 100-watt USB-C charger, but for normal use it'd be fine.
A lighter charger would be especially welcome with the Xenia 15 because it is, itself, spectacularly light for its class at 4.1 pounds. A typical 15.6-inch gaming laptop with GeForce RTX 2060 or higher graphics will push 4.5 pounds. Heck, even Dell's XPS 15 9500, with a much less powerful GTX 1650 Ti, is 4.4 pounds. So yes, in this age, the Xenia 15 is awesomely light.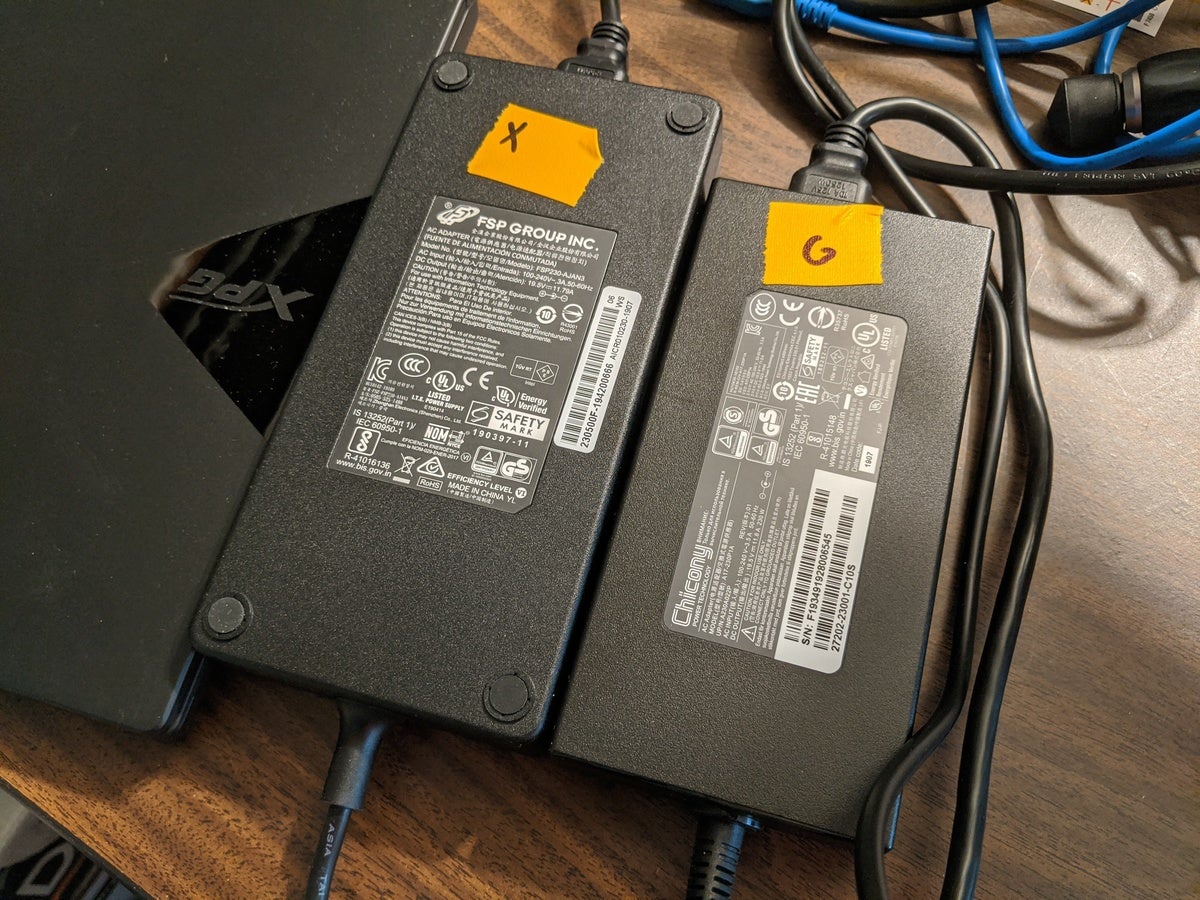 Webcam
The 720 webcam for the XPG Xenia 15 is mounted on the top bezel and offers adequate quality. You might say it tends to expose a little cold to purple, but for a Zoom call does it really matter?
What is unusual—and welcome—is the support for Windows Hello biometric login using the infrared camera. Some gaming laptops have started to integrate fingerprint readers, but it's even nicer to have the convenience of Microsoft's facial recognition.
Keyboard and trackpad
XPG uses an optical mechanical switches in the Xenia 15, and it's a fairly good implementation here. The layout includes full-size inverted-T cursor keys and no questionable button placements.
XPG said the keys approximate what a "brown"-class key feels like and offer 2mm of travel. There are also n-key rollover and per-key RGB lighting (of course). You get that very satisfactory crisp mechanical click feel, too, that makes our hearts sing.
Low-profile flat mechanical keys can sometimes be horrible to type on. Cooler Master's SK621 was so bad that the company has offered to give out updated key caps to people who bought the keyboard. We had no such issues with the Xenia 15's keyboard. The keys can be a bit wobbly, but we think it might just be worth it to have that click sound.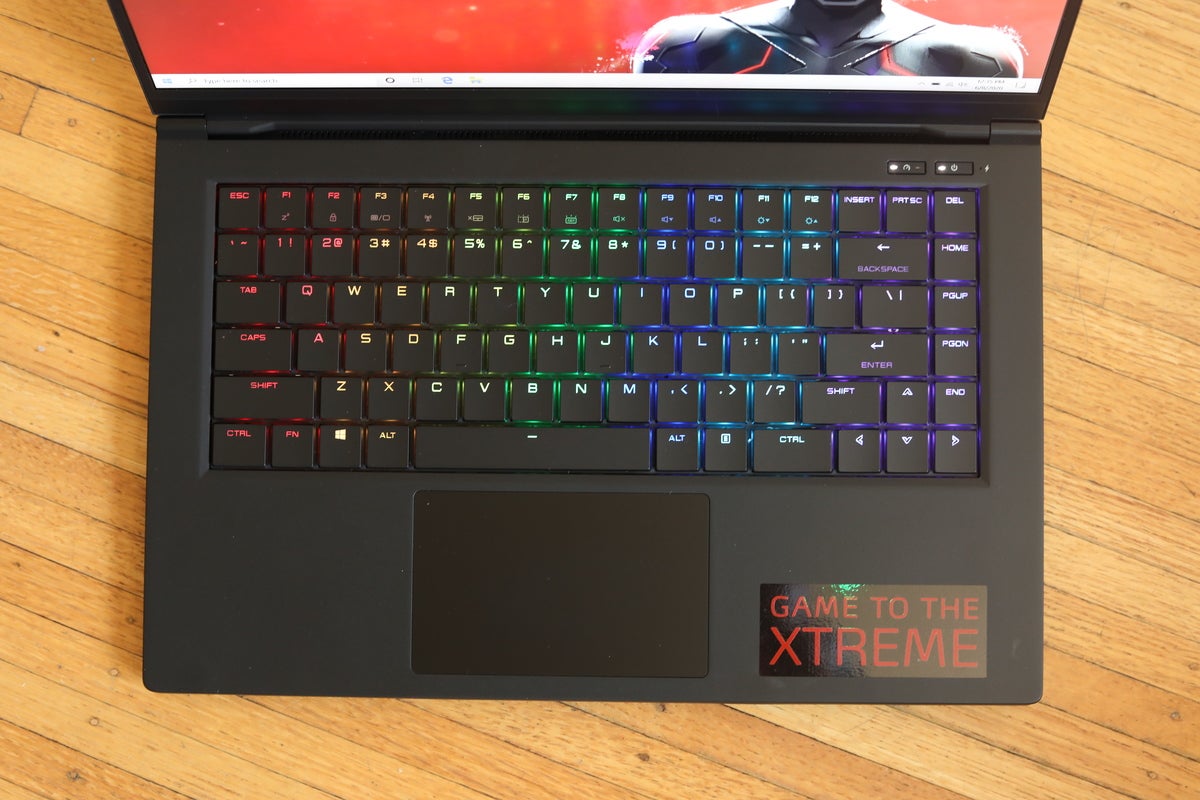 Speakers
The XPG Xenia 15 features two bottom-firing speakers that sound, well, like what we've come to expect of most thin gaming laptops where every cubic inch counts. It's clear XPG and Intel threw the speakers overboard and dragged them along the ocean floor for a few nautical miles. Are they as bad as the speakers on MSI's GS66 Stealth? No, but they're not much better. The audio sounds flat and lifeless, good for a "you've-got-mail" alert but that's about it. After hearing the audio in the Dell XPS 15 9500, we know what's possible in a thin platform if a laptop maker makes it a priority.
Upgrade Options
We didn't have time to snap a shot of the insides of the Xenia 15, but the design features two SO-DIMM memory slots, two M.2 slots, and Wi-Fi card, all accessible by removing the bottom lid.
Build quality
The XPG Xenia 15's build quality reflects its generic origins. Who does straight-cut vents on laptops anymore? They work fine, but they look dated. More to the point, it uses a magnesium shell that may be a little too thin and light. Squeeze it hard, and the chassis will flex. I won't say it feels flimsy, but it definitely doesn't have that solid feel of an XPS 15 9500 or Razer Blade 15. At least it has RGB LEDs on front—that counts for something.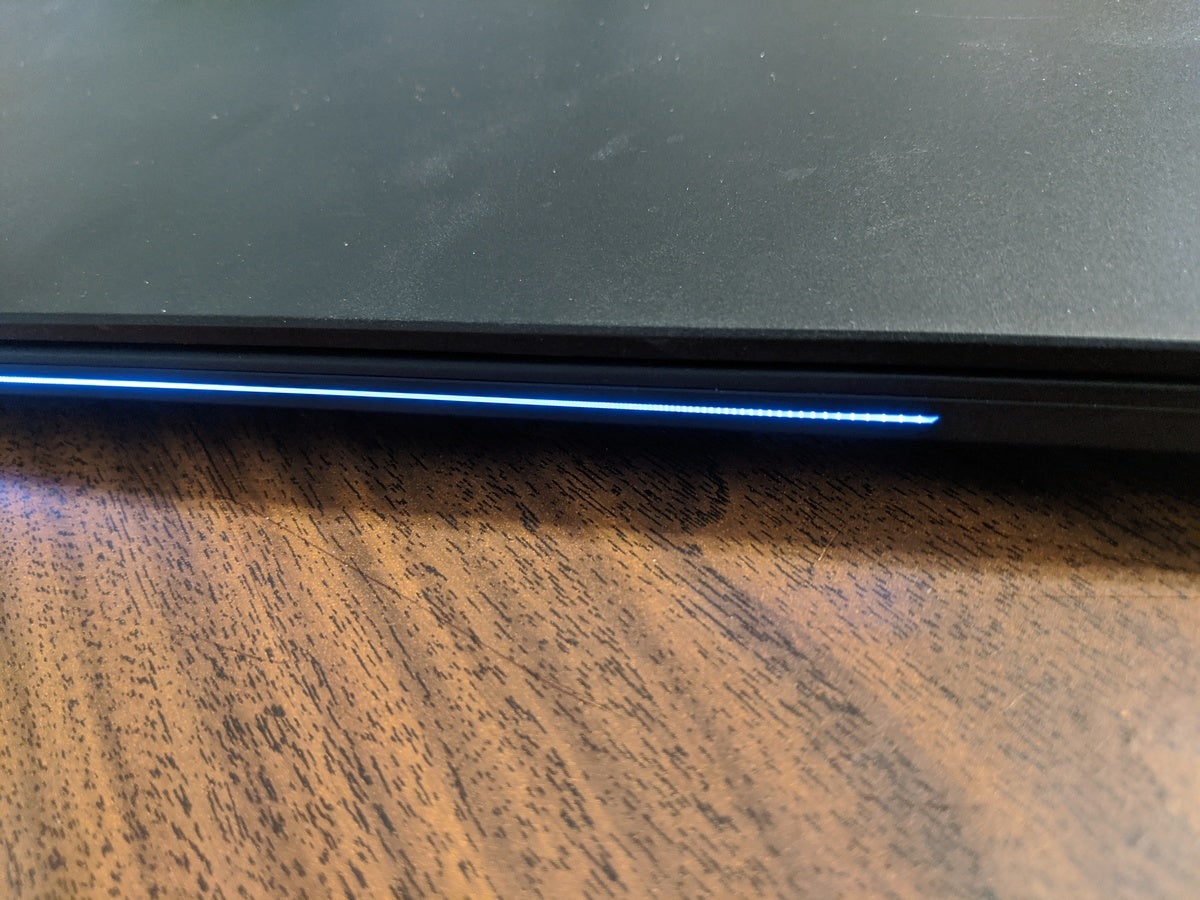 Keep reading for performance and battery life.
Xenia 15 Performance
Performance lies at the root of most users' suspicion over older parts. We ran the laptop using two of its three available performance modes—pressing the little speed-gauge button to the left of the power button will cycle it through Battery Saver, Balanced and Performance. There's even more control in the XPG Prime utility, which lets you select the fan mode along with the System Power Mode.
The System Power Mode is what interested us most. The key actively changes the performance profile of the CPU and the GPU. For the CPU, it's expressed as the amount of heat it can generate—the more heat it can make, the more performance you get.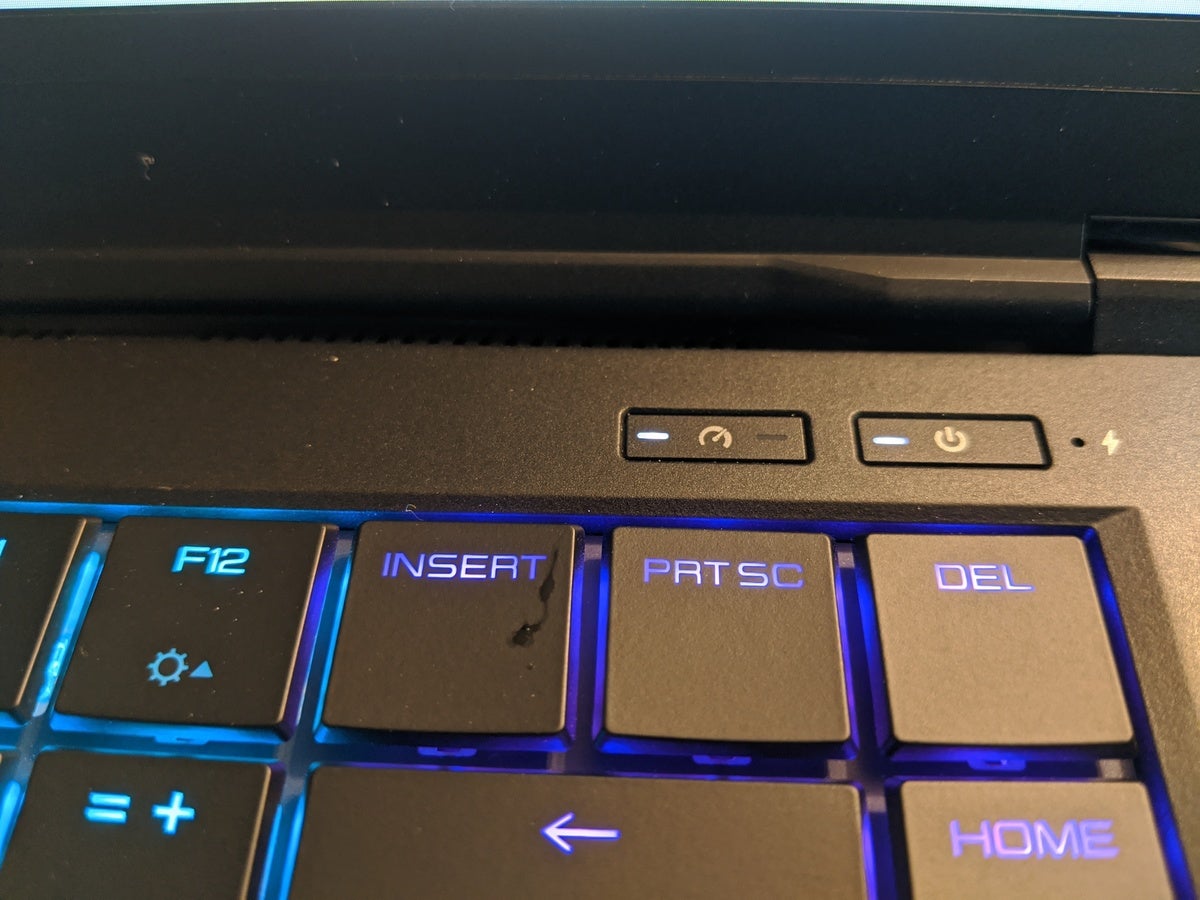 On battery saver, the CPU is limited to a long boost of 35 watts and short boost of 65 watts. The GPU takes one for the team, limiting itself to 32 watts, a maximum core clock of 990MHz, and a maximum memory clock of 202MHz (yes, really).
On the more typical Balanced mode, the CPU will boost up to 65 watts for a short period of time, with longer boosts of 45 watts. The GPU perks up, pushing 83 watts and clocking up to 1,783MHz, with memory spiking to 1,250MHz.
Set it to Performance, and the Xenia 15 will boost the CPU to 100 watts for a short period of time and fall back to a still-blistering 65 watts for a longer boost. The GPU core clock and TDP remain the same as in Balanced mode,but the memory will peak at 1,500MHz. On paper, this should mean a lot of speed.
First up is Maxon's older Cinebench R15. This is a multi-core benchmark based on the company's 3D rendering engine from Cinema4D. It's a good approximation of how well a laptop will perform under applications that can scale with the number of CPU cores.
You can see in the results just how much performance XPG is able to squeeze out of the six-core Core i7-9750H. It doesn't magically make it an eight-core CPU, but it gets darn close to the very similarly-sized MSI GS66 Stealth, which packs an eight-core Core i9-10980HK chip. Only when the MSI GS66 Stealth is pushed to its own "Extreme" setting does it pull away. We should also point out that when set to Performance, the Xenia 15 pretty much leads all other 6-core Intel chips.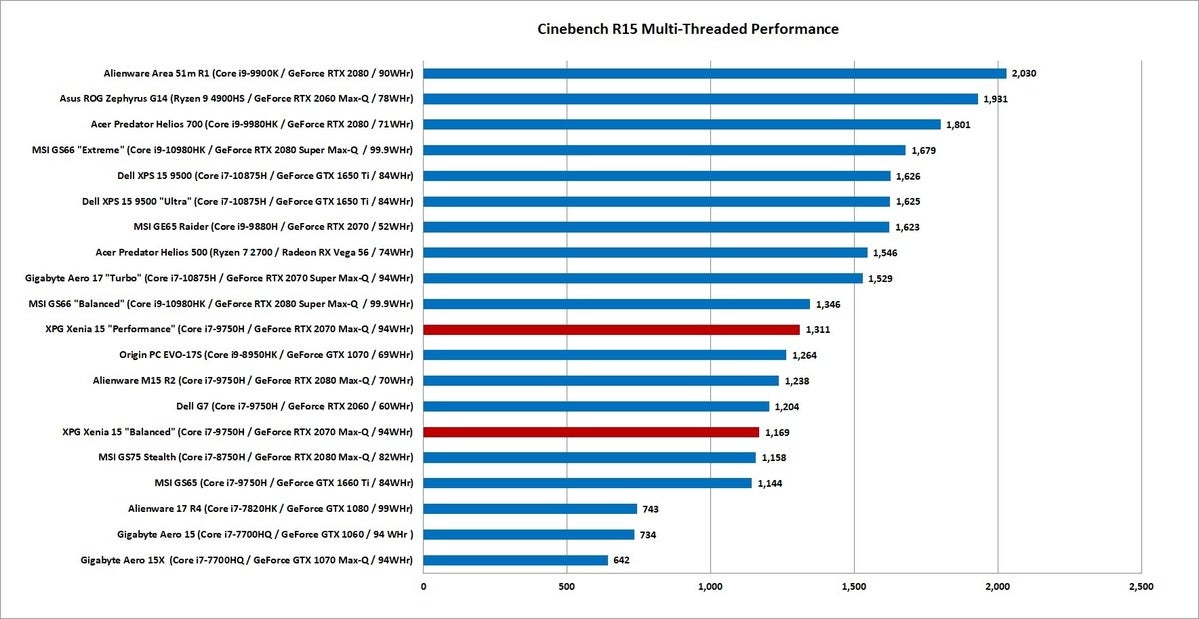 We also look at single-threaded performance as a way to approximate behavior in most of the applications we use every day, such as Microsoft Office, Chrome, and even most functions in Photoshop.
The result is solid for the Xenia 15. It closely follows most of the pricier Core i9 chips and the Dell XPS 15 9500 eight-core Core i7, and it again outpaces most of the Intel six-core chips. The actual difference between most of these laptops is minimal—you'd be hard-pressed to notice in real life.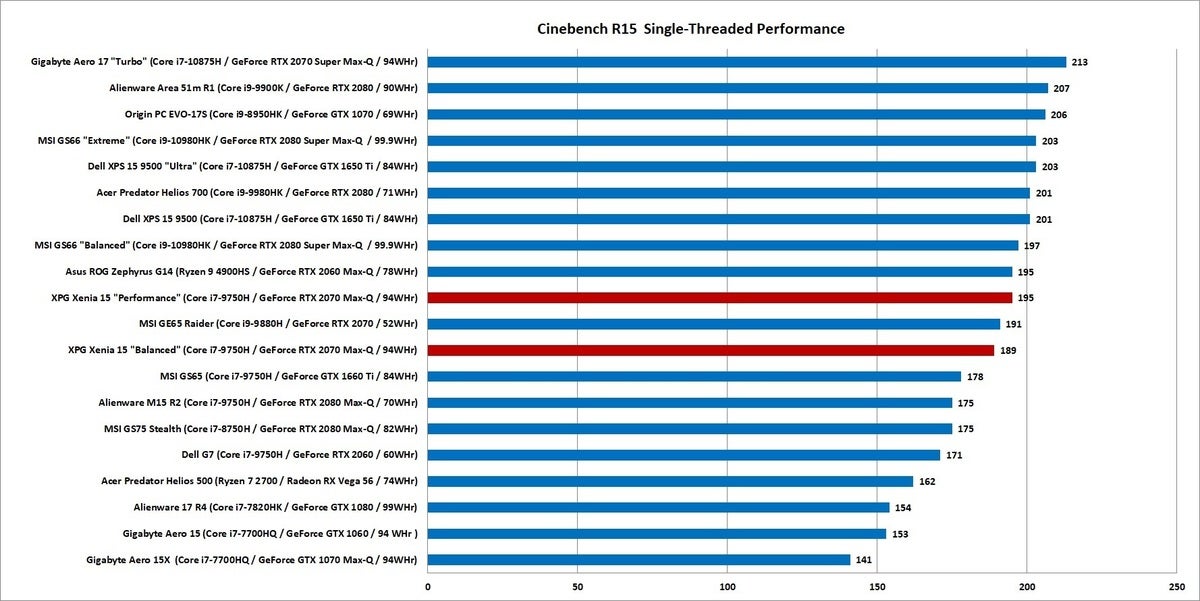 We also ran the Xenia 15 using the current Cinebench R20 version, which uses more advanced instruction sets. It also takes about three times as long to run, so laptops that rely on short boosts tend to give up the most ground. The Xenia 15 stays on top of the six-core laptops and again steps up really close to the MSI GS66 Stealth with its Core i9–until that laptop is pushed to its Extreme setting.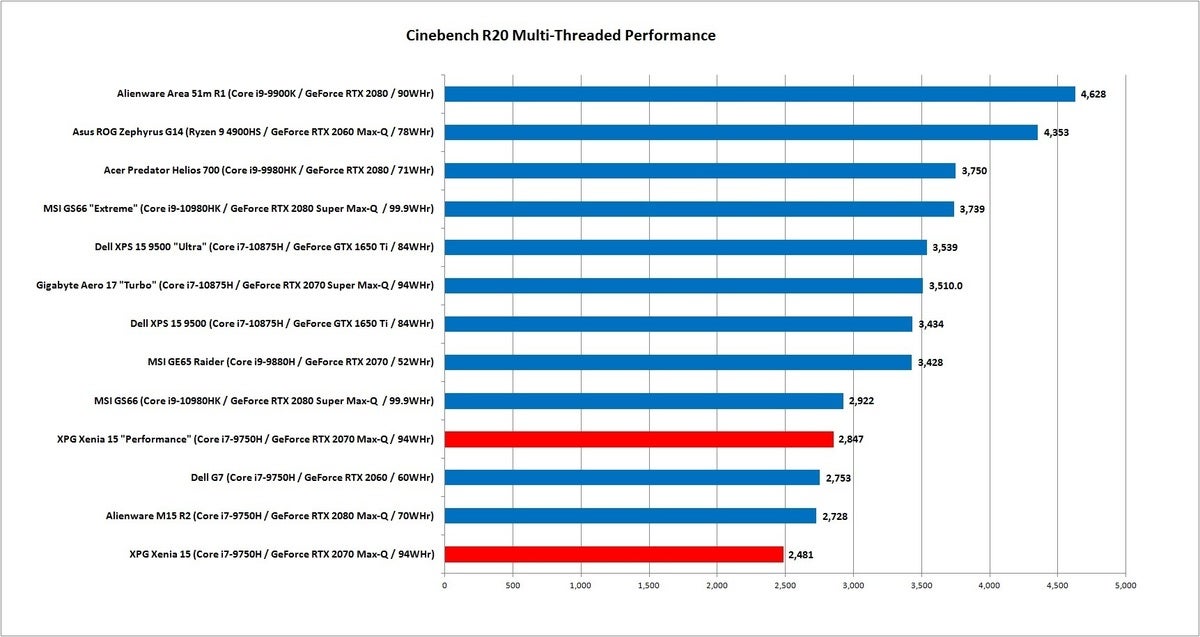 Next, we push a modern-day laptop enough to heat up its CPU, using the free utility HandBrake to convert a 30GB file using the Android Tablet preset. The test today takes about 20 minutes, which is an improvement over the 60 minutes it used to take. Under this test, we can see the thin XPS 15 9500 shed performance. The Xenia 15 at stock Balanced speed is about average, but its Performance setting helps push it to the front of the line for a six-core laptop and close to some of the more heat-sensitive eight-core models.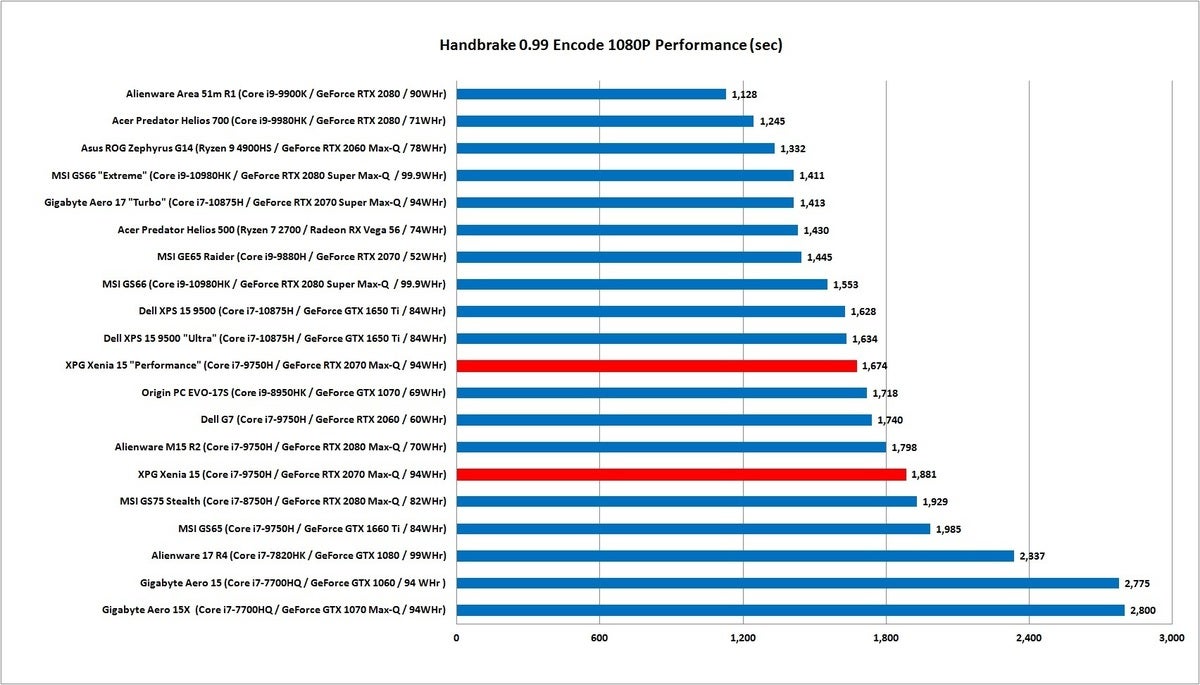 Moving on to graphics, we see once again that shifting from Balanced to Performance helps the Xenia 15 punch well out of its weight class. We also see the memory clock increase enhancing performance in this synthetic DX12 benchmark. The Xenia's plain RTX 2070 Max-Q is actually able to outrun the RTX 2070 Super Max-Q in the Gigabyte Aero 17.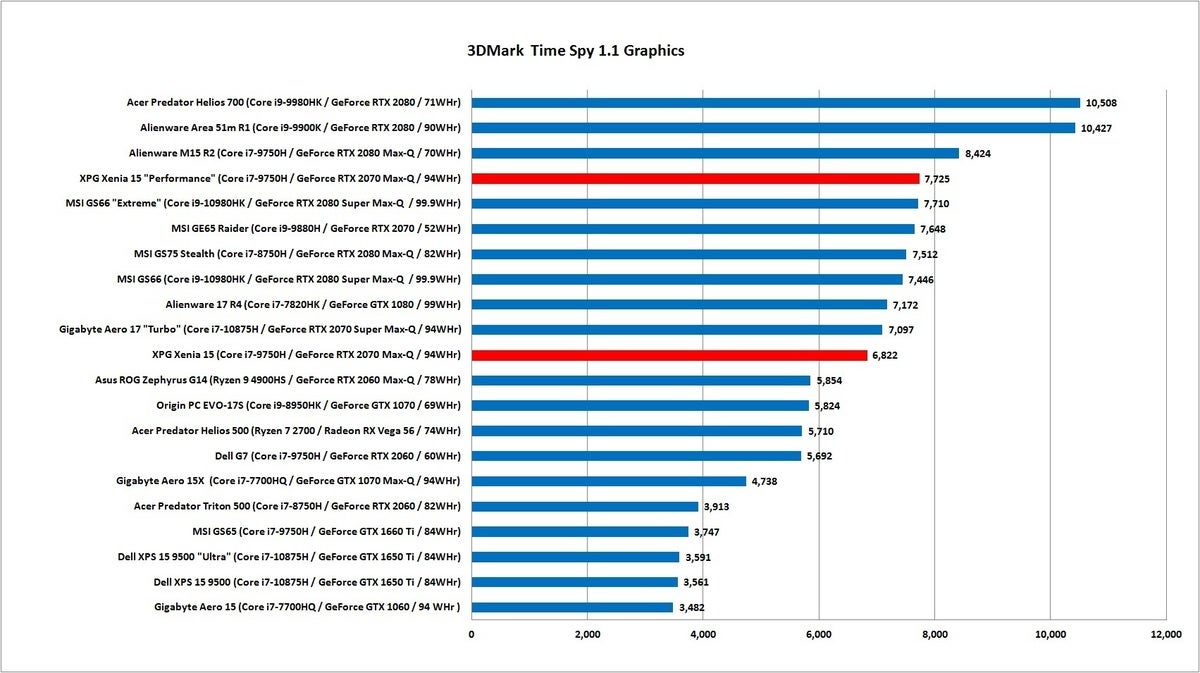 A GeForce RTX 2070 Max-Q is still just a GeForce RTX 2070 Max-Q, though, and it can't out-muscle the GeForce RTX 2070 Super. Using the older Rise of the Tomb Raider, for example, the RTX 2070 Super in the Gigabyte Aero 17 outperforms the Xenia 15's RTX 2070 by about 8 percent.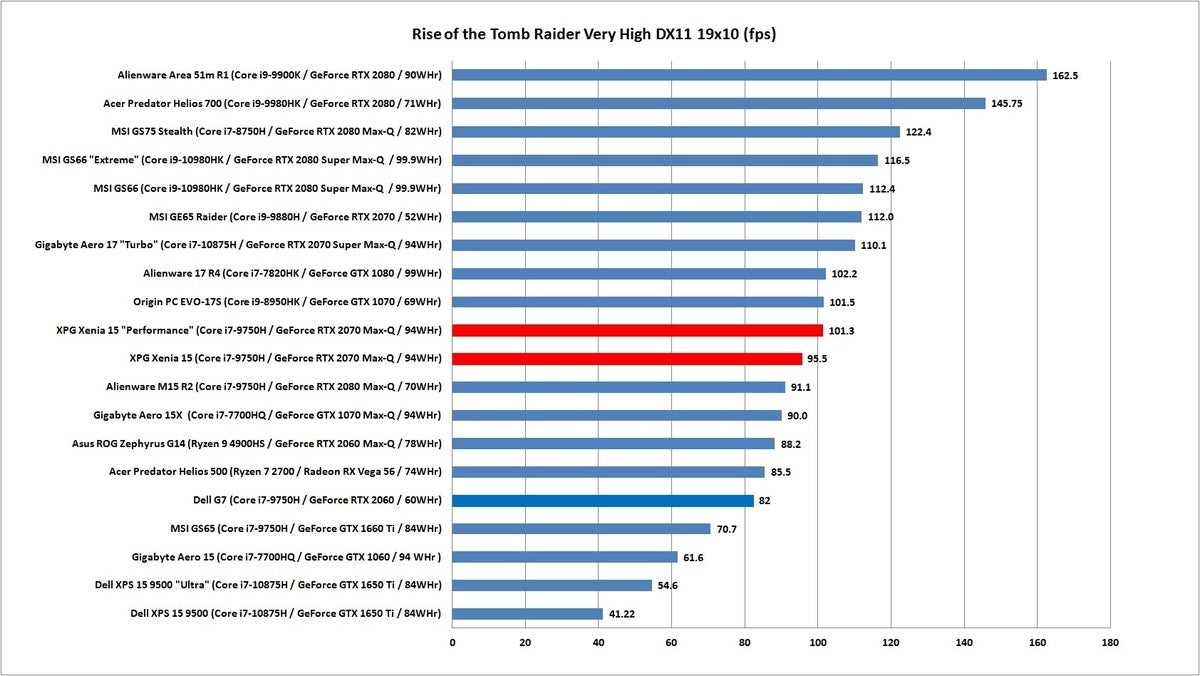 The last game we'll show you is Quake II RTX, which is a fully path-traced version of the classic game. It's basically a tour de force of DirectX Ray Tracing features that we likely won't see fully implemented in AAA games for several more years. Applied to an ancient classic though, it's possible. We don't have as many laptop results for this test but it does show you that in DXR, these laptops are very close in performance—Super and non-Super. We also see a decent performance bump for the Xenia 15 going from its Balanced mode to Performance mode.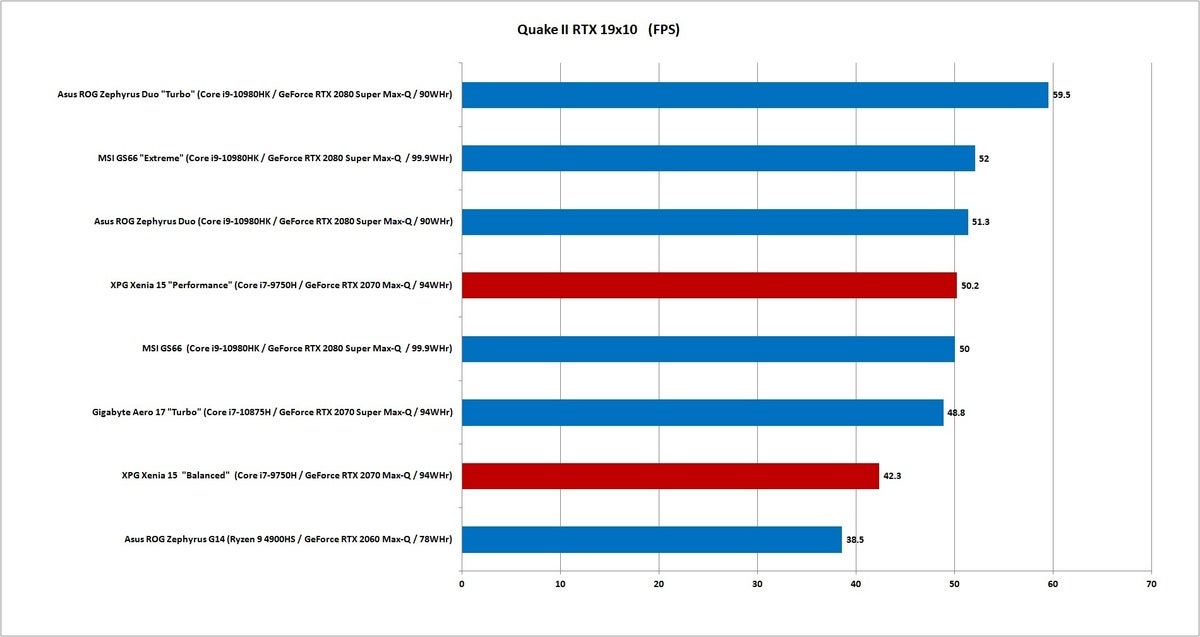 Our last test is perhaps one of the most important for a laptop: battery life. For that, we charge the laptop to full and run in airplane mode, with earbuds plugged in and the screen set to 250 to 260 nits' brightness. We then loop a 4K movie using Windows Moves & TV until the battery taps out.
In this case, because movie watching is actually a Battery Saving mode, we switched it on. The result quite good, at about 7.5 hours–just slightly more than the rest of the pack, and good compared to the current crop of thin-and-light gaming laptops.Watching a movie is a low-key task, however, so expect closer to 5 hours in mainstream productivity work. Crank up a CPU-heavy chore such as video editing, and be happy to get 2 to 3 hours. Playing a game, you shouldn't expect more than 1.5 to 2 hours.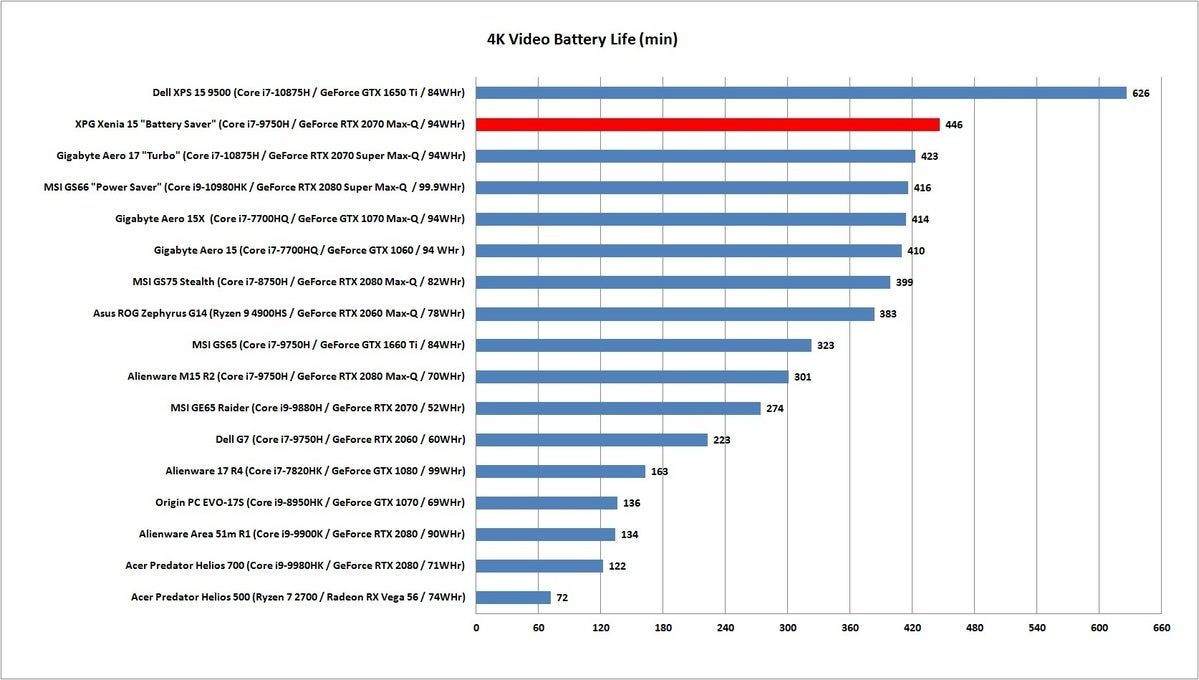 Value
Before we wrap this up, we do want to talk about the cost. This unit as configured is $2,000 on Amazon. You're not getting a huge price cut for this less-established brand, but we found other gaming laptops that bracketed the Xenia 15 by offering similar 6-core CPUs and 2070-class graphics at the same price or higher. Generally, the Xenia 15 offered either more storage or more RAM, as well as Wi-Fi 6, compared to most of the competition.
Conclusion
Overall, we're very impressed by the Xenia 15. We've long thought 4-pound, 15.6-inch gaming laptops with large batteries are just large enough to be usable, and the weight is reasonable too. Unfortunately, gaming laptop weights have recently trended upward to 4.5 pounds or more. It's nice to see a laptop this light is still able to crank out decent performance.
Ultimately what may stop people from buying the XPG Xenia 15 is the lack of name recognition. If you can get past that, this is a fair value, with very respectable performance. It's also perhaps the lightest 15.6-inch gaming laptop in town that also has a decent battery.
Best Prices Today: XPG Xenia 15