It wouldn't be a stretch to say that Intel's 11th-gen Tiger Lake is perhaps the most important laptop CPU launch for the company. While previous generations suffered no real competition from AMD, Tiger Lake enters the ring facing a legitimate foe: Ryzen 4000.
You can read up on AMD's game-changing Ryzen 9 4800HS, or its recently surfaced and equally impressive Ryzen 7 4800U for mainstream laptops. And yes, that was a budget Acer beating a Core i7 MacBook senseless.
Today, however, is about whether Intel's new 11th-gen 10nm Tiger Lake chip and its SuperFin transistors and Iris Xe graphics have what it takes to keep AMD at bay. Intel gave us the opportunity to take an 11th-gen Tiger Lake reference laptop (a sample design, not a retail product) for a spin.
Keep reading to see how it fares in a grueling roster of benchmarks. And if you want to skip to a specific section, please use the links at left or below: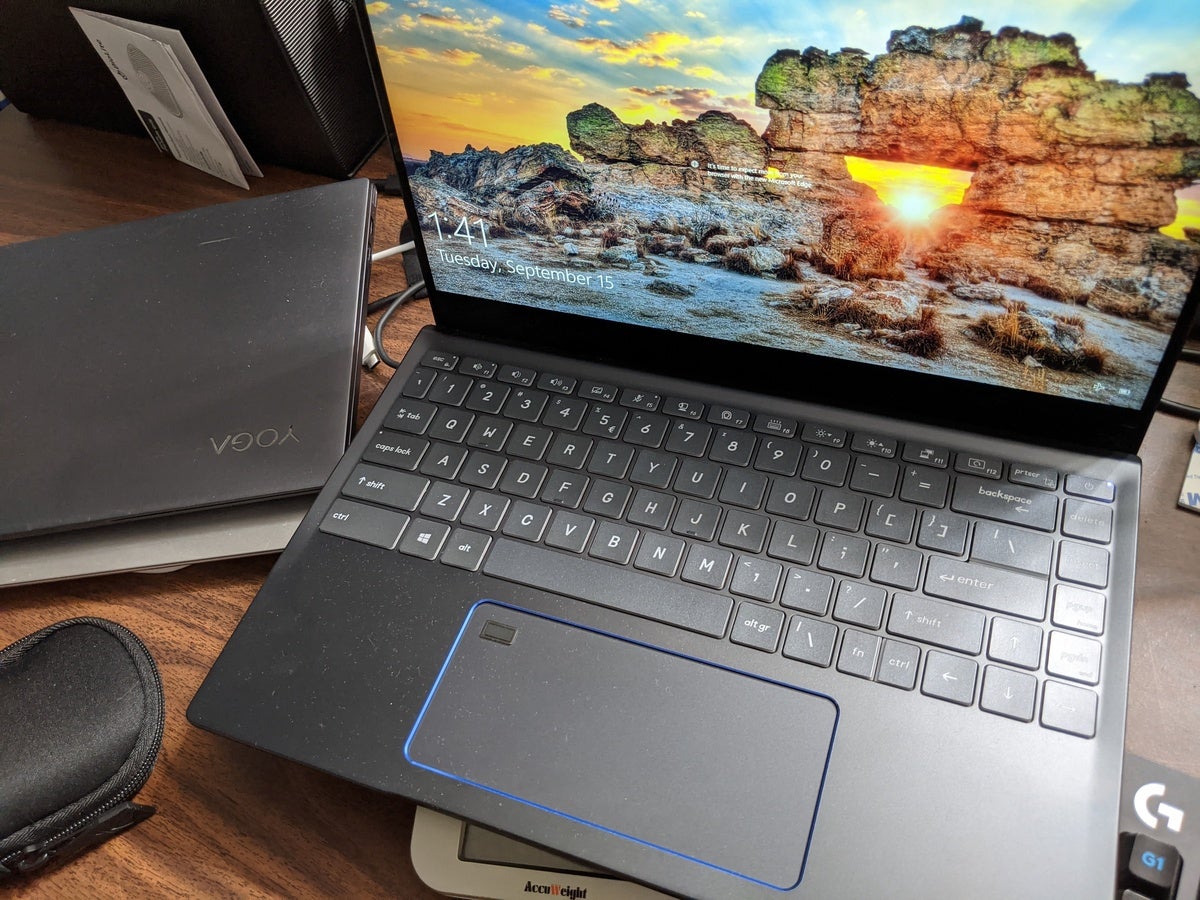 A preview with conditions
For this performance preview, Intel loaned us the laptop with a few strings attached. We say few, because there were a couple more for which we had a nerds' agreement not to test.
The main one was battery life. Intel said the reference laptop was still pretty rough in tuning, and the company didn't think it would be representative of battery life from a final unit. The trickle-down of that meant we also couldn't report on, say, how much power it used while on battery. Although battery power is extremely important in a laptop, we felt it was a fair request.
The second request was not to show a photo of the insides of the laptop. We are allowed to show you the bottom of it, and since we have seen the inside, we'll sketch out where the components are.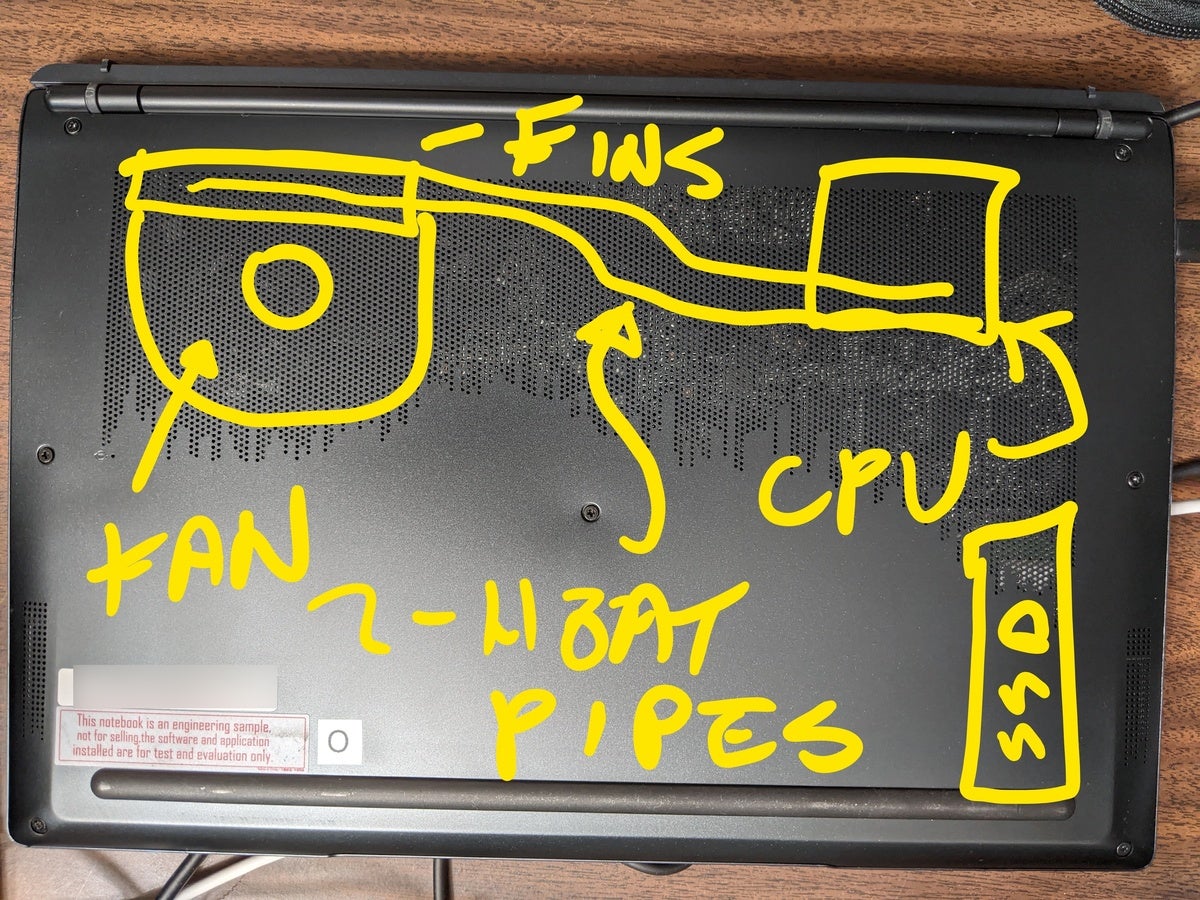 The laptop itself is built on a fairly light 14-inch body. In weight, it's actually very close to the 10th-gen Dell XPS 13 2-in-1 7390 and slightly lighter than Lenovo's 14-inch, Ryzen 7-based Slim 7. The laptop is actually capable of taking discrete graphics and features two heat pipes routed to a single fan and fin stack. The laptop features a Core i7-1185G7 Tiger Lake CPU with 16GB of LPDDR4X/4266 RAM and a 1TB NVMe SSD. There screen is a 1920×1080 panel without touch.
We can guess who made it, but we'll stick to our agreement and refer to it as a reference system. It's pretty easy, however, to search for 14-inch laptops with Comet Lake U and discrete GeForce GTX graphics if you want to see it in its branded trim.
Other than those agreements, we were free to run what we wanted. Intel did provide its RUGs, or "Representative Usage Guides," which are canned tests built on practical applications.
While we think there is value in them, we skipped running Intel's own tests, because it invites too much hand-wringing from worrywarts. That doesn't mean we skipped what Intel tested though, which you'll see below.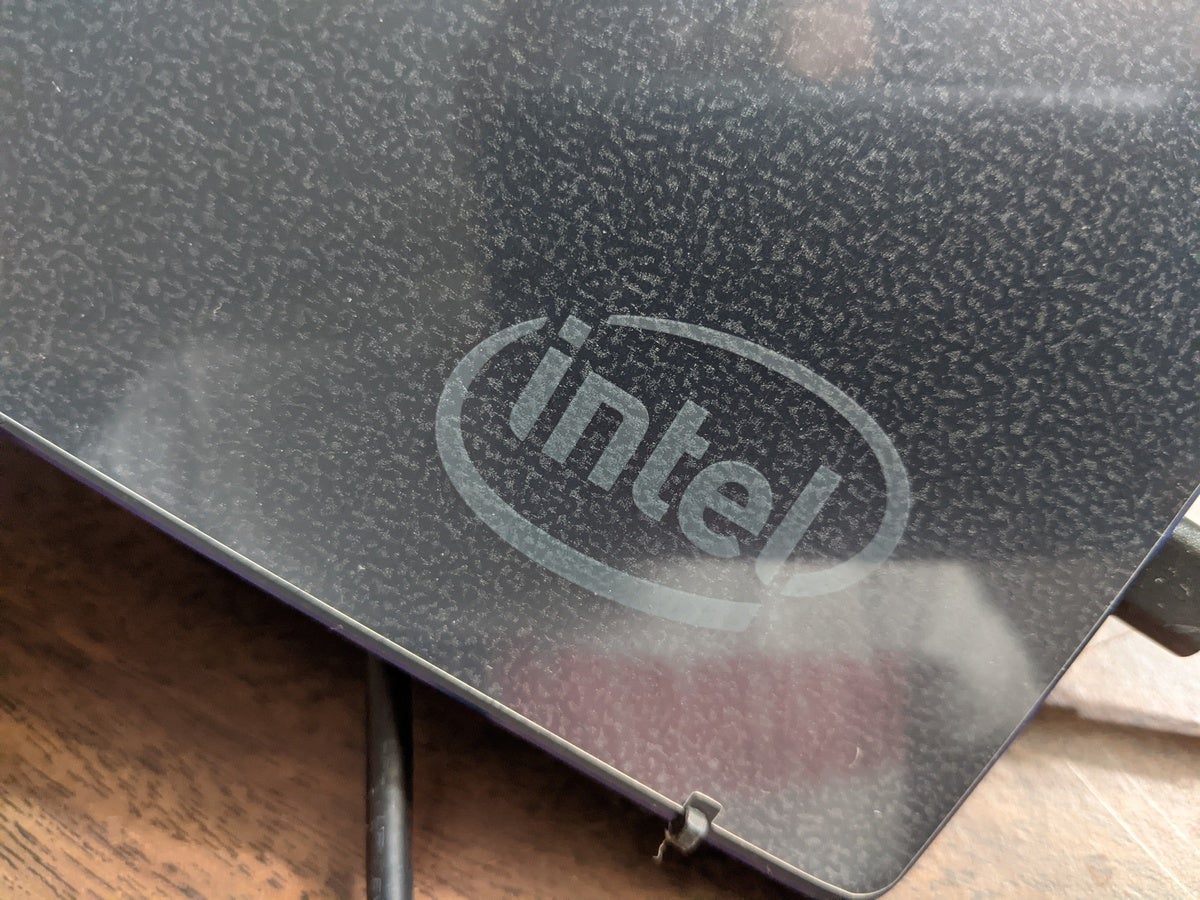 How we tested
For this performance preview, we compared the Core i7-1185G7 and Iris Xe graphics to three contemporaries: "Comet Lake U" in a Dell XPS 13 7390 with 6-core Core i7-10710U and HD graphics, "Ice Lake" in a Dell XPS 13 2-in-1 7390 with 4-core Core i7-1065G7 and Iris Plus graphics, and a "Renoir" 8-core Ryzen 7 4800U in a Lenovo Slim 7 with Radeon graphics. All of the laptops were running updated display drivers, the latest UEFI/BIOSes, and Windows 10 2004.
All three were also run on their highest performance settings. For the Dells that's "Ultra Performance," and for the Lenovo that's "Extreme Performance." Looking at what the laptops reported, the 14nm Comet Lake U told HWInfo it had a PL1 power limit of 22 watts. You can think of power limits like the gears of a car, and PL1 is very much like a second or third gear. A laptop will first hit PL2 for just a few milliseconds and then perhaps push PL1 for 28 seconds, or as long as it can sustain a certain thermal and power threshold. The XPS 13 7390's 6-core CPU shows the weakness of the hot 14nm chip with its 22-watt PL1. The 10nm 10th-gen Ice Lake in the XPS 13 2-in-1 7390 says it can hit 46 watts in PL1 for 28 seconds. We actually don't think it's 46 watts—we suspect HWInfo is reading the laptop's Adaptix technology. Adaptix uses machine learning to try to hold higher boost clocks. For the Lenovo Slim 7, HWInfo reported a PL1 of 38.5 watts.
All of the TDP ratings of retail laptops are based on tuning and optimization by the OEM. For the reference laptop, Intel lets us pick from three TDPs using the Windows power slider: 15 watts, 28 watts, and 28 watts with Dynamic Tuning. Dynamic Tuning is part of Intel's suite of tools to coax higher clock speeds out of a chip based on the workload. For what it's worth, HWInfo identified this as a PL1 of 36 watts. The last knob we had available to us was the laptop's own High Performance setting, which, when set, raised the PL1 to 41 watts.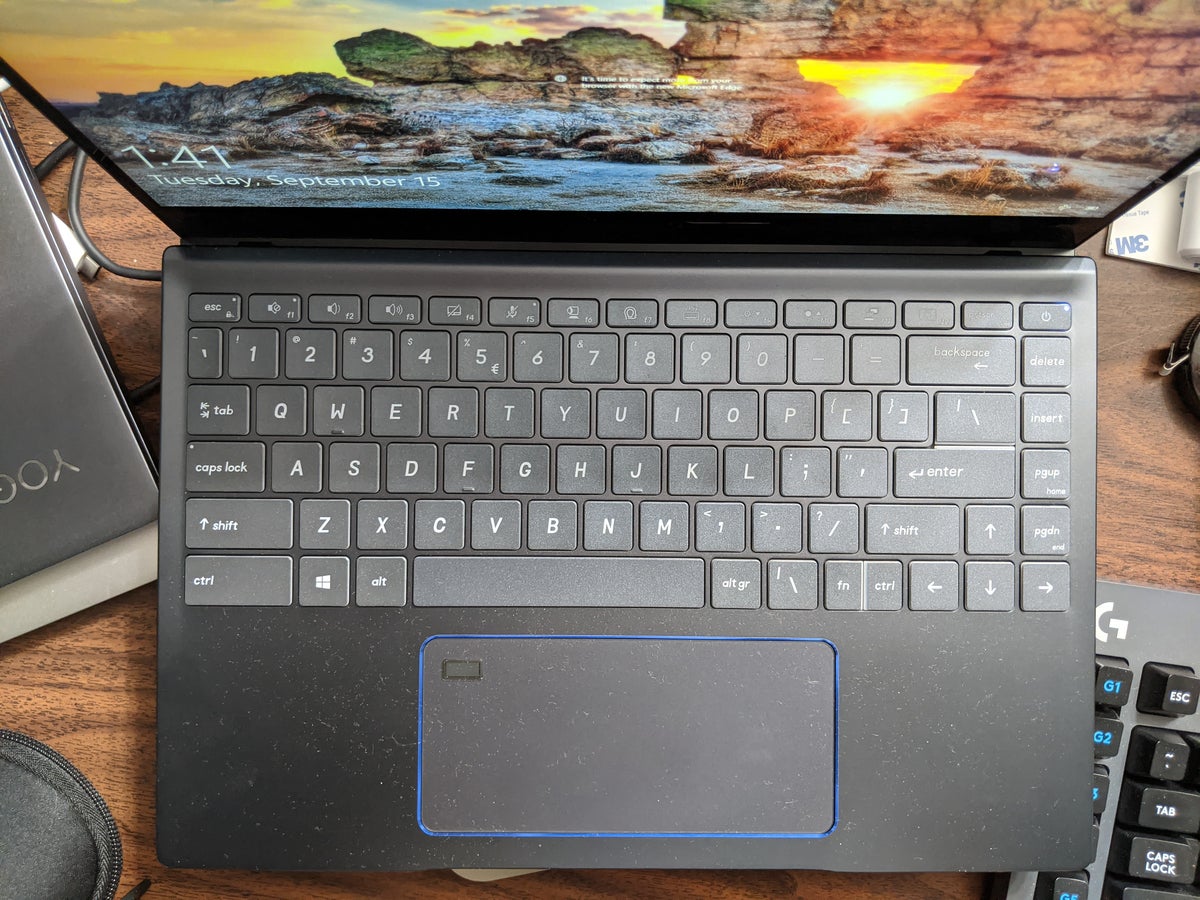 The limitations of this preview
While this preview will show what a Tiger Lake is capable of, there are limits to it. That's because PC OEM typically tune laptops based on what they wrap around the CPU. While we can show you how it performs at a hard-locked 15 watts (28 watts with Dynamic Tuning enabled), it's hard to say what a particular laptop maker will decide for its design. In short, your mileage may vary in an actual production laptop.
Still, the value is you can potentially see the upper and lower limits of how well an 11th-gen Tiger Lake performs. In a design that pushes Tiger Lake hard, such as MSI's Stealth 15M, it might even be faster.
11th-gen graphics performance: Intel in front!?
We'll kick this off in the area that's truly the most shocking: Intel's leading graphics performance. And yes, if you see a snowman in summer, it's because for the first time in forever, Intel's graphics performance isn't embarrassing.
UL's 3DMark Sky Diver is a synthetic, but very repeatable graphics test that's made to measure fairly moderate gaming loads. We'll first show you 3DMark's Sky Diver graphics result, which makes it a nearly pure graphics test.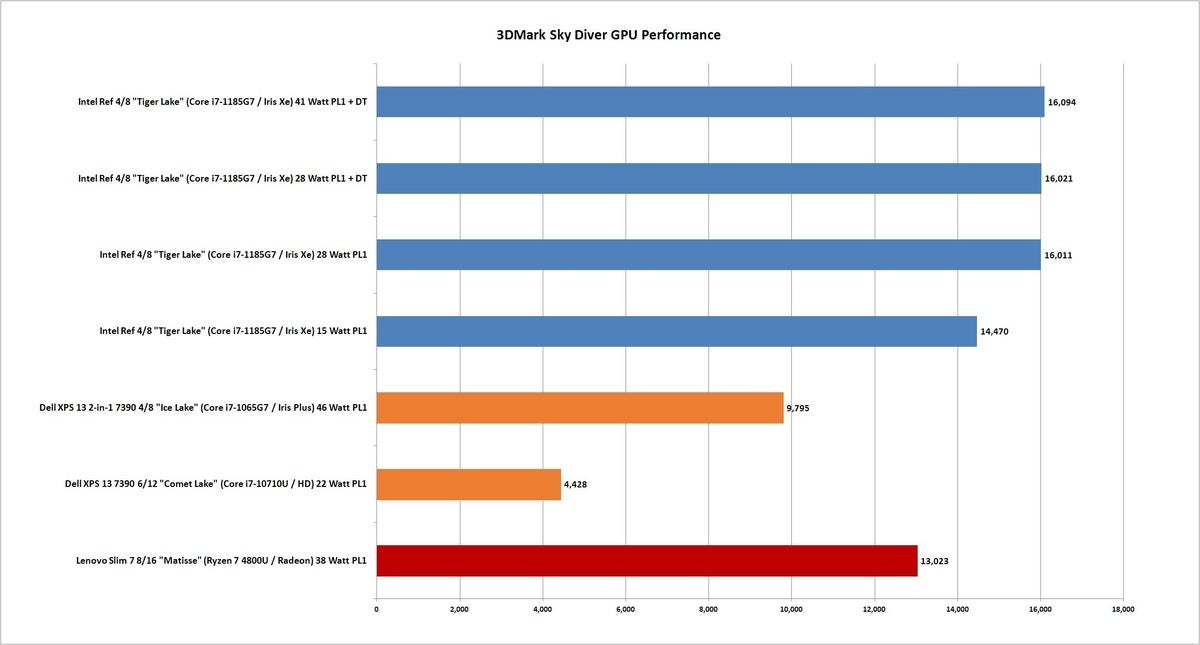 3DMark's Time Spy test is a little more strenuous. It's a DX12 test that UL said actually loads up a GPU five times more than 3DMark's FireStrike. What's amazing is the results almost look the same as Sky Diver.
With 11th-gen Tiger Lake set to its higher wattage, it's almost 300 percent faster than the ancient Intel HD graphics in the 10th-gen Comet Lake U chip, and about 90 percent faster than the 10th-gen Ice Lake U chip. More importantly for Intel is its position ahead of Ryzen 7 4800U. Even with its 8 CU's of Radeon graphics cores and LPDDR4X/4266 inside the AMD laptop, the Core i7-1185G7 is still a healthy 35 percent faster than its nemesis.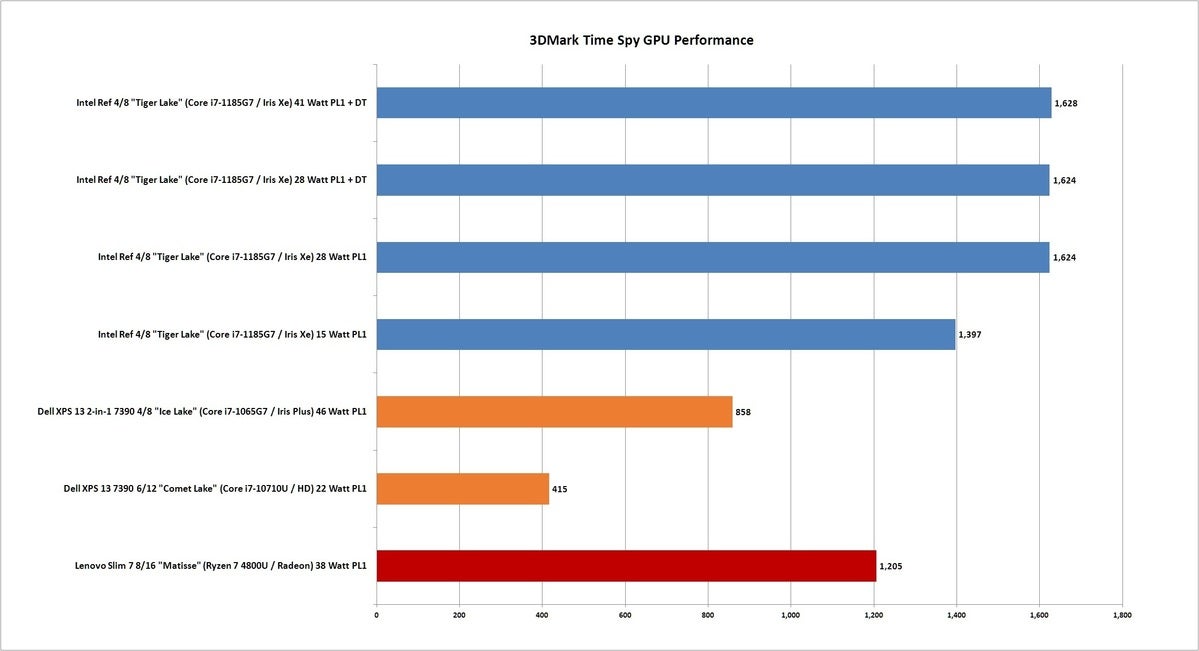 We could show you results from other 3DMark tests, but we've had enough of the synthetics. And rather than use games you'd normally run on laptops with integrated graphics, such as Rocket League or other eSports titles, we reached for games a little harsher.
The first is Far Cry New Dawn, which we ran at 1920×1080 resolution with the game set to Normal. The performance is again impressive for Intel's Iris Xe: It comes in 360 percent faster than Intel HD, 100 percent faster than Ice Lake's Iris Plus, and 33 percent faster than Ryzen 7 4800U's Radeon.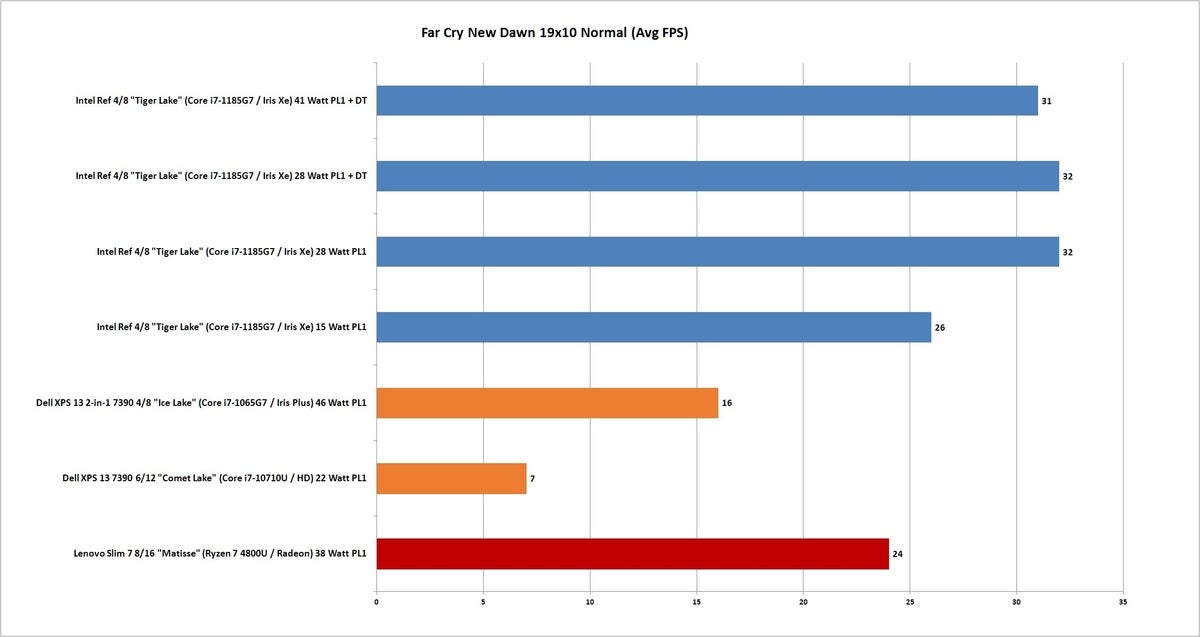 The Far Cry series has typically been slower on Ryzen desktop CPUs, so we also looked at performance on a game friendlier to AMD: Deus Ex Mankind Divided. This game was one the first that was patched and recommended by AMD in the rollout of the original Ryzen desktop chip.
For this showdown, we run Deus Ex at 1920×1080 with the game at its medium preset. The Tiger Lake result is about 300 percent more performance than Intel HD, 109 percent faster than 10th-gen Ice Lake's Iris Plus, and about 36 percent faster than Ryzen 7 4800U.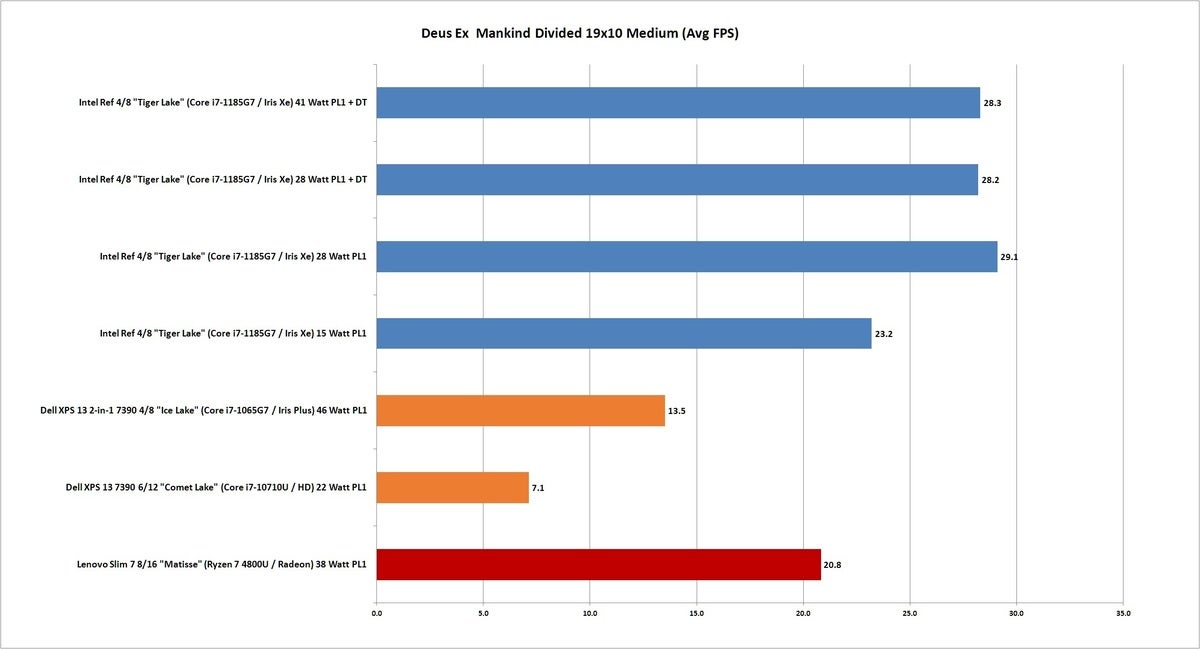 Moving to Metro Exodus at 1920×1080 with the normal preset, we find the 11th-gen Core i71185G7 and its Iris Xe graphics about 244 percent faster than Intel HD, about 93 percent faster than 10th-gen Ice Lake Iris Plus and 26 percent faster than Ryzen 7 4800U.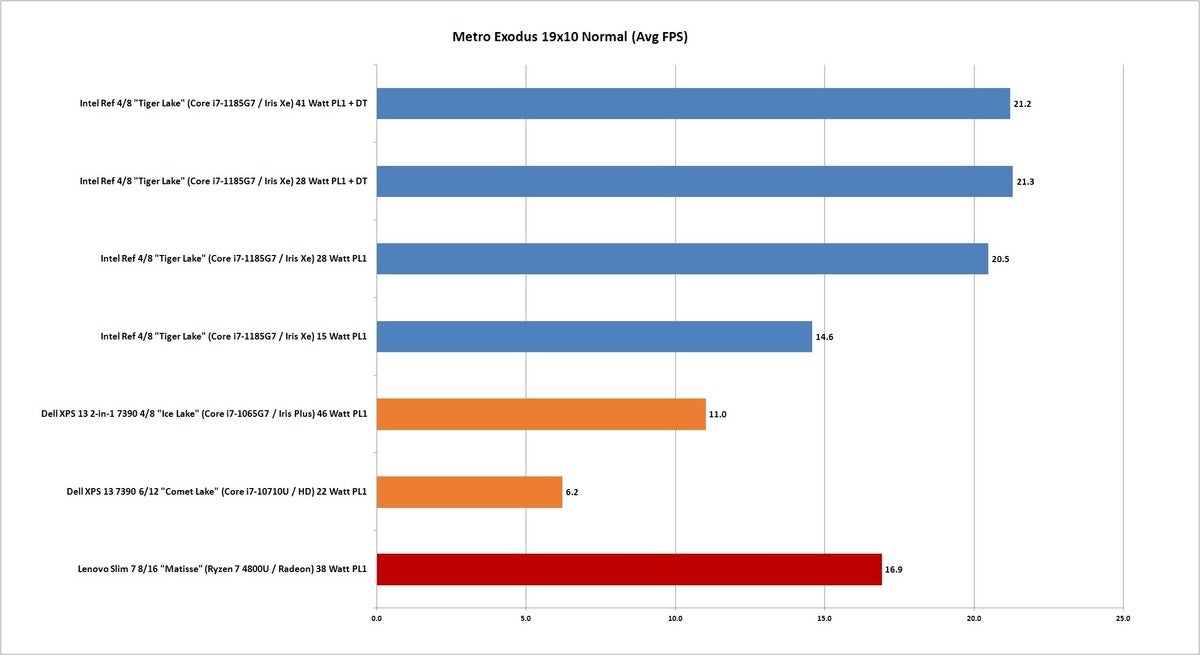 The last game we'll show you is Shadows of the Tomb Raider, also set to 1920×1080 and Medium. The game is pretty tough on the laptops—both the 10th-gen Core i7-1065G7 and 10th-gen Core i7-10710U failed to complete running the benchmark. Ryzen 7 4800U did manage to close up with the Core i7-1165G7, but it still sees the Iris Xe about 16 percent faster in the run. Winner: Tiger Lake.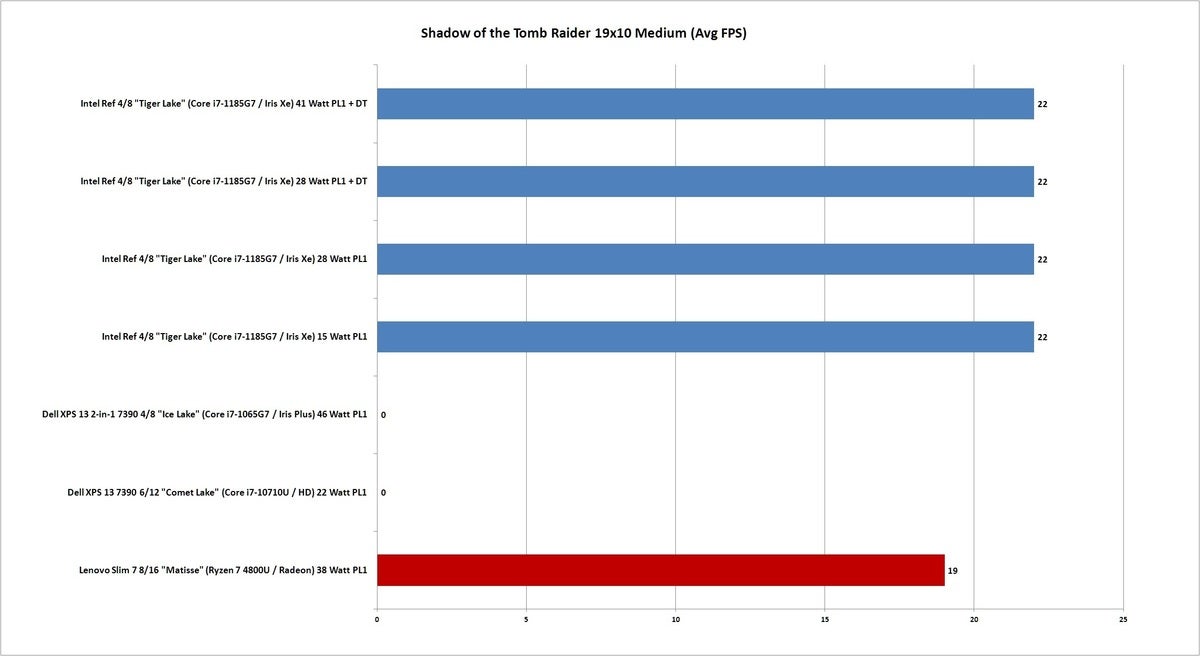 In no game did we see the 11th-gen Tiger Lake and Xe chip lose. We also tried Red Dead Redemption 2, where, thanks to Tiger Lake's immature drivers, the game crashed during the benchmark. That probably sounds bad, but Intel said it knows about the issue and will soon deploy a new driver to correct it. For what it's worth, the Ryzen 7 4800U gave us about 8.5 fps in RDR2, while to my eye, the benchmark run on Xe looked far smoother—we'd guess in the mid- to high teens in performance.
Yes, none of these are a GeForce RTX 3090—but the fact that you can even entertain playing slightly older AAA games on a laptop with Intel integrated graphics is unheard of. Crank down the resolution and tune some game settings, and we think Xe could be as revolutionary in laptop gaming as, well, AMD's Ryzen chip was.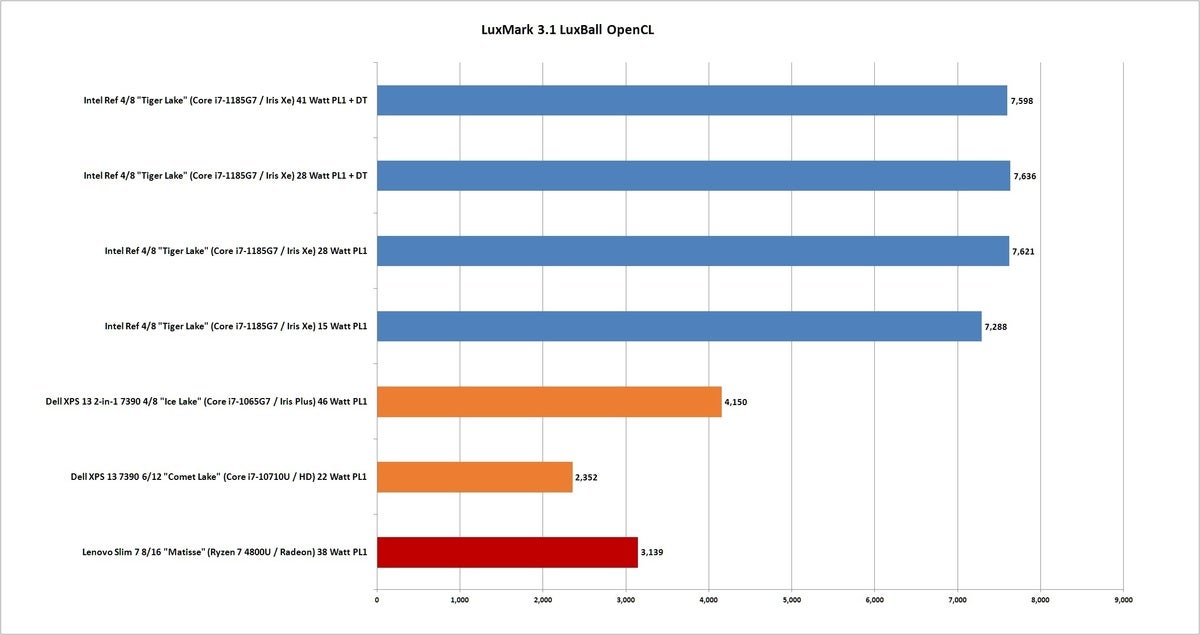 Although the OpenCL graphics engine seems to be rapidly losing steam, we did want to see where the Xe falls, so we used LuxMark 3.1 and LuxBall. It's again very impressive, with Iris Xe about 225 percent faster than Intel HD graphics, 84 percent faster than Iris Plus and 143 percent faster than Radeon.
The last graphics-focused test we wanted to run was the free HandBrake utility, using the CPU's Quick Sync engine. Intel said the results wouldn't currently represent what Tiger Lake can do. We suspect that means Tiger Lake would lose, as we've tested AMD's VCE against Ice Lake's Quick Sync performance and Ryzen was slightly faster. Still, there's not much of a point right now.
We'll close out with one advanced media engine test: Microsoft's free Video Editor built into Windows 10, which leverages both Quick Sync and VCE. We had previously tried to use it when Ryzen first came out, but the hardware acceleration didn't work on AMD CPUs. AMD has since worked with Microsoft to fix it. For this simple test, we take the Tears of Steel 4K video, throw on a sepia filter, and export it to 1080p with hardware acceleration enabled.
While all the chips are decently fast, Ryzen actually finishes last, even losing to the 10th-gen Comet Lake U chip. 11th-gen Tiger Lake itself comes in second place, with the 10th-gen Ice Lake crossing the finish line first.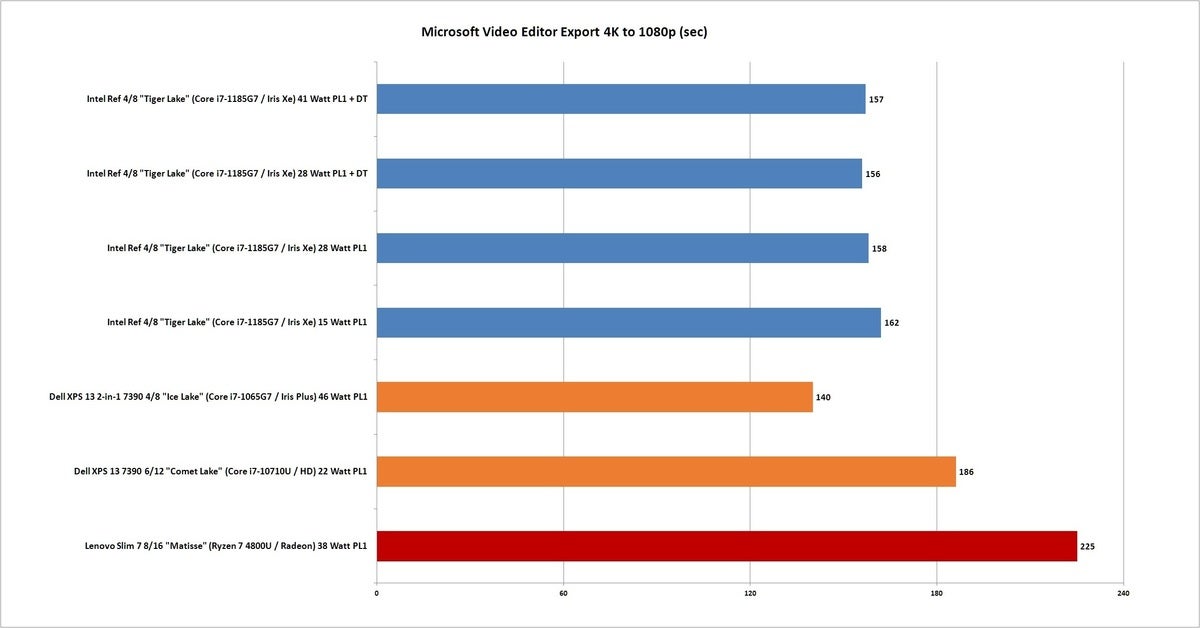 11th-gen Tiger Lake CPU Performance
With graphics out of the way, we move onto the choppier waters of CPU testing. We have no doubt that Intel wins graphics, but on the other side of the aisle it's more nuanced.
We'll kick this off with the good news for Intel: awesomely high clock speeds. With the Core i7-1185G7 capable of hitting 4.8GHz on boost, and 4.3GHz on all cores, it's hands-down the winner on lightly threaded tasks. You can see this in one of the tasks that typically leans on frequency more than core count: Microsoft Office. When paired with Microsoft Office, PCMark 10's Applications test runs the computer through Word, Excel, PowerPoint, and Edge and measures its response doing mundane office tasks. It's about as real-world as you can get because you're actually using Microsoft Office.
The 11th Core i7-1185G7 comes in about 24 percent faster than the lower-clocked 10th-gen Ice Lake Core i7. In a reversal, the 10th-gen Comet Lake Core i7 using the older 14nm cores actually outpaces the 10th-gen Ice Lake chip. Why? We suspect the reason the 6-core 10th-gen Comet Lake U is faster is its higher boost clock compared to the 10th-gen Ice Lake. It's not enough to beat the new 11th-gen Tiger Lake, which has a 16-percent advantage over it.
Ryzen 7 4800U boasts more cores, but it also can't hit clocks like Intel can, which we think is the reason the 11th-gen Core i7-1185G7 comes in 30 percent faster than Ryzen. That's a hands-down win for the 11th-gen chip.
One thing we want to note: While it's demonstrably faster in the results, is it really something you'd notice while you churn through an email about TPS reports or work on an Excel spreadsheet for corporate accounting? That's hard to say, but the numbers, at least, give 11th-gen Tiger Lake the win.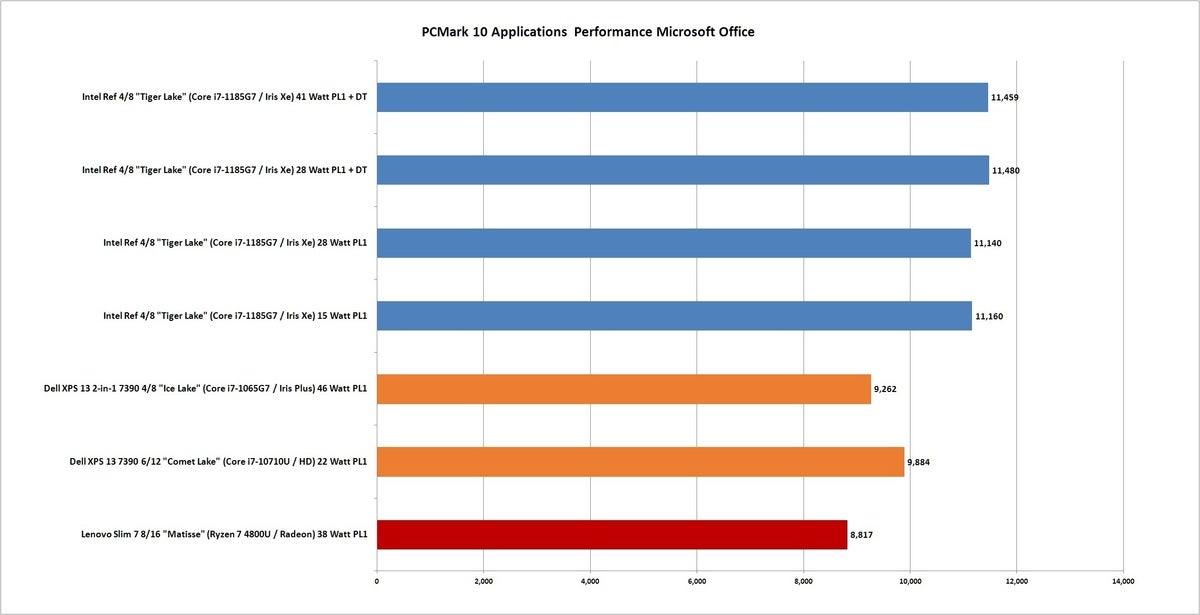 Maybe Cinebench ain't so bad, Intel
Intel has long argued that Cinebench is mostly irrelevant to those who use 13-and 14-inch laptops, because less than 1 percent of people actually do 3D modelling on a tiny laptop. That's a fair point, but you can also use Cinebench to measure single-threaded performance. We use the newest version of Cinebench R20, which uses AVX, AVX2, AVX512, and also takes at least three times as long to run as the older R15 version. That typically hurts chips that rely on boost clocks but doesn't matter much in single-threaded mode.
Against the lower-clocked 10th-gen Ice Lake chip, the 11th-gen Tiger Lake is an impressive 32 percent faster in single-threaded performance. Even more impressive is the fact that the Tiger Lake chip really only has a 23-percent clock boost advantage over the 10th-gen Ice Lake chip.
The 10th-gen Comet Lake U chip has on paper a boost clock of 4.7GHz, just 2 percent slower than the 11th-gen Tiger Lake's 4.8GHz. In actual performance in a single-threaded task, however, the 11th-gen Tiger Lake is actually 25 percent faster. Why? As we mentioned earlier, Cinebench R20 touches AVX, AVX2 and AVX512 during its run. On older Intel chips, that typically results in lowering of clock speeds, as the instructions tend to be power-hungry. The test also takes quite a while to run, and the 4.7GHz 10th-gen Comet Lake U quickly fades off as the test grinds on. It seems to be a limitation of the older, hotter 14nm process on which Comet Lake U is built.
The Ryzen 7 4800U, with its max boost clock of 4.2GHz, actually beats the other two Intel chips. But it can't touch the new 11th-gen Tiger Lake chip, which appears to hit and hold the 4.8GHz without issues. That ends up giving the 11th-gen Tiger Lake an impressive 23-percent advantage.
What this test and the PCMark 10 app test should tell you is Tiger Lake is the new ruler of single-threaded performance. There's nothing else that remotely comes close.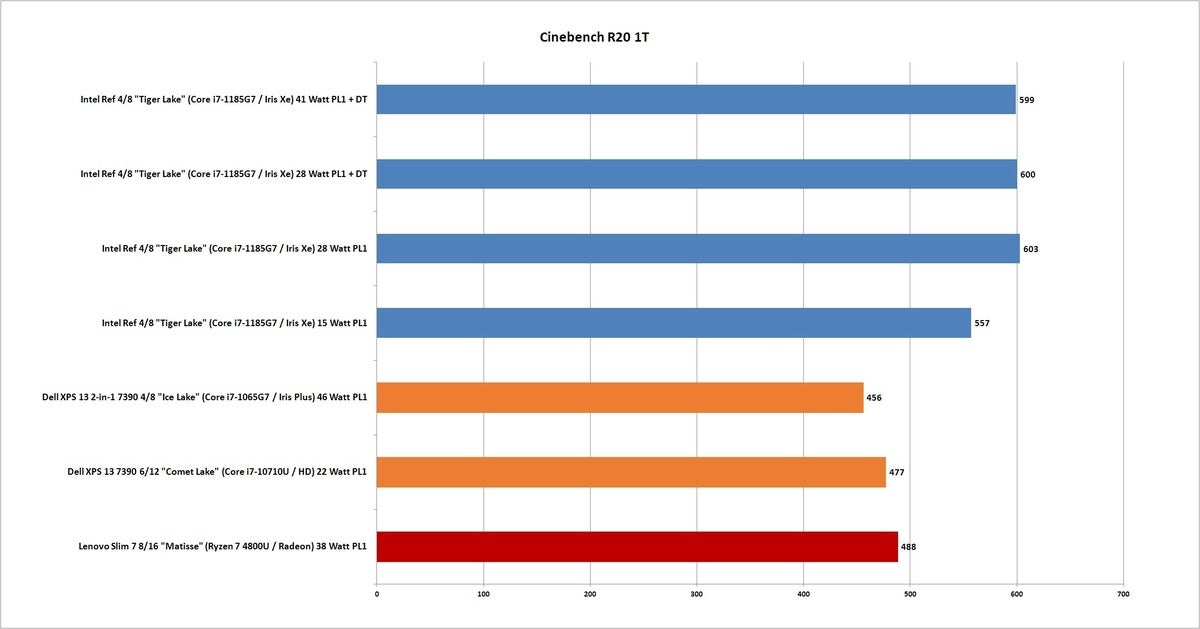 Ryzen's core advantage
The problem for Tiger Lake, as you knew was coming, is the other side of the equation in its fight with Ryzen: Core gap. The Ryzen 7 4800U's 8 cores with SMT yield very real performance in applications that can use them, even if they are specialized. You can see that in Cinebench R20's test using all available threads of the CPUs. The Ryzen simply walks away from every single Intel CPU here, turning in a score 53 percent faster than the 11th-gen Tiger Lake. That's a crushing advantage. Intel will argue that very few people are doing 3D modelling, but that doesn't change the numbers.
If it's any consolation, 11th-gen Tiger Lake with 4 cores is basically as fast as a 10th-gen Comet Lake U with 6 cores. That either says Tiger Lake is great, or it says that Comet Lake U just did not age well.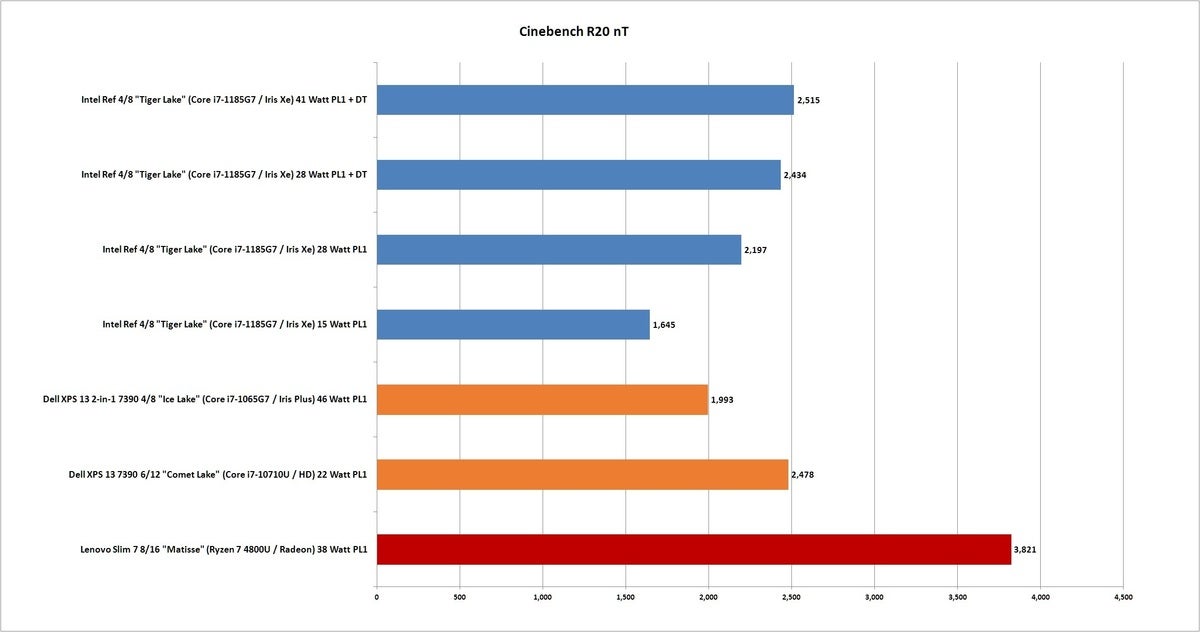 We also ran V-Ray Next 4.10.7, another rendering benchmark. The 8-core Ryzen 7 4800U comes in 48 percent faster than the 11th-gen Tiger Lake.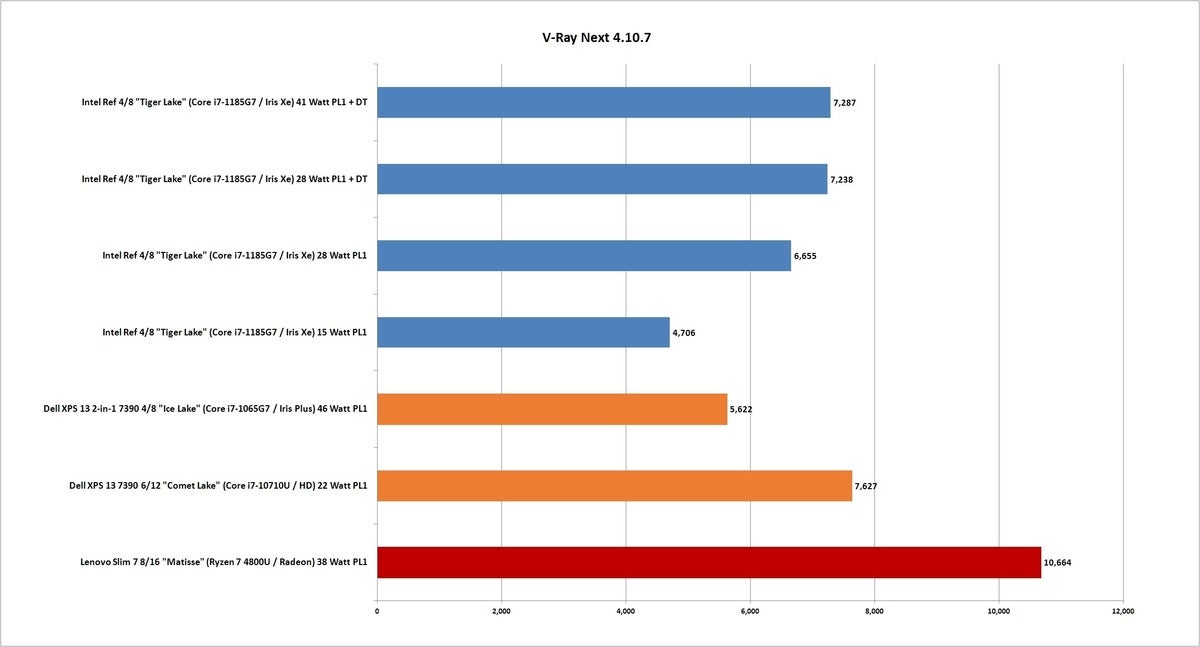 In the Corona renderer, the Ryzen is 54 percent faster than Tiger Lake. We could go on with other rendering tests, but we'd be wasting your time and our time. The truth is that despite losing in lighter tasks, Ryzen 4000 simply crushes it in heavy, multi-threaded tasks.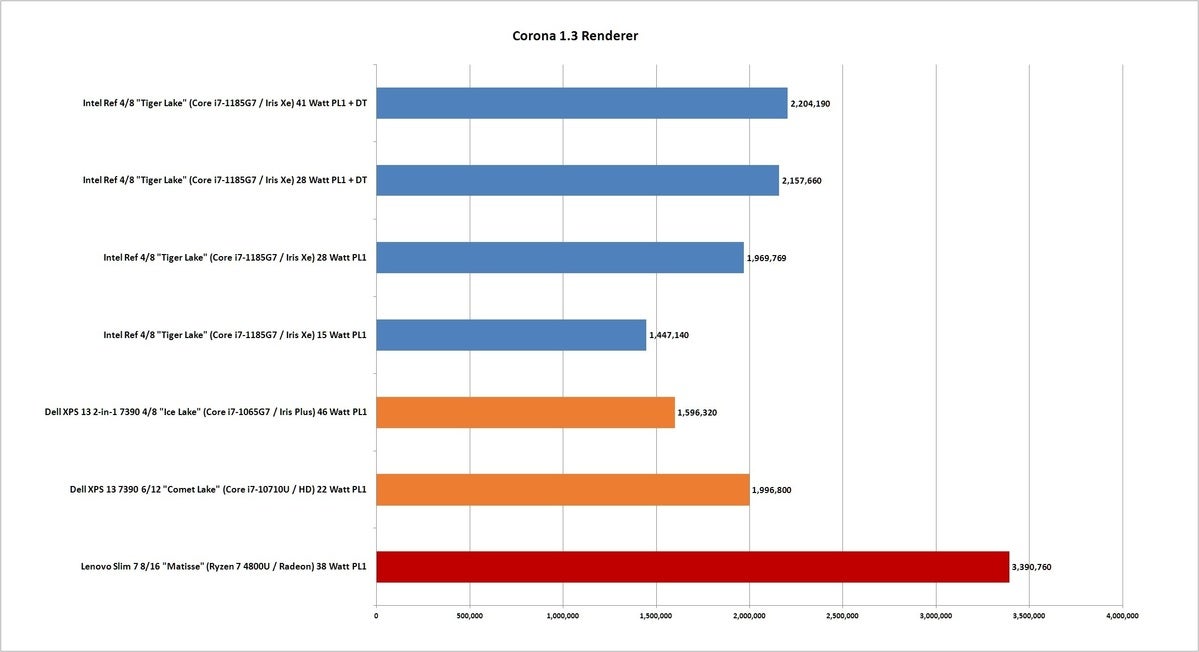 Despite Intel's proclamations that no one does 3D rendering on a 3-pound laptop with a tiny 14-inch screen, the core count advantage extends to other areas too. We didn't do advanced encoding using the integrated video engines of the chips, but we did do a file conversion using an older version of HandBrake. You can set HandBrake to use the video engines in new chips, or you can use the cores too. Many older applications still use cores.
The result is no surprise: While Tiger Lake easily beats its siblings, the Ryzen crushes it again, taking about 34 percent less time to convert our 1080p file. The basic summary is that if you need core count, Ryzen wins every time.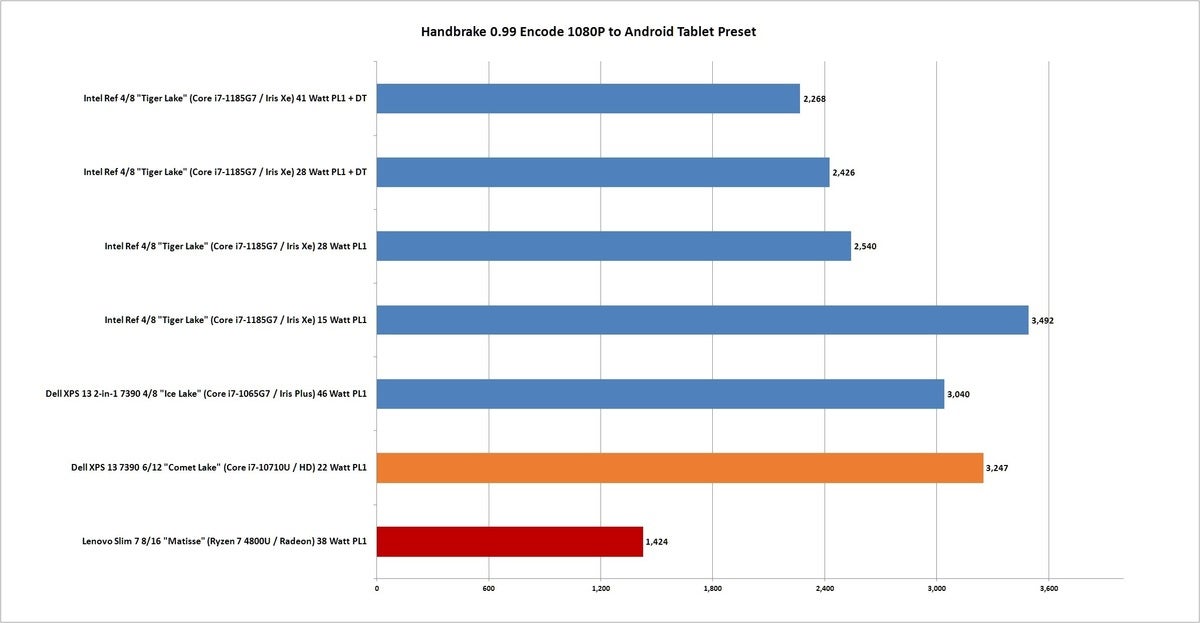 11th-gen AI Performance
Intel would say the brave new world is about AI, which can be used to upsample images, or sort your terabytes of photos for you. When Intel first started talking about desktop and laptop-based AI years ago, the actual applications that used it were nowhere to be found. Today, however, we're in far better shape. As much as AMD fanboys want to dismiss AI performance, it is as valid to look at as multi-core performance.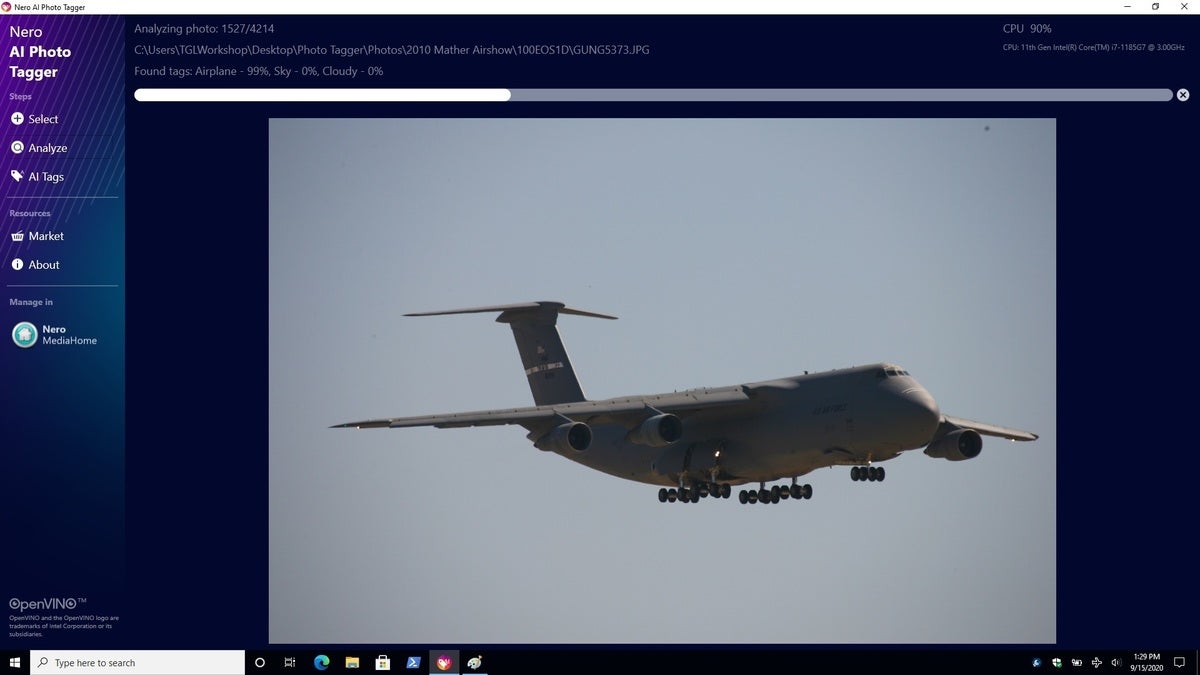 For our tests, we used three consumer applications already on the market. The first is Nero AI Photo Tagger. It's currently a free application and uses Intel's open-source OpenVINO to implement Deep Learning Boost on chips that support it. To test it, we took 4,200 photos taken with DSLR and camera phone and tasked AI Photo Tagger to sort through them and identify what's in the pictures.
When it's done, AI Photo Tagger spits out two numbers: the total time spent to do the job, and the total amount of AI time spent on each recognizing each image. Total time includes loading the image, performing the preview, and other housekeeping tasks. In total time the 11th-gen Tiger Lake takes about 13 percent less time than the Ryzen 7 4800U set to its 28-watt setting with Dynamic Tuning. Give the Tiger Lake a little more power, and its lead opens up to about 20 percent.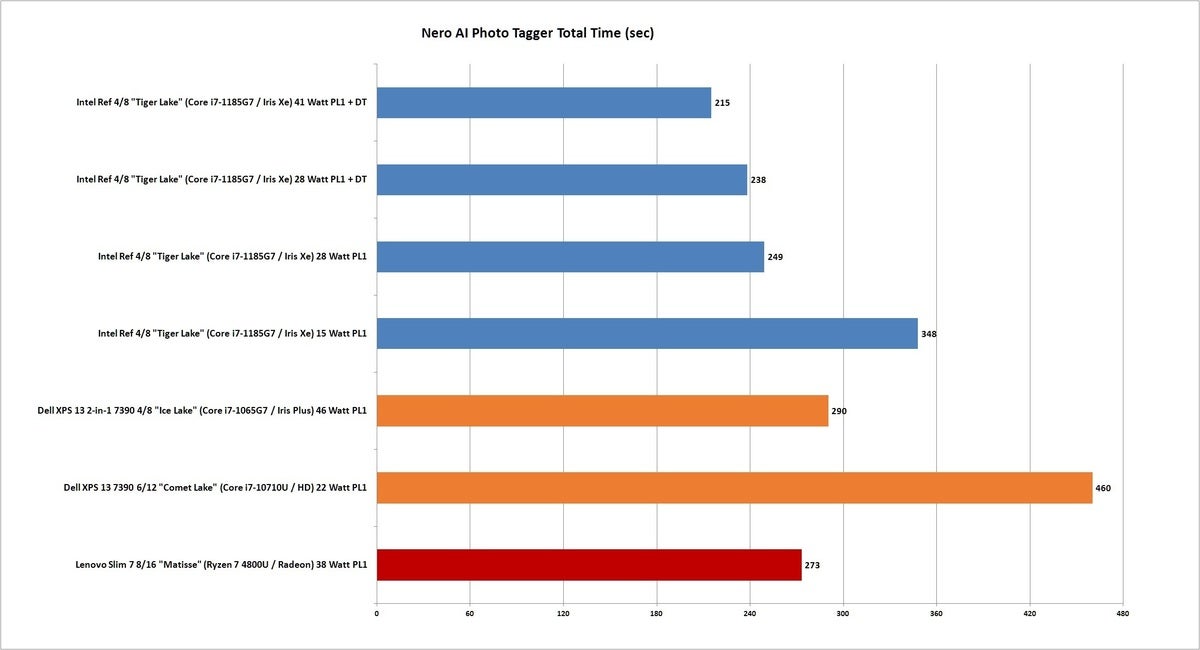 But as we said, the application also breaks down how long it takes each CPU to recognize the photo. The 11th-gen Tiger Lake actually takes 40 percent less time than the Ryzen 7 4800U, and 57 percent less time than the 14nm, 6-core 10th-gen Comet Lake U.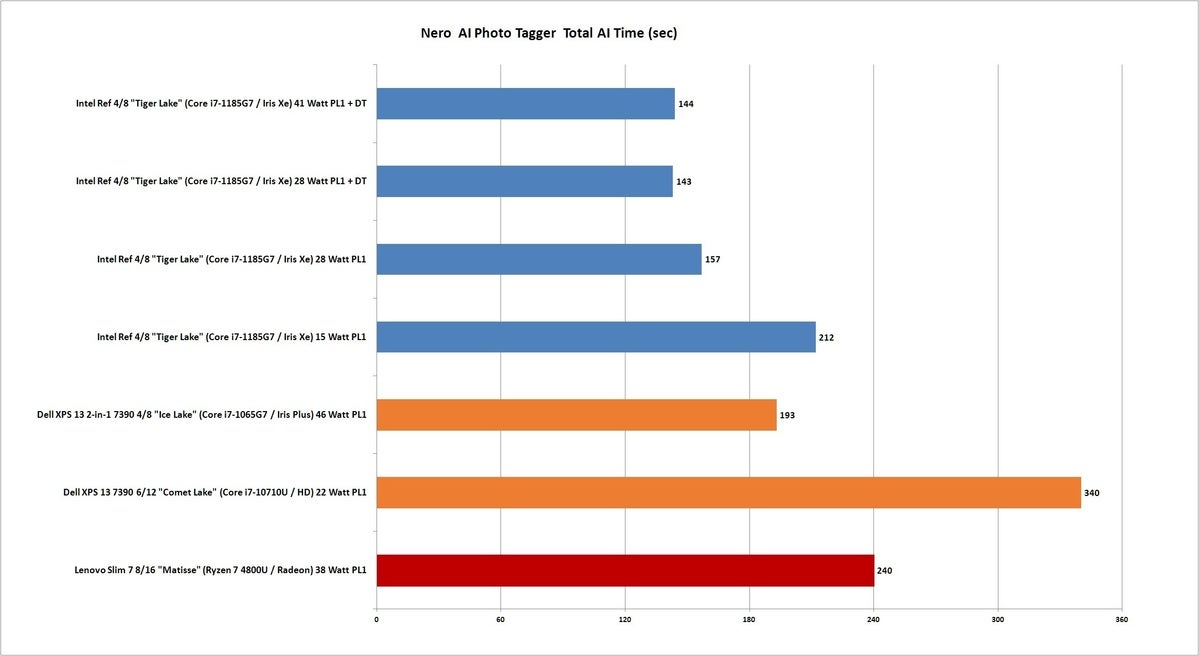 The second AI task was Topaz's Gigapixel AI. The application uses AI to upscale images in a manner that is generally superior to simpler algorithms used in photo applications. For this test, we took a single picture of a P-38 fighter shot on an EOS 1D Mk IIn DSLR. The camera is ancient and it shows in its 8.2MP sensor. To simulate a real-world task, we order Gigapixel AI to upscale the image by a factor of 6X using AI. The result is another big win for the 11th-gen Tiger Lake, with the time reduced by a whopping 82 percent over the Ryzen 7 4800U chip.
We should note that the performance of the 10th-gen Ice Lake should have been better, but we were unable to launch OpenVINO on it. Meanwhile, the 10th-gen Comet Lake U did allow us to enable OpenVINO, but it made very little difference.
In the interest of full disclosure, there are two ways to run Gigapixel AI. One is using the CPU along with OpenVINO, the other is to let it also enable "discrete graphics," which we're told actually flips it over to OpenGL mode. We ran all the laptops in this mode, which actually gives the Ryzen's Radeon cores the edge. The results make sense mostly, as the Xe does a decent job while the older Iris Plus lags a good clip behind. Over in the parking lot next door and not even on the field is the Intel HD graphics in the Comet Lake U chip.
Our final AI test uses Topaz Video Enhance AI to convert a 720p video shot on an old Kodak FLIP-style video camera to 4K resolution. For the test we used the Theia model to AI upscale the image.
Our thought is someone with an SD card of old family videos and a 4K TV might want to see these videos blown up to modern standards. You can read Joel Hruska's obsession with using Topaz Video Enhance AI to create his own remastered version of Star Trek: Deep Space Nine and see just how cool AI-based upscaling can be.
The 11th-gen Tiger Lake takes a little under two hours to AI-upscale our video, while the Ryzen 7 4800U takes a little over five hours to complete the task. The 10th-gen Ice Lake wasn't able to run Open VIno in Topaz Gigapixel AI, but it seems to work here, taking a little over three hours. The 6-core 10th-gen Comet Lake U, though? Yeah, it took more than 11 hours to AI upscale the image.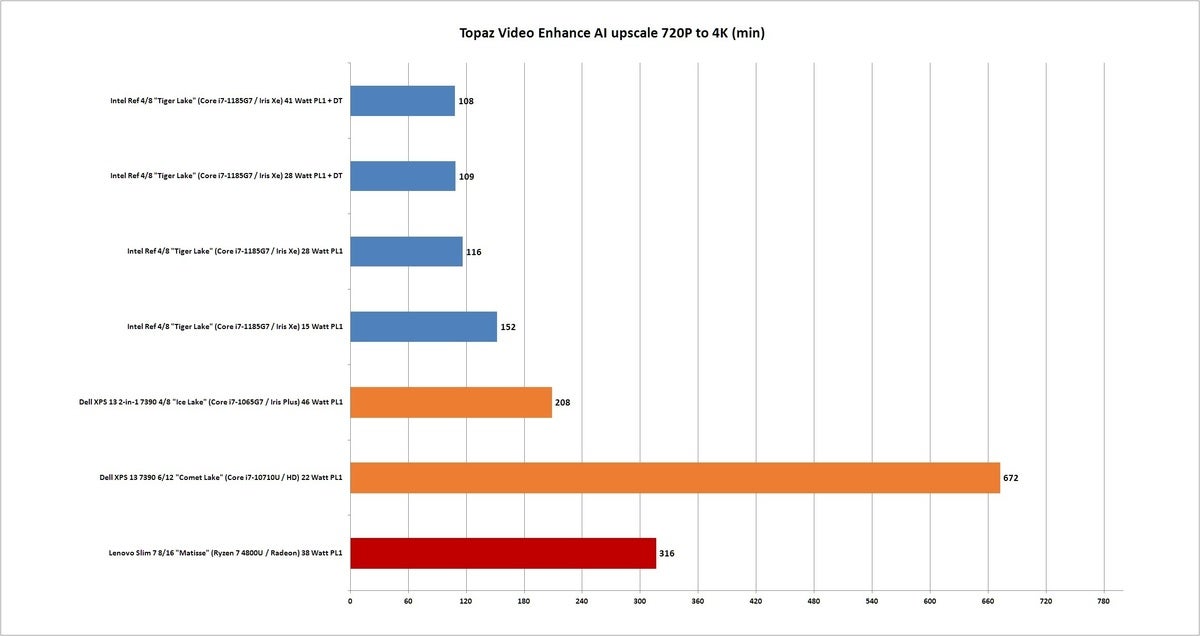 Conclusion: Should you buy a Tiger Lake laptop?
We'll break down our takeaways for the 11th-gen Tiger Lake into three areas that matter most for the consumer.
The first category is gaming. While Ryzen 7 4800U actually does pretty well, the clear winner is the 11th-gen Core i7-1185G7 Tiger Lake CPU. When you're talking 30 percent faster in games, that's simply nothing to scoff at. Both are actually are decent 720p chips for newer games, and 1080p for older games, but you can only declare the winner to be Tiger Lake. If you care about gaming in an ultra-light laptop, go with Tiger Lake.
The second category is still relatively new, but it's pretty clear that applications that support AI favor Tiger Lake. Apps are still rare, but they're also pretty cool. The image recognition and AI upscaling can accomplish it far faster than lessor chips. If you really believe that AI is the future, then Tiger Lake is the winner again.
The last category is conventional CPU performance. For single-threaded and lightly threaded tasks, Tiger Lake wins big. For multi-threaded apps though, Ryzen is monster.
To help you understand each chip's strength, we took Cinebench R15 and asked it run while manually selecting from 1 to 16 threads. The scores are below. You can see where Ryzen has the advantage in red, and where Tiger Lake has the advantage in blue.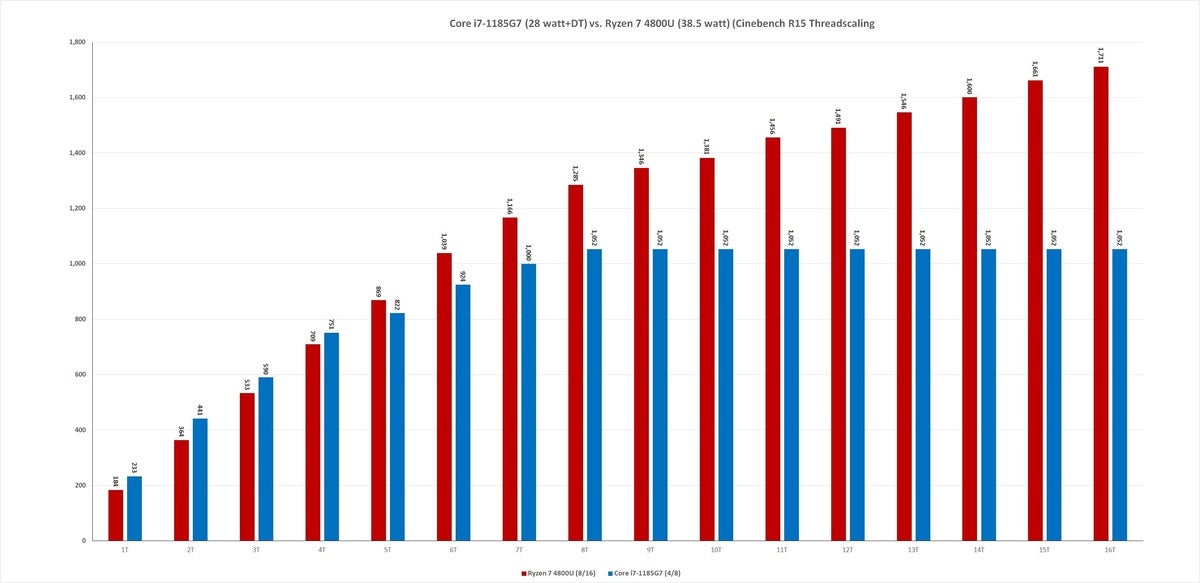 One problem with the above chart is the scale really makes it difficult to judge performance, so we break it down by percent difference below. You can see that the Tiger Lake is a monster itself compared to the Ryzen with the high clocks. It holds onto its advantage from 1 to 4 threads, but it starts to take on water as you increase threads in a task. Basically, if you live on the left side of this chart (which is primarily Office, browsing, and most photo editing), the better choice is Tiger Lake. If, however, you live on the right side of this chart with 3D modelling, CPU-based encoding, and other thread heavy tasks, the clear choice is Ryzen.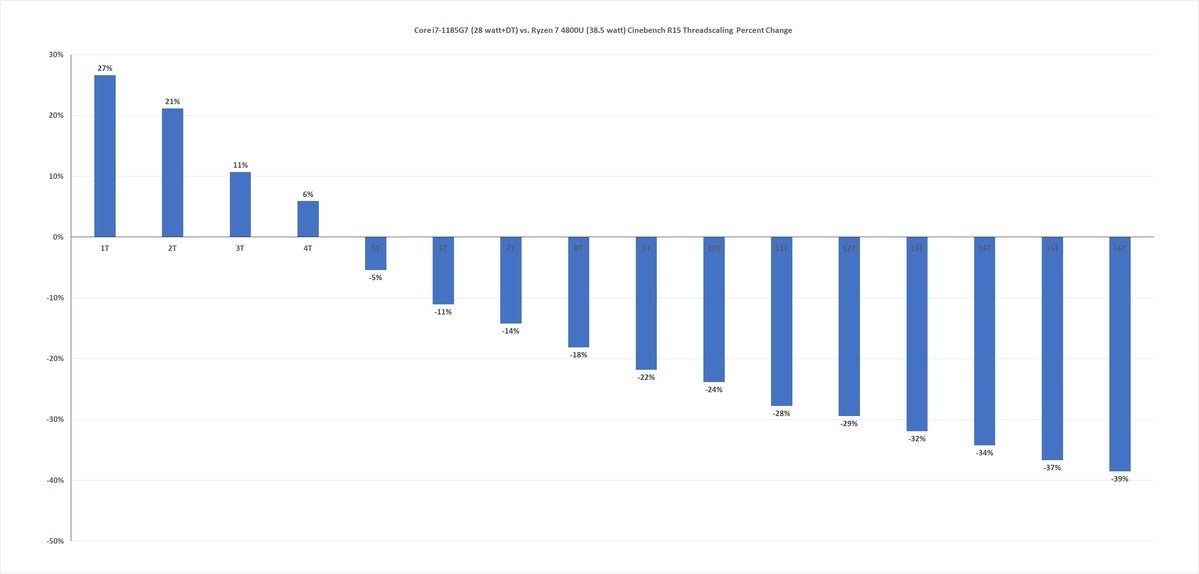 The good news for Intel that it finally has a CPU that can stare down Ryzen. There are soft spots where Ryzen is clearly superior, but Tiger Lake has a legitimate claim to the throne with its superior performance in gaming and AI. It's stupidly fast at lightly-threaded performance.
This fight isn't over. AMD has more to come. But at least Tiger Lake is indeed a CPU worthy of being in the ring.
Bonus meme: We'll close this review out with an Internet meme of "can it run Crysis?" If you read our 10th Gen Ice Lake preview, you already know the answer, but 11th Gen Tiger Lake runs it faster. We ran Crysis at an old school resolution of 1024×768 on its Very High Setting and DirectX 10 option. We should note that the 13-year-old benchmark would only run in 64-bit on the Ryzen, and only in 32-bit on the Intel laptops. So, rather than an official result, consider this more of a meme result.
Correction: A previous version of this review used the incorrect version of the Ryzen 7 4800U model number. PCWorld regrets the error.