At a Glance
Expert's Rating
Pros
HDMI and USB-C ports support multiple displays
Handles everyday workloads well
Cons
Performance is average to poor
Audio is decidedly mediocre
Similarly priced laptops offer better value
Our Verdict
The HP Pavilion x360 Convertible 14 is a competent convertible laptop for mainstream use, but its lackluster performance and battery life don't hold up well against similarly-priced competition.
Best Prices Today: HP Pavilion x360 Convertible 14 (dw0097nr)
The HP Pavilion x360 Convertible 14 (dw0097nr) is a competent convertible laptop for handling the day-to-day workload of a work-from-home or distance-learning experience. It also offers some unique features, including a rare cellular option and a full-sized SD card slot. The USB-C and HDMI ports allow for two additional displays, including 4K support. While these attributes work in the Pavilion x360's favor, its middling performance and underwhelming battery life make other laptops we've tested in its price range seem like a better deal.
This review is part of our ongoing roundup of the best laptops. Go there for information on competing products and how we tested them.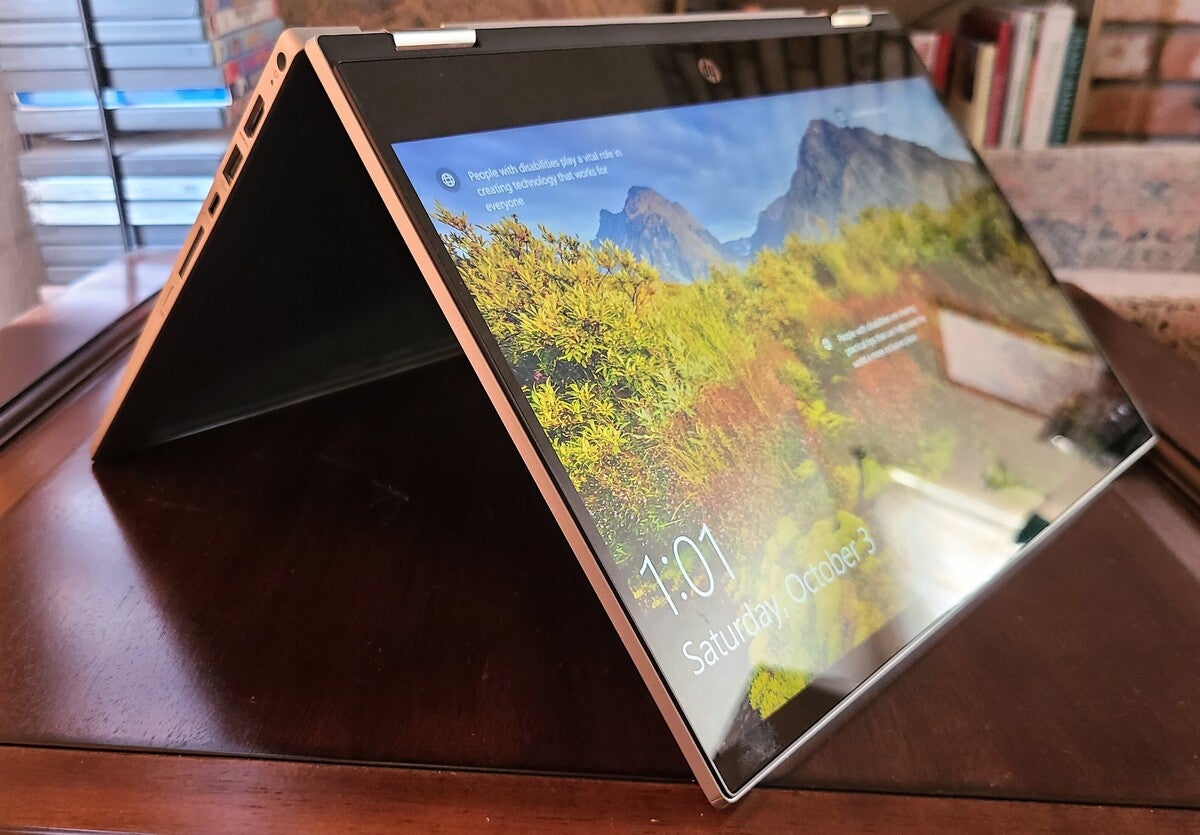 HP Pavilion x360 Convertible 14 basic features
HP's Pavilion x360 Convertible 14 hasn't been on the market for long, but you may find that you'll have a difficult time buying one—evidence of the buying spree brought on by the need to work/study from home during the pandemic. The laptop is currently available for $700 on HP.com, but in the course of the review it was sometimes sold out.
In case you can't find it, HP representatives recommended some virtually identical alternatives. The $650 HP Pavilion x360 Laptop 14t-dw000Remove non-product link lacks the Optane memory option and LTE WWAN. The $586.95 HP Pavilion x360 14t-dh200Remove non-product link is even more similar, though it also lacks WWAN options and you'll need to pay a bit more for the 1080p display option. Both the 14t-dw000 and 14t-dh200 were in stock at press time, however, and should offer comparable performance.
Keep in mind that in all these machines, the processor's "G1" suffix denotes the minimal amount of graphics capability provided. Higher-end members of Intel's 10th-gen Ice Lake family offer more visual horsepower.
Here are the specs for the unit we tested: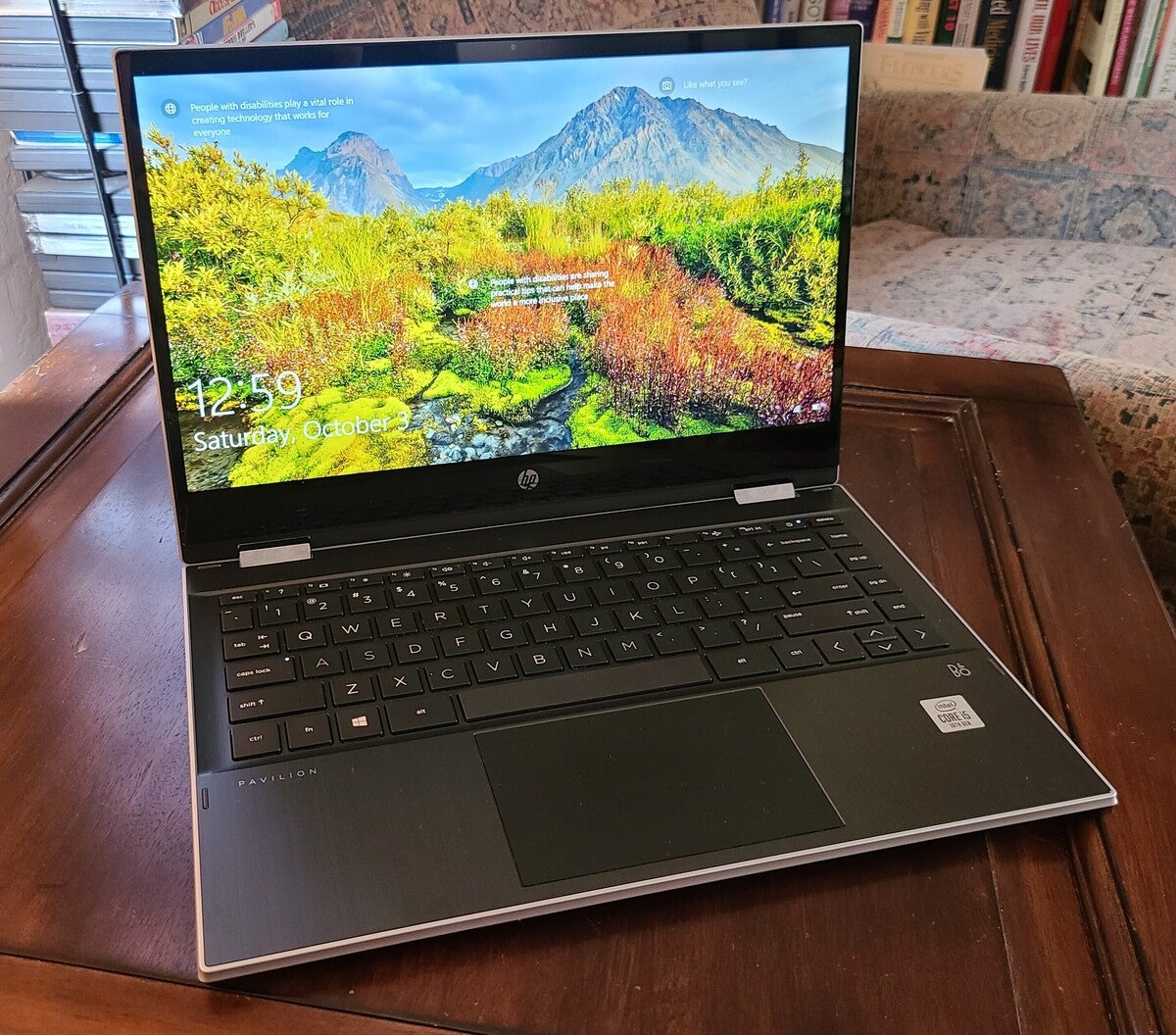 Display: 14-inch (1920×1080, WLED) multitouch, 250 nits (rated)
Processor: Intel Core i5-1035G1
Graphics: UHD 620
Memory: 8GB DDR4-3200 SDRAM (1 x 8 GB)
Storage: 256GB SSD+16GB Optane
Ports: 1 USB-C 3.2 Gen 2 (10Gbps, charging, display), 2 USB-A 3.2 Gen 1 (formerly USB 3.1, 5Gbps), 1 HDMI 2.0, SD card slot, 3.5mm jack, SIM slot (as reviewed)
Camera: 720p (user-facing)
Battery: 41.3Wh (reported), 43Wh (rated)
Wireless: WiFi 6 (Intel Wireless-AC 9461 802.11ac) and Bluetooth 5, with Connected Modern Standby; Intel LTE (XMM 7360) SIM slot (as reviewed)
Operating system: Windows 10 Home
Dimensions (inches): 12.76 x 8.70 x 0.74 inches
Weight: 3.55 pounds
Color: Natural Silver (Exterior)/ Ash Silver (Interior)
Price: $700 at HP.com

Remove non-product link
Overall build quality and display
HP's Pavilion x360 14 emerges from its box a bit on the heavy side, though that'd only be an issue if you actually traveled with it. Our review unit boasts the rather generic Natural Silver exterior. A narrow band of silver runs around the edge of the Dark Ash Silver keyboard deck.
Because the Pavilion is a 360-degree convertible, it flips smoothly from clamshell back into tent mode, supporting its own weight. During a year when we've been stuck inside most of the time, I've grown to appreciate laptops that can serve as portable entertainment centers during off hours.
Above the keyboard lies an unobtrusive grille from which the Pavilion x360 14 vents its warm air. The laptop puts out a steady whoosh of fan noise, even occasionally during routine tasks such as typing this review. It's both soft and fairly constant enough, however, to fade into the background as white noise.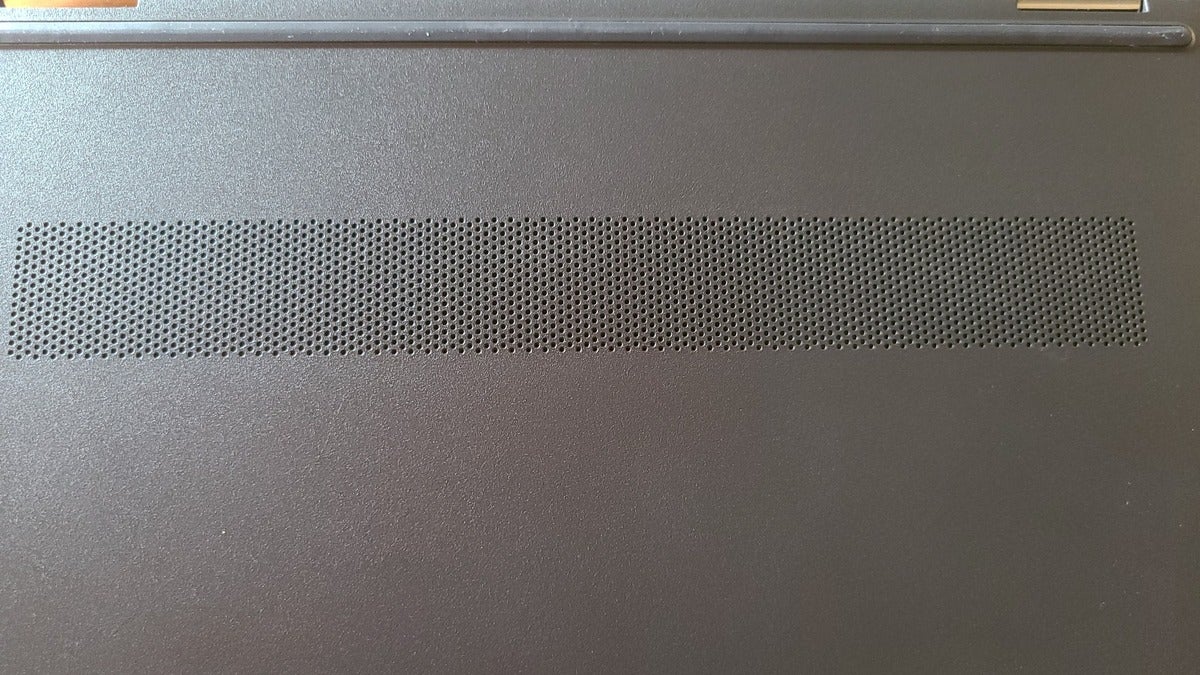 HP's display is passable, a common quality level among lower-priced laptops. Its backlight has a top brightness of about 250 nits, the bare minimum for what we consider to be sufficient for indoor work. My downstairs office gets minimal outside light, and I found the display to be just slightly on the dim side. Color fidelity seemed adequate, however, with sufficient viewing angles from either side. Just don't expect to use it outdoors.
At this price point, a laptop's aesthetics should be a bonus, not part and parcel of the experience. No one can help but notice, though, the wide lower display bezel of about an inch and a half. Though the side (quarter-inch) and the top (three-eights of an inch) bezels are slimmer, the overall effect is that the display feels a bit cramped.
Fortunately, the available ports adorning the HP Pavilion x360 Convertible 14 make it easy to expand beyond the built-in display. HP includes both an HDMI 2.0 as well as SuperSpeed 10Gbps (formerly known as USB-C 3.2 Gen 2).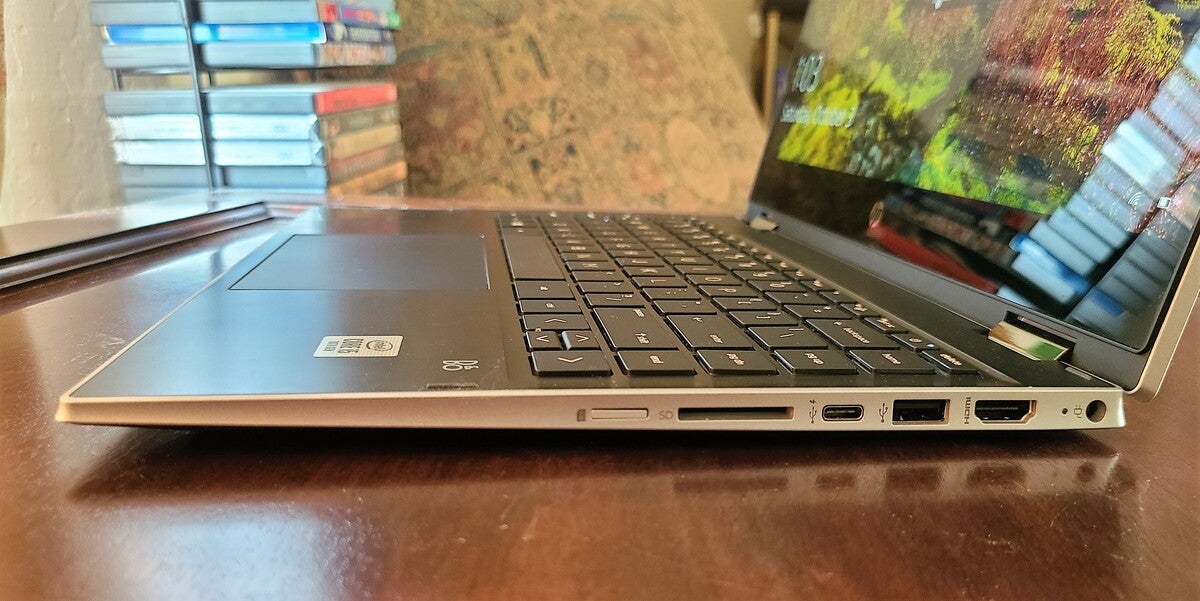 Unfortunately, though the HDMI 2.0 cable supports a single 4K monitor at up to 60Hz, the Core i5-1035G1 couldn't manage to push my external 4K display beyond 30Hz. For those with sensitive eyes, the slow refresh rate can look jarring. Anything with motion—video, for example—can look jerky and, over time, can fatigue your eyes. Even typing on an otherwise static screen can be wearing. This problem, however, completely goes away if you have an external 1080p monitor, which the Pavilion x360 14 powers at a comfortable 60Hz.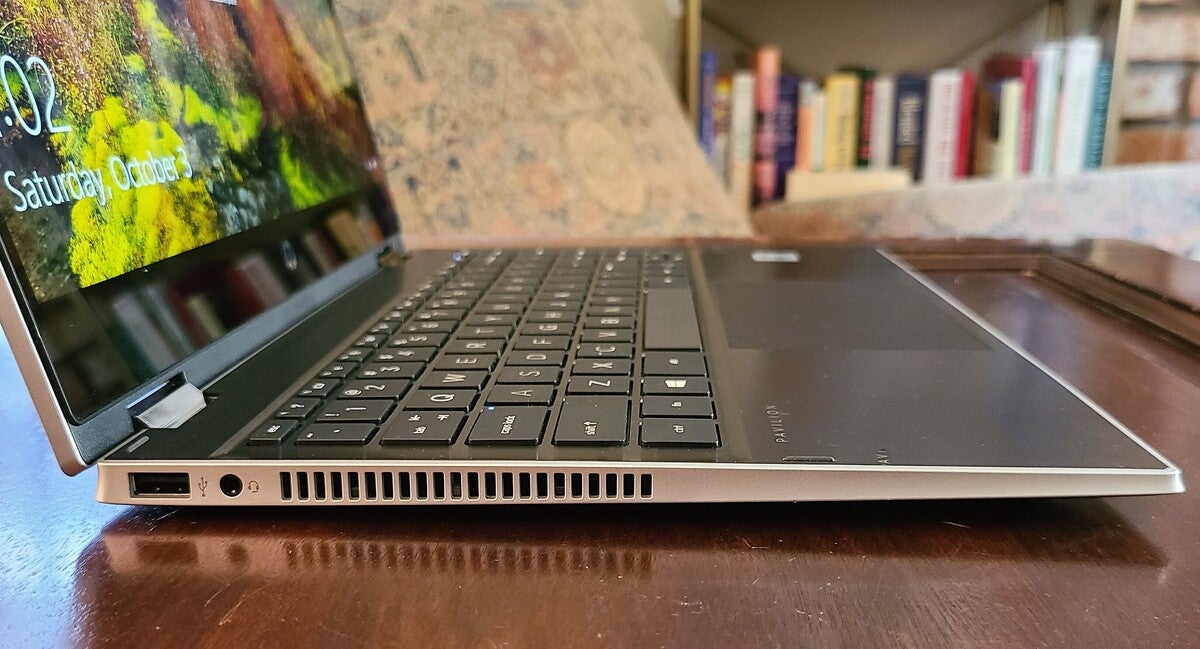 HP supplies a 45W power supply inside of the box, which uses a round "barrel" connector to charge the laptop. Alternatively, you can use a third-party charger to charge the laptop via the USB-C port.
Typing, audio and camera
I tend to prefer keyboards with more pronounced key travel, so the shallow keyboard on the HP Pavilion x360 Convertible 14 wasn't especially comfortable over prolonged use. I almost always write a laptop review on the keyboard of the device that I'm reviewing, and I'll be happy to go back to something which allows my fingers more flexibility.
My only other complaint is that the individual keys aren't especially large. Otherwise, the Pavilion's keyboard provides a comfortable typing experience. Its only other quirk is the column of Home, Pg Up, and related keys that runs along the right side of the keyboard, rather than the lower right-hand corner (as is more common).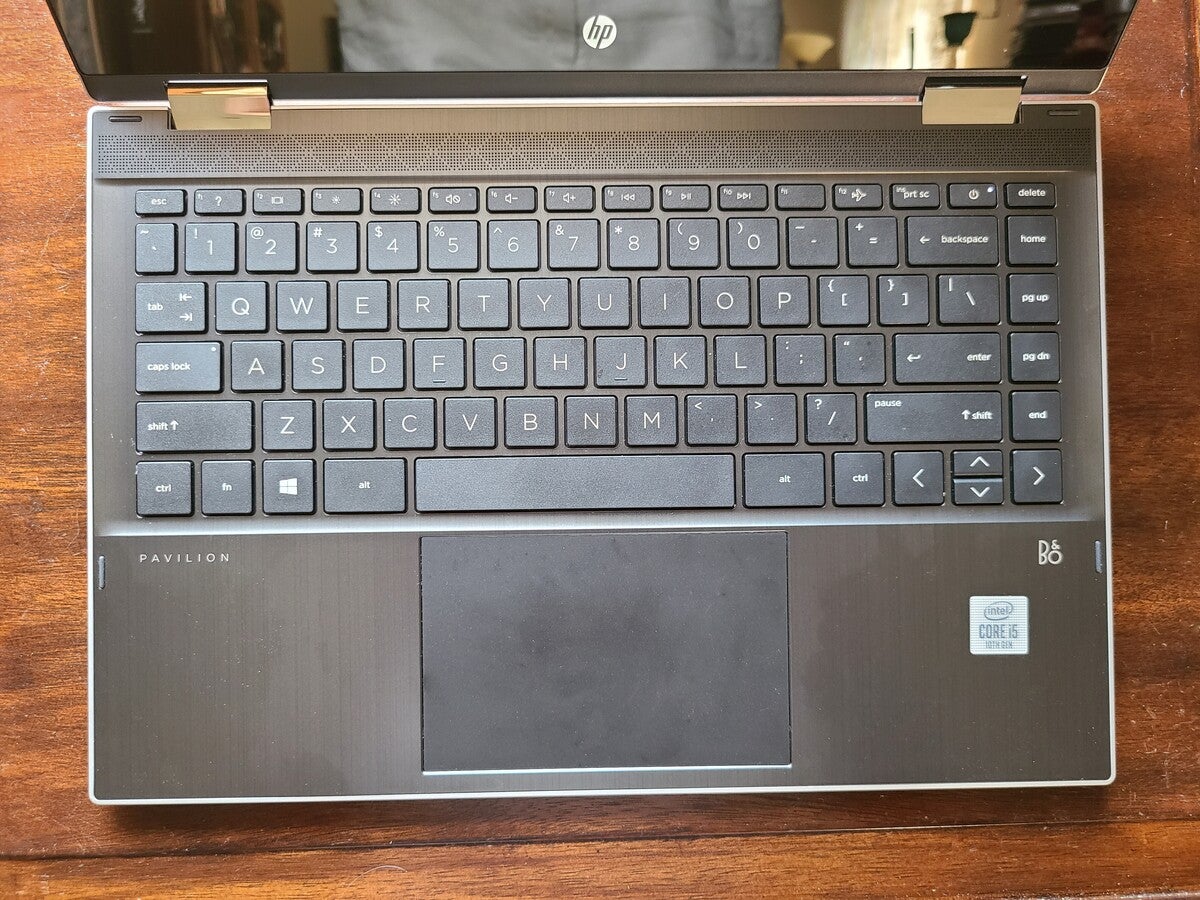 Laptop audio is rarely good, and the Pavilion x360 Convertible 14 failed to convince us otherwise. Its speakers are thin, tinny, and generally unpleasant for listening to music or other audio, possibly because of the lack of low-end boost. Mid- to high-pitched music, like Molly Sandén's "Husavik (My Hometown)," for example, sounded pretty good.
Normally, audio enhancement technologies help somewhat. Bang & Olufsen tuned the speakers and provided an audio utility conveniently designed with an equalizer and noise cancellation for the available microphone. But even headphones can't really help; your best bet is to boost the bass as much as possible.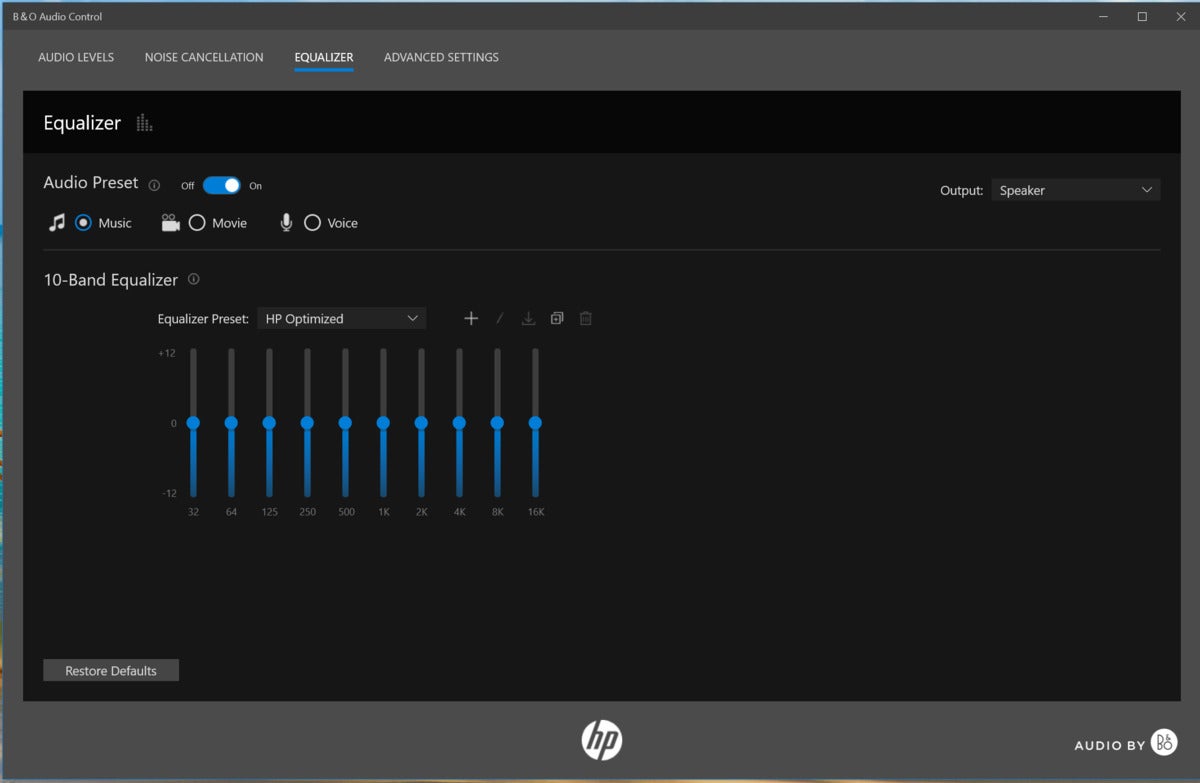 The same utility manages the microphone's noise cancellation, which I found to be somewhat hit-and-miss. The B&O utility can be configured to filter out everything but your voice. It did a superb job at filtering out the back-and-forth of baseball announcers calling the game while I recorded my voice. One consequence, though, is that my voice's volume levels fluctuated unexpectedly, which would be noticeable on a Zoom call. Using a headset should bypass all these limitations.
The HP Pavilion x360 Convertible 14 uses a 720p camera (as most laptops do), and I was pleased with its color fidelity. Unfortunately, there's no Windows Hello capability at all—no depth camera, and no fingerprint reader either.
You may notice that this laptop includes an SSD plus Intel's Optane Memory technology, which Intel designed as a sort of cache to improve app loading times. In general, the quick access to data that any SSD offers, relative to an old laptop with a spinning hard drive, will be noticeable. Don't buy this laptop for the additional Optane capabilities, however, as it doesn't make a meaningful difference.
A mix of bloatware and useful utilities
HP's consumer laptops tend to ship with a hefty serving of bloatware, extra apps that HP preloads in hopes you'll try them. HP JumpStarts, an app that lives on the Taskbar, serves as a gateway to the HP Support Assistant plus other offers: a one-month trial of Microsoft 365 for new customers, free games from WildTangent, and more. Amazon and Dropbox have shortcuts in the Taskbar. Separate apps in the Start menu offer 25GB of Dropbox storage free for a year, and there are shortcuts to ExpressVPN, Spotify, Netflix, and more. The Pavilion also ships with a three-month subscription to McAfee Personal Security.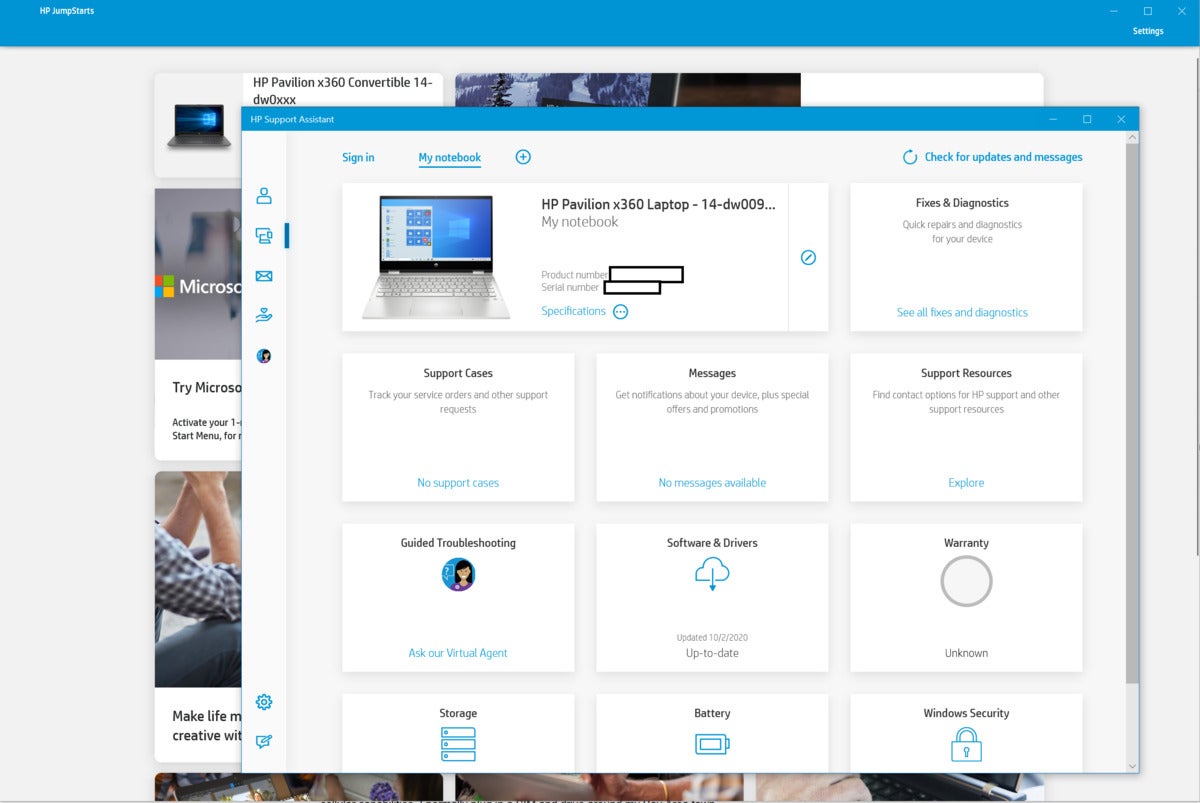 HP offers a wealth of its own utility software, most of which serves a useful purpose—but there's just so darn many of them! The HP Support Assistant, for example, includes useful driver updates for various components within the system, but it's separate from Windows Update, and that's distinct from the app-specific Microsoft Store. Dig though and you'll be rewarded, as there's a terrific amount of information and diagnostics available.
We didn't test one aspect of the HP Pavilion x360 Convertible 14: its cellular capabilities. I normally plug in a SIM and drive around my Bay Area town, testing throughput and coverage. Unfortunately, wildfire smoke levels were at unhealthy to toxic levels during my testing period, making drive tests inadvisable. I live at the periphery of a cell-phone tower's range, which also wouldn't be a fair test of the Pavilion x360's abilities.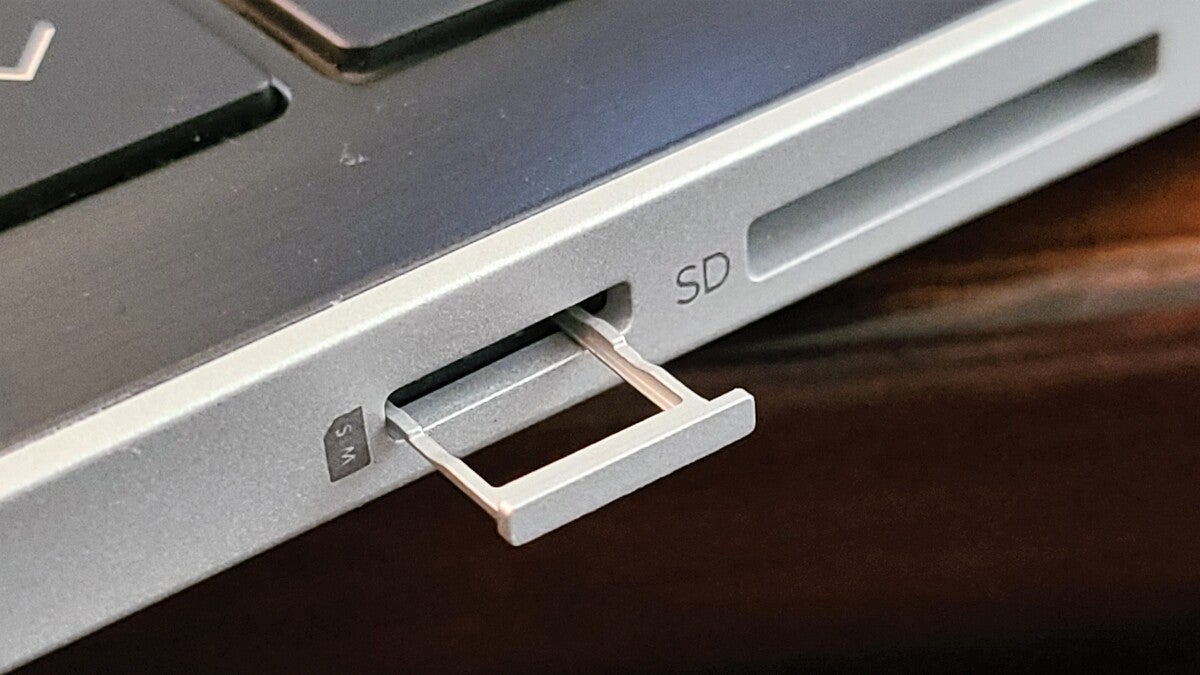 Performance is merely average
Our performance assessments takes into account repeatable benchmarks as well as direct experience. As part of the review process, I used the HP Pavilion x360 Convertible 14 for about a week, running it with dozens of Edge tabs open, alongside apps like Zoom and Microsoft Teams. With fifty or so tabs open, including streaming video from a MLB playoff game, I noticed a bit of input lag in how the Pavilion responded. Under the same conditions, but with an additional Zoom call running, I noticed that the laptop's display fuzzed slightly, and briefly, as if the GPU couldn't quite handle the load. That's my everyday, work-at-home environment, though, and overall the Pavilion handled it very well. Streamed videos from YouTube and Netflix worked fine on the Pavilion's own display.
Attaching an external 4K monitor created a few hiccups, and not just with YouTube streaming (where downsampling and upsampling resolutions sometimes resulted in choppy video). The Pavilion x360 Convertible 14 actually crashed twice when I was playing back YouTube videos in Edge, switching playback resolutions, and dragging videos back and forth to an external monitor. The bug wasn't completely repeatable, but I also experienced it while highlighting fields in Excel, after I had updated the graphics driver. HP didn't have any advice for us by press time, but to be fair, secondary displays can introduce complexities.
What follows are results from our suite of synthetic and real-world benchmarks. We compared the HP Pavilion x360 Convertible 14 to its competition within the budget and mid-range laptop PC category. Its results are highlighted in red, below.
PCMark 8 Work/Creative: Everyday tasks
UL's PCMark 8 Work test measures how well the laptop handles office tasks, from spreadsheets, word processing, and VoIP calls. Most laptops perform competently here, and any score over 2,000 is a good thing.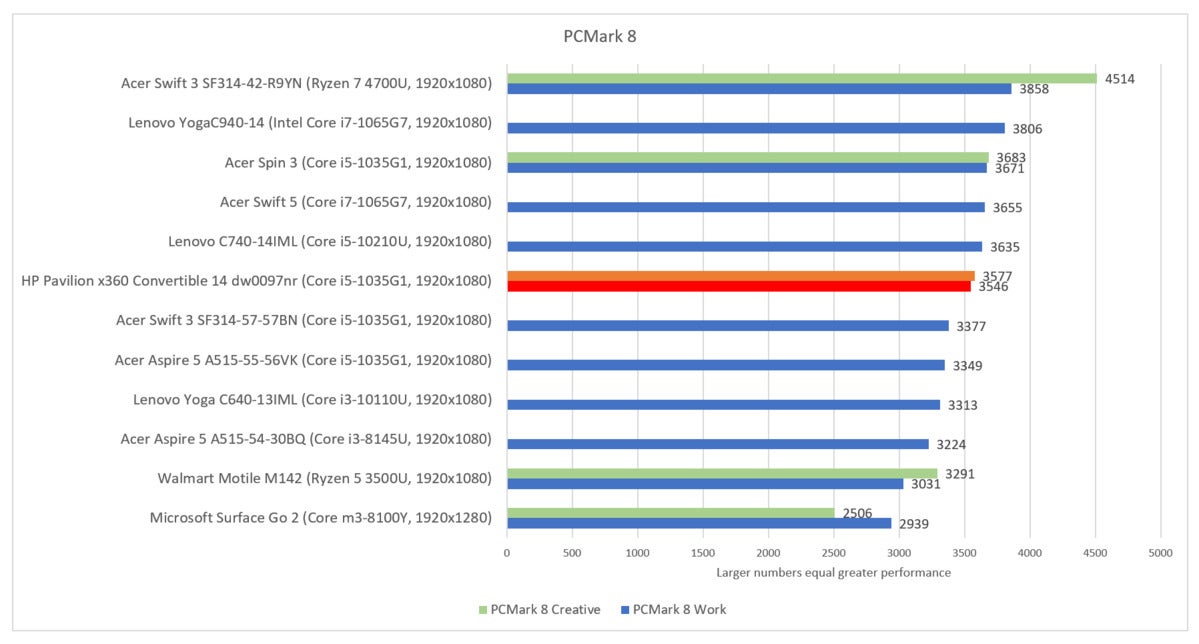 The PCMark 8 Creative benchmark assesses the laptop's ability to perform more intensive tasks like video editing and photo manipulation, leaning more heavily on the integrated GPU for some light gaming. You shouldn't expect to do much of the latter with the Pavilion x360 Convertible 14, though we'll look at this more closely with the 3DMark test a bit later.
Cinebench: CPU performance
We use Maxon's Cinebench test to look at the raw output of the CPU. The R15 test is older, meaning we have a broader base of laptops for comparison. It's also a fast test, providing a snapshot of how the PC manages a "sprint" of processing demand. We use the multi-thread benchmark to evaluate how well the laptop does with all cores enabled. The single-threaded test, while applicable to most mainstream tasks, tends to yield pretty much the same result regardless of CPU.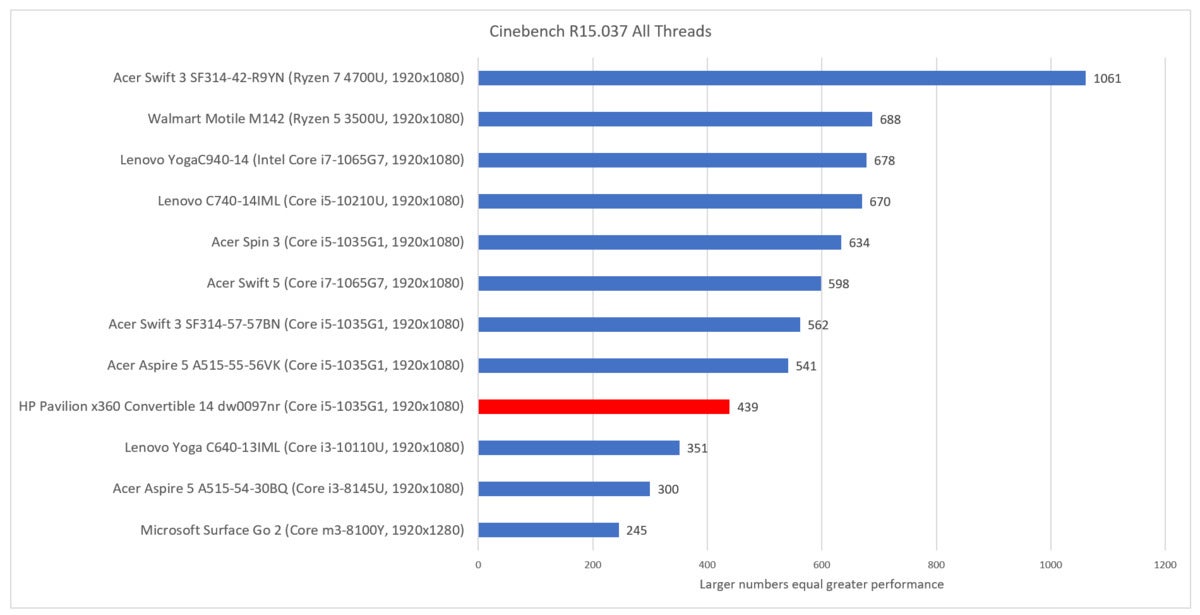 The Core i5-1035G1 inside is a quad-core processor, with eight processing threads. While its score is acceptable, it's the slowest of all the compared laptops with the same CPU.
HandBrake: Sustained CPU workload
Where Cinebench is a sprint, HandBrake is a prolonged CPU test, where we transcode a movie into a format appropriate for an Android tablet. It's useful as a measure of how well the laptop is thermally managed: An overheated laptop will have to clock down to avoid exceeding its thermal limits. Conversely, a well-cooled laptop will be able to run in an elevated turbo mode for longer, completing the job faster. It's here that a well-designed laptop with a slower CPU can compete with a faster processor in a poorly-designed notebook PC. The Pavilion x360 Convertible 14 again posted a lower score against the competition.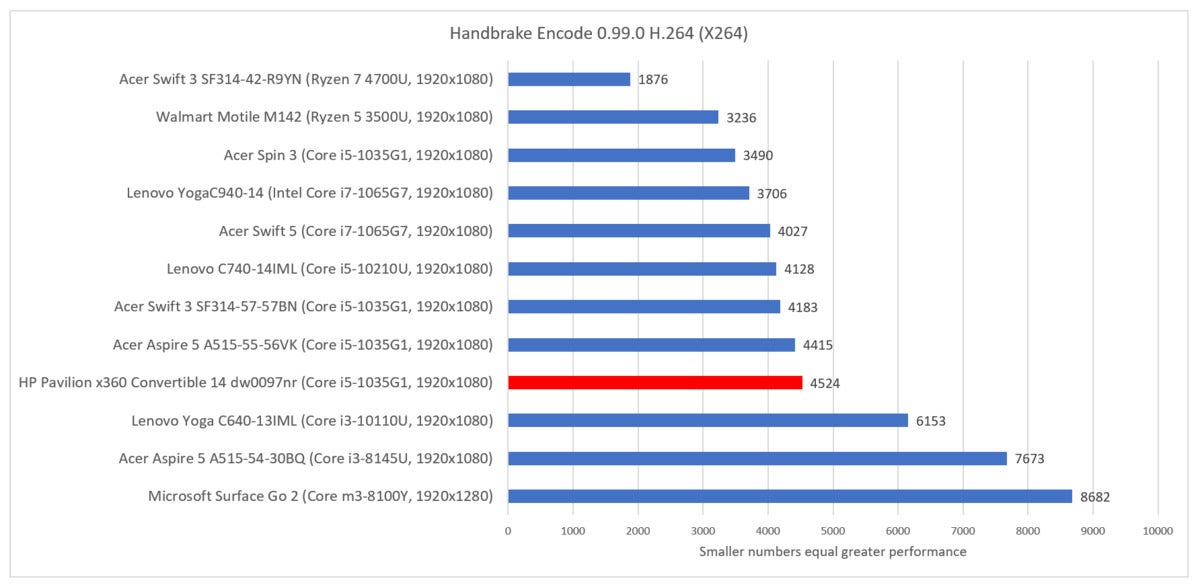 3DMark Sky Diver: Graphics performance
The 3DMark Sky Diver test is where we can examine the laptop for its gaming abilities. Let's be clear: The "G1" designation is Intel's signal that its graphics capabilities represent the least of Intel's Ice Lake offerings, so we're not expecting too much here. This is clearly not a gaming PC, and its mediocre score attests to that.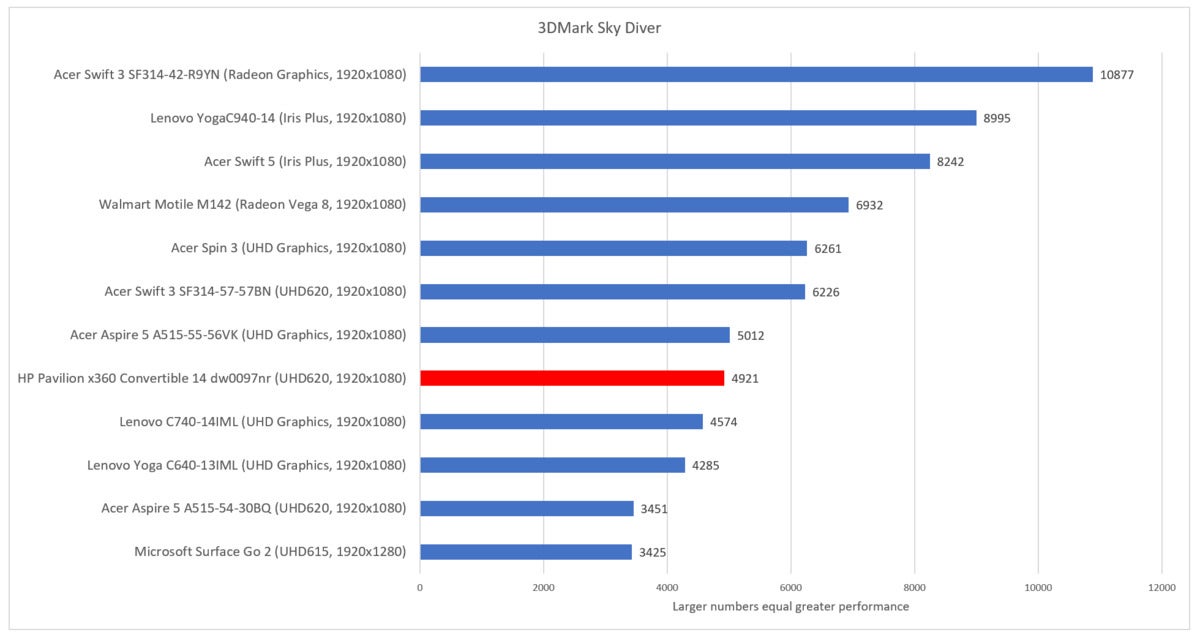 Battery life (video rundown test)
We end with battery life, an ordinarily critical aspect of a laptop that doesn't mean quite as much with a global pandemic keeping us close to home. Nevertheless, it's good to know whether you'd have the battery life to work outside, stop at a sidewalk cafe, or just crash on the couch for a change of scenery.
The Pavilion x360 Convertible 14's 43Wh battery is on the small side for a laptop of its size, and that hurts it here. The laptop's lackluster seven-plus hours of life might have been par for the course 18 months ago, but many laptops we see nowadays easily exceed 10 or more hours.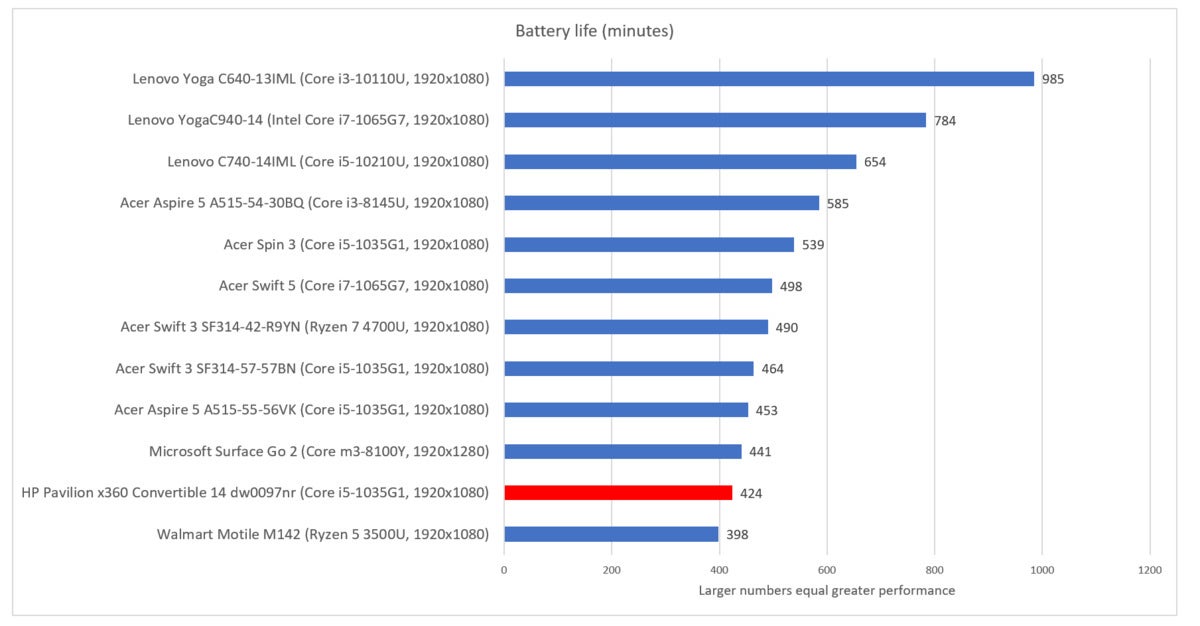 Conclusion: Good but not great
The HP Pavilion x360 Convertible 14 should suffice for working or learning from home. In our real-world use, it never felt especially poky. However, the numbers don't lie: You can do better. From a performance standpoint, this is really the moment for AMD-powered laptops, such as the $655 Acer Swift 3. Acer's recent $650 Spin 3 also compares favorably. If performance isn't your priority, you might still have regrets about the battery life or the dim display.
There are always going to be trade-offs in low-priced laptops. The HP Pavilion x360 Convertible 14 just toes that line between acceptable and unacceptable compromise.
Best Prices Today: HP Pavilion x360 Convertible 14 (dw0097nr)